Nakatsugawa Guide
Nakatsugawa 中津川
Nakatsugawa is a small town on the Edo Period Nakasendo highway between Kyoto and Edo (Tokyo) in Gifu Prefecture within easy reach of Nagoya - just 50 minutes by Shinano express train from Nagoya Station or 80 minutes by rapid train.
Nakatsugawa is a good place to start a hike on the Nakasendo to Magome & Tsumago, Kiso-Fukushima and Narai.
Alternatively, you can start the walk from the neighboring town of Ena - about 5 km south-west of Nakatsugawa, i.e., in the Nagoya direction, which will bring you to Nakatsugawa in a little over an hour.
Nakatsugawa is also the exit point from the Chuo Expressway for drivers traveling to the onsen resort towns of Gero and Gujo-Hachiman on National Highway 256.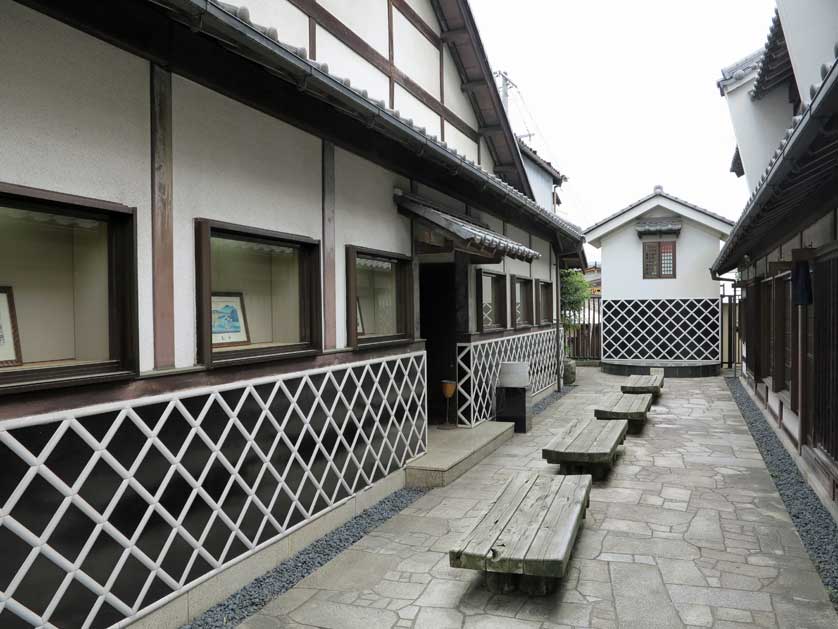 Nakatsugawa historic, restored buildings, Gifu Prefecture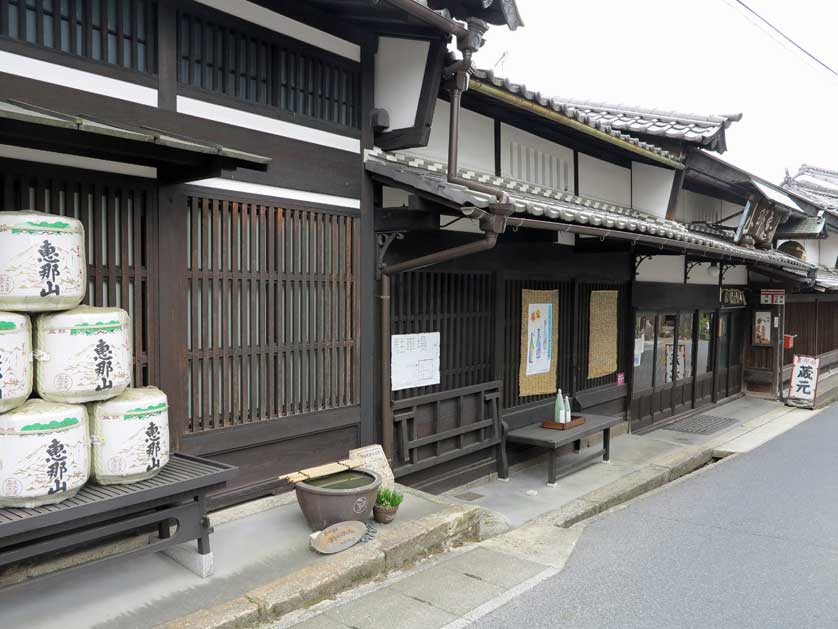 Nakatsugawa Edo-period restored buildings on the Nakasendo Highway
Nakatsugawa Attractions
Nakatsugawa was a post town on the Nakasendo Highway and the city authorities have done much to preserve this Edo period heritage on the original road leading through town, which now has a number of Japanese sake shops, confectionery stores and restaurants housed in restored, wooden buildings and warehouses (kura).
From west to east, the stretch of the Nakasendo running through central Nakatsugawa is from the bridge just south of the Chuo Main Line bridge over the Nakatsugawa River, and goes in a mostly straight line, over the Yotsumegawa River that runs through the central city, all the way to the hills on the other side of town.
Only markers for Nakatsugawa's Honjin (a lodging house for feudal lords) and Waki-Honjin (a lodging house for lesser dignitaries) remain, but a number of original wooden buildings have been restored and preserved. These include the Shuyukan House and the house of the post town's headman, Kurobei Hida, now occupied by the Soga family.
The Nakatsugawa Nakasendo Historical Museum (Tel: 0573 66 6888; admission 320 yen) displays a number of historical documents, wood block prints, paintings and information on Nakatsugawa and the Nakasendo, the majority of which is explained only in Japanese. Hours: 9.30 am-5 pm (last entry 4.30 pm), closed Monday (but Tuesday when Monday falls on a public holiday, in which case open Monday); closed December 27 - January 5.
Heading out of town towards Ochiai past the large Apita store is the town's kosatsuba (information board) and joyato (stone lanterns acting as beacons for travelers after dark). Just up the stone steps from the kosatsuba are Nanrinji Temple and Asahigaoka Park with Asahigaoka Shrine within.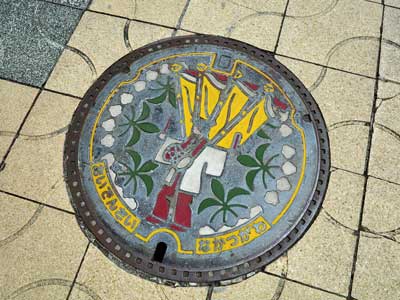 Nakatsugawa manhole cover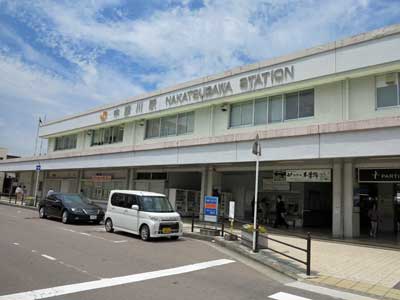 Nakatsugawa JR Station
Nakatsugawa's Maeda Seison Exhibition Hall (Tel: 0573 65 7170) is dedicated to the work of the locally-born modern Japanese artist Maeda Seison (1885-1977), a leading light of the Nihonga movement.
Toenji Temple (東円寺) is a Soto Zen sect temple with a number of statues of Kannon and the Nyorai (Tathagata) Buddha - the historical Buddha. Some of these statues are classified as National Important Cultural Properties. Some of the temple buildings date from the Edo period of Japanese history (1603-1867).
The Nakatsugawa area is home to a number of local kabuki theaters. Kabuki in the provinces, or ji-kabuki, was popular in this area and recent efforts have been made to preserve these historical, wooden play-houses, often made with intricate revolving stages and mechanical stage lifts, and to hold performances.
Such theaters in and around the Nakatsugawa rural district include Meiji-za (Tel: 0573 79 3611), built in 1894, Tokiwa-za (Tel: 0573 72 2111), dating from 1891 and Ebisu-za (Tel: 0573 45 2211). See the Jikabuki Project website for more information on these historic buildings and their performances.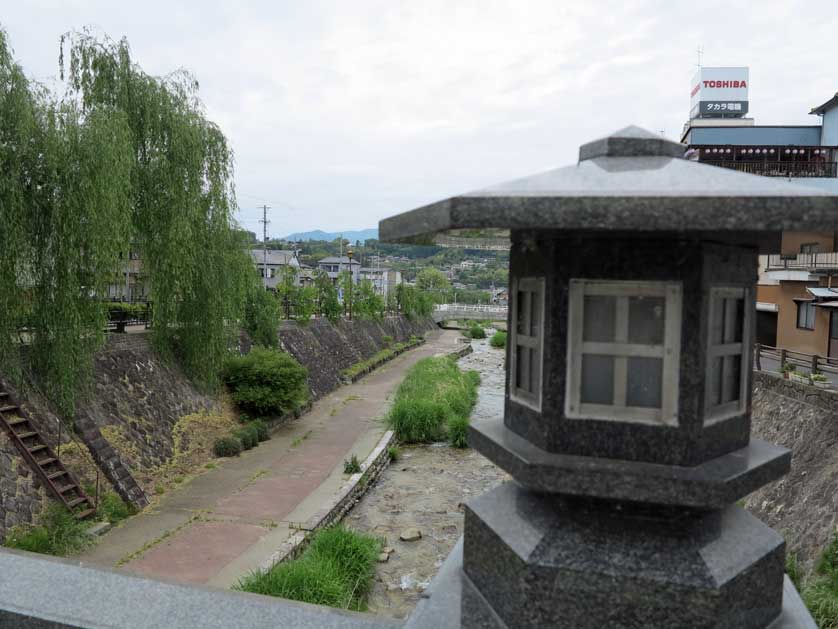 Bridge with lantern over the Yotsume River, Gifu Prefecture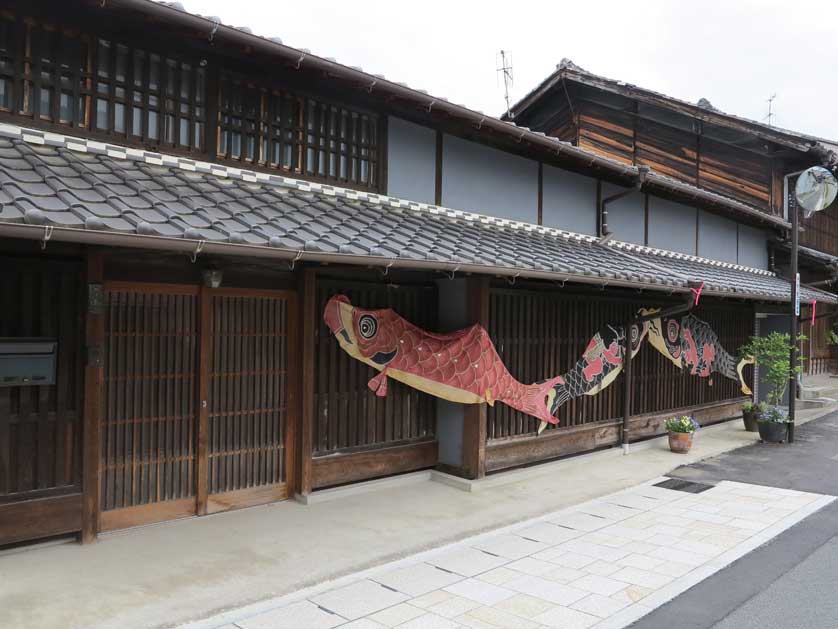 Koinobori carp streamers on an old house in Nakatsugawa
Nakatsugawa Tourist Office (Tel: 0573 62 2277) is located to your left as you exit Nakatsugawa Station. The road down from Nakatsugawa Station to the Apita store and the Nakasendo has a number of restaurants including soba noodles, unagi (eel) and an Indian restaurant. Apita also has some cafes and fast food options.
In summer, Nakatsugawa, like many places in Japan, hosts a firework display on the banks of its river. This usually takes place the day before Nakatsugawa's big bash - the Oidensai Festival in mid-August with traditional floats and street dancing.
The Nakatsugawa Furusato-jiman festival is a trade fair for Japanese confectionery held in October.
Hiking The Nakasendo from Nakatsugawa To Magome
Allow 3 or 3 and a half hours for the walk along the Nakasendo Highway from Nakatsugawa to Magome via the post town of Ochiai (4km). The route is signposted and increases in elevation. After Ochiai and its Honjin, the route ascends through a peaceful cedar forest over sections of both original and restored ishi-datami (stone paving, lit. "stone tatami"), that was built to assist the pack animals going up steep sections. Take care on the slippery stones if the conditions are wet. The Shinchaya Teahouse is an historic inn to break your journey in a remote, picturesque area of rural Japan before a short stroll into Magome. Alternatively, if you are short of time, you can take a taxi from Nakatsugawa Station to the foot of the ishi-datami section and walk from there through Magome to Tsumago. This is a very pleasant day- or afternoon-walk. You can also continue from Tsumago another 90 minutes or so to the railway station in Nagiso.
Stone pavement (ishidatami) on the Nakasendo Highway, Ochiai
Accommodation in Nakatsugawa
The Hotel Route Inn Nakatsugawa Inter is a very reasonably priced business-type hotel about 7 minutes drive from Nakatsugawa Station. Each room has free wired internet, a video-on-demand TV, a safe; there is a launderette on the premises, and a choice of European- or Japanese-style buffet for breakfast. Helpful staff. Supermarket nearby.
The Totaro is a also reasonably priced but more personalized in that it is a traditional ryokan inn, somewhat west of Nakatsugawa. Totaro offers clean, comfortable, traditional Japanese hospitality with tatami flooring and futons,in beautiful natural surrounds.
Hotel Windsor is a very comfortable mid-range hotel in the south of Nakatsugawa in a big beautiful natural setting, and with clean, spacious, modern facilities, a big public hot pool/bath for guests, an on-site restaurant and free parking.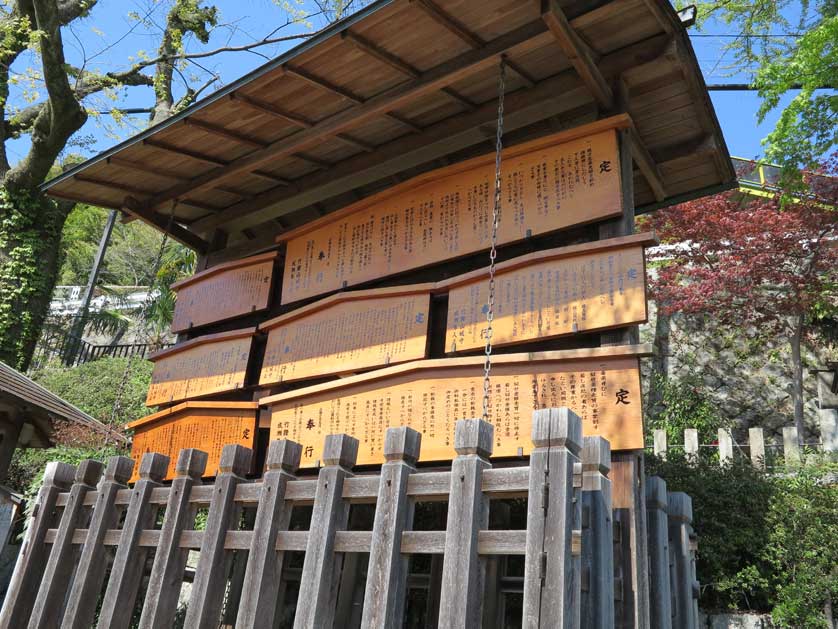 Nakatsugawa kosatsuba on the Nakasendo Highway
Nakatsugawa Access
Air
Chubu International Airport is the nearest airport to Nakatsugawa. There are direct connecting trains on the Meitetsu Centrair service to Nagoya Station and Kanayama Station for JR Chuo Line trains to Nakatsugawa, which is two stops from Ena. Minasakamoto is the station in between.
Rail
JR rapid service trains on the Chuo Line take about 50 minutes to Nagoya Station, 80 minutes on the local train.
Car/Bus
Nakatsugawa I.C. is the nearest intersection on the Chuo Expressway between Nagoya and Tokyo. National Highways 19 and 363 also go via Nakatsugawa from Nagoya. Buses outside Nakatsugawa Station go to Tsukechikyo Kuraya Onsen, Kawaue and the Oji Seishi Paper Factory on Route 1. Route 3 buses go to Magome (540 yen), Ochiai and Kashimo.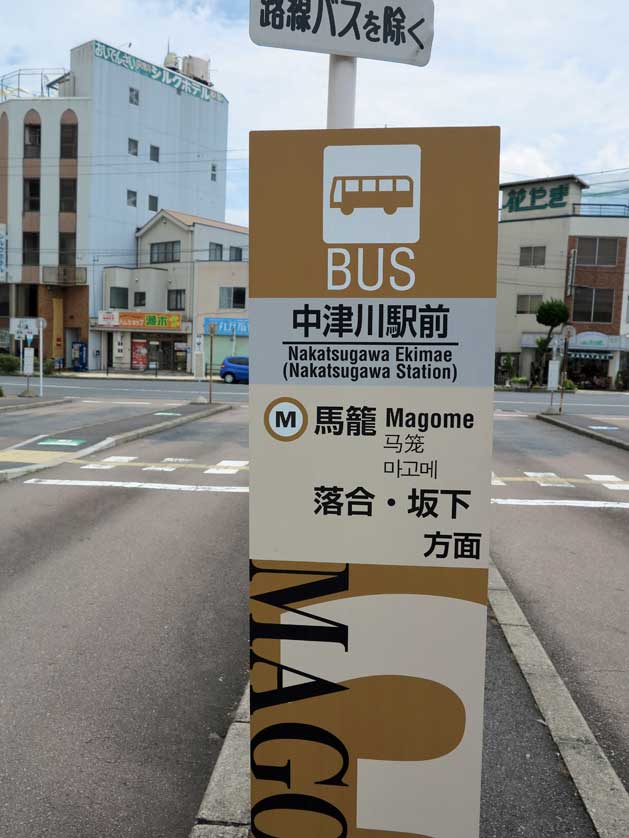 Buses from Nakatsugawa to Magome
The bus journey from Nakatsugawa Station to Magome takes about 25 minutes.
On weekdays there are buses leaving Nakatsugawa at 7.42 am, 9.10 am, 9.40 am, 10.15 am, 11.15 am, 12.12 pm, 1.12 pm, 2.12 pm, 3.12 pm, 4.12 pm, 5.12 pm, with the last bus at 6.30 pm.
On weekends and public holidays there are buses from Nakatsugawa to Magome at 8.10 am, 9.10 am, 9.40 am, 10.15 am, 11.15 am, 12.12 pm, 1.12 pm, 2.12 pm, 3.12 pm, 4.12 pm, with the last bus at 5.45 pm.
Buses from Magome to Nakatsugawa
On weekdays there are buses leaving Magome for Nakatsugawa at 7.05 am, 8.10 am, 8.40 am, 9.40 am, 10.10 am, 10.50 am, 11.50 am, 12.45 pm, 1.45 pm, 2.45 pm, 3.40 pm, 4.40 pm, 5.40 pm, 6.10 with the last bus at 7.00 pm.
On weekends and public holidays there are buses from Nakatsugawa to Magome at 7.05 am, 8.40 am, 9.40 am, 10.10 am, 10.50 am, 11.50 am, 12.45 pm, 1.45 pm, 2.45 pm, 3.40 pm, 4.40 pm, with the last bus at 6.10 pm.
The adult fare is 540 yen with children 270 yen. Buses do not run from December 31st-January 2.
Buses from Nagiso to Magome
There are buses leaving from Nagiso Station to Magome via Tsumago and Magome Pass at 8.40 am, 10.05 am, 12.40 pm, 2:15 pm and 4.35 pm.
Buses from Magome back to Nagiso Station leave at 9.20 am, 10.50 am, 1.25 pm, 3:00 pm and 5.15 pm.
Fares are: Nagiso Station to Tsumago (300 yen); Nagiso Station to Magome (800 yen), Tsumago to Magome (600 yen) and Magome to Magome Pass (300 yen).
The journey from Nagiso to Magome takes 35 minutes; from Tsumago to Magome it is around 30 minutes.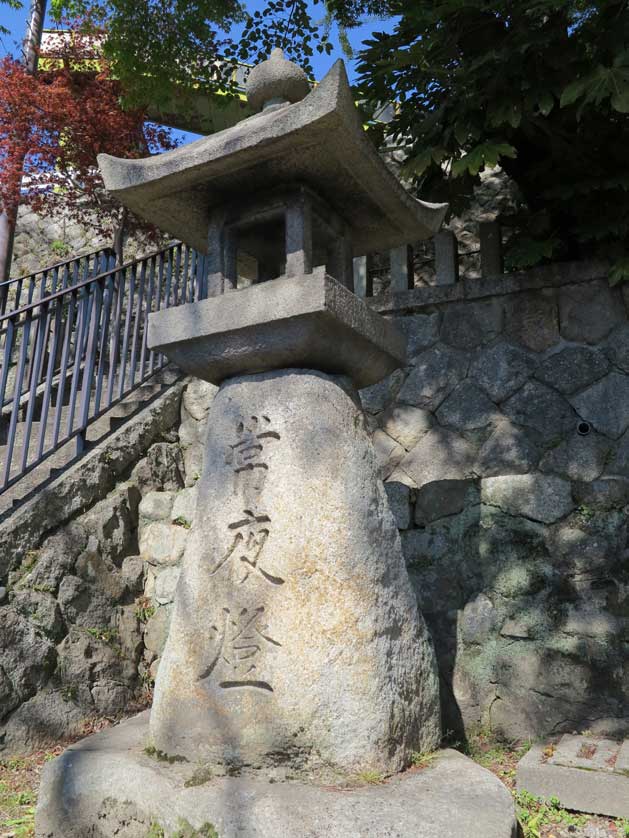 Joyato stone lantern, Nakatsugawa, Gifu Prefecture, central Japan
Getting Around Nakatsugawa
Nakatsugawa is small enough to walk or cycle around. It takes about 10 minutes or less from Nakatsugawa Station to the old Nakasendo street.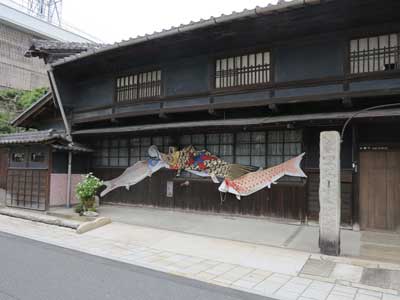 Nakatsugawa houses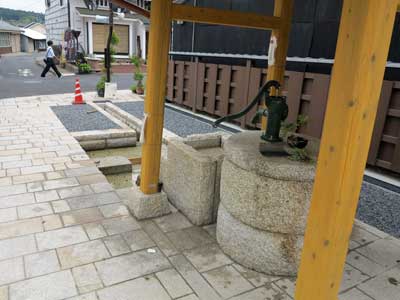 Traditional well
Nakatsugawa Map
Book Hotel Accommodation in Gifu Prefecture Japan
Nakatsugawa: read a guide to Nakatsugawa in Gifu Precture, a former post town on the Nakasendo between Ena and Magome in central Japan.
All the themes of the city