Imai-cho Guide
Imai-ch: read a guide to Imai-cho - a cluster of well-preserved Edo and Meiji period buildings in Nara Prefecture near Kashihara Jingu shrine.
Imai-cho 今井町, 奈良
Edward J. Taylor
There is an old post road called the Takeuchi Kaido, which once linked Nara with Osaka, dating from a time when neither of those cities even existed.
Inaugurated in 613, the road led from the port of Sakai (where a thousand years later Europeans would land as they made their way toward Kyoto and its resident warlord) to the first Japanese capital of Asuka (538 to 710).
It was here that Japanese civilization began, when subjects of the first emperors began to settle into the stability of clans and begin a new enterprise in growing rice. As the modern walker makes his way east, he begins to notice the hilly, tree-covered burial mounds of those former imperials. At the end of a full day's walk, he or she will cross the long broad Takeuchi Pass, before dropping into Nara Basin proper.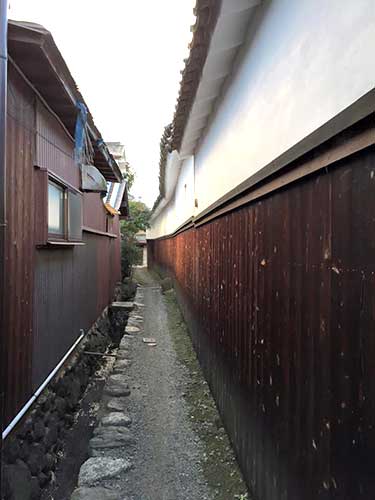 Imai-cho, Nara Prefecture.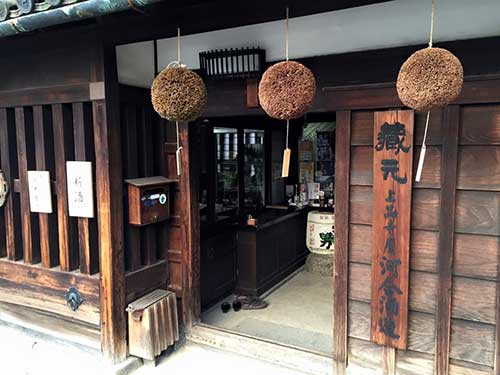 Imai-cho, Nara Prefecture.
As such I was into my second walking day, walking into the February wind, colder even than I had been up in the hills the day before. This section of road had little to interest me, being mainly suburban and modern and rather bland.  I trudged along for the next two hours. At one point the road left behind the chain stores and narrowed to the telltale width of a former post road. Yet even then, the houses were mostly of a new construction, the few older ones abandoned and in disrepair. It all lacked charm, but I knew where that charm remained.
On the outskirts of Yamoto-Yagi I detoured slightly to the south. I had done so twenty years before, hopping off a train to visit its Imai-cho, which a guidebook had told me was composed mainly of old Edo-period structures.
On that day I had had only had a hour or so between trains, so I literally ran to the town and back, getting only a quick glimpse. Today I could take my time with the place, but was concerned with what two decades may have brought.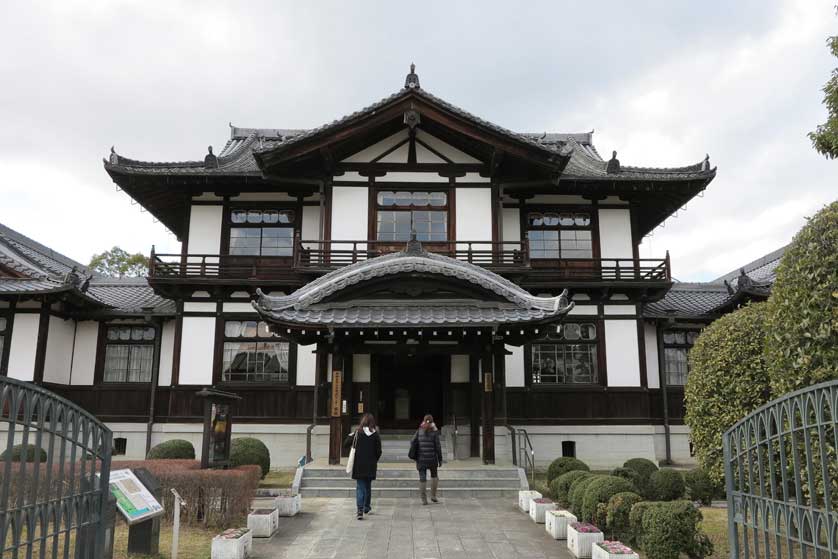 Hanairaka Information Center, Imai-cho, Nara Prefecture.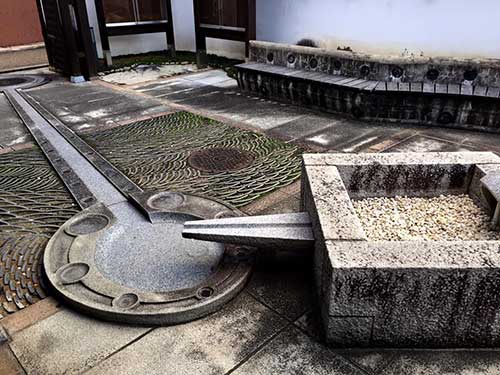 Imai-cho, Nara Prefecture.
Architecture
They brought delight. Imai-cho's tightly packed grids of narrow lanes had hardly been touched at all. It was the Japan that we all long to see, the Japan that we all come here for.
This seems to include the Japanese themselves, as the town is often used as a set for commercials and period dramas.  Eight of its houses have been designated as 'Important Cultural Properties', three of which are open to the public.
The most resplendent of these, built in 1650, is the former residence of the Imanishi family, who had served as town administrators since the Middle-Ages. (10 am - 5 pm, except Mondays; advance reservations required. 400 yen admission fee.)
Equally impressive is the Hanairaka information center, a few minutes walk southeast. (10 am - 5p m, except Mondays; advance reservations required. 400 yen admission fee.), except Mondays; advance reservations required. Free admission.)  Just over one hundred years old, it is a fine example of the height of western-infused Meiji-era architecture, particularly its magnificent display of grand gables. The geometry of the roof lines is a near parallel of Shonen-ji Temple nearby.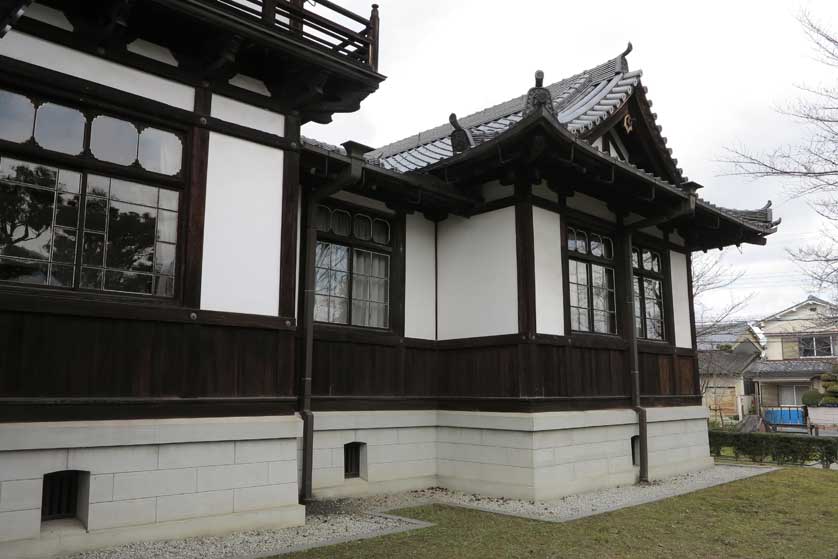 Hanairaka Information Center, Imai-cho, Nara Prefecture.
Shonen-ji is inarguably Imai-cho's most important structure, as the town had been built around it back in the mid-1500's.  These original houses, and the moat that surrounded them, had been used to protect the temple's rebellious Ikko sect.  This powerful, autonomous community drew the wrath of the powerful warlord Oda Nobunaga, but was saved from destruction by one of the town's merchants who happened to be in the warlord's same tea circle.
While the walls and moat had been torn down, this close community continued to prosper, and it was said that "seven-tenths of Yamato's gold is in Imai."
As such, the town had been one of the wealthiest during the Edo-period, which accounted for the compact look of the town, making it easier to defend. Remnants of that wealth survived in the luxury cars parked here and there. Another display can be seen annually on the third Sunday in May, as a procession clad in the finest period splendor wends its way through the narrow roads and passageways.
It is incredible the lengths the residents have gone to keep the beauty, and preserve what they once had. It was refreshing to see the workmen painstakingly rebuild some of the houses, taking great care to preserve the original look.
There were a few amenities to the modern world of course, like one house where they were putting in double-glazed windowpanes. I wish I could say that all the houses had retained the old look. The single striking exception was the Yamada house on 4-chome, which looked nothing more than the worst European gingerbread delusion.
I can only imagine how Yamada's neighbors felt about the structure, no doubt with a fair bit of vehemence. But what worries me more is that this is probably how it begins. As one house goes, so does another, and another, and within a generation, this town might be filled with the least-common-denominator characterless boxes that many people in Japan all too often call home.
There were also a couple of places where houses were gone completely, having been converted into carparks. But surfaced in grass rather than concrete, they were softer here, looking part of the town rather than as a conspicuous absence, as carparks usually do in Kyoto.
The wind was blowing down the narrow lanes, under a sky gone grey. The only true color in view was in the bobbing yellow hats of school kids going home. Ten minutes away, I found their older counterparts pouring out of Yamato-Yagi train station after a long day spent in Osaka office buildings.
It was late now, later than I usually walk, the clock hitting 5.30 pm just as I hopped a train that got me home to Kyoto in just under an hour.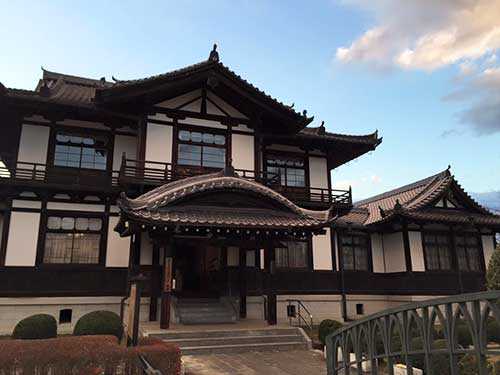 Hanairaka Information Center, Imai-cho, Nara Prefecture.
Access
The nearest stations to Imai-cho are Yamato-yagi and Yaginishi-guchi on the Kintetsu Kashihara Line from Yamato-Saidaiji Station and Kintetsu Nara Station. These stations can also be reached from Abenobashi Station in Osaka.
The Imai-cho cluster of historic Edo and Meiji Period buildings is also within easy reach of Kashihara Jingu. Imai-cho is about 1km to the north of Kashihara Jingu at the crossroads of national Highways 165 and 24. bicycles can be hired at Kashihara-jingu Station.
Unebi Station on the JR Sakurai Line from JR Nara Station is a short distance to the east of Imai-cho. The Japan Rail Pass is valid on this route.
Based in Kyoto, Edward's work has appeared in a variety of print and online publications. Co-editor of the Deep Kyoto Walk anthology, he is currently at work on a series of books about walking Japan's ancient highways.notesfromthenog.blogspot.jp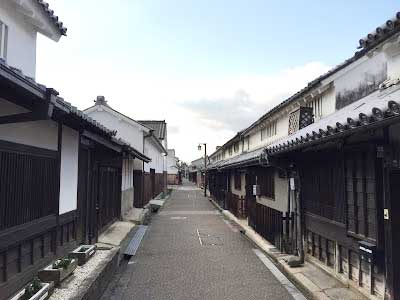 Imai-cho, Nara Prefecture.
All the themes of the city