Heijô Palace
平城宮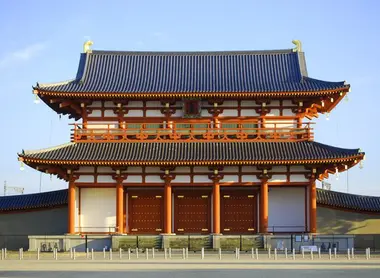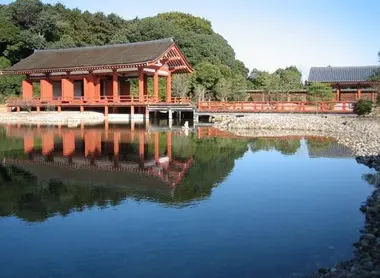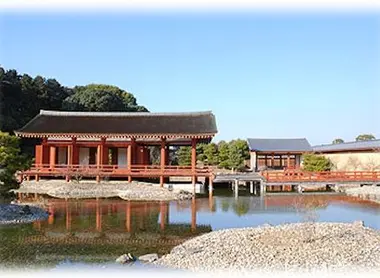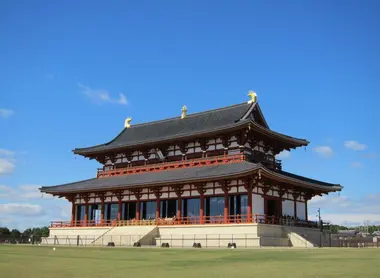 Modern remains of a buried past
North of the city, the Imperial Palace of the former capital has given itself a second youth in the second half of the twentieth century. Completely renovated, it is revealed without a wrinkle, between splendor and gigantism.
A city within a city with its one kilometer in length and 1.3 km width, Heijô-kyu (平城宮) is a reminder that Nara had its glory days. Immense by its surface area, rich with symbols of power that celebrated everyday life as much as the exceptional, Heijô-kyu has nothing to envy of its younger brothers, the Imperial Palaces Kyoto and Tokyo .
Symbol of prosperity, in the eighth century Nara was the face that Japan presented to its neighbors, its merchants and its friends. Among the main buildings, the impressive Daigokuden reigns over the site, the "old audience hall" which hosted receptions and delegations. Slightly east, the "new audience hall"  grandiose disappeared and smaller, only shows its foundations.
At the other end of the site is the "East Garden", Toin Teien, striking in its symmetry and the calm that it exudes with its pond and its building that served as a banquet hall for the imperial family. History unfolds, the walk continues and to the south stands the Suzakumon, Suzaku Gate that marked one of the main entrances.
Nara the renovated
Heijô-kyo the old, the capital from 710 to 784, Nara the prosperous quickly turned into Nara the abandoned. The center of power moved to Kyoto, Heijo Palace was abandoned and most of its buildings were lost. Apart from Toshodaiji Temple, all the buildings were rebuilt after the first archaeological excavations in 1952.
From its vestiges,Nara jidai was reborn, as well as the Nara period and the Daigokuden, the east garden and the Suzakumon all reconstructed in full-scale, all jewels of a city listed as World Heritage by UNESCO in 1998. Opened in 2010, the Daigokuden celebrated 1 300 years of the ancient capital.
Open-air museum(s) 
The other quarters of the emperor and the administrative buildings are in ruins or just foundations, all are indicated on the site. The Nara Palace Museum and the Heijô-kyo Museum complement the historical and cultural panorama where genuine period pieces are exhibited. Between past and present, heritage and reconstruction, Heijô Palace, which finally is not that old, recalls the centuries past.
All the themes of the city