iRASSHAi: the new concept store for Japanese cuisine lovers in Paris!

A spacious grocery store, two restaurants, a café, a bar, a take-away counter, a cooking class studio... All in a sublime, sleek, Japanese-style 800m² space in the heart of Paris. This new concept store, a must for Japan lovers in the capital, stands as iRASSHAi ("welcome", in Japanese)!
iRASSHAi, Japan Experience's space for discovering and exchanging about Japan!
How did we get here ?
Behind iRASSHAi, the two associates of Japan Experience, Thierry Maincent (right) and Xavier Marchand (left)! The same love of Japan that helps thousands of travelers go there every year through articles, thematic guides, activities, essential products and customized trips, created by a team of passionate people since 1981, drives this new Parisian hub. iRASSHAi is also just a few minutes' walk from the Japanese heart of Paris, rue Sainte-Anne (where the Japan Experience agency is located)!
Born of a desire to bring Japan to enthusiasts and travelers who couldn't visit (the country closed its borders between April 2020 and October 2022), iRASSHAi brings a serious cultural - and interactive - resource to the Japanese trend blowing through Paris.
For those who have already had the opportunity to travel to the Land of the Rising Sun, iRASSHAi is a delicious reminder, with products carefully sourced and crafted in true Japanese style. For neophytes, the different areas of the concept store are an ideal introduction to Japan... a gentle first step before complete immersion during a trip!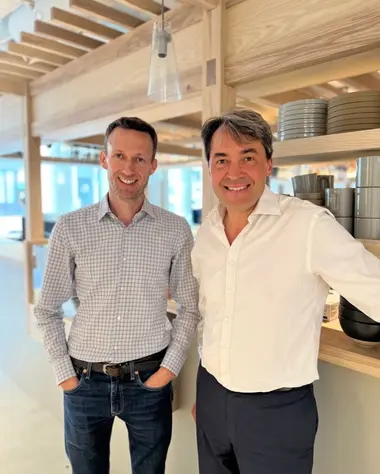 Paris' temple to Japanese cuisine
iRASSHAi opens the doors to Japan through a very special aspect of the country's culture: its gastronomy. With its 2 restaurants (SHOKUDO, the "cantine" space, and BIWAN, the bistronomic table), its take-away counter, its café, KISSATEN, which transforms into a bar, SAKABA, after 6pm, a studio dedicated to cooking classes and the grocery store, the centerpiece of the place, iRASSHAi offers a complete panorama of Japanese cuisine.
The grocery section focuses on discovery and accessibility, to help visitors understand and master Japanese products, which are often complicated for amateurs to handle. QR codes accompany each pack of bonito, soba, dashi broth, miso paste and the 1,000 other products on the store's colorful shelves, so that customers can easily obtain more information on the products, recipe ideas... Also available on the website irasshai.co !
For foodies, the grocery store is truly unique in the Parisian landscape. Indeed, three quarters of the products available at iRASSHAi are sold for the first time in France! Cooking at home like in Japan becomes possible, and with the explanations on the site, it's even almost effortless. The selection you'll find on iRASSHAi's shelves is the result of two years of research and tasting by a team of Japanese natives and connoisseurs, and is imported by iRASSHAi directly with a local supplier and on-site team, in order to offer only the very best products.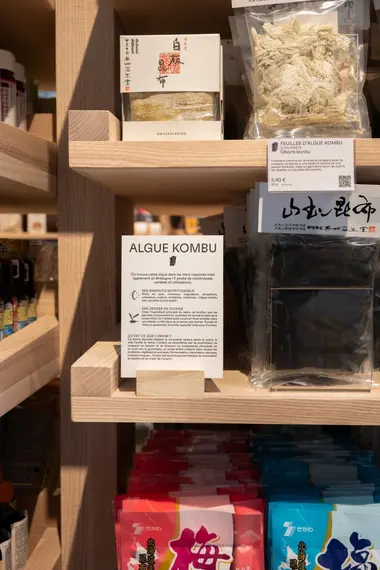 Some are imported from Europe, such as the fish from Hokkan Suisan, a Dutch producer endorsed by the Japanese Ministry of Agriculture. With a concern for sustainable development and quality, a unique selection of organically-certified Japanese vegetables, grown in the Paris region, will also soon be on sale. 
iRASSHAi also features a bookshop, a Japanese spirits cellar (selected with the same expertise and care as the grocery products), and a range of tableware accessories. 
4 new Japanese addresses in Paris, all in one place!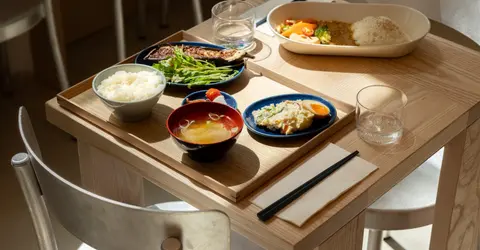 iRASSHAi is open from 8am to 24am, so the different areas of this new temple to Parisian gastronomy can cater for all gourmets, at any time of day. With 4 distinctly different restaurants, the challenge has been met! 
On one side, SHOKUDO, the uncluttered canteen, with an authentic and traditional Japanese menu at lunchtime, featuring teishoku (meal trays), kare raisu (curry), noodles, as well as side dishes, salads and desserts. All served in contemporary tableware, on the terrace or indoors. In the evening, a more izakaya atmosphere takes over, with a menu focused on sharing, with smaller portions for the whole table to enjoy over a drink. 
On the -1 floor, in a more intimate, hushed and refined setting, the BIWAN bistronomic table invites you on a culinary voyage of more sophisticated flavors. At the helm is executive chef Chihiro Yamazaki, a native of Sapporo (Hokkaido) who has worked in prestigious kitchens such as the Opéra Garnier restaurant and Café Kitsuné. The chef's menu is based on the seasons, featuring a diversity of Japanese culinary specialties, with seasonal fruits and vegetables from the north to the south of the archipelago. At the counter or in an intimate private lounge, BIWAN promises great culinary moments...
Facing the Bourse du Commerce, it's a 2-in-1 address that sets the pace for the days and evenings at iRASSHAi: KISSATEN from 8 am to 6 pm, SAKABA from 6 pm to midnight!
On the KISSATEN side ("tea room" in Japanese), hot - and cold - drinks and Japanese pastries are the star attraction. Kinako latte with roasted soy powder, matcha latte of course, but also a focus on Japan's rich coffee culture with beverages from the Ippudo brewery (including one of the capital's best cold brews)... Classics are on the menu, as are original creations, such as a matchaffogato, an Italian affogato revisited in a Japanese version, with a shot of matcha instead of espresso. On the KISSATEN side, you'll also find the savoury takeaway counter, with onigiris, sando and other snackable treats. 
After 6pm, KISSATEN becomes SAKABA: hot drinks give way to creative cocktails and quality spirits. The bar menu was designed by MOF barman Christophe Davoine, a connoisseur of Japanese spirits. Sake (which is the subject of special tastings), whisky, yuzushu... but also Asahi matcha beer and non-alcoholic cocktails accompany one of the most comprehensive Japanese cocktail menus in Paris.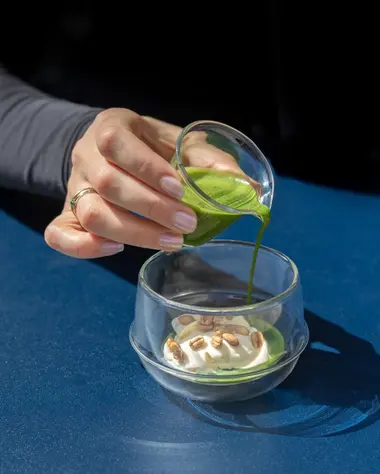 iRASSHAi, THE Japanese destination in Paris!
With a studio designed to host cooking classes organized by iRASSHAi as well as private events, the address completes its rich panorama of Japanese culture. 
Driven by a passion for Japan and supported by a team of experts on the Land of the Rising Sun, iRASSHAi is an absolute must for all lovers of Japan.
---
Address, timetable & access
iRASSHAi
Address

40 rue du Louvre

75001

Paris

France

Timetable

Open from 8am to midnight every day.

Access

Subway stop : Louvre-Rivoli & Châtelet
RER stop : Châtelet-Les Halles

Website

https://irasshai.co/
All the themes of the city