Onigiri: the essential rice balls
おにぎり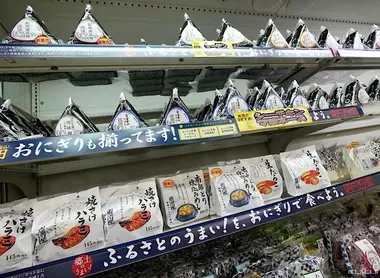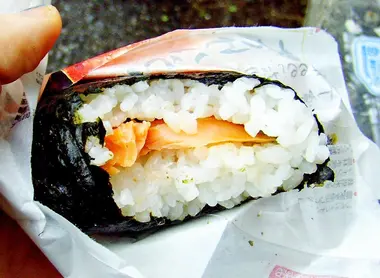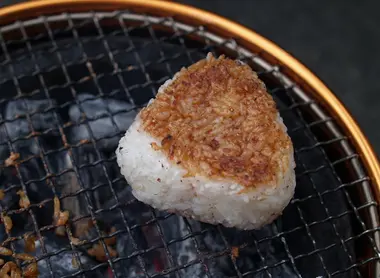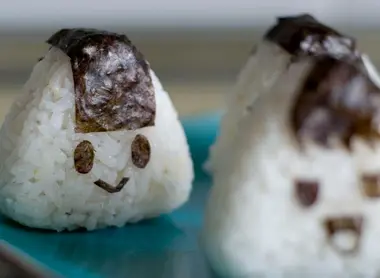 Rice in all its forms
Onigiri (rice balls) also called omusubu, are to the Japanese what sandwiches are to the French: a practical, inexpensive snack that sticks well. On the market, they tend to be triangular in shape, while homemade dumplings often have more rounded shapes. Discover this Japanese snack with us ...
Onigiri has been around in Japan for centuries, and travelers used to take them on their long journeys across the country. Nowadays, they are the essential food for picnics, they accompany children to school, are the ally of employees who have lunch on the go, and of anyone who wants to satisfy a snack.
Onigiri, the Japanese Proust madeleine?
The name "onigiri" comes from the verb "nigiru" which means "to press/shape with one's hands" and refers to how one squeezes the rice in one's hands to form a ball of the desired shape, usually round or triangular.
Although the recipe is simple: rice cooked in water that is traditionally stuffed with crumbled salmon or a dried plum, that is lightly salted and shaped into a ball, the preparation is not so simple. The grains of rice sometimes stick to the hands and it takes a lot of expertise to make a perfect ball or triangle that doesn't crumble once you bite into it.
Moreover, for some Japanese, onigiri is more than an ordinary snack, it evokes childhood memories and maternal love as mothers prepare for snacks to take to school or on an excursion. Handmade food par excellence, each mother has her way of shaping it and adding the favorite ingredients of their loved ones. More recently, some onigiri has become very creative much like works of art: they are given the shape of a heart or a star or even small figures carved in rice and decorated with nori (dried seaweed).
Where to taste a quality Onigiri?
In reality, these rice balls are rarely eaten at home. In any case, not during a proper meal. On the other hand, you can find some on the izakaya (tapas) menus, so they are often yaki onigiri, big onigiri, covered with miso, and grilled.
Some shops specialize in offering a variety of Onigiris. Onigiri Asakusa Yadoroku, for example, is the oldest rice ball restaurant in Tokyo. Est.,1954, it's open for lunch but also for dinner, you can sit at the counter and watch the staff making the onigiris, as in sushi restaurants.
Gonbei, who prefers to call his balls, ​​​​​​omusubi, the other name for onigiri, has branches all over Tokyo and, good news for the French: there is a Gonbei establishment in Paris!
The star product of konbini
They can also be bought in the catering departments of supermarkets and especially in konbini. It is undoubtedly the star product of Japanese convenience stores - millions sold daily!
Considered too ordinary a product, the first konbini (in this case the 7-Eleven, the first store of this chain opened in 1974 in Tokyo) initially, did not offer the menu. It was not until 1978 that they appeared on the shelves of some 7-Elevens and it was not until 1983, with the invention of the tuna-mayonnaise onigiri, captivating the hearts of Onigiri lovers. 
Very inexpensive (from ¥ 100, approximately $.90/.75€ ), nutritious (the onigiri rice is indeed very compact), and now filled with a wide variety of ingredients, they have become everyone's favorite snack or food to go.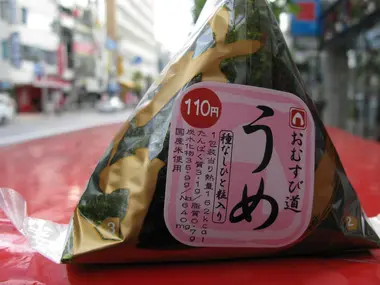 The art of unwrapping an onigiri: Japanese way
Hobbyists: Opening a konbini onigiri can be tricky for the first-timers, especially if it's wrapped in nori. They are double wrapped in plastic: a first layer serving to isolate the rice from the seaweed sheet so that it remains dry and crunchy while the second serves to protect the onigiri in its entirety. These two layers must therefore be removed delicately so as not to break the onigiri, and not to leave the nori sheet in the plastic protection. Learn how to unwrap a perfect Onigiri in a few swift moves like a pro!
This video will help you understand how to unwrap an onigiri :
Traditionally, onigiri was stuffed with salted and/or pickled condiments that kept well (especially umeboshi, salted plum). Now, with current preservation techniques, they are found stuffed with all kinds of fillings.
Key vocabulary guide to enjoying an onigiri
お か か, okaka, dried bonito flakes
ツ ナ マ ヨ, tsunamayo, tuna and mayonnaise
サ ル モ ン, salmon, salmon
明 太子, mentaiko, spicy cod roe
チ キ ン マ ヨ, chikinmayo, chicken with mayonnaise
う な ぎ, unagi, eel
イ ク ラ, okura, salmon roe
五 目, gomoku, sticky rice cooked with 5 ingredients
Vegetarian onigiri :
梅干 し, umeboshi, dried plum
こ ん ぶ, konbu, brown seaweed
チ ー ズ, cheezu, cheese
キ ム チ, kimuchi, kimchi or pickled and spicy cabbage (Korean)
赤 飯, azuki and black sesame, red bean and sesame
Rice can also be flavored with flake seaweed or sesame.
Japanese onigiri recipe to make at home:
All the themes of the city