Kappabashi-dori
合羽橋通り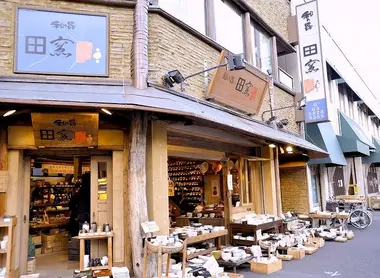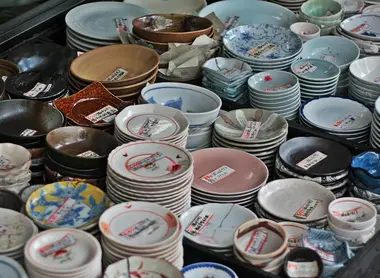 The way of the knife <br>
All Japanese apprentice chefs must equip themselves with utensils from Kappabashi-dori, a paradise for Japanese restaurant owners.
Kappabashi-dori in the Asakusa district is identifiable by the chef dominating the avenue from the roof of Niimi store. A hundred stores dedicated to tableware stretch out over eight hundred meters. All jumbled together, you can find specialists of pans, ceramic bowls, chopsticks and other bamboo products and knives, which are among the sharpest in the world.
Cooking arms
You will find these sharp wonders at Kamata where the English-speaking staff will point you towards the perfect tool to prepare sashimi, from dozens of models from artisans provinces such Misono. Count a hundred euros for a single knife. A good buy, provided you are very careful when handling it and know how to sharpen it.
In addition to the kitchen utensils, the stores of Kappabashi-dori also sell the characteristic decoration of Japanese restaurants. You will find the famous plastic dishes found in all the restaurant windows, and for a very affordable price. You can even leave with a red lantern from Kappabashi Soshoku, which will look great at your front door.
Cooking buffs will not be disappointed by Kappabashi-dori, which is the reference for chefs throughout Kanto, whose fate has often been on a knife's edge.
---
Address, timetable & access
All the themes of the city