The words to know to take the train in Japan
日本で電車に乗る時に必要な言葉

Guide to the essential vocabulary of the Japanese train
As an essential means of transport, the train will take you to the four corners of Japan safely, quickly, and punctually... as long as you choose your route carefully.  During your travels, you will notice that some Japanese words are repeated again and again. 
In the main Japanese stations, the signposts have indications in Japanese and also in English. For more fluidity, it can be useful to understand and be able to express a few basic words: check out here an essential glossary for a journey as fluid as a Shinkansen trip... and to avoid staying on the platform!  
 
Basic Japanese train vocabulary
Here we start with one of the most important words! You can see this character written as a suffix to all the station names in the country, for instance 京都駅 "Kyoto-eki" for Kyoto Station.
Good to know: To ask "Where is (station name) station?"", say "(name of the station) eki wa doko desuka ?".  
Important for getting on most transport in Japan! If you don't want to bother with tickets, think about rechargeable cards Pasmo or Suica, that allow you to travel without buying a ticket.
"Destination". To avoid ending up at Nagoya station when you wanted to go to Kyoto station, it is essential to know this little word. You will often hear this word to announce the destination of your train. It is written as a suffix of the destination station.
Good to know: If you want to ask if this train goes to Tokyo, say : "Tokyo iki desu ka ?"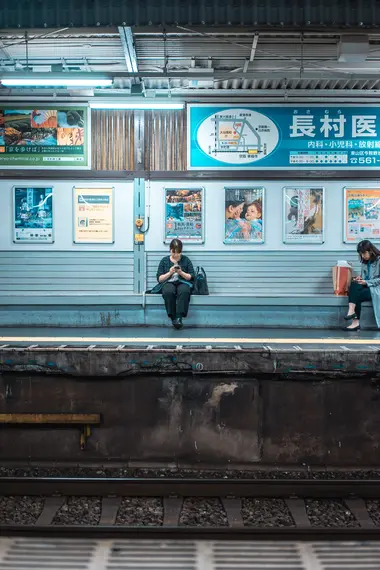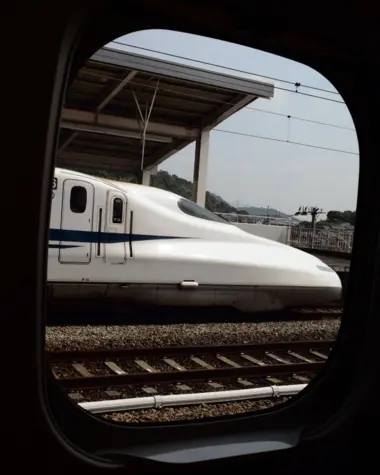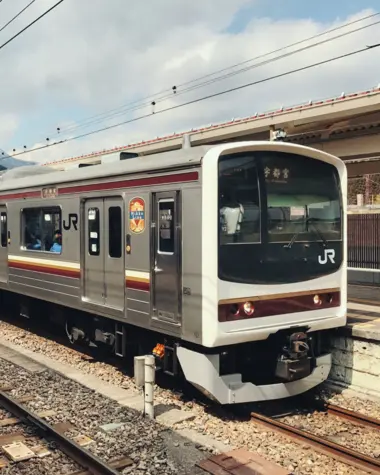 This is the Japanese word for "train", but not just any train: the electric train! Indeed, for the steam train, we would rather use "kisha 汽車". As a widespread means of transport in Japan, a multitude of trains exist: local trains, express trains, or even Shinkansen! It is therefore essential to know and recognize this word before taking the train.
Good to know: To find out which train you need to get on, ask : "Dono densha ni nottara ii desuka ?"
Shinkansen - 新幹線 : the high-speed train
This is the Japanese high-speed train, literally translated as "new intercity line" in Japanese. It operates from Hakodate (Hokkaido) in the north to Kagoshima (Kyushu) in the south. Its maximum speed is 320 km/h!
Finding your way around the train
3 essential expressions for sitting at the right place
Discover below the 3 types of seats that exist and learn to recognize them.
Jiyu seki - 自由席 : non-reserved places
Unreserved seating is a basic train feature in Japan. It can be found in different types of trains, including the Shinkansen, the famous high-speed train that includes 3 cars of seats without reservation! Avoid paying extra by choosing an unreserved seat...useful, is it not?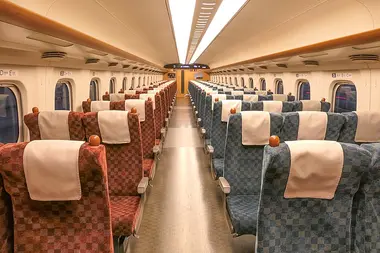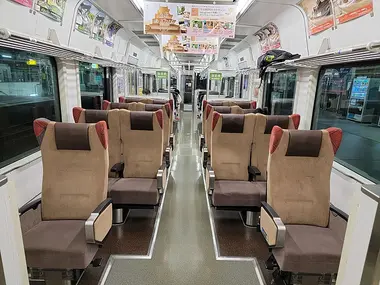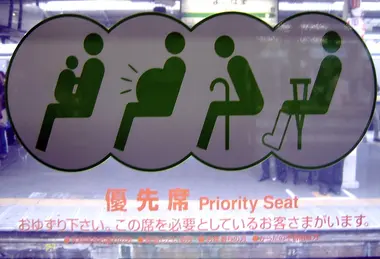 Shitei seki - 指定席 : reserved places
For the less adventurous, shitei seki are the assurance of having a seat when you get on the train! They are located in cars where you need to make a reservation for a specific seat: the conductor will then check your ticket. Finally, it is quite similar to the French train, so this system will not be unknown to you!
Yusen zaseki - 優先座席 : priority seats
Here we are dealing with a rather broad expression which is usually followed by pictures for more precision. "Yusen Zaseki" covers the various seats reserved for people who need to sit down: elderly people, pregnant women, injured and sick people, or people with reduced mobility. It is a system similar to the one used in the French public transport system. 
Special facilities to know about
Josei senyô sharyô - 女性専用車両 : women's only car
Here we present the most important arrangement of all! In Japan, there are often problems with inappropriate touching on commuter trains during rush hours. Safety is a fundamental principle of Japanese culture, so many companies have decided to set up women-only cars. Pink markings are affixed to the floor and windows of these cars so that they can be recognized. The concept inspires a certain safety for women, and it is hoped that it will be reproduced in other countries!
Kitsuen - 喫煙 : Smoking area
Smoking areas are not a principle, but rather an exception. Some long-distance trains, including the Shinkansen, will have smoking areas where you can enjoy your relaxing journey with a cigarette.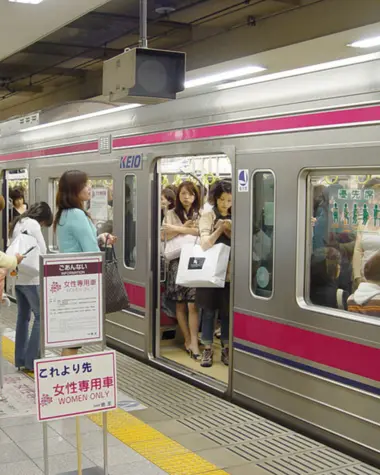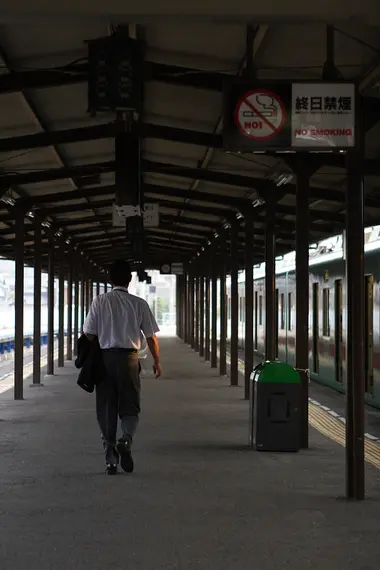 Kinen - 禁煙 : Non-smoking area
Having seen the exception above, here is the principle: the no-smoking zone. The two words look the same, but kinen is a no-smoking zone! All trains, subways, and buses have a kinen zone.
To go even further
Kaku-eki teisha - 各駅停車 : the stop at each station
Being familiar with this word will let you know that the train will stop at each station and that it is not an express. Sometimes junkyu (semi-express trains) start as an express train and then become a local train.
Tokkyu renraku - 特急連絡 : connection with the express
This is the Japanese word for "contact" and is used in all sorts of situations, just like its English equivalent. If you ever see this word on a train sign or hear it announced by the driver on the train, it means that the train will make contact with another train.
In other words, if you are on a local futsu train, they will tell you which station it stops at the same time as a tokkyu express train - feel free to switch from local to express, or vice versa, to save time on your journey!
Nobori - 上り/ Kudari - 下り: closeness and distancing
This is the direction of the train going to or from Tokyo, with the capital being the central point. If all roads lead to Rome in Europe, all trains go to and from Tokyo in Japan! Nobori means a train going to Tokyo and kudari means a train going away from Tokyo.
With these few words and our wise advice, you can start managing to take the train in Japan. But there are certain rules to follow so as not to pass for a badass. The best is to do like the Japanese. Therefore: firstly, buy your ticket at a ticket office before accessing the platforms. Secondly, always queue on the platform before boarding the train, even if you have reserved your place (the first-come-first-serve!). We often see foreigners boarding before others without paying attention to the lines. The Japanese probably won't tell you, but it's very unpopular and gives tourists a bad reputation!
Another important point: phones on the train... It is very rare to see people talking on their phones. Advertisements constantly broadcast a message reminding passengers to put their cellphones in silent mode and refrain from use. So don't do it, or go and make your call in an area between the cars so as not to disturb the other passengers.
Yoi tabi o ! (Have a good trip!)
See also: The Japan Rail Pass
All the themes of the city