Onsen Regions in Japan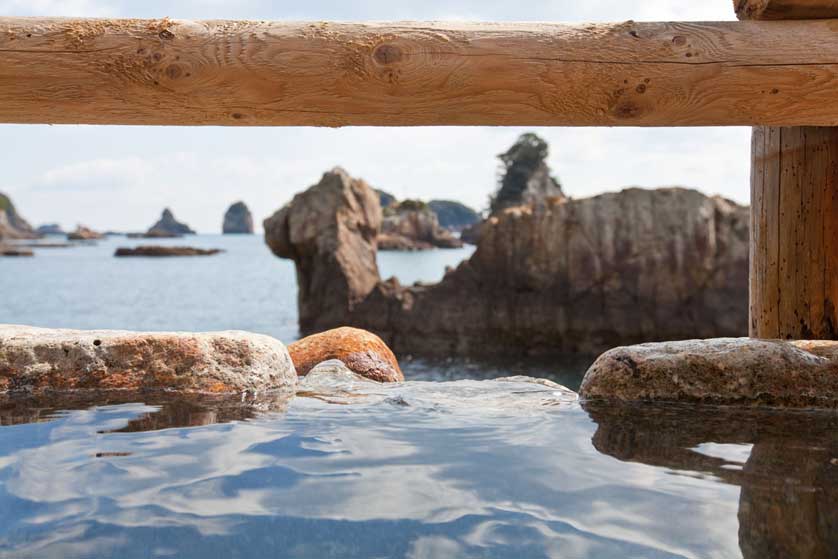 Kumano Onsen
Japan's Hot Springs: Japan's Top Onsens - Spring Break: Japan's iconic onsen inspire hydrothermal hedonism 温泉
Daniel Allen
Kumano Onsen
"Kimochi ii!" exclaims tour guide Motoko Todo, as she sinks slowly into the steaming waters of the Tsuboyu bath. Japanese for "it feels so great", these are two words that tourists may find themselves using on a regular basis if they frequent some of the numerous onsen - or hot springs - of Japan.
In the heart of the Kumano region, located south of Osaka on the Kii Peninsula, Tsuboyu is the only hot spring in the world registered as a UNESCO World Heritage site.  An exclusive, 30-minute dip in the naturally hot waters of this bijou pool costs about US$9 (750 Japanese yen), a small price to pay for such a gloriously relaxing experience.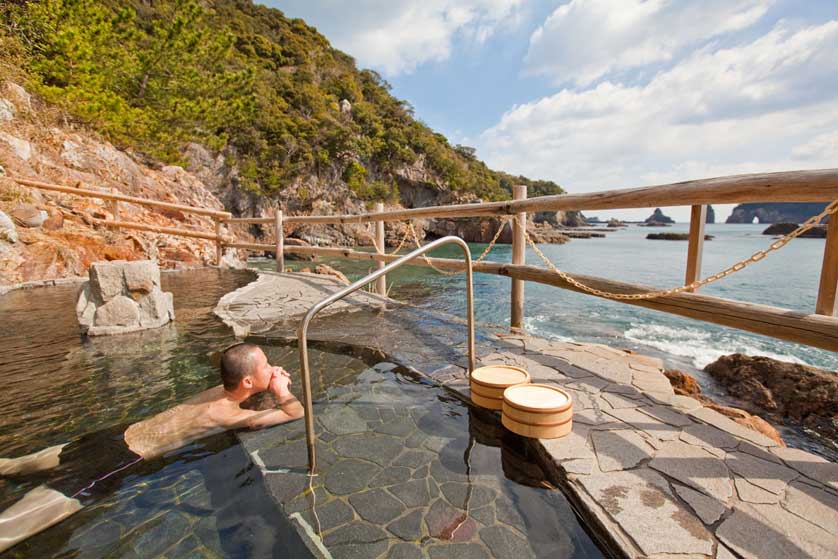 Kumano Onsen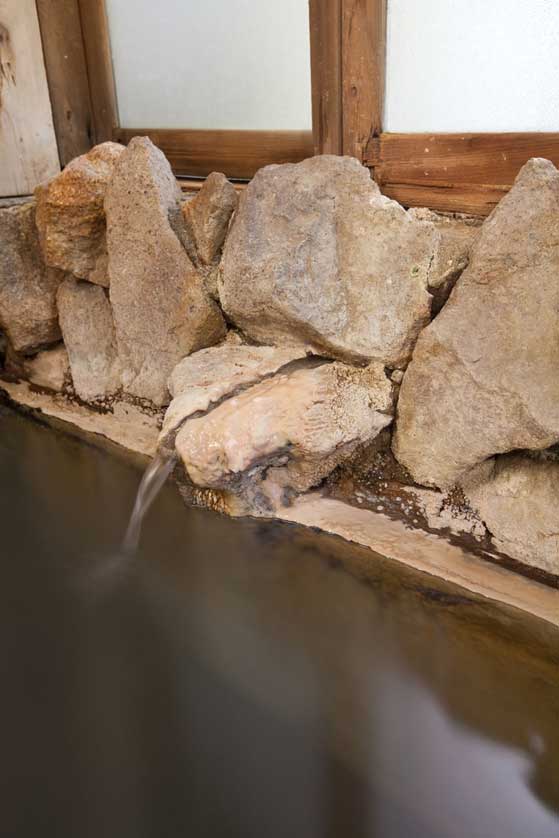 Kumano Onsen
"Soaking in an onsen is a great way to round off a bout of strenuous hiking," says Todo. "It rejuvenates aching muscles and is a great time to reflect on the highlights of the day. I try to visit onsen as often as I can, especially when I've had a tough day on my feet."
With superheated water gushing out of the ground everywhere from Hokkaido in the north to Okinawa in the south, Japan is one of the world's top destinations for indulging in a spot of hydrothermal hedonism. With 3000 springs dotted across the country - more than any other place on earth - prospective bathers are spoilt for choice when it comes to planning an onsen-based holiday.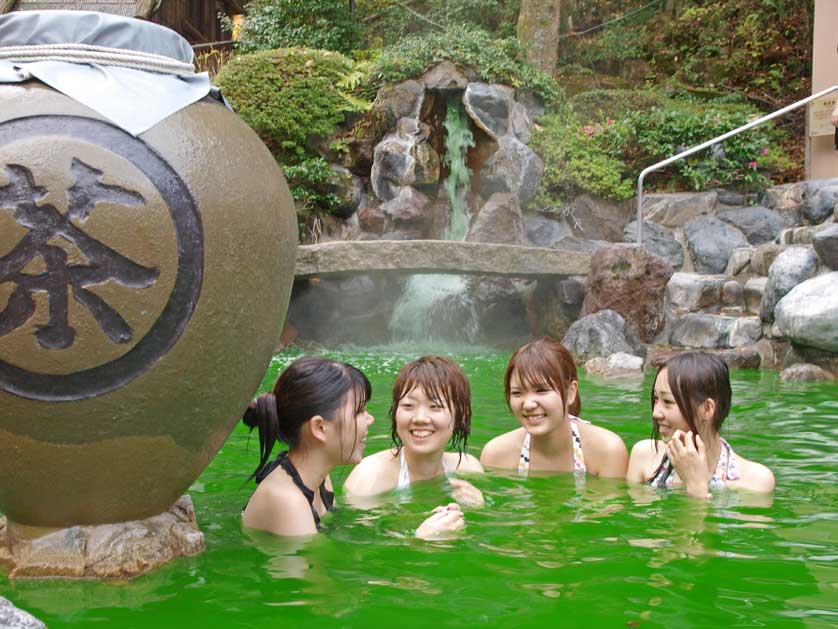 Yunessun Onsen, Hakone, Japan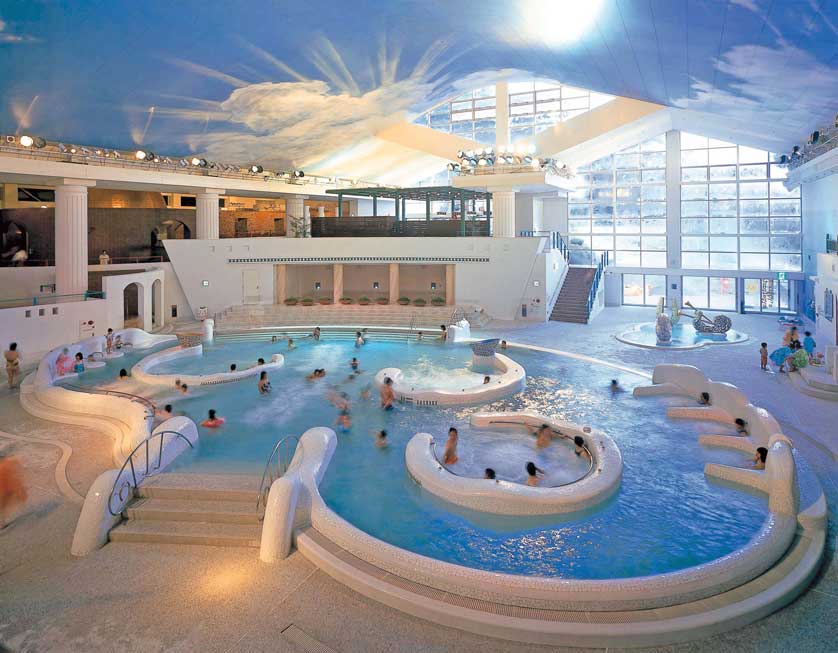 Yunessun Onsen Resort, Hakone, Japan
Onsen are an integral part of Japan, not only in terms of the country's geological make-up, but also in the lifestyle of the Japanese. They have long been linked with the Shinto religion and its respect for nature, and pilgrims would frequently use them for purification purposes.
"Onsen are very important in Japanese culture as they combine relaxation and pleasure with cleanliness and almost a ritual purity," explains Philip Smith, a Tokyo-based expat and self-confessed Japanophile. "This is evident  at shrines where visitors usually rinse their mouth and hands before entering."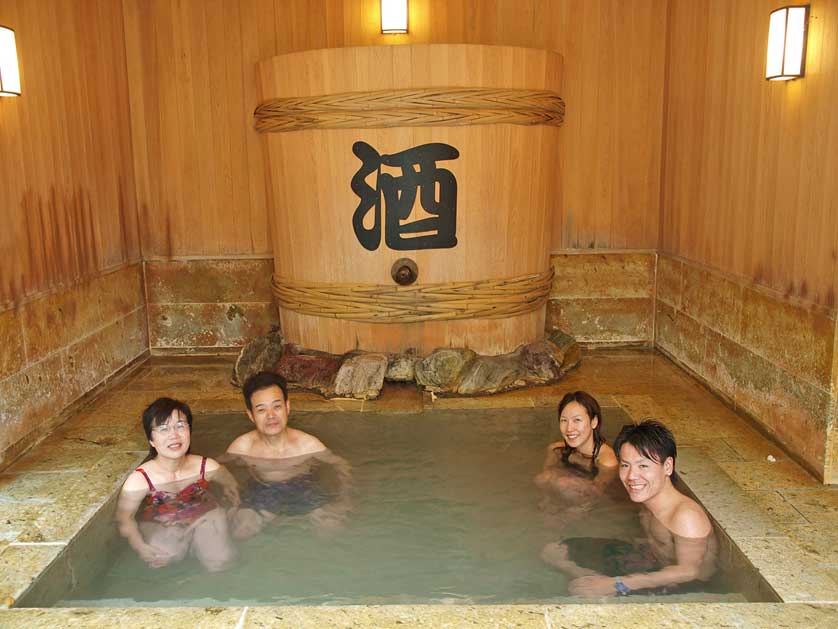 Family bathing at Yunessun Onsen, Hakone, Japan
"Every culture has their obsessions, and for the Japanese it's the onsen," adds Brad Towle, a Canadian working for the Tanabe City Kumano Tourism Bureau. "The onsen areas are one of the last places where traditional cultural and etiquette has been preserved; they are like time capsules, exposing visitors to an older way of life which has almost been forgotten in modern Japanese life.  Onsen are touchstones of Japanese culture. The country wouldn't be the same without them."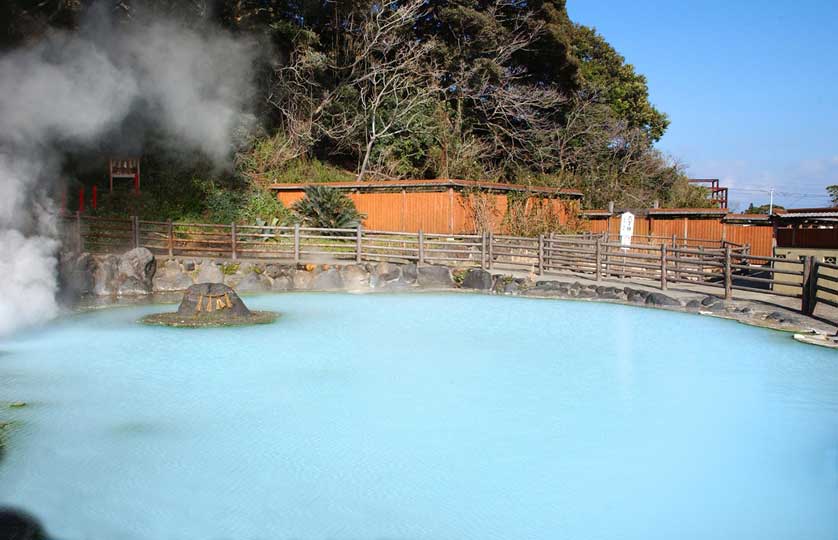 Beppu Onsen, Oita Prefecture, Kyushu, Japan
Health Benefits of Onsen
The health of the Japanese people has long benefited from onsen - hot spring water is widely believed to have medicinal powers derived from its mineral content. By legal definition the water of an onsen must contain at least one of 19 designated chemical elements, including radon and metabolic acid, and be 25 °C or warmer before being reheated. Larger onsen may feature several different baths, each with a different mineral composition.
Transcending the strict social hierarchy which is still firmly embedded in Japan, onsen are a treat for any businessman, farmer, family or individual looking to relax and enjoy healing water, beautiful natural surroundings, and good company. With everyone stripping off, equality and equanimity are all part of the experience.
"The phrase hadaka tsukiai or 'naked companionship' is actually used by Japanese to describe a friendship or relationship created at the onsen," explains James Mundy of Inside Japan Tours. "Business meetings are conducted far more openly and cordially when the interested parties are naked in an onsen than when bodies are concealed behind power ties and thousand dollar suits."
Onsen come in many types and shapes, including outdoor baths (rotenburo),  large-scale resorts, and indoor baths. Baths may either be public or private, and are often run as part of a hotel, ryokan (guesthouse) or minshuku (bed and breakfast).  
"My favourites onsen are rotenburo, the outdoor hot spring spas," says Kylie Clark, Head of PR & Marketing for the Japan National Tourism Organization in London.  "There's something very special, and extremely relaxing, about sitting in the hot, restorative waters of an onsen surrounded by nature.
Located inside the Shirakabeso Ryokan, a traditional guesthouse on the Izu Peninsula, just 100 kilometres from Tokyo, the Yugashima Onsen is a particularly popular rotenburo. The area produces top quality wasabi (horse radish), so all ryokans here offer full course meals of wasabi-based cuisine.
"I had one of the best meals of my life at Shikarabeso, topped off by a long soak in their two unique outdoor baths," says Kylie Clark. "One of these is a huge stone onsen bath, made from a single massive boulder excavated from the premises and hollowed out. The second is a large wooden bath, made from a large African tree that was almost 1200 years old. The bath has been hollowed out following the natural lines of the tree, which means bathers can recline almost horizontally in the hot water."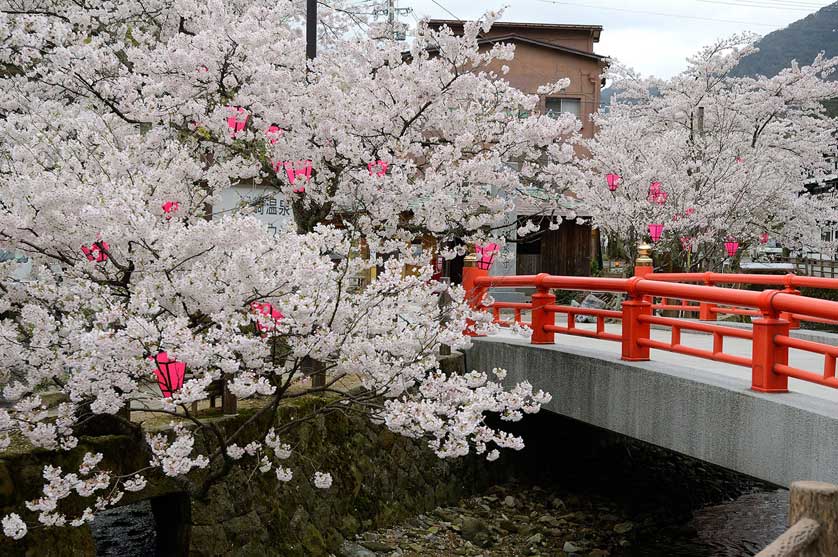 Cherry Blossom at Kinosaki Onsen, Japan
Kinosaki Onsen
Those seeking one of Japan's best ryokan-based onsen experiences should make a beeline for Kinosaki, a small town on the Tango Peninsula, about 150 kilometres north of Kyoto.  Unlike some onsen towns which have been slightly spoilt by the introduction of big white hotels, the town is tiny, and is bisected by a willow-lined stream.
"Kinosaki has seven main onsen baths with different healing properties," explains James Mundy. "Locals and visitors, often staying at the local ryokan, should don yukata and geta (traditional sandals) and do onsen meguri, which means walking from onsen to onsen during the evening. The streets are  lined with small local vendors selling beer and food for those that get hungry en route."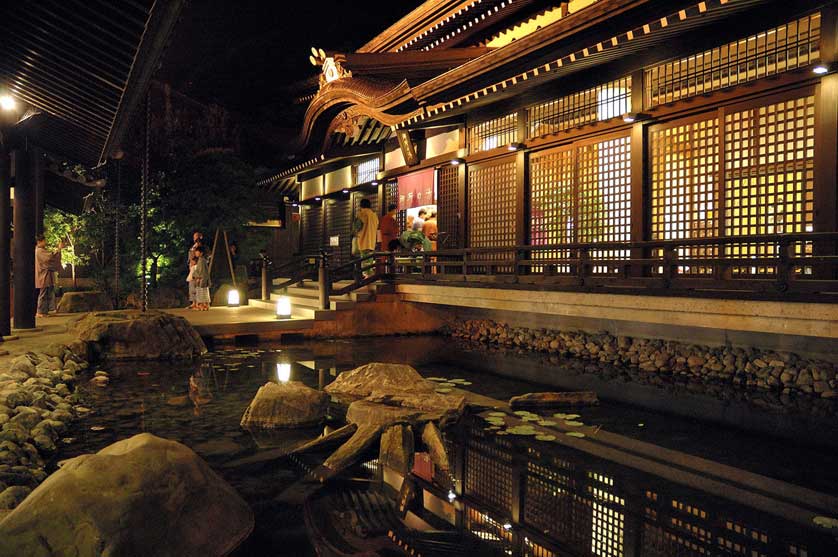 Kinosaki Onsen, Kyoto Prefecture, Japan
Yunomine Onsen
Together with Buddhist shrines and ryokan, onsen provide the other thread that tie a trip to the Kumano region together. Yunomine onsen, a quaint collection of guesthouses and hot spring baths tucked into a small valley, is one of Japan's oldest hot spring communities.
"People come to Yunomine because of the healing powers of the hot water," says Brad Towle. "They bathe in it and they breathe in the vapours. They even cook in it."
Indeed, just down the creek from Yunomine's Tsuboyu bath, the Yuzutsu public cooking "basin" sees locals regularly boil up spinach and bamboo shoots. "Onsen tamago" - or hot spring eggs - are a local delicacy, and take about 10 minutes of sulphurous steaming. A unique, cheap, and completely carbon neutral breakfast.
Onsen resorts are also popular in Japan, especially for those with families. Luxury ryokan operator Hoshino operates a range of onsen-based resorts, of which Hoshinoya Karuizawa and Kai Aso constantly win rave reviews.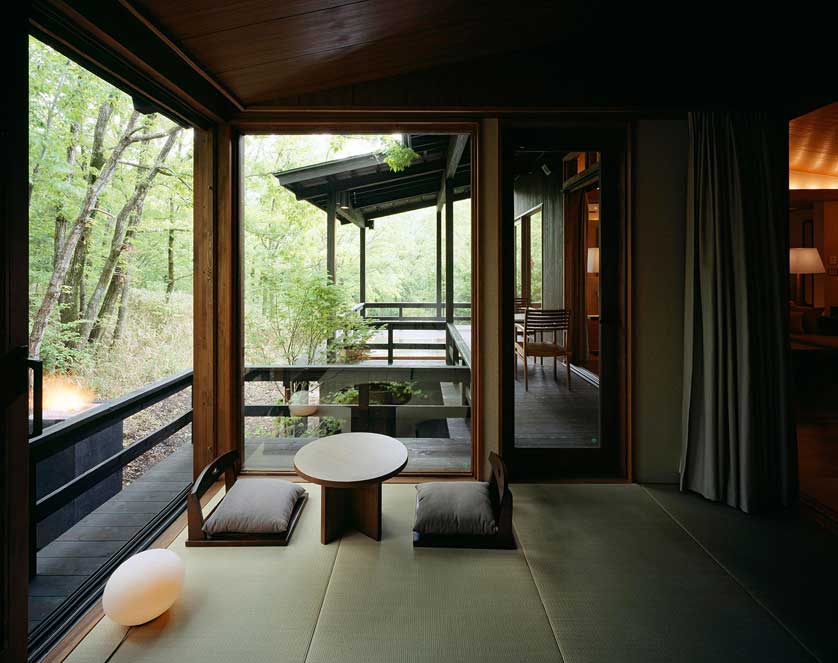 Kai Aso Onsen, Kyushu, Japan
Set in a lush valley below an active volcano, about an hour northwest of Tokyo in Karuizawa, Hoshinoya Karuizawa harnesses geothermal heat for more than just its onsen, capturing hydroelectricity from fast flowing mountain streams. The resort has also set up an award winning, non-profit conservation organisation which manages local wildlife (especially for black bears) and runs a variety of nature tours.
Located on the southern Japanese island of Kyushu, surrounded by lush mountains of a national park, the Kai Aso resort uses the mineral-rich hot springs of Mount Aso, a local caldera volcano. All guestrooms boast private outdoor natural hot spring baths, while beautifully presented multi-course Kaiseki dinners, taken in full view of the volcano, are another highlight.
Today, when you immerse yourself in an onsen, you immerse yourself in a centuries-old part of Japanese culture. In fact, so entrenched is the culture of bathing in Japanese society that the term furo-aholic - meaning "bath-aholic" - is given to those addicted to onsen. Overseas visitors may soon find themselves similarly hooked on Japan's hydrothermal delights.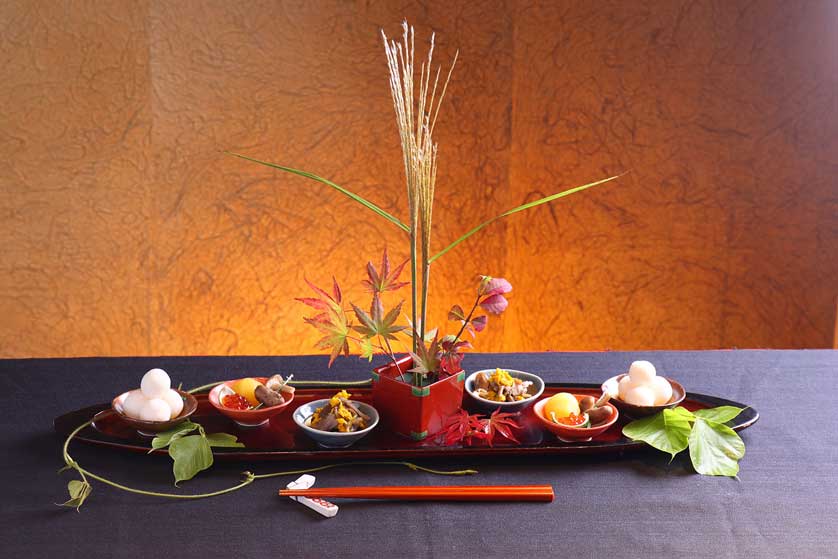 Hoshinoya Onsen, Karuizawa, Japan
Onsen Regions in Japan: read about Japan's onsen regions including Kunisaki, Kumano, Mt Aso, Karuizawa, Hakone and Yunomine.
All the themes of the city