Where to find a public bath in Tokyo
東京の銭湯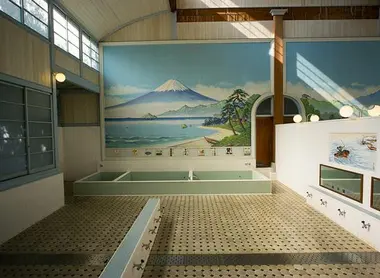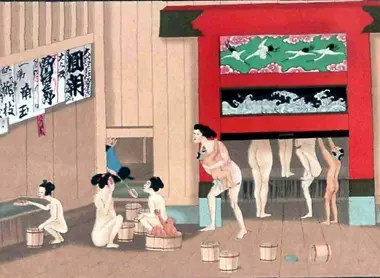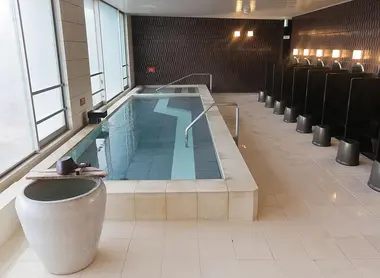 Immerse yourself in the atmosphere!
For an authentic experience take a plunge into Japanese life, by visiting and relaxing in a public bath (sento) during your stay in Tokyo.
The first sento (public bath) opened its doors in Tokyo (then called Edo) in 1591, and was soon followed by many others. Nowadays, these establishments are becoming increasingly rare, but some have modernized to try and attract a younger and more varied clientele.
More and more overseas visitors are trying this experience, which, once you get over your initial shyness, can be very pleasant. There's nothing better to soothe aches and recover from the jet lag! And what better way to dive into the heart of Japanese life? So, have a look at our sento selection below. Note that some of the establishments listed do allow tattoos.
You can bring your own toiletries or buy a "kit" contains the essentials on-site. Entry to a Tokyo sento is 460 yen (approx. $4).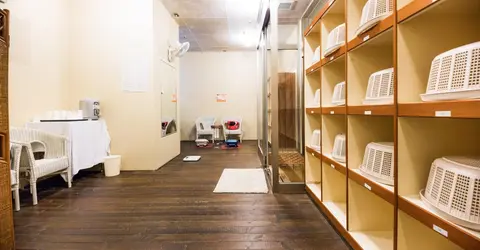 Some of the oldest baths
TEIKOKU-YU
Located in the popular Nippori area, Teikoku-Yu is distinguished by its traditional architecture, with a tiled roof and grand entrance, as well as its beautiful frescoes decorating the interior walls. The image of Mount Fuji was painted by Toshimitsu Hayakawa, a former sento artist master. 
Founded in 1916, it's one of the most beautiful public baths in the capital. It also has a garden with a pond filled with koi carp.
Hours : 3pm - midnight
Closed Mondays
Address : 3-22-3 Higashi-Nippori Arakawa-ku
Access : Mikawashima Station (Joban line)
AKEBONOYU
In the heart of the popular district of Asakusa, this establishment, founded in 1949, boasts architecture reminiscent of Japanese temples. This sento sources its water from a natural hot spring. 
Hours : 3pm -1am
Closed the 3rd Friday of evry month. 
Address : 4-17-1 Asakusa, Taito-ku
Access : Asakusa station (Asakusa and Ginza Metro lines, or Tobu Skytree line)
JAKOTSUYU
This public bath dates back to the Edo period (1603-1868). It's known for its black hot spring water (kuro-yu), which is said to help regulate the temperature of the body, keeping you warm even once you have gotten out. So, this is a good one to try on a cold day!
Tattoos are allowed here.
Hours : 1pm - midnight
Closed Tuesdays
Address : 1-11-11 Asakusa, Taito-ku 
Access : Asakusa Station (Asakusa Line) or Tawaramachi Station (Ginza Line)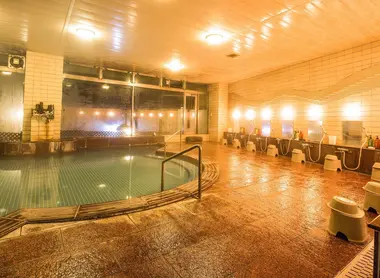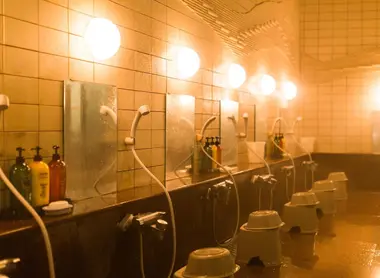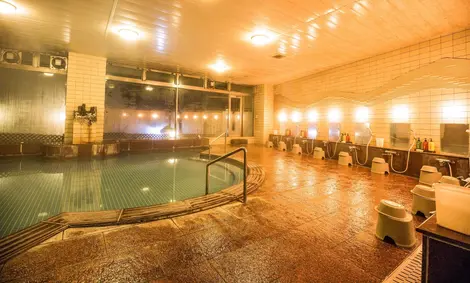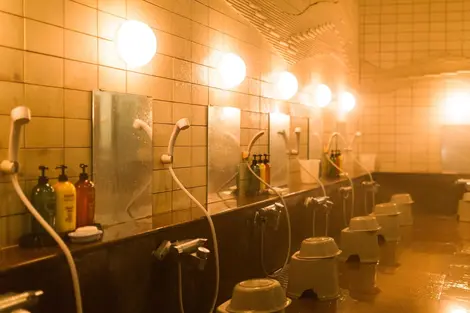 More modern baths
HAGINOYU
No less than four levels are dedicated to bathing here: hot tubs, sauna, outdoor pools... You can spend hours here, especially as there is a cafeteria.
Housed : 6am - 9am & 11am -1am 
Closed on the 3rd Tuesday of the month
Address : 2-13-13 Negishi, Taito ,Tokyo
Access : Uguisudani station (Yamanote and Keihin Tohoku lines)
MIKOKUYU
Find luxury and pleasure in this establishment, which was completely renovated in 2015. Baths are made of Japanese cypress wood, and there are bathrooms that can be rented for private use, in addition to natural black spring water baths (kuro-yu) and a view of the Tokyo Skytree.
Tattoos are allowed here.
Hours : 3.30pm - 2am
Closed Mondays
Address : 3-30-8 Ishiwara, Sumida, Tokyo 
Access : Kinshicho Station (Sobu Line) or Honjo-Azumabashi Station (Asakusa Line)
TOGOSHI GINZA ONSEN
The soul of the traditional sento is alive and well in this modern and well-equipped building.
A painting of Mount Fuji in the classical style by the famous sento artist Morio Nakajima sits next to artwork by the duo of artists Grafityfree, where the "Seven Gods of Happiness" are represented in their floating boat in front of Mount Fuji. There are a few options available here, in addition to the natural spring water baths, an outdoor cypress wood bath and a sauna.
Tattoos are allowed here. 
Hours : 3pm -1am (Sunday : 8am - 12pm & 3pm - 1am)
Closed Fridays
Address : 2-1-6, Togoshi, Shinagawa-ku
Access : 3 minutes walk from Togoshi Station (Toei Asakusa Line)
All the themes of the city