Kabuki
歌舞伎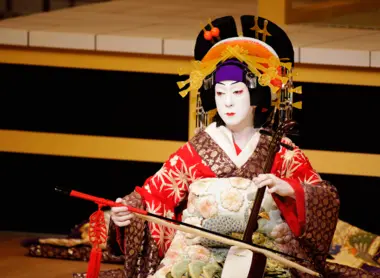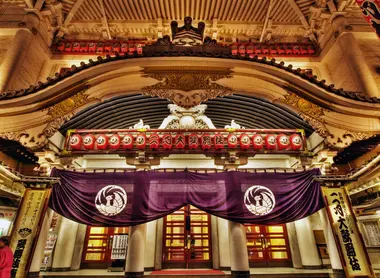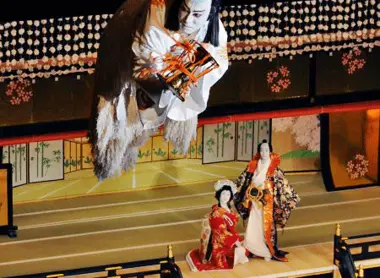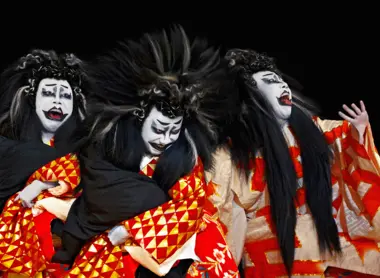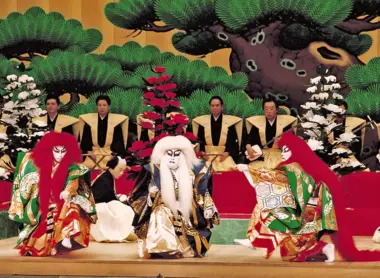 Baroque and popular <br>
Long despised in favor of the classical Noh, Kabuki remained a drama alive since its inception, more than four hundred years ago.
The origins of kabuki remain rather vague and controversial. In 1603, some Okuni, alleged priestess of the shrine of Izumo, moved to Kyoto to present religious dances and skits. One woman appeared disguised as a man dressed in western clothes and did not hesitate to brave the early Christian persecutions by wearing crosses and rosaries ...
Sensual censorship
Building on its success, Okuni used traveling dancers. Their shows gradually abandoned the religious aspect to become an entertainment combining dance and sensuality. Warriors, citizens, artisans and peasants, all flocked to see Okuni and their troupe, and the wealthiest spectators snatching up their favorite dancers after the performance. Prostitution and social diversity concerned the authorities, who decided to permanently ban women from the stage in 1629. Replaced by young boys, the situation remained unchanged, but then the arrival of real actors calmed the heat of the public and allowed kabuki to become a drama in and of itself.
Censorship by reforms in the Meiji period (1868-1912) tried to make Kabuki a respectable form of entertainment like Noh, but actors and writers preserved the essence of kabuki, inordinate and exuberant. The Japanese specialist and theater critic Tamotsu Watanabe acknowledges that "the factors that allowed the four forms of Japanese classical theater, Noh, Bunraku (puppet theater), Kyogen (comic theater) and Kabuki, to persist in Japan in their traditional form, where Greek tragedy or Elizabethan theater failed in Europe, remains unexplained. "
Extravagance codified
Kabuki is characterized by a very specific scene, equipped with complex machinery, a central turntable and hanamichi, a platform running from the back of the audinece to the stage to allowing actors to make a grand entrance. The main characters do mie, or stopping on a spectacular pose, the highlight of the room. Like Noh, Kabuki is highly codified. Costumes portary gestures with intonation and with spectacular makeup, nothing is left to chance. The repertoire is rich and varied, embracing comedy, drama, historical epics, ghost stories and the stories of everyday.  
Female absolute
The actors convey their knowledge from generation to generation and often specialize in a particular type of role. The best known and most fascinating is certainly onnagata actors specializing in female roles. This is by no means a realistic representation of women, rather an idealized and magnified vision. Tamasaburo Bando is the best known onnagata and has recieved much recognition in recent decades. He performs abroad regularly.  
Japanese plays are split into two shows, one in the morning and one during the day. It is very rare that a piece is played as a whole. The program thus offering one to three acts from the classical and modern repertoire alternating with dance, drama or action.
Kabuki is an experience in itself, an explosion of colorful and discordant life. The actor disappears beneath his thick costume. His voice undulates and breaks to reveal the soul of his character and delights any viewer, amateur to veteran.
All the themes of the city