Kawagoe Matsuri
川越祭り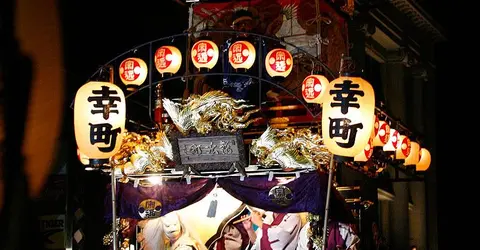 The lion dance
Thirty minutes by train seperate Kawagoe from central Tokyo. That is nothing when it comes to discovering its amazing festival, which is held every third weekend of October.
A myriad of red and gold lanterns set the streets ablaze. The euphoric cries of children and the laughter of their mothers meet the flutes and drums of hayashi, the orchestras that usually accompany kabuki performances. They escort with music, floats of six or five meters long, which cross and jostle each other amid the exhortations of the galvanized crowd. Each neighborhood makes its own to challenge the others in a competition of vibrant colors, called hikkawase.
Tottering confrontations of these colossi on wheels make spectators cry out with fear tinged with delight. Toddlers are quite terrified by the shishimai, a long dancing lion with a body made from emerald fabric. Laughing parents tend their crying offspring towards the monster's mouth so they get gently bitten and are thus protected from evil spirits.
Everyone is then reconciled at the yakitori stalls, with grilled chicken skewers, before returning to pound the pavement with a joyful step.
---
Address, timetable & access
All the themes of the city