Kabukicho
歌舞伎町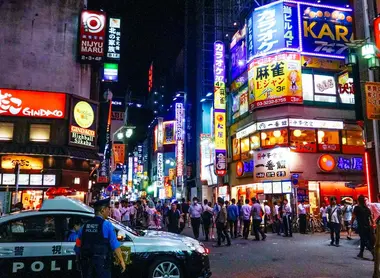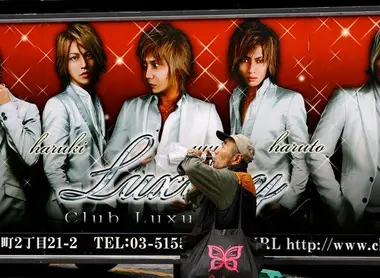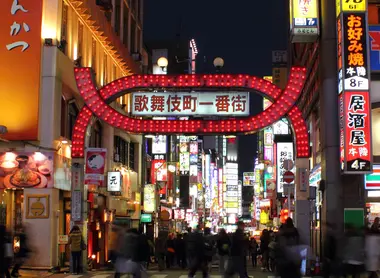 District Delights
Take a tour of Tokyo's wilder, darker side! How? By visiting Kabukicho, realm of parties and excesses of all kinds...
What is Kabukicho?
Kabukicho is located in northern Shinjuku. Leave JR Shinjuku station and take the northeast exit.
Kabukicho is an area of leisure and pleasure like no other, a kind of red light district. Vast citadel of the party and vice, in this neighborhood you will find plenty of restaurants, bars and nightclubs. But that's not all - note the presence of numerous "love hotels". These are hotels with rooms you pay for by the hour, usually the hotel has a particular theme, or offers a variety of themed rooms.
When night falls, you'll find a scene typical to Japan: the gatherings of hosts (ホスト). What's a host? They're young men in flashy suits, immaculately groomed with big, coiffed hairstyles. You pay for their company, and they have eyes only for you. It's one way of conning the lonely seeking affection or attention.
A bit of history
The name Kabukicho, literally Kabuki district, was born from the idea in the 40's of building a kabuki theater in the area. The project never happened, but the name stuck.
Formerly, the area was known as Tsunohazu (角筈) and was a swamp. After the Meiji era, a nature reserve was created. Then, a school and residential area was born. Completely destroyed during the Second World War, the area was quickly rebuilt with the help of investment from Chinese merchants residing in Japan. They developed bars, restaurants and nightclubs, and the district soon became what it is today.
Taking care in Kabukicho
Japan is renowned for its safety. Indeed, it's very rare that someone is mugged or harassed, even women traveling alone.
Yet this fact may have to be reconsidered where Kabukicho is concerned. According to authorities, more than 1,000 yakuza operate in this neighbourhood, contributing to its "outlaw" vibe.
Beware of bottakuri (ボッタクリ), scams, which are rife in Kabukicho! Most often, it happens to people in the street (street solicitation is not allowed in Japan). They are promised an hour of all you-can-drink alcohol at a cheap price, often just a few thousand yen. However, the visitor is then required to pay more than 100 times the amount promised. A refusal to pay often leads to threats of violence. The victims of these scams are sometimes Western, but it's mostly the Chinese and Korean tourists who are most affected by this phenomenon.
Is it safe to visit?
Put off visiting Kabukicho? Don't worry, in the early 2000s the area could be unsafe in some places, but things have changed for the better recently. With preparations for the 2020 Olympics underway, the police and homeowners associations have combined efforts to curb scams and violence.
So please, don't be frightened by the reputation that this neighborhood may have. Just out of curiosity, it's worth paying a visit. It's an opportunity to spend an unforgettable evening in a unique part of Tokyo. At a reasonable hour, the place is lively and people of all ages fill the streets.
Enjoy Kabukicho with a guide on Voyagin.
Visitez le quartier de Shinjuku avec un guide !
All the themes of the city