Okachimachi Station
御徒町駅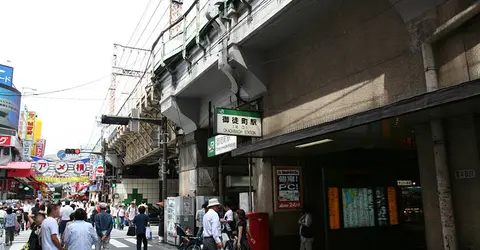 Okachimachi Station is the main station for the ebullient market, dining and entertainment area of Okachimachi in Tokyo's Taito ward.
Okachimachi Station, in the Ueno district of Taito ward, Tokyo, is on the Yamanote Line and Keihin-Tohoku Line.
Okachimachi Station provides access to the bustling, Okachimachi shopping, dining and entertainment district that surrounds it.
Train Lines
Yamanote and Keihin-Tohoku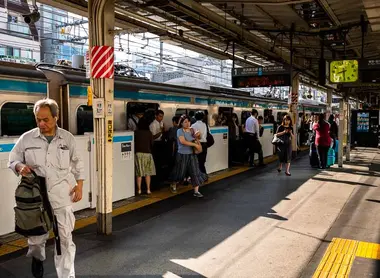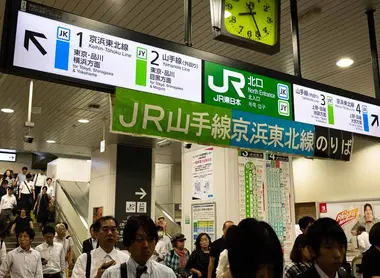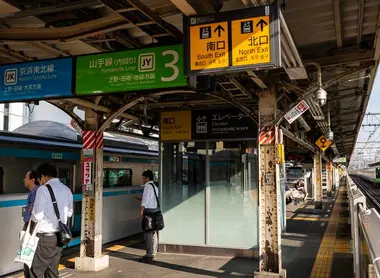 Okachimachi Station is station no. JY 04 on the Yamanote Line, and station no. JK 29 on the Keihin-Tohoku Line.
Not sure whether to ride the green train or the blue train? Short answer: take whichever train arrives first. Long answer follows.
At Okachimachi Station you can easily change between the Yamanote (green) and Keihin-Tohoku (blue) lines. There are only two platforms: one for going east and one for going west. At each platform you have the choice of boarding a green Yamanote Line train on one side or a blue Keihin-Tohoku Line train on the other.
The Yamanote and Keihin-Tohoku lines overlap between Tabata Station (further north of Okachimachi Station) and Shinagawa Station to the south. And on weekdays, the trains of both lines stop at every station. Therefore, if going to a station between Tabata and Shinagawa on a weekday, there is no need to choose which line to take. Simply take the first train that arrives at either platform: the green Yamanote train or the light blue Keihin-Tohoku train.
However, be aware that on weekends and Japanese public holidays, express trains of the Keihin-Tohoku Line also stop at Okachimachi Station. So, when it comes to boarding Keihin-Tohoku Line trains on weekends or public holidays, either confirm with someone that the train will stop at your destination, or just take a Yamanote Line train instead.
Each platform has a protective barrier that opens only to allow passengers on and off trains.
The Midori-no-Madoguchi staffed ticket booking office is at the North Exit of Okachimachi Station. You must exit the ticket gates, walk straight ahead and exit the station, turn right, and immediately on your right is the Midori-no-Madoguchi ticket office. Hours: 8 a.m. to 8 p.m.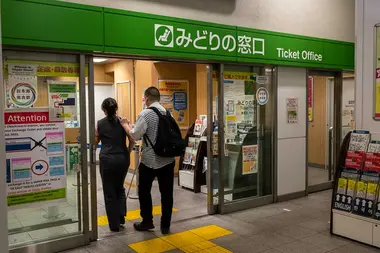 Nearby Lines
Okachimachi Station is very close to the two overlapping stations of Ueno-Hirokoji Station on the Ginza Line and Ueno-Okachimachi Station on the Oedo Line, both just 150 meters to the west, underneath the modern Ueno Frontier Tower, which contains two department stores and a cinema.
And it is even closer to Naka-Okachimachi Station on the Hibiya Line (which connects directly to the Tobu Skytree Line), 100 meters to the east.
Furthermore, the North Exit of Okachimachi Station is less than 500 meters (about 6 minutes walk) south of the Shinobazu Exit of Ueno Station on the same Yamanote Line/Keihin-Tohoku Line.
Surrounding Attractions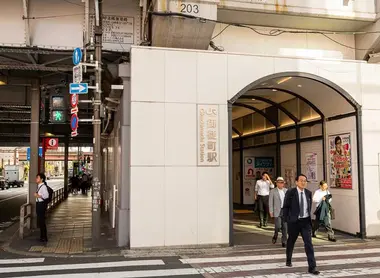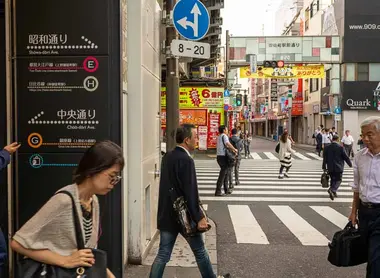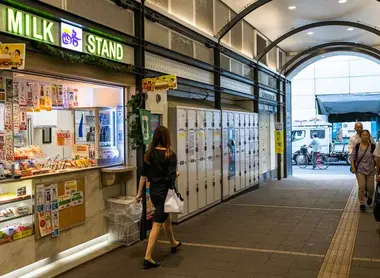 There is a lot to see, do, hear, taste and smell around Okachimachi Station! This area is one of Tokyo's busiest and most colorful shitamachi (literally, "low town": meaning a typically rowdy, crowded district of small merchants serving the working class).
The Okachimachi area is a foodie's delight, with a vast range of cheap eats and a few high-end establishments. The most typical restaurant in the area is the Japanese izakaya dining pub. However, there are plenty of non-Japanese options as well, especially Chinese and Indian.
Ameya-yokocho (AKA "Ame-yoko") is a bustling shopping street running along the west side of the Yamanote Line. It is famous for its food stores and stalls, and for its many restaurants which range from traditional Japanese (sushi, udon or soba noodles, katsudon pork cutlets on a bowl of rice, and more) to Asian to Turkish kebabs. There are also a great number of practical-type budget clothing stores, casual shoe stores, street clothing stores, and a lot of second-hand golf and other sporting goods as well.
Ueno Nakadori Uechun (AKA "Uechun") runs parallel to Ameyoko, connected to it by side-streets, and is similar in atmosphere to Ameyoko, if generally somewhat less crowded. Uechun is more about cafes and restaurants, and less about Ameyoko's street food stalls and produce, bag, and snack hawkers.
Marishiten Tokudaiji Temple is a colorful Buddhist temple just one minute's walk from the west side of the North Exit of Okachimachi station. Go 60 meters down Ameyayokocho (i.e., alongside the elevated railway) and on your left you'll see a street festooned with long banners on either side. The purple banners belong to the temple, which is accessed by a flight of stairs.
Marishiten Tokudaiji Temple enshrines a deity worshipped primarily by warriors and those in the entertainment industry, and it is the latter that the Okachimachi area has its historical roots in.
The red banners belong to Niki no Kashi, mainly a huge confectionery emporium that takes up both sides of the street and even straddles Marishiten Tokudaiji Temple. Besides sweets, Niki no Kashi also sells general groceries, has a cafe downstairs, and even a used golf equipment section.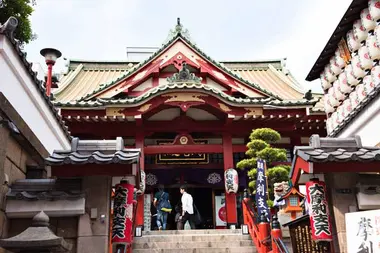 Three parallel streets run alongside the east of Okachimachi Station: Okachimachi Eki-mae-dori, which changes its name to Sango ("Coral") Street at the North Exit and further south, is closest to the station. Then, one block further east is Ruby Street, then Sapphire Street. As the names suggest, these streets have numerous jewelry stores. Many sell cheap jewelry, but there are also reputable high-end jewelers among them.
There are several pawn shops (shichiya) either side of Okachimachi Station.
Ueno Park is Tokyo's most culturally rich park, full of important musuems and temples—and even Ueno Zoo, Japan's oldest zoo—just a 7-minute walk north of Okachimachi Station.
Akihabara, a little south of Okachimachi, is Tokyo's—in fact, Japan's—most famous electronics, home appliances and manga/cosplay district. Akihabara is just a ten minute walk south of Okachimachi Station.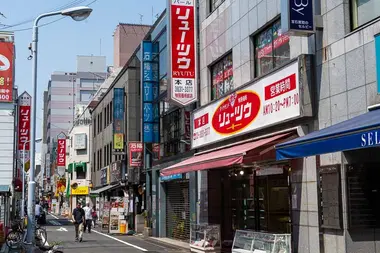 Okachimachi Park is a small park about 200 meters east of Okachimachi Station, in the Taito 4-chome district. The park has a public toilet, an interesting modern sculpture, swings, slides and and some other playground facilities for kids, and a Shinto shrine: Hachiman Jinja.
Accommodation
The following is a selection of recommended hotels near Okachimachi Station, in order of budget.
Hiromas Hostel in Akihabara offers comfortable air-conditioned, gender-separate dormitory accommodation very near Okachimachi Station. There is free Wi-Fi and each shared room has its own bathroom. There is a kitchen for guests to use and a lobby to hang out in. Baggage storage here is another plus. English spoken.
Best Western Hotel Fino Tokyo Akihabara is a 3-star hotel with its own restaurant and a buffet breakfast, a business center and drink vending machines on the premises. Most rooms have a city view, all rooms have free Wi-Fi, air-conditioning and a private bathroom. Clean, modern, with friendly helpful staff, and an excellent location.
Super Hotel Ueno-Okachimachi offers a thoroughly modern, convenient and comfortable accommodation experience in the heart of the Okachimachi district. Rooms come equipped with everything a guest may need, such as hairdryer, slippers free toiletries, refrigerator, microwave and electric kettle. The private bathroom features hi-tech toilets. Room door locks are PIN-encoded for extra security. The complimentary breakfast here gets rave reviews.
All the themes of the city