Ueno Nakadori Uechun
Tokyo Area Guide: Ueno Nakadori "Uechun" 上ちゅん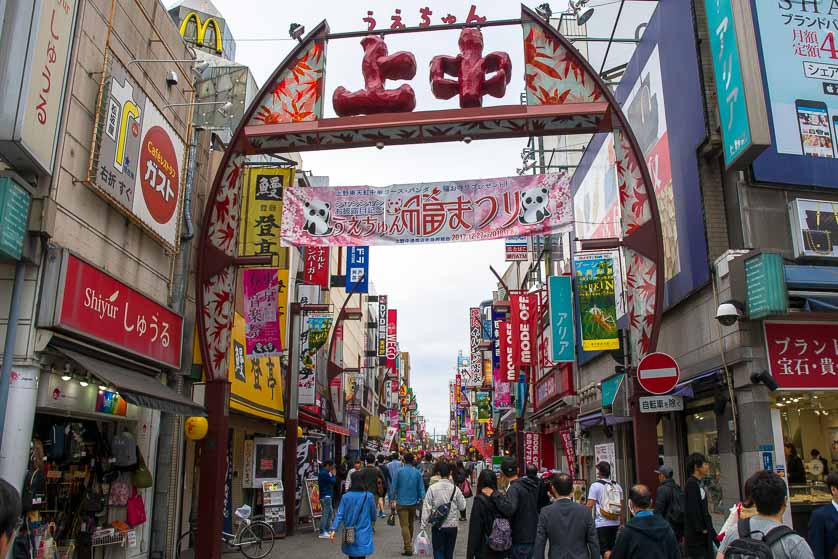 Archway at the southern end of Uechun shopping alley
Ueno Naka-dori, or Ueno Middle Street, is a pedestrian-only shopping street in the Okachimachi district of Taito ward, Tokyo. It is better known as Uechun ("ooh-eh-choon").
Uechun is between Ueno Station to the north and Okachimachi Station to the south, both on the Yamanote and Keihin Tohoku lines. Uechun branches off from, and runs parallel to, another well-known pedestrianized shopping alley, Ameyayokocho ("Ameyoko"). Ameyoko is the longer and usually the more crowded of the two. Both Uechun and Ameyoko feature a lot of affordable clothing stores. However, Uechun has somewhat more clothing and conventional shopping than Ameyoko, and more cafes and restaurants, as opposed to Ameyoko's street food stalls and produce hawkers.
Uechun gives the visitor a somewhat more relaxed experience the atmosphere of the surrounding Okachimachi district, being a little more laid-back than Ameyoko just a stone's throw away. This is because you do not have to concentrate all your attention on navigating through crowds. However, there are just enough hawkers and touts to keep things interesting, but without being in your face.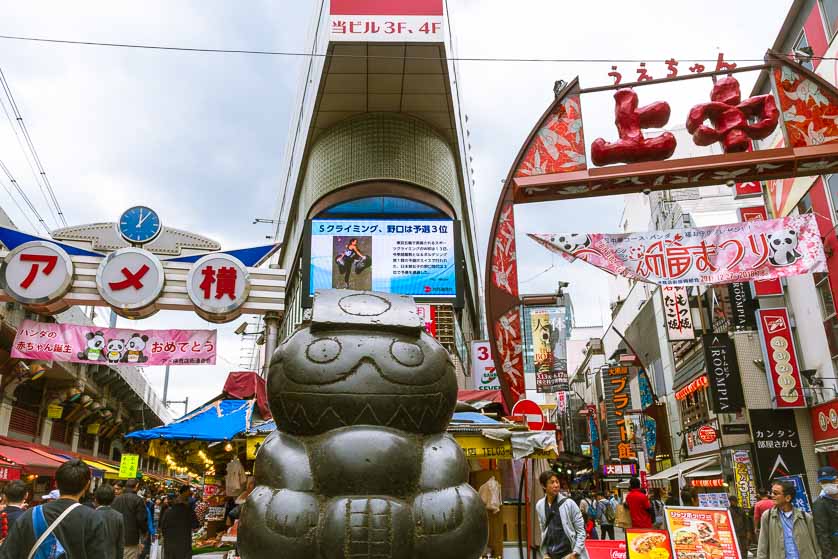 Where Uechun (right) forks from Ameyoko (left), at the northern end of Uechun (nearest Ueno Station)
Uechun Shopping
Uechun offers a surprisingly wide range of shopping opportunities along its 250 meter length. The Mode Off Ueno Okachimachi branch here is a quality used fashion brand clothing store for men and women, also with accessories such as watches. Further along Uechun is a combined branch of the related Hobby Off for second-hand hobby-related goods, and Hard Off, for computer hardware, cameras, lenses, etc. There are several computer game software stores, too. There are several other second-hand stores, for both clothing - including kimono - and other goods. Uechun has numerous footwear stores, including a Dr. Martens. (Be aware, though, that the range of shoes on offer in Japan of size 28 cm and above is usually limited, and that clothing, too, may be too small for the average Westerner, especially when it comes to sleeve length.)
There are several pachinko parlors, massage parlors, and pawn shops along Uechun. There is even an old antique store for traditional Japanese artifacts like tea bowls and swords, as well as an owl cafe.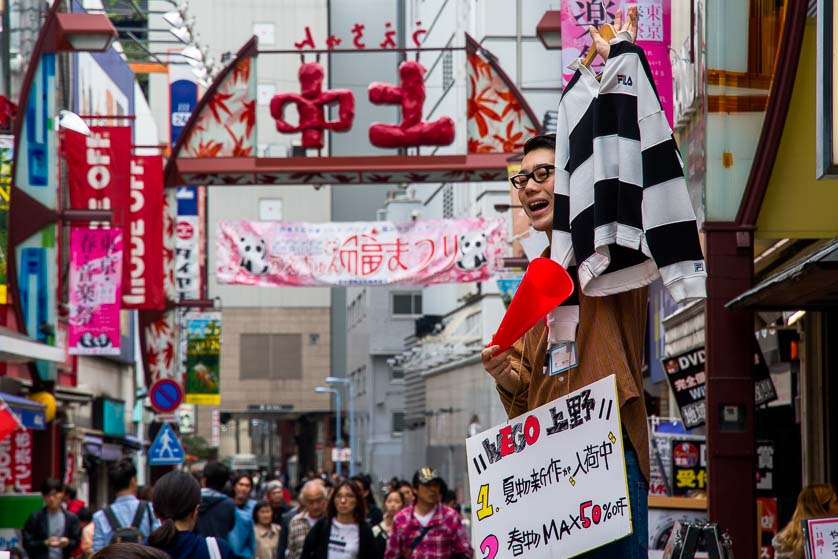 Hawker promoting merchandise on Uechun shopping street, Ueno, Tokyo
Ameyoko Center Building
The Ameyoko Center Building is the biggest shopping complex in Uechun. It is located where Uenchun splits off Ameyoko, and is therefore accessible from both alleys. The Uechun side of the building is mainly bag and shoe stores, including Dr. Martens shoes and boots, and the Mita Sneakers store, which also has a large presence on the 2F.
The B1 floor of Ameyoko Center Building is worth a visit for the Asian foodstuffs market down there. Several stores here sell produce for mainland Asian cuisine - much of it the kind of produce you don't normally see in Japan.
Ameyoko Center Building
4-7-8 Ueno, Taito-ku, Tokyo
Uechun Dining
Uechun dining opportunities are plentiful. Karutaya is a traditional Japanese store near where Uechun and Ameyoko alleys fork selling manju bean-paste cakes and soft-cream. There are plenty of small, budget restaurants, among which are those offering raamen noodles, Korean food, kebabs, donburi (seafood-topped bowls of rice), and a McDonalds.
Uechun Hours
The hours of the businesses along Uechun are many and varied, with most goods stores closing generally around 8pm or 9pm, but with restaurants closing later, and the McDonald's here being 24-hour.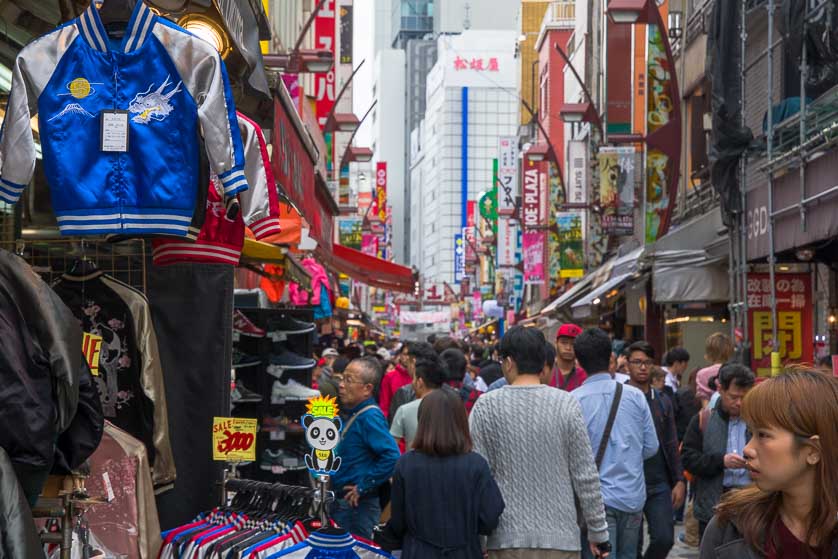 Clothes for sale in Uechun, Taito ward, Tokyo
Uechun Accommodation
There numerous hotels and guest houses near Uechun providing good accommodation for reasonable rates.
Hotel Sardonyx Ueno is a clean, modern, stylish hotel a short walk from Uechun that offers all the comforts (private bathroom, heating, free toiletries, bidet, electric hairdryer, kettle) and mod cons (free Wi-Fi, full screen TV, satellite channels, etc.) for very competitive prices. Superb location, English-speaking staff.
The Sotetsu Fresa Inn Ueno-Okachimachi is a very good mid-range hotel within walking distance of Uechun. It has even more than the standard facilities expected of private accommodation in Tokyo, including private bathroom with toilet-with-bidet, air conditioning, flat screen TV, kettle, pajamas, cleansing foam, shampoo, show gel, salt bath, and face masks. Compact but very comfortable rooms at this clean, friendly and ideally located hotel.
Centurion Hotel & Spa Ueno Station is a slightly upmarket accommodation experience near Uechun with stylish contemporary Japanese decor and its own hot spring bath. Beds come with a Slumberland mattress, and rooms are fully equipped with everything you need for a semi-self-sufficient stay, including fridge, kettle, hairdryer, toiletries, Wi-Fi, TV etc. Japanese and Western-style breakfast buffet.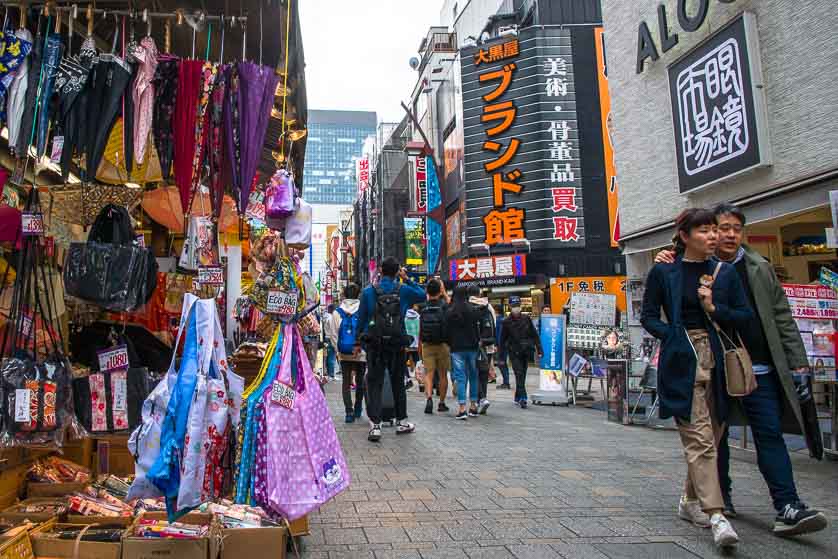 Clothes for sale in Uechun, Taito ward, Tokyo
Uechun Access
There are several stations in Ueno to easily access Uechun from.
From the north
From Ueno Station, take the Shinobazu Exit and cross the road to the big Yodobashi Camera. You will see the archway to Ameyayokocho (AKA "Ameyoko") alley to the left side of Yodobashi Camera. Go down Ameyoko alley and 150 meters along the alley forks into two, on either side of the Ameyoko Center Building. This is where Uechun starts, on the right-hand fork.
From Keisei Ueno Station, take the Main Exit and go right. Walk 50 meters to where there is a pedestrian crossing and cross the main Chuo-dori Avenue. As you cross Chuo-dori keep going straight down the alley off Chuo-dori. Turn right at the end. You are now in Ameyoko alley. In front of you is where Uechun forks off to the right.
From the south
From Okachimachi Station, take the North Exit. Go left out of the North Exit, and you will see the big white Kiichiike Building that houses a branch of the Uniqlo budget fashion brand. Cross the big main road (Kasuga-dori Avenue, Route 453) in front of this building. The alley with the archway on the other side is Ameyoko. Without entering Ameyoko, go left down the main street and 70 meters along you will see the entrance archway to Uechun on your right.
From Ueno-Okachimachi (Toei Oedo Line) and Ueno-Hirokoji (Tokyo Metro Ginza Line) subway stations, take Exit 5. Do a U-turn out of Exit 5 to Ueno-Hirokoji intersection. Don't cross the road to Matsuzakaya Department Store, but turn left down Kasuga-dori Avenue (Route 453). The first road you come to on your left - just 40 meters along - is the entrance to Uechun shopping street.
From Naka-Okachimachi Station on the Tokyo Metro Hibiya Line. Take Exit A8. Do a U-turn out of Exit A8 and go to "Taito 4" intersection. Without crossing the road, turn right onto Kasuga-dori Avenue (Route 453). After about 250 meters you'll see an elevated railway line going across the road. Keep going straight under it. On the other side of the railway bridge, to you right, is the entrance to Ameyoko. Without entering Ameyoko, keep going down Kusaga-dori Avenue, and another 70 meters along you will see the entrance archway to Uechun on your right.
Nearby Uechun
Ameyoko is the closest attraction to Uechun. Ameyoko shopping street, running alongside Uechun just to the east, is more high-powered than Uechun, but lacks Uechun's more laid-back, approachable vibe.
Ueno and Okachimachi shopping covers the whole of the area around Uechun, and a huge wealth of buying, dining and entertainment opportunities.
Ueno Park is one of Tokyo's most important cultural and recreational spaces, with numerous prestigious national museums, temples, a zoo, a lake (Shinobazu-no-Ike Pond) with boats for hire, and huge wooded grounds to enjoy, especially in springtime when the cherry blossom blooms. Ueno Park is only about 7 minutes walk from Uechun.
The Shitamachi Museum ("Downtown Museum") is near Uechun, in the Ueno Park direction, and gives visitors a feel of old-time Tokyo.
North of Ueno Park is the charming old Yanaka district, with its history-rich Yanaka Cemetery.
Book Hotel & Hostel Accommodation in Japan
Ueno Naka-dori (Ueno Middle Street), better known as Uechun, is a colorful, variegated pedestrian alley in the east-end Ueno district of Tokyo that offers plenty of shopping, dining and entertainment opportunities, especially if you're looking for shoes and used goods.
All the themes of the city