Tokudaiji Marishi-ten
Tokudaiji Marishi-ten Temple is a Hindu-inspired Buddhist temple squeezed into the bustling market of Okachimachi in Tokyo.
Tokudaiji Marishi-ten 特大寺 摩利支天
Tokudaiji is a small, picturesque, gaily painted temple in a very unusual market setting, just off the bustling Ameyayokocho ("Ameyoko") alley near Okachimachi Station, in the Okachimachi district, which forms part of Ueno in Tokyo.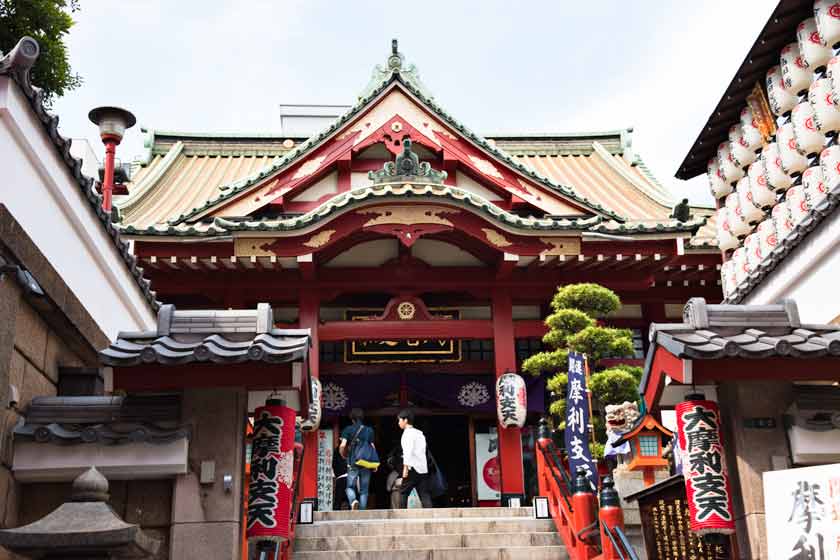 Marishiten Tokudaiji Temple in Ameyoko, Tokyo, Japan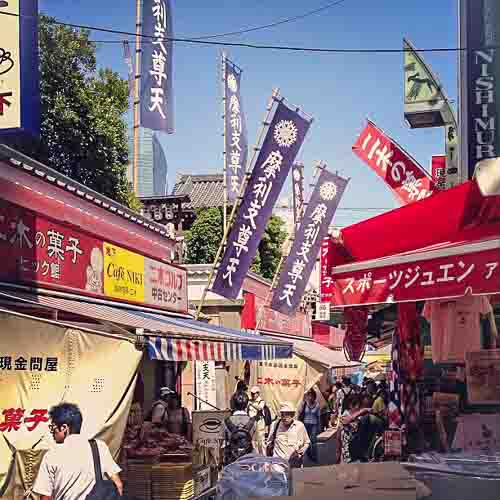 Entrance to Tokudaiji Marishi-ten Temple, Okachimachi, Tokyo
In Okachimachi
Buddhism and Buddhist temples - such as those in and around nearby Ueno Park - are usually associated with peace and serenity, but not Tokudaiji Temple, which is right in the middle of one of Tokyo's busiest market districts - Okachimachi - just a few meters off constantly crowded Ameyoko shopping alley. The cries of fishmongers and shoe and bag store salesmen ring loud and clear through to the Tokudaiji's very altar. Not only that, but the temple is actually squeezed between, and perched on top of, two shops belonging to the snack and confectionery emporium, Niki no Kashi. Access to the temple by climbing stairs to the rooftop level.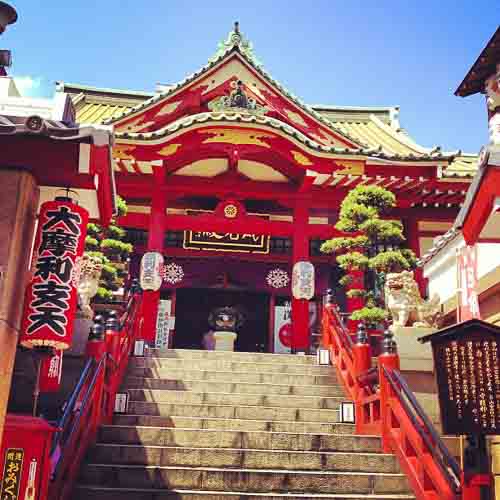 Tokudaiji Marishi-ten Temple, Okachimachi, Tokyo
Hindu Roots of Marishi-ten
Marishiten Tokudaiji is a Nichiren Buddhist temple that is distinguished by its venerating of the ancient Indian god, Marici - thus the sub-title of the temple: Marishi-ten. The god Marishi appears in the Bhagavad Gita, but apparently now has a different name in today's Hindu pantheon. As enshrined at Tokudaiji, he rides a wild boar, his left arm raised, and wielding a sword with his right hand. He is said to be the god of luck and victory, and as such was traditionally worshipped by those in the military and the entertainment world. Lending prowess to the god's reputation is the remarkable fact that Tokudaiji Temple escaped damage in the 1923 Tokyo earthquake and the bombings of World War Two, both of which were particularly devastating for this district and the rest of eastern Tokyo.
The precise origins of Tokudaiji are unclear, but it is believed to have been established in the 17th century
Visiting Tokudaiji Temple makes for a recommended ten-minute or so break when in the bustling Okachimachi area. Photogenic Tokudaiji Temple is a quite different attraction here that also offers respite from the madding shopping crowd.
Marishiten Tokudaiji Temple Hours
9am-6pm, every day. Free entry.
Access to Tokudaiji Temple
2 minutes walk from Okachimachi Station on the JR Yamanote Line and the JR Keihin Tohoku Line. Turn right out of the North Exit of JR Okachimachi Station (in front of the Uniqlo store), cross the main road, following the railway line, walk for about 50m, and Tokudaiji is down the first alley to your left, located on the right hand side of the alley.
2 minutes walk from Ueno-hirokoji Station on the Tokyo Metro Ginza Line.
2 minutes walk from Ueno-okachimachi Station on the Toei Oedo Line.
5 minutes walk from Nakaokachimachi Station on the Tokyo Metro Hibiya Line.
7 minutes walk from Keisei Ueno Station on the Keisei Main Line.
4-6-2 Ueno, Taito-ku, Tokyo 110-0005
Tel. 03 3831 7926
Near Tokudaiji Temple
Besides the surrounding Ueno and Okachimachi shopping area, Tokudaiji Temple is just 5 minutes walk to Ueno Station and, just beyond it, beautiful Ueno Park, with even more temples, museums, and a zoo.
Tokudaiji Temple Map
Search for "Tokudaiji" in the larger map.
Book Hotel Accommodation in Tokyo Japan
All the themes of the city