Yokohama Station
Yokohama Station 横浜駅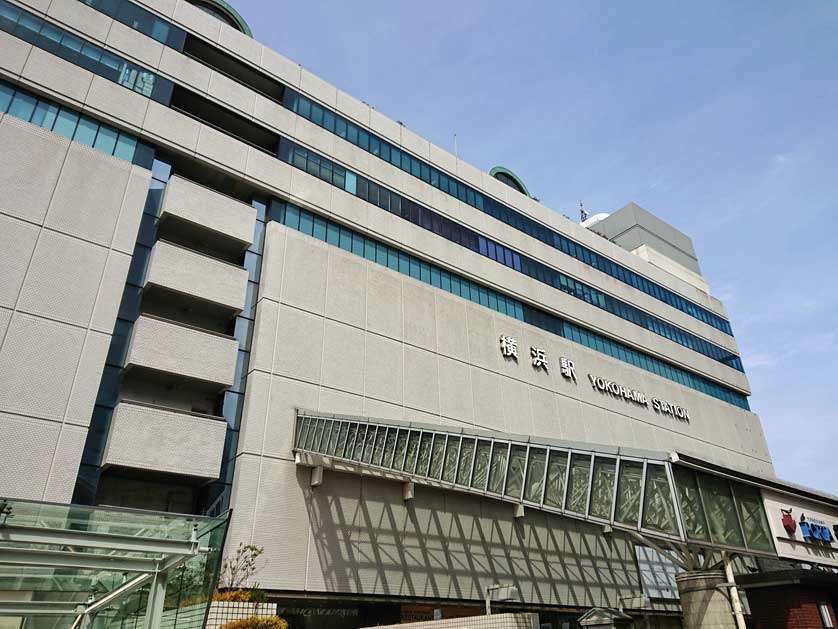 Yokohama Station
Yokohama Station, located in Nishi-ku in Yokohama, is the main access point for visitors arriving in this port city. Yokohama Station is ranked in the top ten busiest stations in the world.
Yokohama Station, however, is not a shinkansen stop. The Tokaido Shinkansen from Tokyo Station going west stops at Shin-Yokohama Station about 5 km away from Yokohama Station.
Yokohama Station History
Yokohama Station was first opened in 1872 on the site of what is now Sakuragicho Station. Another station named Yokohama followed in 1915 near the site of what is now Takashimacho Station. This was badly damaged in the Great Kanto Earthquake. The third Yokohama Station - the one at the present site - dates from 1928.
Yokohama Station Ticketing
The Midori no Madoguchi ("Green Window") at Yokohama Station is a staffed ticket office for Japan Rail ticket sales and reservations and is open daily between 6 am and 10 pm.
View Plaza ("Green Window") at Yokohama Station is a staffed travel agency dealing with both Japan Rail and other carriers' ticket sales and reservations and is open daily between 10 am and 8 pm on weekdays, and 10 am and 7 pm on weekends and public holidays.
Yokohama Station has automatic ticket vending machines in four different locations:
-beside the Midori no Madoguchi (see above), 4.30 am - 11.50 pm.
-at the North ("Kita") Ticket Gate, 5.30 am - 11 pm.
-at the North Central ("Chuo-Kita") Ticket Gate, 4.30 am - 11.50 pm.
-at the South ("Minami") Ticket Gate, 4.30 am - 11.50 pm.
At all these ticket machines, in addition to purchasing tickets (cash only), you are able to make changes to any reserved train tickets that you have already purchased.
Yokohama Station Connections
Yokohama Station is a major rail intersection in the Kanto region.
JR lines that serve Yokohama Station include the:
- Tokaido Main Line
- Yokosuka Line from Tokyo Station to Kurihama
- Yokohama Line to Hachioji
- Shonan-Shinjuku Line to Shinjuku Station, Ikebukuro Station and on to Omiya in Saitama
- Keihin-Tohoku Line from Omiya to Yokohama via Nishi-Nippori, Nippori, Ueno, Akihabara, Kanda, Tokyo, Yurakucho, Shimbashi, Hamamatsucho, Shinagawa, and JR Kawasaki Station in Kawasaki
- Negishi Line from Yokohama to Ofuna.
Other lines with connections to Yokohama Station include the:
- Keikyu Line from Sengakuji near Shinagawa to Uraga in Kanagawa
- Tokyu Toyoko Line connecting Shibuya Station to Yokohama via Daikanyama, Tamagawa and Hiyoshi.
- Sagami Line connecting Yokohama Station with Ebina, 24 km away.
- Yokohama Subway line Blue Line from Shonandai Station to Azamino Station.
- Minatomirai Line running 5 stops from Yokohama Station to Motomachi-Chukagai for Yokohama Chinatown
- Narita Express train to Narita International Airport runs via Tokyo Station and Yokohama Station with departures from Shinjuku Station, Yokohama and Omiya. Narita Airport Terminal One to Yokohama is 88 minutes by Narita Express. A cheaper way is to take the Keisei Skyliner to Nippori, then the Yamanote Line to Shimbashi and then the Tokaido Line to Yokohama.
From Haneda Airport, take the Keihin-Kyuko Line (32 minutes; 450 yen) or a limousine bus to Yokohama City Air Terminal virtually right next to Yokohama Station.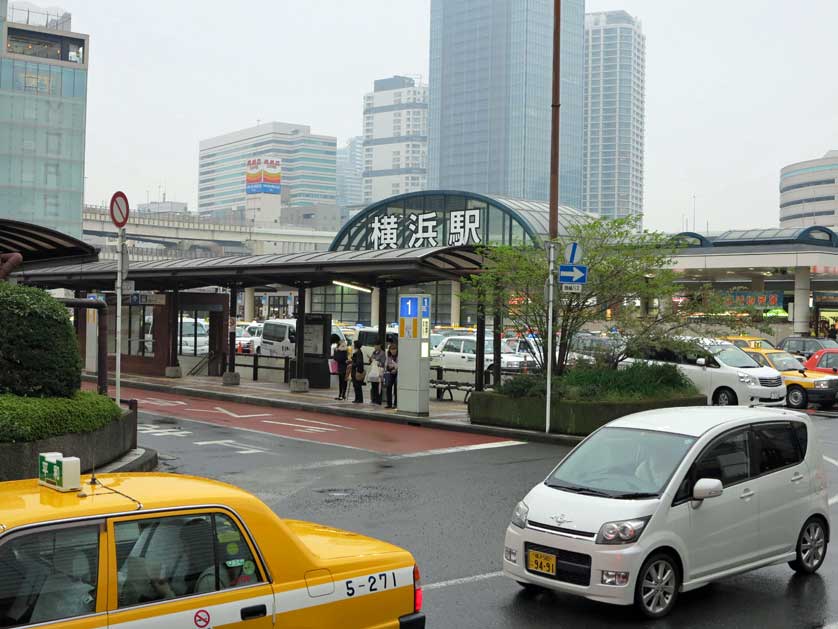 Yokohama Station, West Exit with More's Yokohama left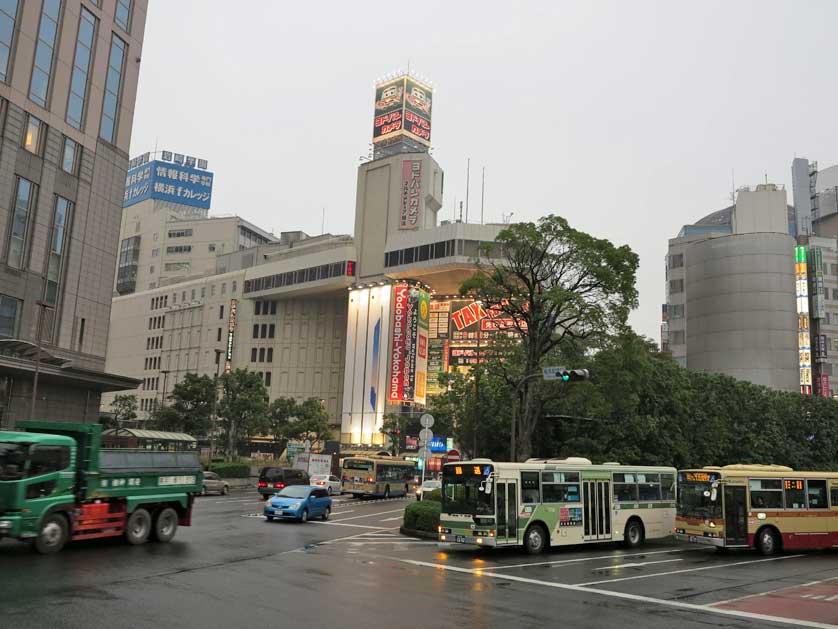 Yokohama Station, West Exit, Yodobashi Camera
Buses from Yokohama Station
Yokohama Station is also a highway bus and local bus terminus for buses around the Yokohama area, various destinations in the Kanto region and further afield.
There are bus stops at both the West Exit and the East Exit of Yokohama Station.
There are daytime limousine buses to Haneda Airport, Narita Airport, Tokyo Disney Resort, JR Gotemba Station (for Mt. Fuji) and Hakone.
There are overnight highway buses to Nagoya, Okayama, Osaka, Kyoto, Sendai and Akita.
Local buses from Yokohama Station include Yokohama Municipal Buses to Oosanbashi #8, #58, Yamashita Park #8, #26, #58 #148, Yokohama Doll Museum #8, #26, #58, Chinatown #8, #58, Sankeien Garden #8, #148 and Symbol Tower #26, Sotetsu Buses, Kanachu Buses (East Exit 横43, 横44, 港61, 77; West Exit 01, 05, 62, 横04, 横17, 横46, 横51, 横52) and Keikyu Buses to Tokyo Big Sight, Kofu, Makuhari Messe, Iga Ueno and other destinations.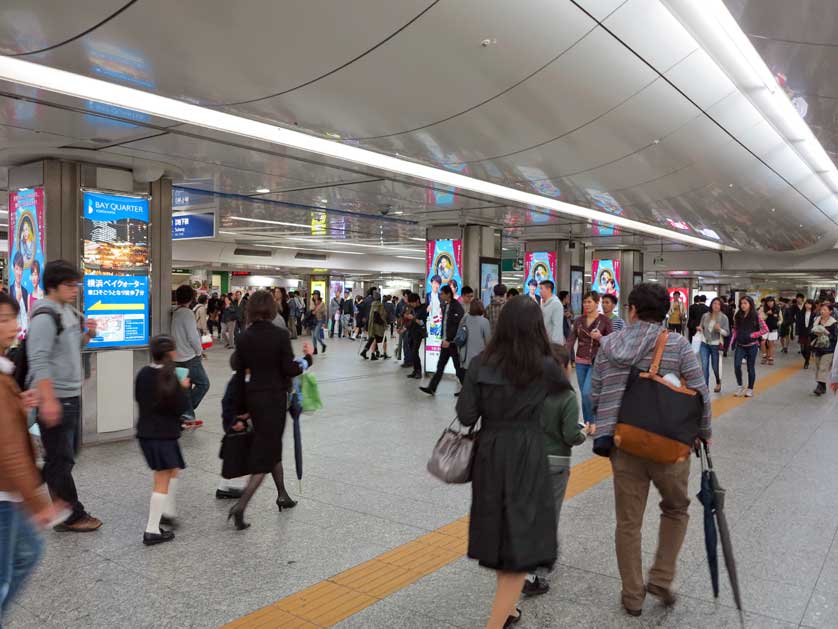 Yokohama Station East-West Walkway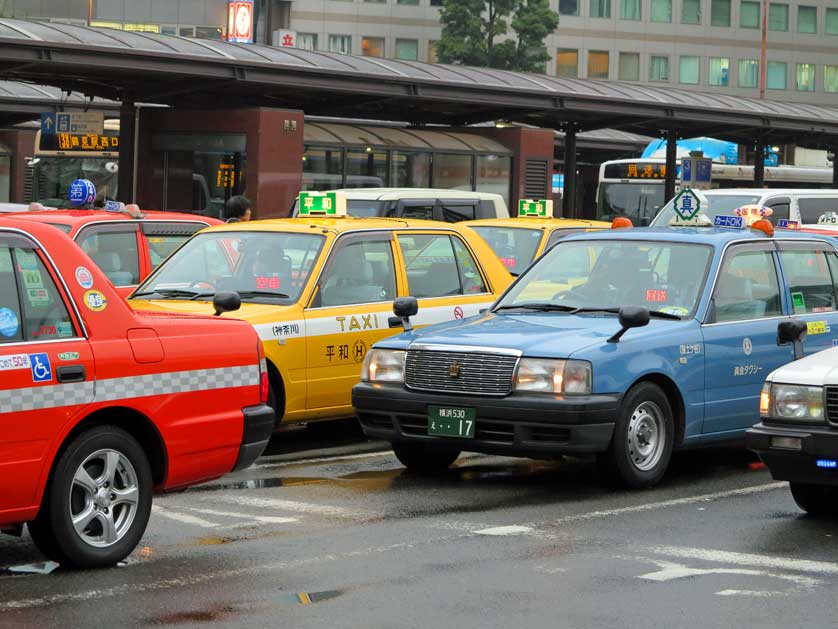 Yokohama Station Taxis, West Exit
Yokohama Station Environs
There are numerous department stores in and around Yokohama Station including Parco within the station building itself. Other department stores include Sogo at the east exit, Marui, and Takashimaya at the west exit.
Other notable stores, services and shopping malls at Yokohama Station include Bic Camera, Yodobashi Camera, Don Quijote Yokohama Nishiguchi Store, Yokohama Central Post Office, a branch of Lush, the British natural cosmetics chain, and many other brand stores.
High rise buildings include the Yokohama Sky Building, NTT Yokohama East Building, the Yokohama Mitsu Building, which includes the Hara Model Railway Museum on the second floor and Yokohama More's which has a branch of the popular Tokyu Hands.
Close to the Sogo Department Store at the East Exit of Yokohama Station is the The Port Service which runs the Sea Bass boat service to Minato Mirai 21 Pukarisanbashi Pier, Akarenga and Yamashita Park.
A branch of Yokohama Tourist Office is located in the East-West walkway of Yokohama Station.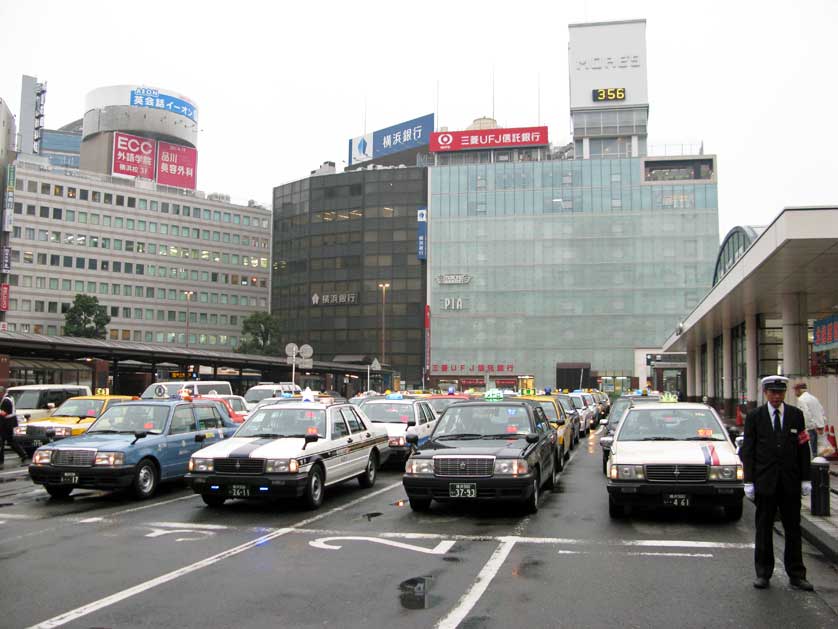 Yokohama Station West Exit with taxis
Yokohama Station Hotels
The Yokohama Station area is also home to several excellent hotels, most notably the luxury, 400-room Yokohama Bay Sheraton Hotel and Towers, the men only, capsule Sky Spa Yokohama. Other of the hotels in the Yokohama Station area are the business-style Toyoko Inn Yokohama Nishi-guchi, The Yokohama Kokusai Hotel, the 3-star Hotel Plumm and the budget Hotel Camelot.
Yokohama Station Map
Yokohama Station is a major station in the Kanto area with services on various JR Lines, the Yokohama Subway and the Tokyu Toyoko Line.
All the themes of the city