Kofu
Kofu, Yamanashi Prefecture 甲府市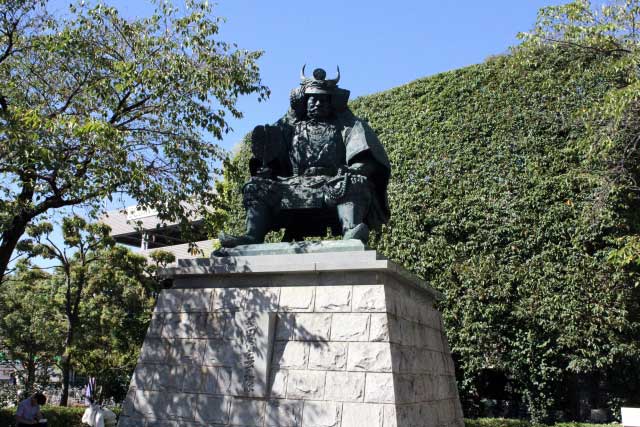 Statue of Takeda Shingen, Kofu, Yamanashi Prefecture
Kofu is the capital of Yamanashi Prefecture. The city lies in the Kofu Basin surrounded by mountains: Mount Fuji directly to the south, Mount Kimpu to the north and Mount Shirane and Mount Kai-koma to the west. Kofu is just 90 minutes by train from Tokyo,
Kofu City is the largest municipality in Yamanashi and its economic heart. Visitors come to sample the delicious local fruits and excellent wine, as well as take the healing waters in such onsen areas as Yumura Spa, within the city itself.
Kofu Castle
Kofu Castle (Tel: 055 227 6179), is a short walk from Kofu Station, in a hilly park area known as Maizurujo Koen (Maizuru Castle Park).
Kofu Castle was constructed in 1583 on the orders of the warlord Tokugawa Ieyasu, one of the most important figures in Japanese history, and the founder of the Tokugawa dynasty.
Kofu Castle became the most fortified castle in the Kanto area after Edo Castle, in what is now Tokyo.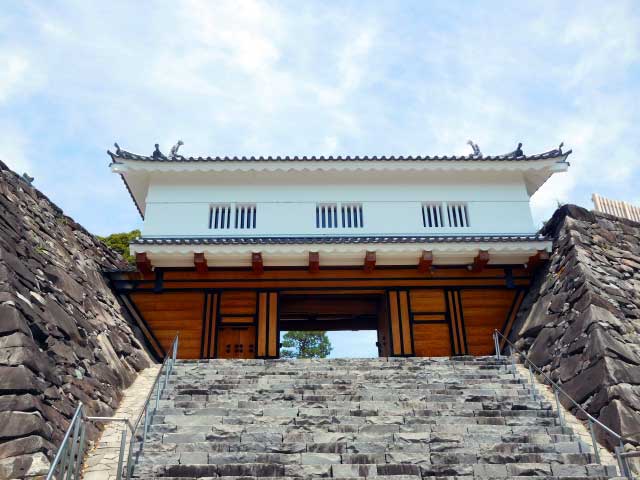 Kofu Castle Gate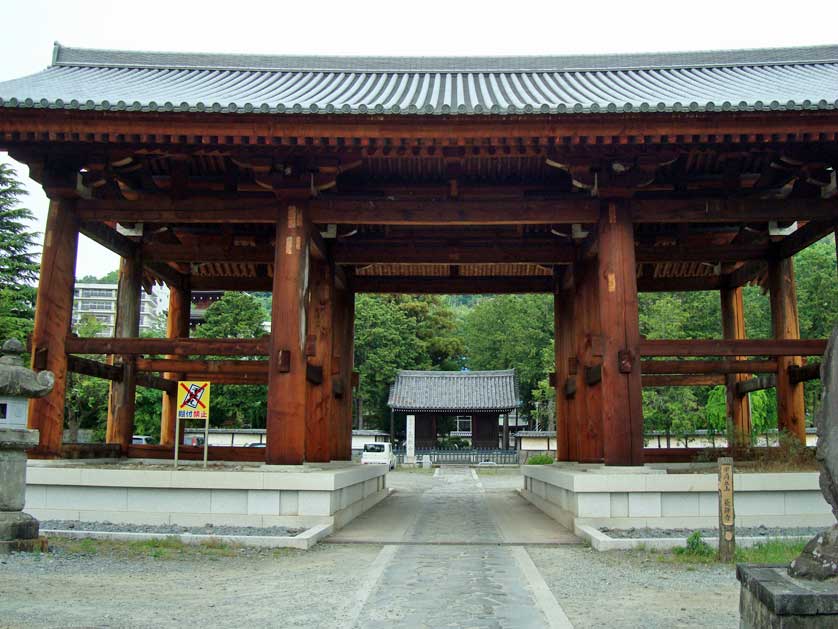 Kai-Zenkoji Temple, Kofu Yamanashi Prefecture
Takeda Shrine
Takeda Shrine, 2.5 km to the north of the station by bus, is dedicated to Takeda Shingen (1521-1573), an important feudal lord of the area. Takeda Shrine occupies a large, wooded area and is almost castle-like, its pleasant moat stocked with fish and birds. There is a Noh stage in the grounds. The never-say-die warrior attitude of Takeda Shingen attracts students who come to pray for success in exams or for their sports teams. The shrine's Treasure Hall displays swords, armor and documents of the Takeda Family. The shrine's festival on the first weekend of April is one of the largest and most important events in Kofu. Take a Yamanashi Kotsu bus 8 minutes to "Takeda Jinja" bus stop.
Kai-Zenkoji Temple
Kai-Zenkoji Temple (Tel: 055 233 7570) is a Buddhist Jodo sect temple about 2 km east of Kofu Station, and claims to have been founded by Takeda Shingen in 1558. Kai-Zenkoji is modeled after the famed temple of the same name in Nagano. Kai-zenkoji has a huge entrance gate, a vast bell and imposing pagoda. Kai-Zenkoji is about 10 minutes' walk north from Zenkoji Station on the Minobu Line, two stops from Kofu Station.
Yamanashi Prefectural Science Center
Kofu's Yamanashi Prefectural Science Center is a short bus ride from the station. The observatory, the space theater with its 20m diameter screen and a number of interactive displays are a hit with the kids.
Hours: 9:30 am-5 pm (last entry 4:30pm), or until 6pm (last entry 5:30pm) during the summer vacation. Closed Monday, but open if Monday falls on a national holiday, in which case, closed Tuesday. Closed December 29 - January 3. 510 yen for adults; 210 yen for school children. Tel 055 254 8151
Yamanashi Prefectural Museum of Art
The Yamanashi Prefectural Museum of Art displays work by French artist Jean Francois Millet and paintings by local artists. The grounds have sculptures by Rodin, Henry Moore and Aristide Maillol.
Hours: 9:30 am-5 pm (last entry 4:30 pm). Closed Monday, but open if Monday falls on a national holiday, in which case, closed Tuesday. Closed December 29 - January 3. 510 yen for adults; 210 yen for school children.
From Kofu Station take a local bus for Nirasaki and alight at Kenritsu-Bijutsukan. Tel 055 228 3322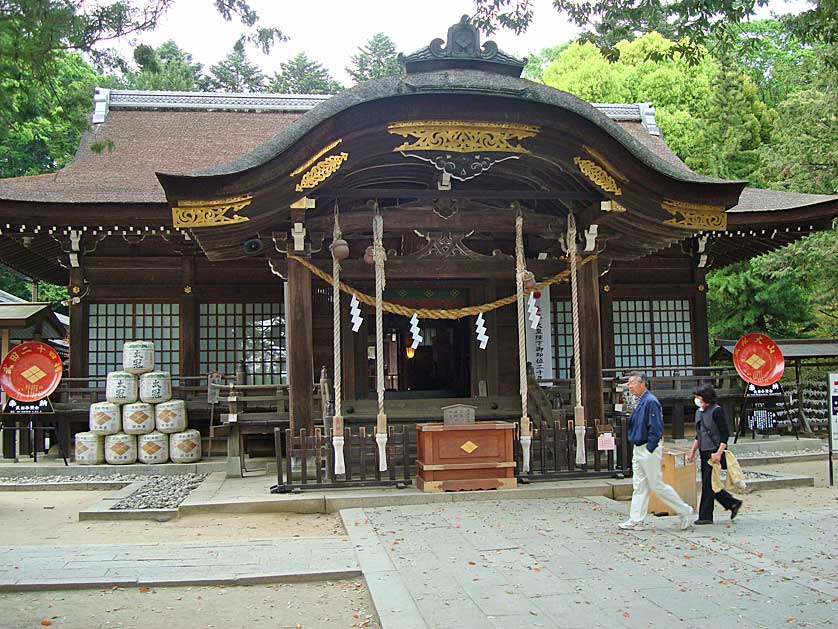 Takeda Shrine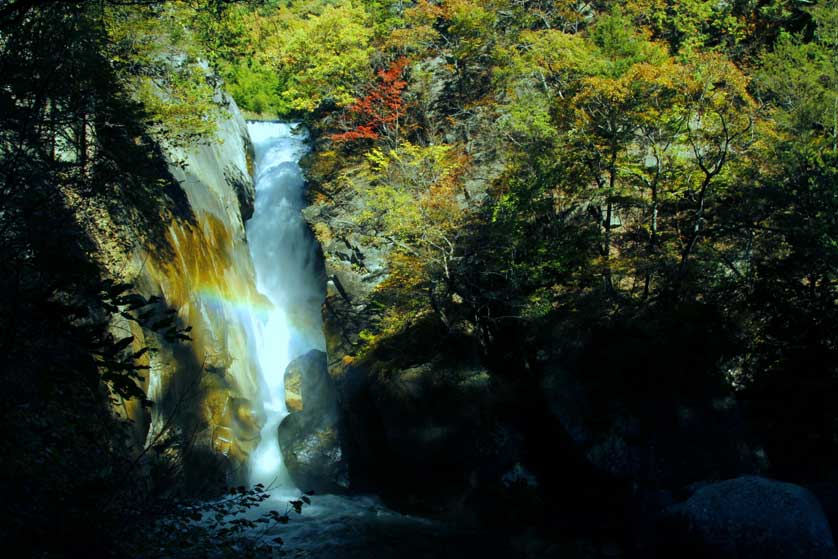 Shosenkyo
Shosenkyo Gorge (Mitake Shosenkyo), just 30 minutes by bus from Kofu, is one of Japan's most scenic spots, and is the jewel of Chichibu-Tama-Kai National Park. The picturesque Arakawa River runs through a steep gorge with towering, granite crags and flowing waterfalls. The most picturesque section of the river is a 4km walk from Sen-ga-Taki Falls downstream to Tenjinmori, across the Nagatoro Bridge. Above Sen-ga-Taki Falls towers the gorge's most famous landmark, the 180m rocky prominence of Kakuenpo. Outdoor restaurants serve soba and freshly grilled river trout. The bus from Kofu stops at both places, so you can choose to walk up or down hill. A taxi to the station can be bargained down to about 3,000 yen. Buses run from Kofu Station via Yumura Onsen from 7.07am to 7.50pm.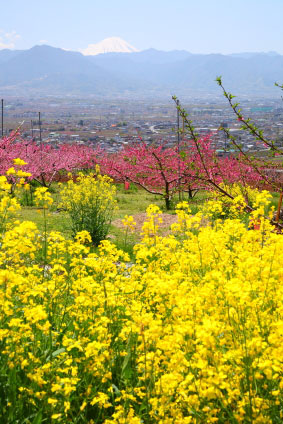 View of Mt Fuji from Yamanashi Prefecture
Shopping and Eating
Kofu's main shopping and eating area is around the station, with restaurants in the Eclan department store and plenty of izakaya in the streets running south of the station. The Orion Street Arcade has traditional shops and clothing stores. There is free wine tasting of local Yamanashi wines in the Eclan department store in the station building.
Accommodation in Kofu
Kofu has several good convenient hotels near the main station.
The Sunpark Hotel Naito is right next to Kofu Station and offers acceptably comfortable accommodation with the convenience of proximity. There is an onsen natural hot pool on the premises, but for the use of male guests only. Non-smoking rooms are single rooms only. Rooms rates less than 10,000 yen for most of the year.
The Dormy Inn Kofu is somewhat removed from Kofu Station: a 14-minute walk, and has quite compact rooms, but also offers an on-site onsen natural spring bath and has a fabulous breakfast buffet. Pillow selection available. Most of the year, a room can be had for less than 10,000 yen, making it a reasonably priced, comfortable choice of stay.
Bacchus Kofu Guesthouse is a super-budget backpacker-type hostel with dormitory accommodation about a 15 minute walk, or a short bus ride, south of Kofu Station. Fresh towels provided daily. Friendly, helpful staff.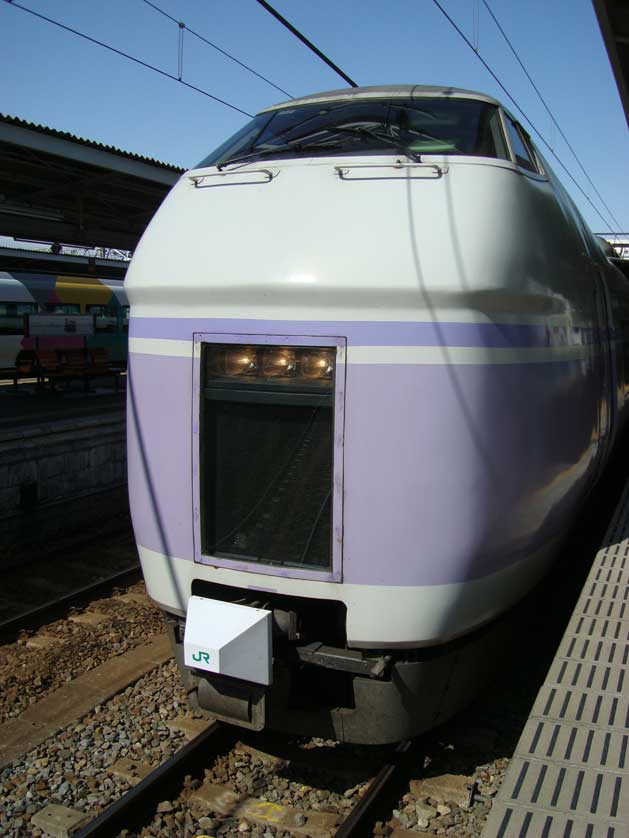 Super Azusa, Kofu Station, Japan
Kofu Access
Train
Access to Kofu from Tokyo Station or Shinjuku Station via Mitaka by the JR Chuo Line on the Super Azusa, Asusa or Kaiji Express trains to Matsumoto. Heading south take the slower JR Minobu Line to Fuji, Shimizu and Shizuoka via Shimobe spa and Minobu.
There are highway buses to Tokyo, Kyoto, Osaka, Kawagoe and Nagoya as well as Narita and Haneda airports.
For getting around town, there is a tourist loop bus, the Kofu City Shuttle, which passes many of the Kofu's main sights. The shuttle runs between 11am-6pm. There are bus stops at the north and south exits of Kofu Station, check with the tourist office for the bus you need.
Some taxi company numbers include Meitetsu 055 241 3232, Marusan 055 224 6181 and Nansei 055 226 5434.
The Tourist Information Office is in Kofu Station and has information on Hotels in Yamanashi.
Shosenkyo Video
Kofu Map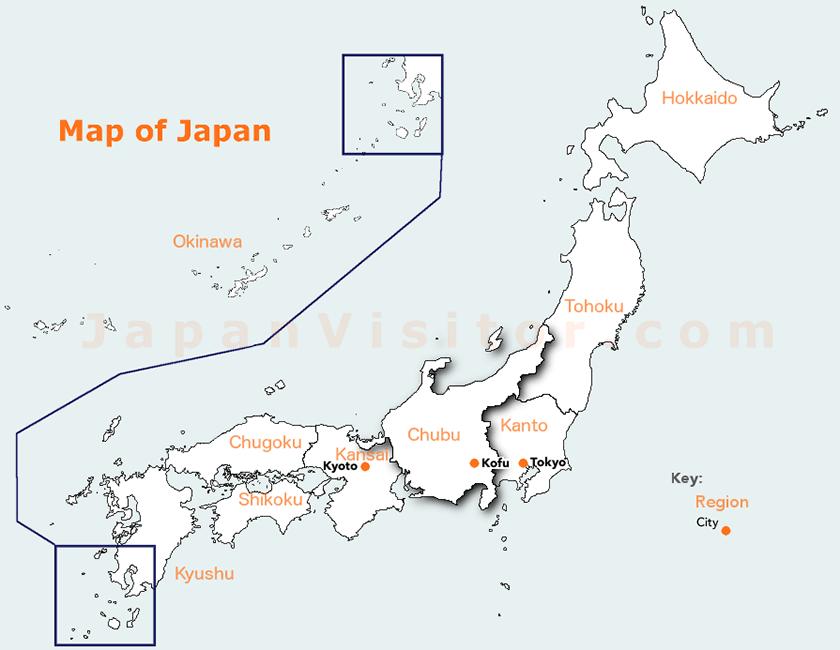 Kofu Map, Yamanashi
Kofu guide: read a guide to Kofu in Yamanashi including Shosenkyo Gorge and the Takeda Shingen Shrine.
All the themes of the city