Aomori Onsen
Some of Japan's most fascinating ryokans are in remote Aomori Prefecture. These beautiful ryokans, traditional Japanese inns, transport guests into Japanese history.
Aomori's Ryokans Are Windows into Japanese Mountain Culture 青森の旅館
Greg Goodmacher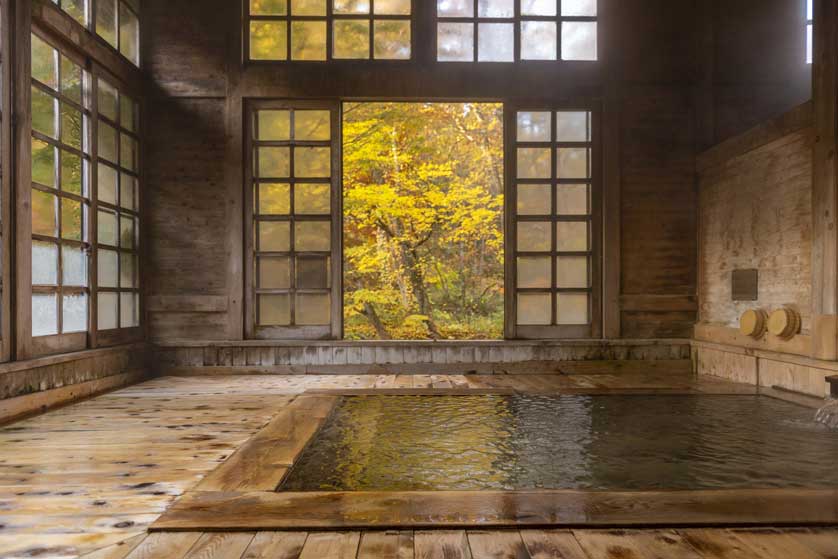 Aoni Inn indoor bath; Photo by Koji Nishikawa
The most striking ryokans, traditional Japanese inns, transport guests into Japanese history. Some of Japan's most fascinating ryokans are in remote Aomori Prefecture.
Three reasonably priced, culturally rich ryokans that guests will never forget are Sukayu Onsen, Aoni Inn, and Yamano Hotel. From the atmosphere to the cuisine to the locations, these stand out.
They offer sublime physical and cultural experiences to visitors who make an effort to travel into the countryside.
Their chefs prepare regional dishes with freshly gathered or hunted ingredients from nearby forests and streams.
After feasting, guests usually soak or stroll under skies glimmering with multitudes of stars. The buildings are like museums showcasing local arts and traditions.
Until late March, snowplows cannot keep up with the volume of snow that nature dumps in the rustic outskirts of Aomori city.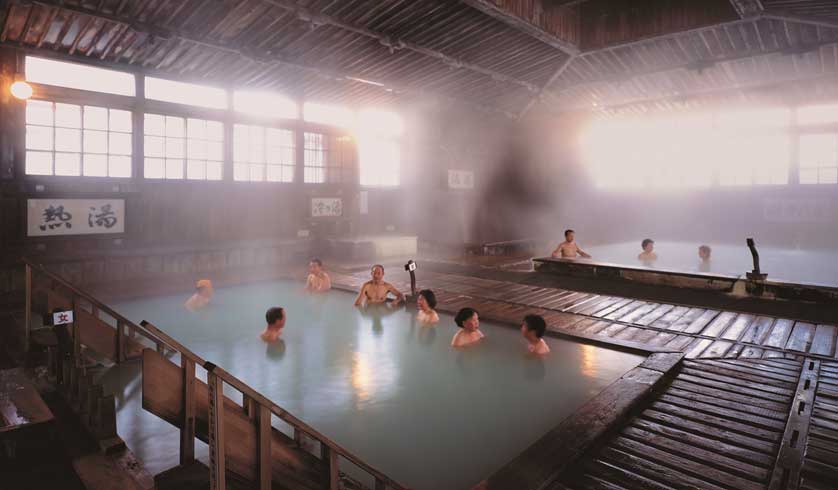 Sukayu Mixed Gender Bath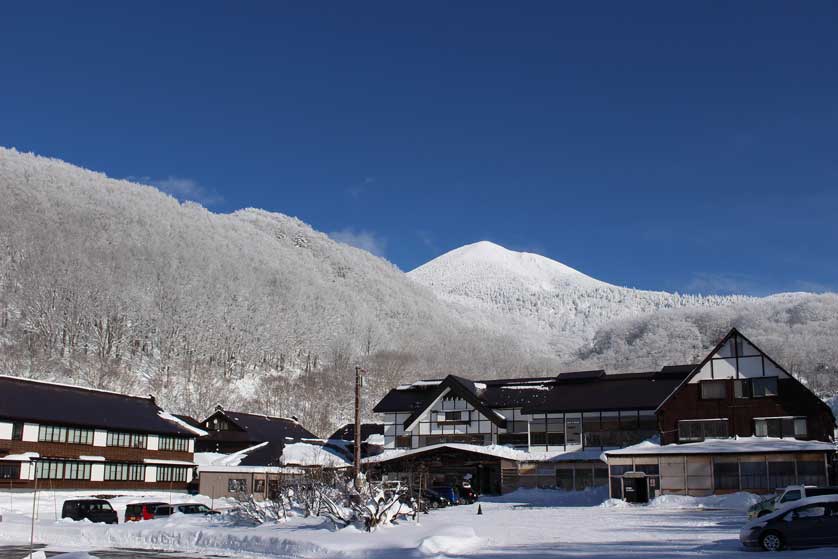 Sukayu Onsen in winter; Photo by Takada Shintaro
Sukayu Onsen
Sukayu Onsen's 2,669-square-foot mixed-sex communal bath is one of Japan's most unusual. They call it Sennin Buro, or "bath of a thousand bathers."
The hot water that issues into the giant bathtub contains a broad mixture of minerals, including sulfur. The old beech-wood building filled with steam exudes an atmosphere of down-to-earth healing.
The hot spring has a history of over three hundred years of a relaxed attitude to public nudity.
Many ryokans in Japan still allow communal bathing, but there is something about the local culture and the size of the baths that keep people mellow and respectful of others. In addition to the large room that men and women share for bathing together, there are smaller single-sex baths for shy folk.
Sukayu Onsen (www.sukaku.jp) resides within the Towada-Hachimantai National Park.
Winter provides meters of deep snows that attract skiers to nearby Hakkoda Ski Area for back country skiing.
In autumn, the woods appear to be on fire with brilliant fall colors.
Spring offers an almost infinite variety of greens as winter snows melt and nourish new foliage.
Summers around the Sukayu Hotel are more refreshing than in mainland Japan, and an abundance of streams, lakes, and waterfalls are perfect for water sports.
Aoni Inn mixed-sex bath; Photo by Koji Nishikawa
Aoni Inn
The ninety-year-old Aoni Inn stimulates mindfulness and relaxation more than most other hotels. Electricity, the internet, and SNS access don't exist here. Antique glass kerosene lamps illuminate rooms and hallways. Built within a majestic ravine, six kilometers of private road separate Aoni Inn from its neighbors.
The ryokan kitchen offers traditional Aomori dishes endowed with forest herbs, river fish, and local meats. Eat dinner in an old-style dining room, listen to the stream wander around the hotel, and de-stress.
Forest bathing and bathing in nature's thermal mineral water are the main activities. Streams, waterfalls, colorful leaves, and the natural sky are visible from the four unique bathing areas.
You might spot bears, pheasants, Japanese raccoon dogs, weasels, and other native residents when strolling on the leaf- or snow-covered roads. Winter walks require snowshoes. During heavy snows, workers at the inn occasionally bring guests in and out via snowmobile.
Light pollution is far away - in some other world. Lay down on the rocks of the outdoor hot springs on a cold night with clear skies.
Your body will be warm from the thermal water, and your mind will be blown away by the brilliant evolution of the evening sky.
Two comets flared across the galaxy as I was naked in a bath near a waterfall - probably a-once-in-a-lifetime experience. Click for information about getting to the Aoni Inn (www.en-aomori.com/hotspring-021.html).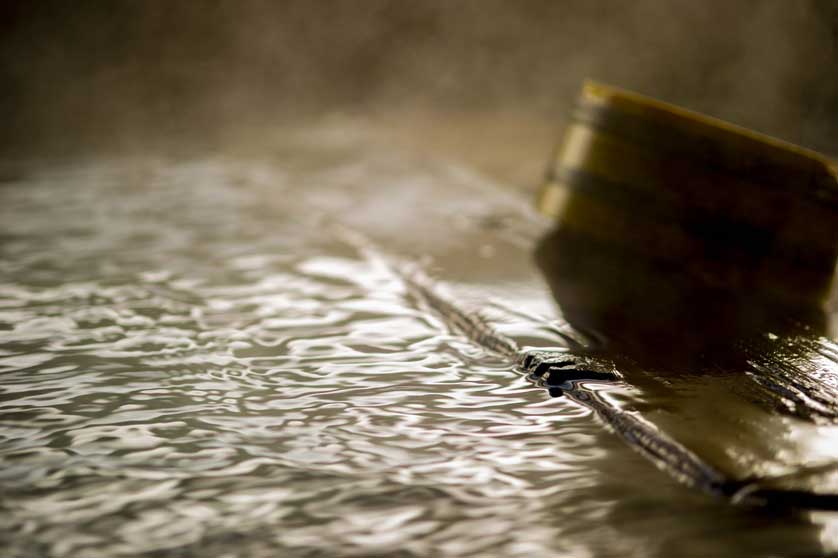 Yamano Hotel hot spring; Photo by Koji Nishikawa
Yamano Hotel
Yamano means of the mountain. Mt. Iwaki is a storied land with traditions of hunters finding sustenance and spirituality in the forests.
The Yamano Hotel sits on a plateau on the side of 1625 meter-high Mt. Iwaki, which is rich in hospitality, local pride, unusual foods, forests, hiking trails, historic temples, and ancient shrines.
Hotel decorations might offend vegetarians or animal-rights activists. Stuffed Japanese raccoons wearing tacky hats and shoes and stuffed bears on display in the hotel entrance are likely to either shock or fascinate foreigners.
The menu offers surprises: horse sashimi, lightly roasted deer meat, deer spare ribs, grilled rabbit, skewers of deer, boar and bear meat, are some of the exotic meat dishes.
One of my friends, an unashamed carnivore, raved about the meat dishes. Hotel chefs will accommodate vegetarians when requested in advance. Despite the preponderance of game dishes, a wide variety of locally foraged herbs, shoots, and mushrooms also grace the plates. One mushroom stew contained approximately a dozen mushroom varieties during my fall visit.
Yamano Hotel is one of a small collection of hotels, ryokan, and guest houses located in Dake Onsen, which has a history of more than three hundred years of healing guests. The thermal water is white. Locals claim that the springs cure ailments such as rheumatism, hemorrhoids, neuralgia, back pain, and cuts.
Yamano Hotel's bathing facilities are indoor. For information about reaching Dake Onsen by local bus from Hirosaki Station, Aomori Prefecture see www.en-aomori.com/hotspring-018.html.
Aomori has many ryokans and hot springs with expansive vistas, unique foods, and exotic cultural environs, but these three are superb.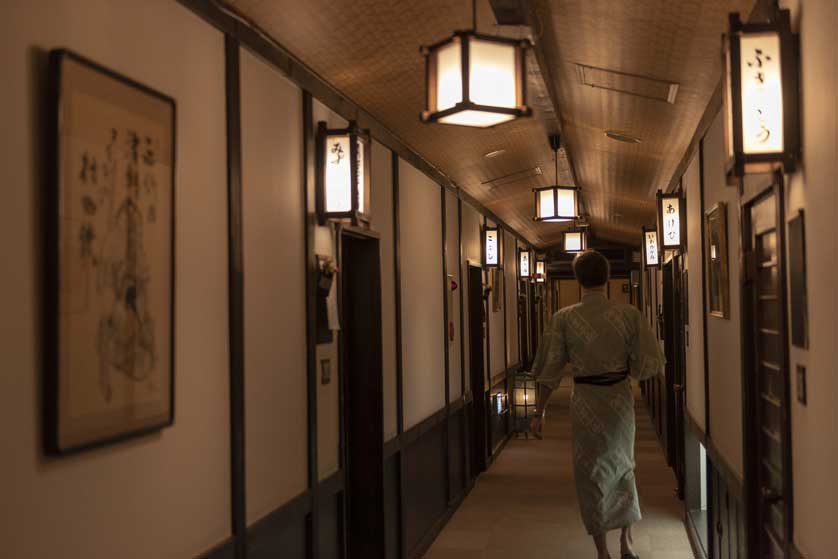 Yamano Hotel hallway; Photo by Koji Nishikawa
Access - Getting To and Around Aomori
High-speed trains zip to Aomori Station from Tokyo Station and Ueno Station in Tokyo. Major airports across Japan offer flights to Aomori Airport (AOJ).
Highway buses also make the journey from Tokyo. The JR Bus Mizuumi-go leaves from Aomori Station for Sukayu Onsen. Get off at the Sukayu bus stop. Walk for about one minute. The cost is 1,340 yen, and it takes about 70 minutes in good weather. The name of the bus operator is JR Bus Tohoku.
For further information about transportation within Aomori and to Aomori, visit the official prefectural site at www.en-aomori.com.
The author of this article blogs about Japanese hot springs at hotspringaddict.blogspot.com
All the themes of the city