Aomori Prefecture Guide Tohoku
Japan's Regions: Aomori Prefecture, Tohoku 青森県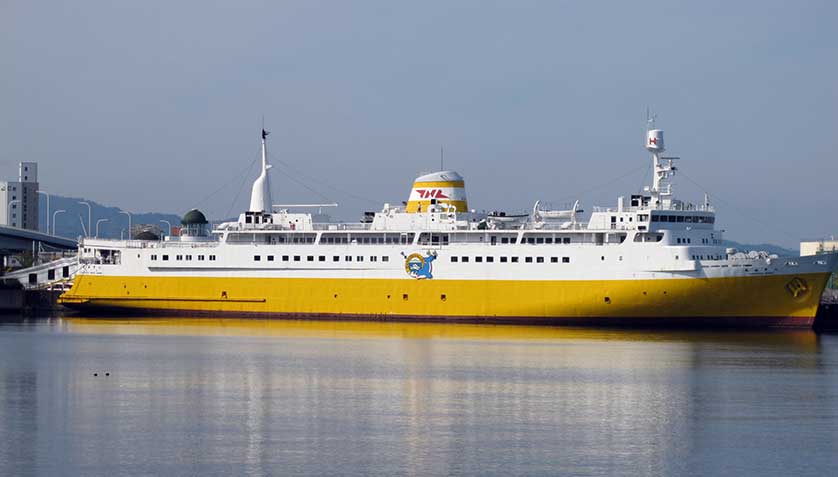 Memorial Ship Hakkoda-Maru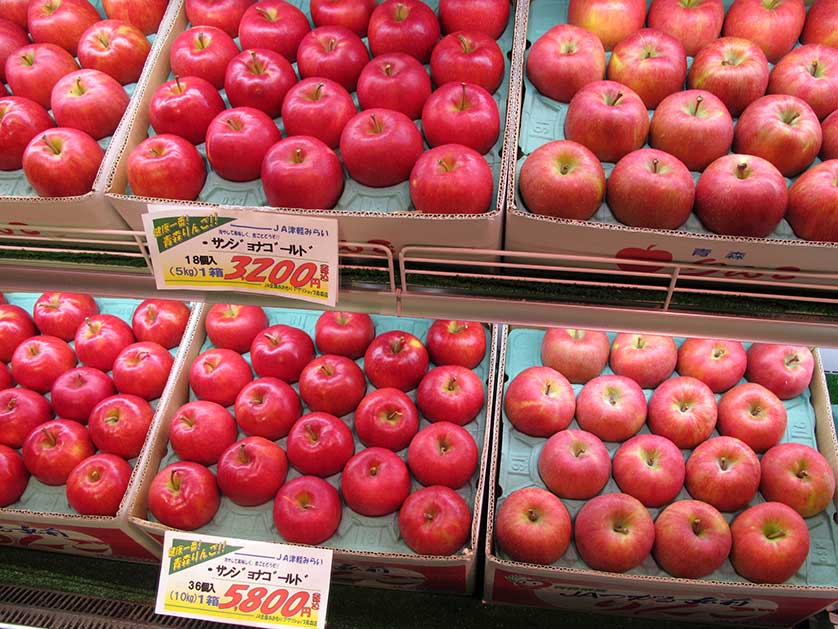 Aomori Prefecture is known for its delicious apples
Aomori Prefecture is located at the very north of Honshu just south of Hokkaido. Aomori Prefecture, along with Hyogo Prefecture, is the only prefecture that stretches from the Pacific Ocean to the Sea of Japan.
Aomori is largely a rural prefecture and gets its name - "green woods" - from the forests on its shores that once guided ships to Hokkaido and back during the Edo Period of Japanese history.
Aomori is the largest city in Aomori Prefecture with a population of around 288,000 inhabitants and is the capital of the prefecture.
Other important towns and cities in Aomori Prefecture are Goshogawara, Hachinohe, Hirokawa, Hirosaki, Kuroishi, Misawa, Mutsu, Towada and Tsugaru.
Aomori has much cooler weather in the hot and humid Japanese summers and a visit here in July and August is a welcome escape from the heat in the mega-cities of Tokyo, Osaka, Nagoya and Kyoto to the south. During the winter, Aomori can expect much snow and is one of the coldest places in Japan.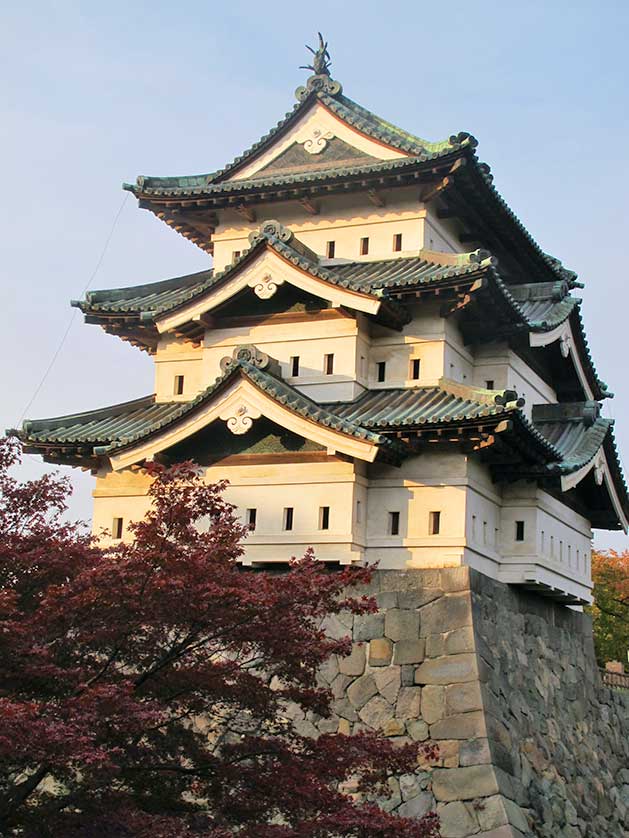 Hirosaki Castle, Hirosaki, Aomori Prefecture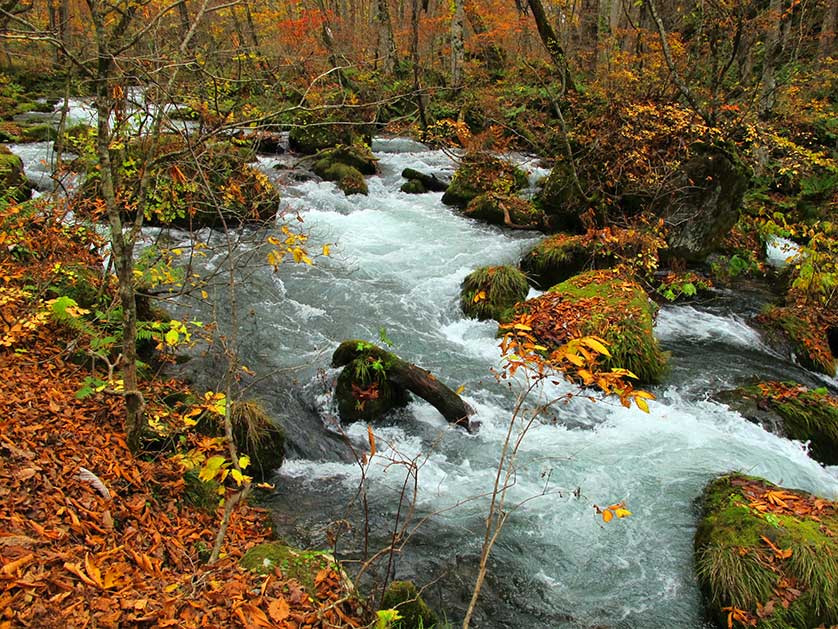 Oirase Gorge, Aomori Prefecture
Aomori Attractions
Aomori offers skiing in winter at a number of ski resorts including Aomori Spring Ski Resort, Mt. Hakkoda, Moya Hills, the closest resort to Aomori city and Soyumura 229 Ski Land.
Aomori is also blessed with several hot springs (onsen) at Asamushi, located a 30 minute drive or short train journey to the north east of Aomori city on Mutsu Bay, Sukayu Onsen on Mt. Hakkoda, famous for its huge mixed Senninburo bath open to both sexes (a rarity in Japan), Tsuta Onsen located in and around seven pretty lakes, Yagen Onsen on the Shimokita Peninsula and the seriously remote Aoni Onsen, best reached by hire car or public transport from Hirosaki.
Just 30 minutes by express train west of Aomori is the lovely castle town of Hirosaki, which besides its huge castle grounds famous for their thousands of cherry trees, has a number of Edo Period wooden houses once owned by local samurai and merchant families, a collection of Meiji-era buildings, the Fujita Memorial Garden, a Botanical Garden within the castle park and some lovely temples including the five-story pagoda at Saisho-in.
Towada-ko (Lake Towada) is Japan's third largest and third deepest lake and known for the clarity of its water. Tour boats sail the lake from Yasumiya bus terminal from where there are buses to Aomori city. By car Towada-ko is around 2 hours driving time. A further 30km along Route 454 is the tiny village of Shingo and the Tomb of Christ - where locals claim that Jesus Christ did not die in Jerusalem but escaped to live in northern Tohoku as a rice farmer.
Route 103 from Aomori city leads up to Hakkoda-san, consisting of eight dormant volcanoes, and an area known for its winter skiing and summer hiking to admire Hakkoda's many alpine plants. The Hakkoda Ropeway goes up to Tamoyachi-dake at 1326m from where the Odake peak is a short hike at 1584m. Hakkoda-san is known for its "Snow Monsters" - trees glazed with snow and for a variety of winter events including winter walks along roads flanked with snow up to 9m in height.
Running 14 km between Yakeyama at the foot of Hakkoda-san and Nenokuchi on the shore of Towada-ko is the fantastically beautiful Oirase Gorge, where the crystal-clear Oirase River runs along the road through a beautiful deciduous forest, known for its spectacular foliage colors in autumn. A number of icy rapids and plunging waterfalls add to the beauty of the place, whose main center is the charming Ishigedo. Oirase Gorge is a favorite with cyclists and hikers and is a must-see if you are in Aomori.
The long and bleak Shimokita Peninsula is shaped like an ax-head north east of Aomori city and is best known for Osore-zan, the "fearful mountain" that is believed to be the gateway to the afterlife and the home of wandering spirits. Osore-Bodaiji Temple sits adjacent to a sulfurous crater lake and people come to commune with dead relatives through mediums, often blind women, called itako. The temple closes on November 1 for winter and reopens in May. Other settlements on the Shimokita Peninsula are the fishing and agricultural towns of Mutsu, with train connections to Noheji, and Wakinosawa, which has ferries back to Aomori. Omazaki is the northern most point in Honshu.
The volcanic Mt. Iwaki (Iwaki-san) rises to 1,625 meters outside Hirosaki. From April until October buses from Hirosaki go to Dake Onsen, and from there a shuttle bus to a ski lift to the top. Hiking to the summit would be about 4 hours.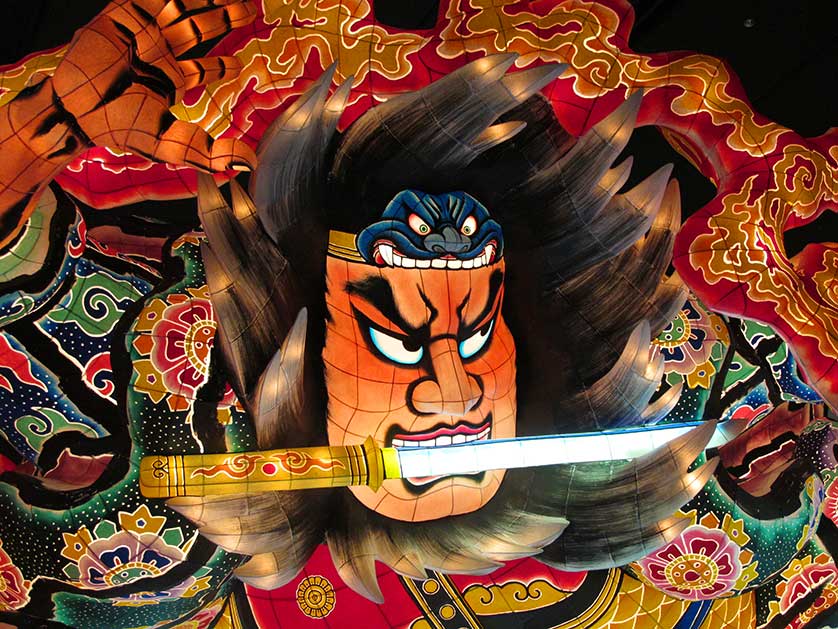 Nebuta Festival Float at Warasse, Aomori city, Aomori Prefecture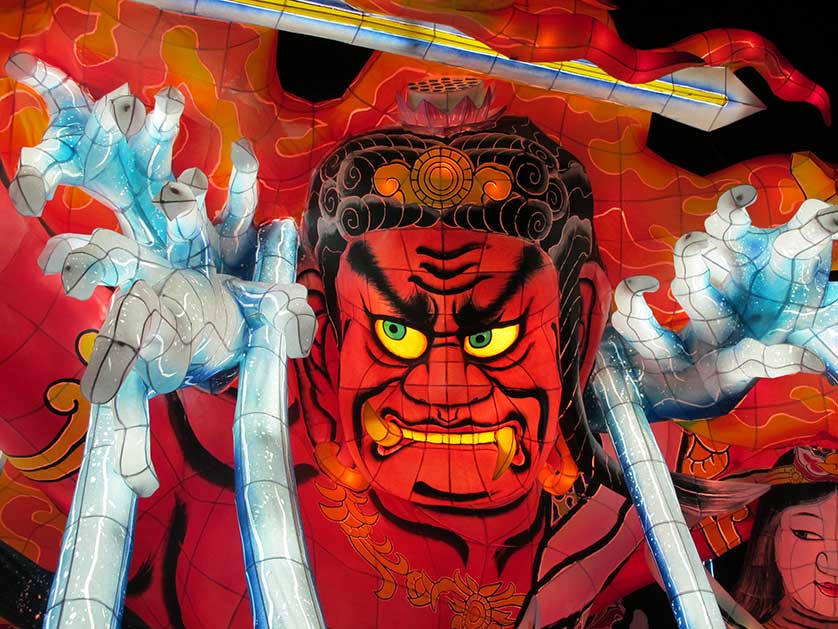 Nebuta Festival Float at Warasse, Aomori city, Aomori Prefecture
Aomori Festivals
Aomori Prefecture's main festivals are the famous Nebuta in Aomori city from August 2-7, the Neputa in Hirosaki from August 1-7, the Goshogawara Tachineputa August 3-8, the Hachinohe Sansha Taisai July 31-August 4 and the Kuroishi Festival from August 15-16.
The Aomori Nebuta Festival is one of Japan's largest festivals (and the largest of Japan's nebuta festivals), and takes place annually in early August.
A nebuta is a float bearing paper and bamboo constructs colorfully and powerfully depicting warrior figures. Lit from within, they make for a vibrant nighttime spectacle, in a boisterous atmosphere of crowds chanting "Rasserah! Rasserah!" and doing the stomping nebuta dance, called the haneto.
The Neputa Festival in Hirosaki consists of night-time processions of around sixty illuminated lantern floats featuring legendary stories depicted in the design of the floats.
Also in Hirosaki, the annual cherry blossom festival takes place in the castle park around the time of Golden Week in late April to early May.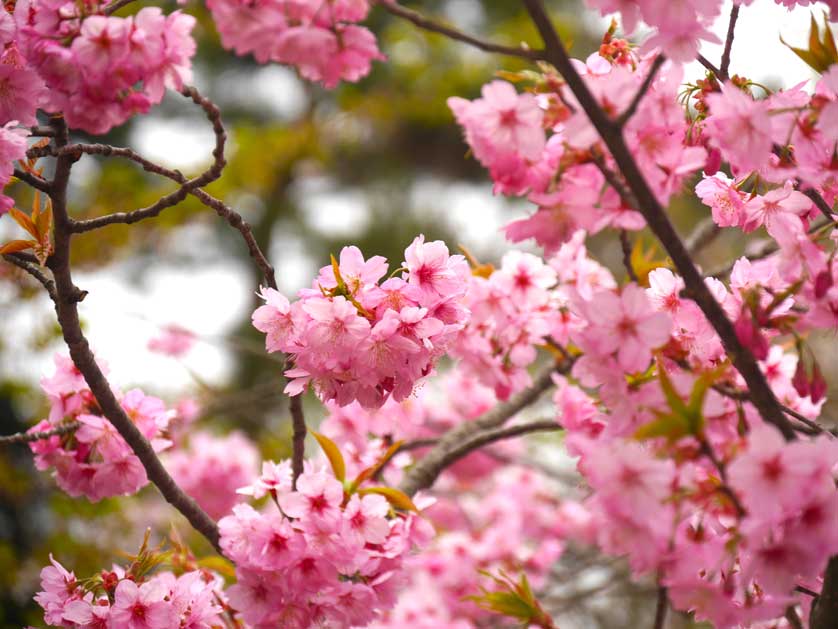 Hirosaki cherry blossom festival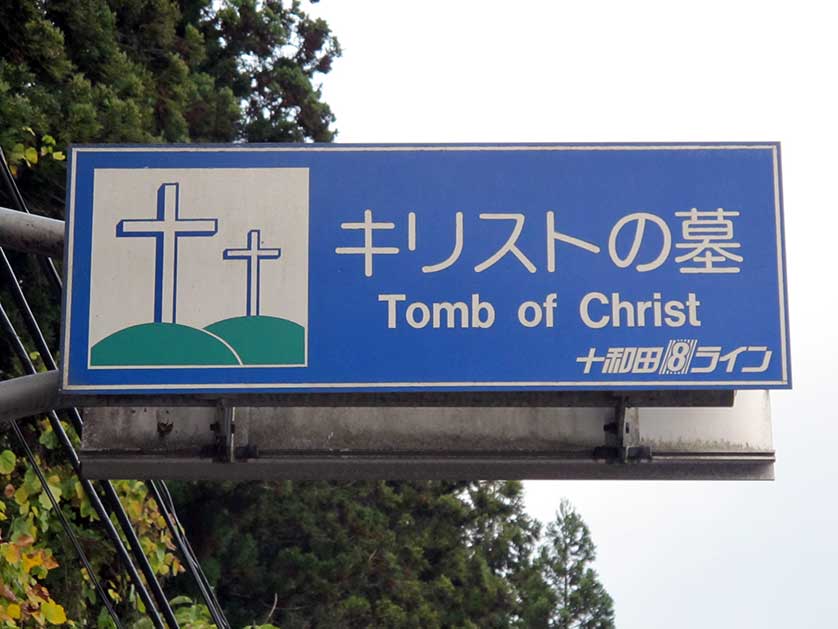 The Tomb of Christ, Aomori Prefecture
Aomori History
Aomori Prefecture's early history was influenced by the indigenous Emishi people, who it is believed, were descended from the inhabitants of the Jomon Period.
The haiku master, Basho, wrote about his travels in this remote region in the late 17th century Edo Period in his work Oku no hoshomichi (The Narrow Road to the Deep North). During the Edo era Aomori was known as the northern part of Mutsu Province and was considered the back of beyond from cosmopolitan Edo (Tokyo) and Kyoto.
Aomori city was only established during the Meiji Period in 1889. In 1985 the almost 54 km-long Seikan Tunnel, the longest tunnel in the world, under the Tsugaru Strait, was completed linking Honshu with Hokkaido.
Aomori's economy is heavily based on agriculture and fishing. The fishing sector on its Pacific Coast was affected for a while by the earthquake and subsequent tsunami in March 2011.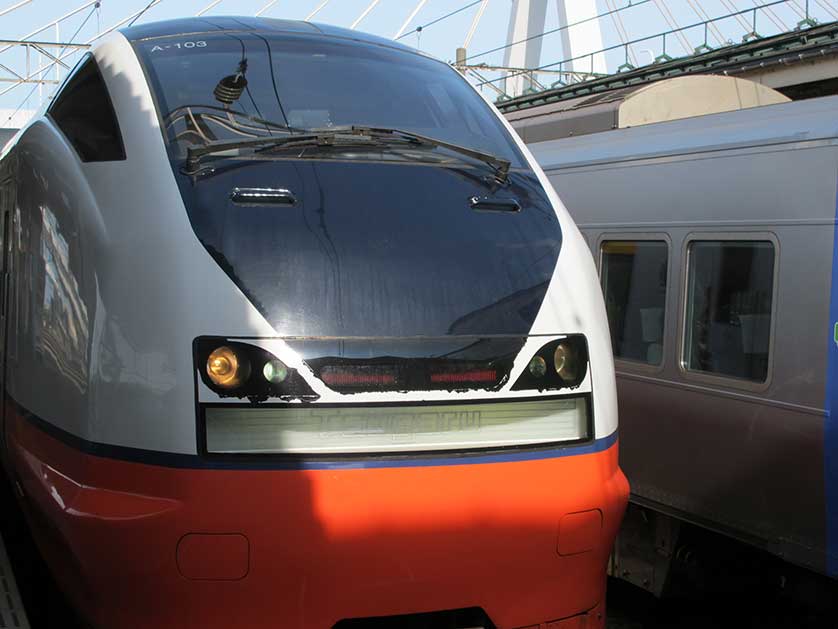 Express Train to Hirosaki at Aomori Station
Access
Air
Aomori Airport has daily JAL flights from Haneda Airport in Tokyo (80 minutes), Shin-Chitose Airport in Sapporo (50 min), and Itami Airport in Osaka (95 mins), as well as a Fuji Dream Airlines flight from Komaki Airport in Nagoya (1 hour, 20 mins) as well as four times a week flights to Seoul (3 hours) operated by Korean Airlines. There are buses from Aomori Airport to Aomori Station (35 mins; 680 yen), Hirosaki (55 mins; 1000 yen) and Goshogawara (55 mins; 1000 yen).
Trains To Aomori
From Tokyo Station or Ueno Station JR Tohoku Shinkansen Hayabusa via Omiya, Sendai, Morioka and Hachinohe to Shin Aomori Station and then change for a train to Aomori Station or Hirosaki. Journey time is 3 hours, 20 minutes from Tokyo Station to Shin Aomori Station and the current fare is around 23,000 yen. All seats are reserved.
The Super Hakucho Express to Hakodate in Hokkaido has been superceded by the Hokkaido Shinkansen since 2016.
The overnight Shindai Tokkyu Express to Osaka takes 14 hours, 47 minutes. Express trains to Hirosaki via Shin Aomori Station take 36 minutes or around 50 minutes on a local train. There are Aoimori Railway trains from Aomori to Noheji (change for JR Ominato Line trains to Yokohama and Shimokita Station in Mutsu on the Shimokita Peninsula), Misawa and Hachinohe. From Shin Aomori Station there are trains to Kanita, Minmaya and Tappizaki on the Tsugaru Line.
The Resort Shirakami is a special sightseeing train that runs from Akita via Goshogawa and Hirosaki to Aomori. The Resort Shirakami travels along the 147 km-long Gono Line with beautiful views of the Japan Sea coast, the Tsugaru Plain and the Shirakami Highlands. Three types of train with different liveries and set-ups make the journey: the Aoike, the Buna and the Kumagera. The entire journey takes 5 hours. There are 3 services daily with one service running just the Aomori to Hirosaki leg and the other two running from Akita to Hirosaki.
Bus To Aomori
Aomori has long-distance highway bus links with Tokyo (9-10 hours), Sendai (4 hours, 50 minutes) and Morioka (4 hours, 50 minutes).
Ferry To Hokkaido
There are Tsugaru Kaikyo ferries from Aomori Port to Hakodate in 3 hours, 40 minutes. (Tel: 017 766 4733) and also from Oma at the tip of the Shimokita Peninsula to Hakodate in 1 hour 40 minutes (2 sailings per day). There are eight daily sailings on the Aomori - Hakodate route including two on the luxury Blue Dolphin.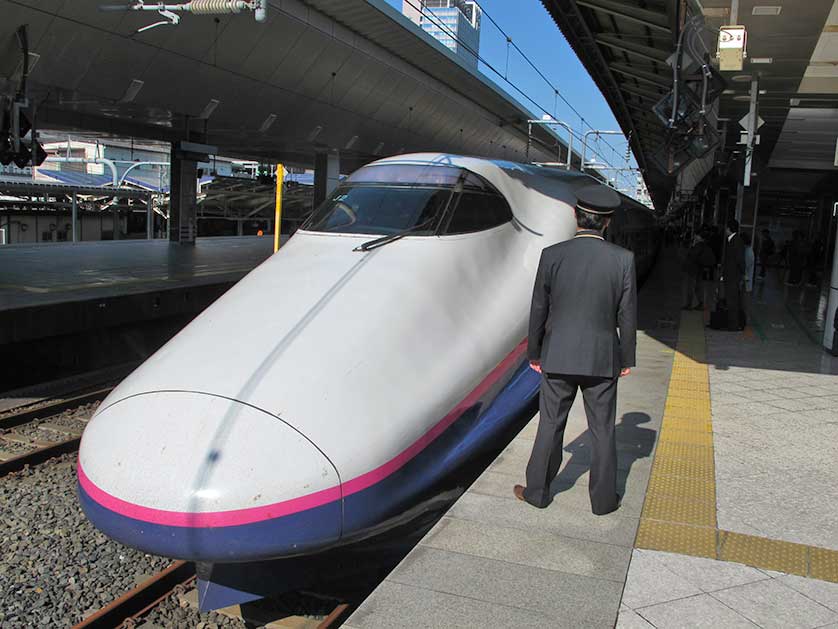 The Hayate Shinkansen runs from Tokyo Station to Shin-Aomori Station
Maps of Aomori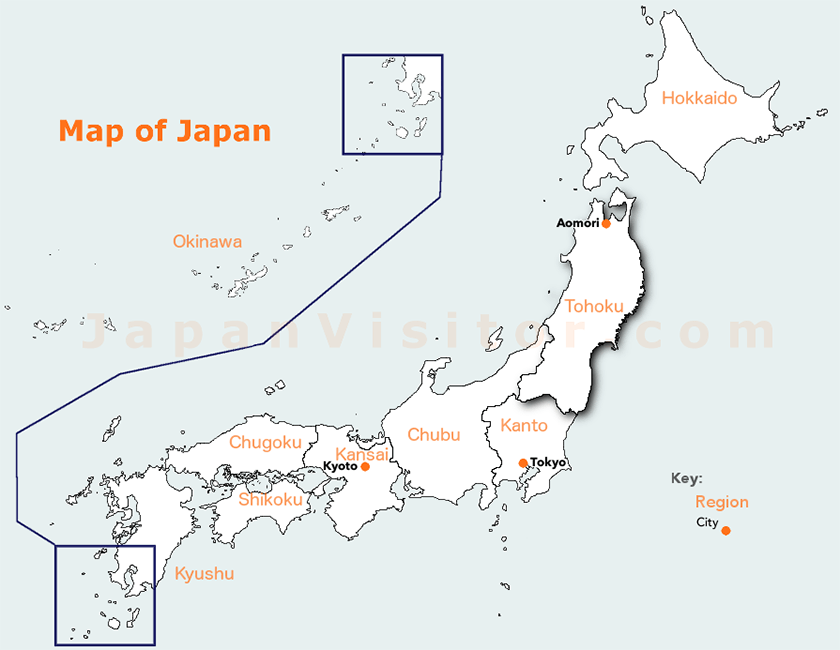 Map of Aomori.
Aomori Prefecture: read a guide to Aomori Prefecture, the northernmost prefecture on Honshu famous for the Nebuta Festival and its delicious apples.
All the themes of the city