Shin Shin ramen
天神ラーメン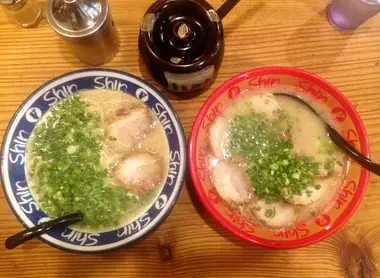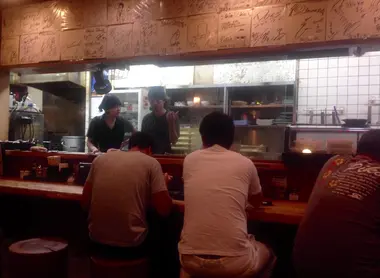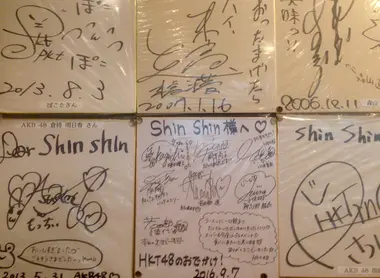 Ramen Royalty!
Ramen rivals sushi in terms of reputation: it's one of the best known Japanese dishes, both internationally and in Japan. While there are as many recipes as regions, the most popular is tonkotsu ramen, created in Fukuoka. It's a must-try during a visit to the capital of Kyushu Island!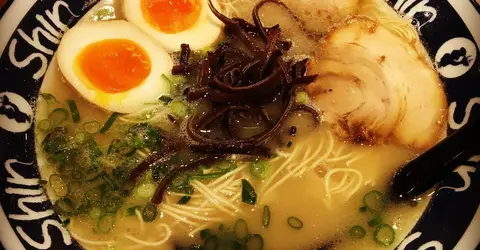 Unsurprisingly, ramen restaurants abound throughout the city, but the locals only really recommend one: Shin Shin.
A Hakata tradition
Located in front of a temple in a quiet street, the restaurant is recognizable because of the tail that sometimes extends on two different sidewalks! In fact, plan to go there in advance, especially if you're in a group of more than two. Here, the food isn't fancy: they only offer tonkotsu ramen, the tradition ramen of Fukuoka, served with extra pork or green onions if you wish. It's about keeping to the traditional recipe that is the pride of the city and the restaurant, a pork bone broth, rich and thick as it's boiled for at least 8 hours before being served. Added to this are thick slices of pork, fine and melting noodles and onions. The portions are generous and can be seasoned to your taste with pepper, ginger, soy sauce or even sesame seeds, placed at your disposal on the table.
A large menu
Like any self-respecting ramen restaurant, gyoza are also on the menu. The restaurant also offers yakitori, meat skewers and delicious edamame beans, to whet your appetite or accompany your meal. A nice selection of beer is also available. In a nice touch the menus, in addition to being available in English, also have many photos, so you know exactly what you're ordering!
Read: Yakitori, Japanese skewers
Still not convinced you're in the right place to try this famous ramen? Take a look at the walls, literally covered with declarations of love for Shin Shin's ramen! It should be added that the service is fast and efficient: in no time at all you'll be eating in the warm din of the restaurant, amid the sounds of the open kitchen, the friendly "irashaimasse" greetings and lively discussions! Don't linger too long at the end of your meal: of course, no-one will kick you out, but many gourmets are probably waiting their turn too.
All the themes of the city