Hamada Guide Shimane
Hamada Shimane Prefecture 浜田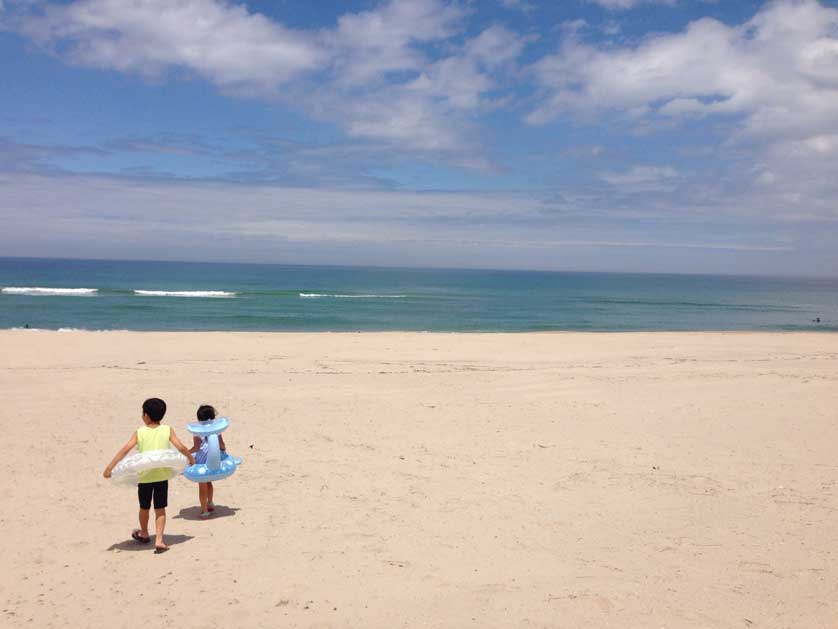 Hamada City is on the Japan Sea coast of Shimane prefecture, with some good beaches, unspoiled forested mountains with hiking trails, dramatic rock formations, and the famous Aquas aquarium.
Hamada is the third largest city in Shimane Prefecture behind Matsue and Izumo, with a population of 62,000, including the nearby towns of Asahi, Kanagi, and Misumi.
Hamada has the only deep-sea port in the area, though there are no ferries, and most ships are taking logs or used cars to Russia.
Hamada History
In 710, Hamada became the capital of the newly created Iwami Province, and there are remains of temples built here from about the 7th and 8th centuries. The aristocratic poet, Kakinomoto no Hitomaro, is said to have been assigned to an official position in the province later in life. Then, in 1425, ten survivors of a shipwrecked Korean delegation were washed up in Hamada, and given shelter. This led to regular trade between Hamada and Korea for the next 78 years, with the Japan side importing silk, leopard and tiger skins, ginseng, and pinecones and exporting swords and knives, red lacquerware, pepper and candles.
Hamada Castle was constructed in about 1623 and occupied until 1866. In 1808, Hamada further demonstrated its ties to the outside world when a doctor there published the first book on surgery in Japan.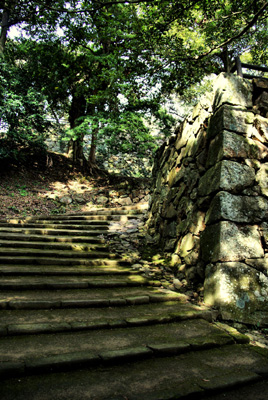 The stone walls and stone steps leading to Hamada Castle in Shimane Prefecture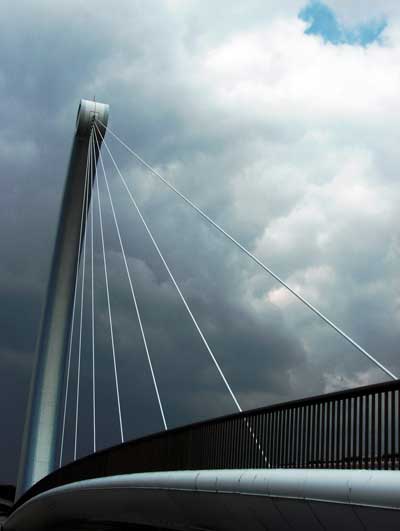 Hamada has an attractive coastline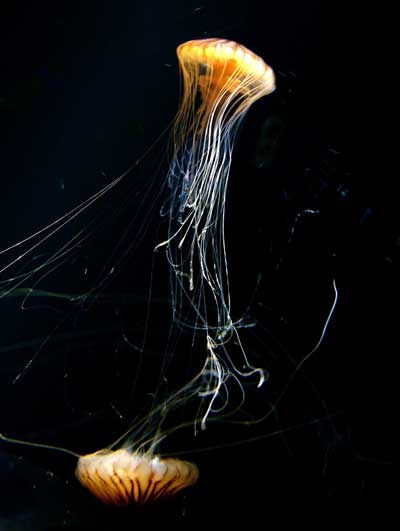 Jellyfish at Aquas, Hamada, Shimane Prefecture
Hamada City Map
See a map of Hamada City with main attractions.
Hamada Attractions
Like the rest of the Shimane coast, the Hamada area is home to many fine, white, sandy beaches, 5km of which are included in the Iwami Seaside Park, east of central Hamada. The park has many facilities, including picnic and barbecue areas, campsites, cabin rental, showers etc. The beaches are popular with surfers, and in the summer season windsurfing and parasail rentals are available.
Included in Iwami Seaside Park is Aquas, the largest aquarium in Western Honshu ( JR Hashi station). Built in 2000, the aquarium houses over 10,000 animals and fishes from over 400 species, including many Flying Fishes (the Prefectural fish).
The main attraction is a show of performing Beluga Whales. There is also Aquas Land, a huge playground/amusement park for the kids. Entrance 1,500 yen, 500 yen for kids. Free parking and free audio guide in English. Closed Tuesdays.
Tatamigaura (access from JR Shimoko station) is a geological formation on the coast. In 1872 the Hamada Earthquake struck, resulting in a section of seabed rising and remaining exposed. There is a pedestrian tunnel through the cliffs, passing through a sea cave with a small Buddhist shrine, leading to the interesting geological formations and fossils. On weekends and holidays a pamphlet in English can be had from local volunteer guides.
On a hill overlooking the harbor stands the ruins of Hamada Castle. Built in 1620, it was destroyed by its lord in 1866 to stop it falling into the hands of the advancing pro-Meiji forces from Choshu. He then committed suicide. All that remains are the gate and the stone walls and foundation, but there are fine views over the town and harbor, and is popular particularly during the cherry blossom season.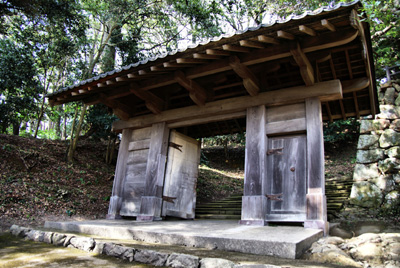 This impressive wooden gate still remains at Hamada Castle in Shimane Prefecture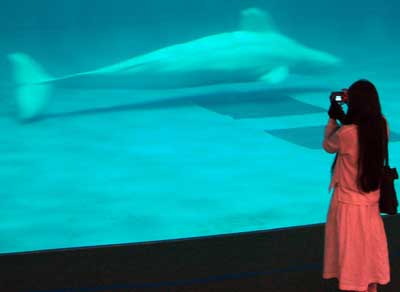 Aquas, Hamada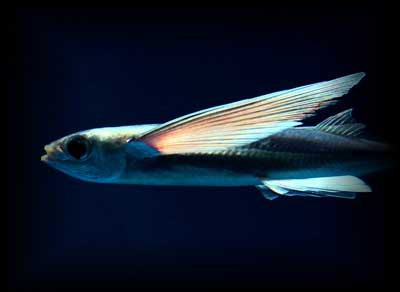 Aquas aquarium
The skyline of Hamada is dominated by the Hamada Marine Bridge, a 305m long suspension bridge that runs from the fishing harbor to the tiny Setogashima Island. Completed in 1999 at a cost of 8.9 billion yen (about USD 800 million), the bridge is the second to Setogashima Island, which has a population of less than 250 people and was already connected to the mainland by a 10m long bridge!
The Shimane Fish Center (Shimane Osakana Senta), located in the fishing harbor section of the port, is a fish market as well as restaurant, craft center, and event space. Lots of squid products are for sale here, as Hamada supplies squid throughout Japan and abroad.
The University of Shimane is located on the hills above the town, and includes the Institute of North Asian Research.
A footpath behind the University leads to the top of Mt. Sankai (378m) which has an interesting shrine and expansive views over the town and along the coast. The mountain is part of the Mt. Sankai Forest Park.
Just in front of the University is the Hamada Children's Museum of Art (Tel: 0855 23 8451) that has shows and interactive exhibitions that are of interest to adults as well.
Iwami Adachi Art Museum (Tel: 0855 28 1920) is a small, private museum of Japanese art situated across the road from Aquas. Hours: 10am-4pm (last entry 3pm), closed Tuesday, except when Tuesday falls on a public holiday, when it is open Tuesday but closed Wednesday). 500 yen for adults.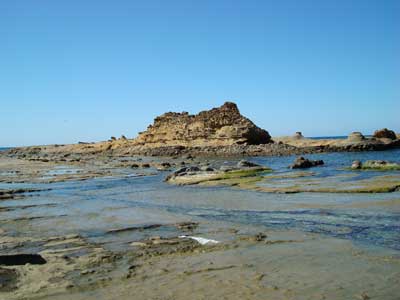 Tatamigaura on the Shimane coastline near Hamada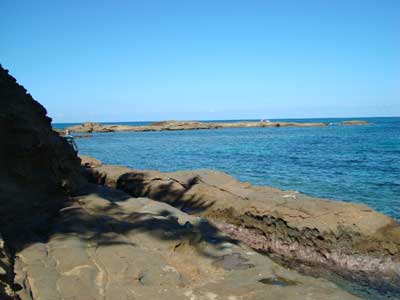 Shimane coastline at Hamada
Down the west coast a few kilometers is Taimayama, or Taima-san (Hemp Mountain). Starting in Sufu, the Chugoku Nature Trail climbs up and over the mountain passing through an interesting shrine. On top of the mountain at 599m is an observation tower with superb views over Hamada and all the way down to Yamaguchi Prefecture. The steep valleys on the western slope are visited by many photographers for the views of steeply-terraced rice paddies, and in the fall, farmhouses bedecked with drying persimmons. Taimayama is accessible by car.
Hamada is a centre for Iwami Kagura, a unique, colorful, exciting form of sacred dance-theater hardly known outside the area. The town has many decorations illustrating kagura and its stories, not least of which is a new mechanical/animated clock towerin front of the train station.
During the summer and fall there are all-night kagura performances at all the local shrines, and the rest of the year there are public performances at the Shimane Osakana Center, Yuhi Park road station, Arifuku Onsen, and Mimata Onsen. The Nagahamacho area of Hamada - the area right behind and west of the main port - is home to many of the district's Kagura mask-makers.
Hamada Tourist Information
Hamada International Center can be reached on 0855 23 8223
Hamada Tourist Information office is located in Hamada JR station.
Hamada Accommodation
The Shimane Hamada Washington Hotel Plaza is a big, centrally located hotel in Hamada, just a couple of minutes' walk from Hamada Station, offering modern facilities, comfort and convenience.
There are plenty of all types of accommodation in the Hamada area, including ryokan, business hotels, love hotels, etc. Recommended are Kaze no Kuni a modern spa resort in the mountains near Asahi with many facilities including limosine pick-up, and Yoshidaya - an onsen ryokan in the mountainside spa resort of Arifuku.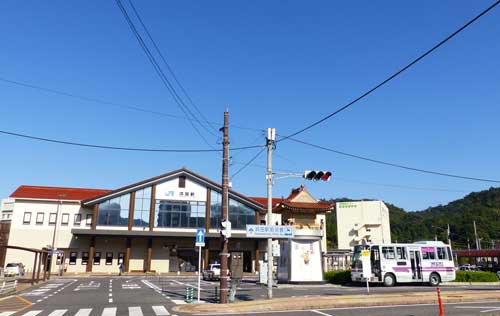 Hamada train and bus station, Shimane
Nearby Hamada
Asahi and Kanagi, along with nearby Arifuku and Mimata, are onsen hot-spring villages in the mountains south of Hamada. Kanagi is also home to the Kanagi Western Riding Park (Tel. 0855 42 2222) which offers riding lessons and horse rides for beginners and experts.
Misumi is known for Obira, an ancient cherry tree believed to be 600 years old. Misumi shrine has an imposing, broad approach lined with stone lanterns, and up on the top of the hill is Ryu-un-ji a nice old temple.
Hamada Access - Getting to Hamada
Air
Iwami-Hagi Airport is the nearest airport, and has flights to Tokyo Haneda Airport (85 mins.) and Osaka Itami Airport (65 mins.)
Train
Hamada is a main station on the JR San-in line, and is only 90 minutes from Hiroshima and the Shinkansen by car via the Hamada Expressway which links to the Chugoku Expressway.
Bus/Car
Hamada is located on Route 9. By car, Hamada is about a 50 minute drive from Masuda.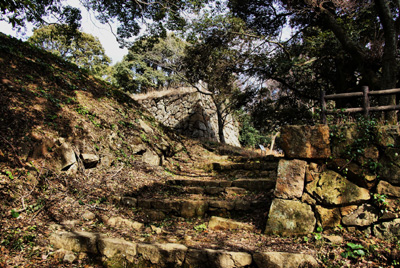 The ruins of Hamada Castle remain an evocative sight
Book Hotel Accommodation in Japan
Hamada guide: read a travel guide to Hamada in Shimane Prefecture, south west Japan.
All the themes of the city