Iwakuni Guide
Japan Guides: Iwakuni Guide
Iwakuni Castle - A Day Trip From Hiroshima 岩国市
Jennifer May
Iwakuni is a mid-sized city in Yamaguchi prefecture, about 40 km west of Hiroshima City. Iwakuni is home to about 100,000 people, and is famous for its Kintai Bridge and reconstructed Iwakuni Castle. In summer, there is also the attraction of cormorant (ukai) fishing. Iwakuni also has a U.S. military base.
My trip to Iwakuni started with a bus ride up a narrow street, through miles of quaint shops and old houses. Stepping off the bus, the overwhelming beauty of the mountains and the graceful Kintai Bridge took me in. It was refreshing to be standing on the bank of Nishiki River looking over to Kikko Park and searching for Iwakuni Castle at the top of the mountain.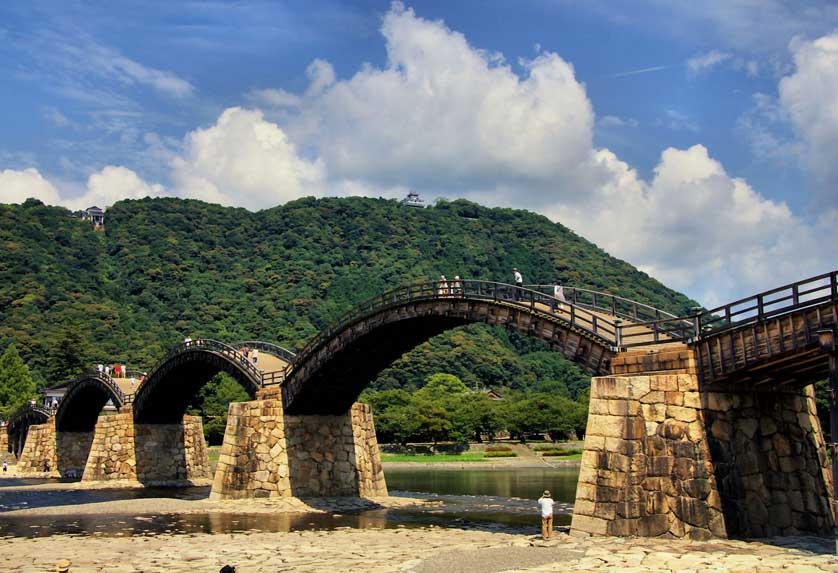 Kintai Bridge & Iwakuni Castle
Kintai Bridge illuminated at night
Kintai Bridge
Kintai (Brocade Sash) Bridge is one of Yamaguchi prefecture's biggest tourist attractions. 210 meters long, five meters wide, the ancient Kintai bridge comprises five wooden arches crossing the Nishiki River, anchored to a series of huge stone supports. It is now purely a tourist attraction
Completed in 1673, the bridge took almost a year to build, and the construction was supervised by the third feudal lord of what was then Iwakuni province, Hiroyoshi Kikkawa himself. The wooden arches built between the stone foundations used only wires and clamps. There are no nails or bolts in the bridge.
The Nishiki River is the longest in Yamaguchi prefecture, and flooded regularly, washing bridges out. The wooden arches of the Kintai Bridge have been replaced about every 30 years, but the rock island foundations lasted until 1950 when the Kijiya Typhoon washed the bridge away. The bridge was reconstructed using the original methods as a tribute to the advanced techniques used at the time it was first constructed. The bridge was further renovated in 2004. A fee is charged to cross it.
Kintai Bridge is illuminated at night, and there is a Kintai Bridge Festival held April 29th. People dressed in samurai costumes parade through the castle town and shoot targets reenacting ancient times. The Iwakuni infantry was organized by Ishida Mitsunari centuries ago. Today, the gunmen are volunteers demonstrating the history of Iwakuni for the townspeople and tourists.
Cormorant Fishing Festival
The big festival of the summer in Iwakuni is centered on ukai (cormorant fishing). It is held June 1st through August 31st. Fishermen in traditional costume tow wooden boats onto the river at night with a torch placed at the front of each boat to attract the fish - usually ayu (small trout). A cormorant with a rope attached to its neck is used to catch the fish. The bird wades in the water, and once it catches a fish, the fishermen pull the bird in and make it spit the fish out. This festival dates back over 370 years.
Iwakuni town developed under the rule of Kikkawa Hiroie after the Battle of Sekigahara, on October 21, 1600 . (This battle, it is said, was the unofficial beginning of the Tokugawa shogunate.) Kikkawa Hiroie used the Nishiki River as a moat and built his castle at the top of the mountain. The ancient buildings and streets of this castle town are maintained to give visitors an "old Japan" experience.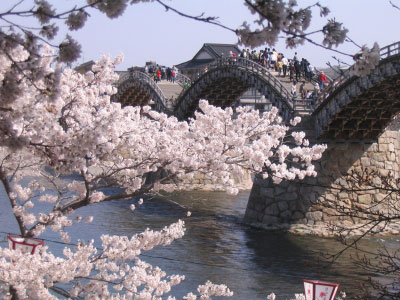 Kintai Bridge, Iwakuni at cherry blossom time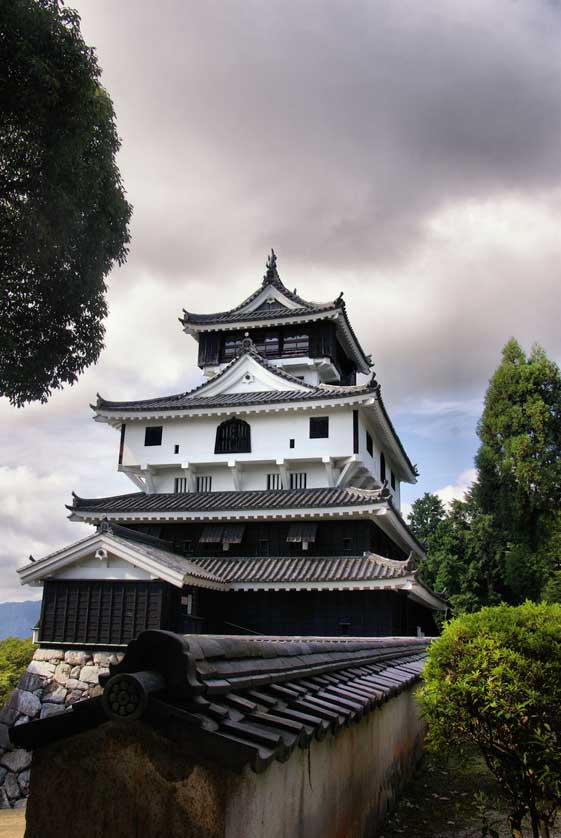 Iwakuni Castle, Yamaguchi Prefecture
The traditional crafts to buy in these old-time shops include Tada Ware (now called Iwakuni Ware) and Stone Dolls. Iwakuni Ware is pottery made in the tradition of the original Iwakuni-han (clan) methods. Stone dolls are created by river insects with stones, sand and mouth secretions; and are said to be images of those who died during the construction of the Kintai Bridge because they are shaped like men.
On the other side of Kintai Bridge, Kikko Park stretches out to the foot of the mountain that houses Iwakuni Castle. The park was once the residence of the Kikkawa family, and the noble families Kagawa and Mekata that served Kikkawa. The park is full of trees, plants, flowers and fountains. The gardens contain azalea, peony trees, iris, blue flag and other blooming plants. The park also houses the Iwakuni Historical Museum and the Kikkawa Family Museum.
White Snake of Iwakuni
There are places to view the White Snake of Iwakuni, as well. This snake grows to be 180 cm long and 15 cm in diameter. It is albino with red eyes and white scales, and is absolutely harmless. A man generously offered to let me hold one. Good luck for me because it is believed that these mysterious creatures are messengers from Benten, the goddess of wealth. They are deemed a Natural Treasure by the Japanese government. You can also see white snakes at Imazu Tenjinyama Shrine.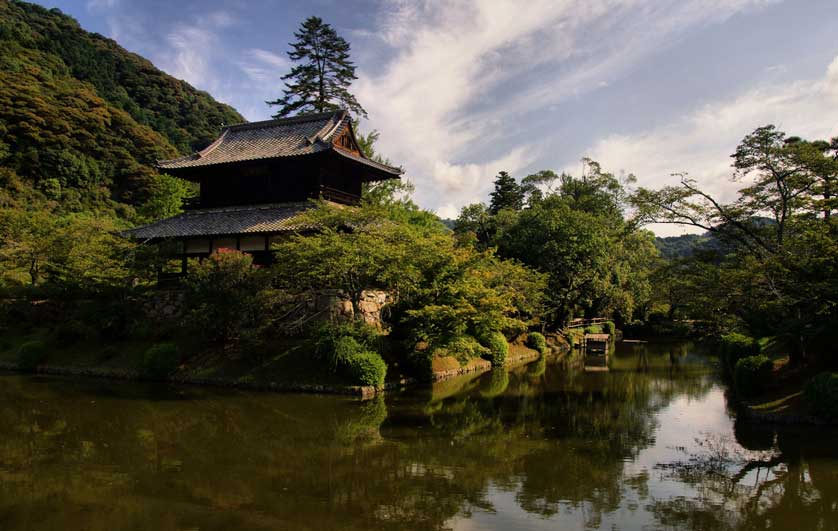 Kikko Park & Iwakuni Castle, Yamaguchi Prefecture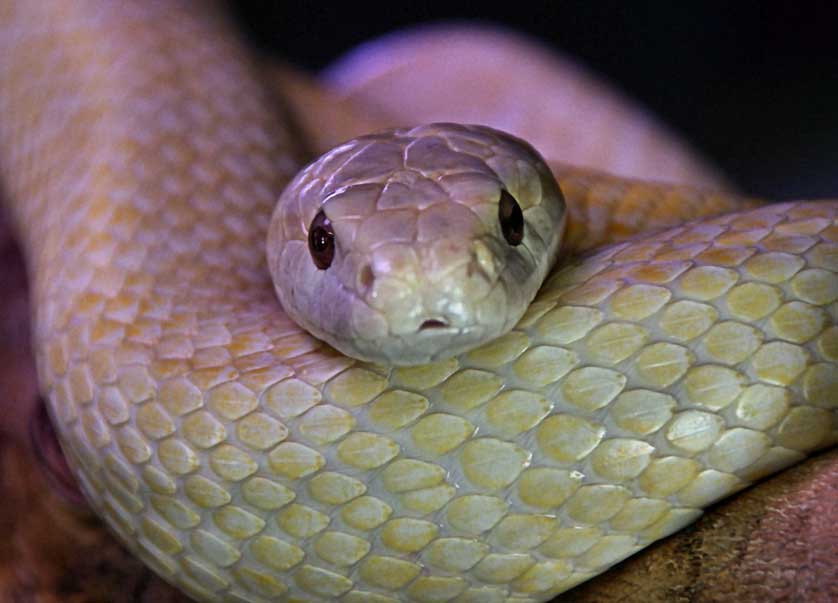 White snake of Iwakuni
When you're ready to head up to Iwakuni Castle, take the tram up the mountain. The scene is magnificent as you ride to the top. The trip only lasts three minutes, so enjoy the view instead of wasting time on picture-taking. Look out over the park and river and get another majestic view of Kintai Bridge.
At the top of Mt. Shiroyama, walk around the castle grounds and take in the views from every side. You can lean over the walls for pictures, or stage photographs standing against the walls with the fantastic view in the background.
Mt. Shiroyama is a nature preserve and boasts more than 200 varieties of trees, over 350 herbaceous plants and more than 100 ferns. In 1975, a "Kimino-tamizuki" tree was discovered. It produces golden fruit in the fall. The mountain, itself, is worth exploring.
Iwakuni Castle took seven years to build from 1601-1608 and is most interesting because the donjon or main structure was influenced by 16th century European architecture. Hiroie Kikkawa built the castle, but when the Tokugawa regime declared in 1615 there could be no more than one castle in each province, Iwakuni Castle was torn down (the castle in Hagi took precedence). In 1962, the local historical society decided to rebuild the castle, and today it is a museum displaying suits of armor, weapons, and art depicting war. There is a charge for admission.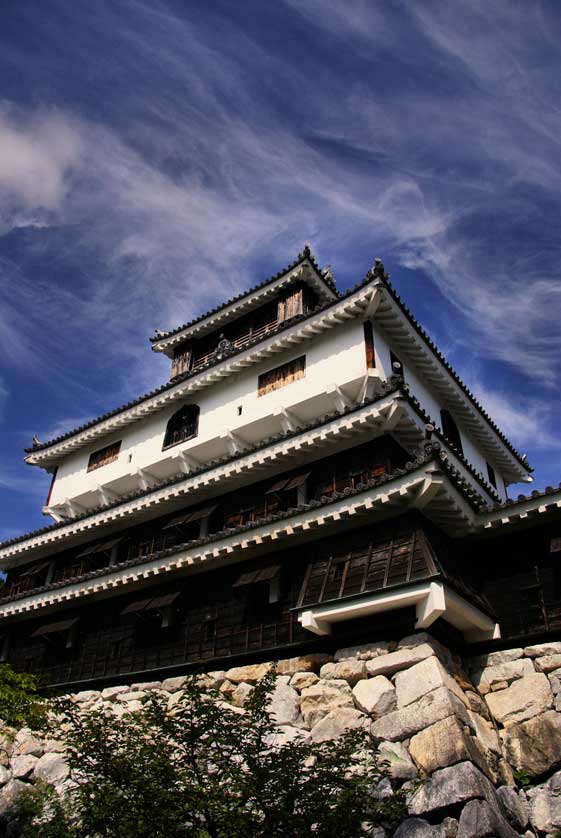 Iwakuni Castle keep
Iwakuni is famous for sweet (or aromatic) fish - the ayu caught by the cormorants. Ayu is prepared and served in a variety of ways and is always delicious, but especially when roasted. The local sushi known as Iwakuni-zushi is special, too. It is not hand formed, but a square mold is used to shape the sushi, with two types of mackerel mixed in. A soup of vegetables and chicken (taihei) is another local favorite.
A nice restaurant to try these delicacies is Hangetsu (Half Moon), a traditional Japanese restaurant built in 1869 as an Imperial Japanese Navy Officer's Club. They offer a lunch menu at a set price. It is not cheap, but well worth the cost considering the ambience and the food quality. Hangetsu (Tel: 0827 41 002).
Another place worth stopping is the Ogasawara Tea Garden. It is only a three minute walk from the Kikko Park entrance and is full of bamboo trees. You can enjoy a cup of green tea and enjoy the peaceful scenery for a reasonable price. Ogasawara Tea Garden (Tel: 0827 43 3617).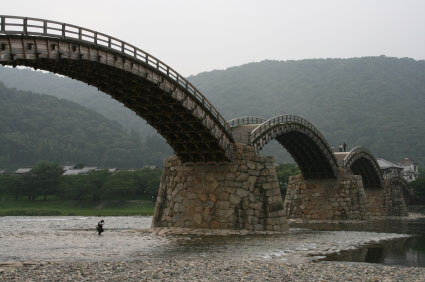 Kintai Bridge, Iwakuni, Yamaguchi Prefecture
Iwakuni Art Museum
Located right next to the rope-way station in Kikko Park, Iwakuni Art Museum is a large, private museum with a wide selection of objects and materials relating to samurai. There is plenty of weaponry, including swords, armor, helmets, daggers, and firearms, as well as art objects such as glassware, lacquer-ware, ceramics etc. Each season a special exhibition is shown featuring objects from the museum's large collection that reflect on that particular season. There is a fair amount of information in English.
Open 9 am to 5 pm (Mar to Nov), 9 am-4 pm (Dec to Feb). Closed Thursdays or next day if Thursday is a national holiday. Adults: 880 yen. High School & College students: 500 yen. Children 200 yen
2 Chome-1 0 -27, Yokoyama, Iwakuni, Yamaguchi 741 0081
Tel: 0827 41 0506
Hotel Accommodation in Iwakuni
There is a number of western and Japanese-style accommodations in Iwakuni. The AZ Hotel (formerly the Kamenoi Hotel Yamaguchi Iwakuni) is a three-star establishment with free in-room WiFi. Opposite Kintai Bridge is the excellent Iwakuni Kokusai Kanko Hotel with indoor and outdoor hot spring baths.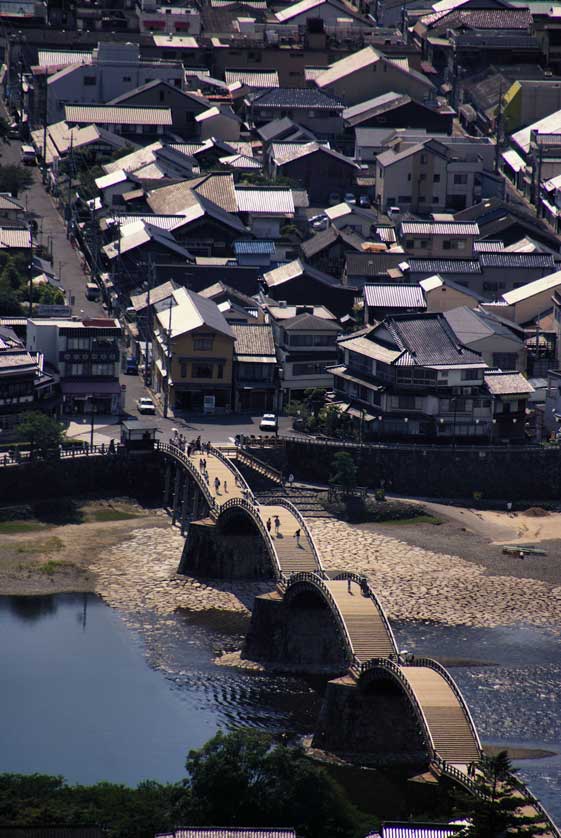 View of Kintai Bridge from Iwakuni Castle
Iwakuni Access - Getting to Iwakuni
Iwakuni is about 35-40 minutes away from Hiroshima on the JR Sanyo main line.
There are almost only local trains between Iwakuni and Yamaguchi (2 hours).
Shinkansen trains use Shin-Iwakuni Station, while other trains stop at Iwakuni Station. Each station is about 5 km from the Kintai Bridge.
There are numerous buses from Iwakuni Station to the Kintai Bridge (15-20 minutes). You can buy a return ticket that includes the entrance to the bridge.
30 minutes by train from Iwakuni is the interesting town of Yanai, known for its colorful Yanai Goldfish Lantern Festival on 13th August.
Tourism Promotion Office of Iwakuni City
Tel: 0827 41 1477
Fax: 0827 41 2750
Iwakuni City Tourism Association
Tel: 0827 41 2037
JR Iwakuni Train Station Tourist Information Office
Tel: 0827 21 6050
Iwakuni Map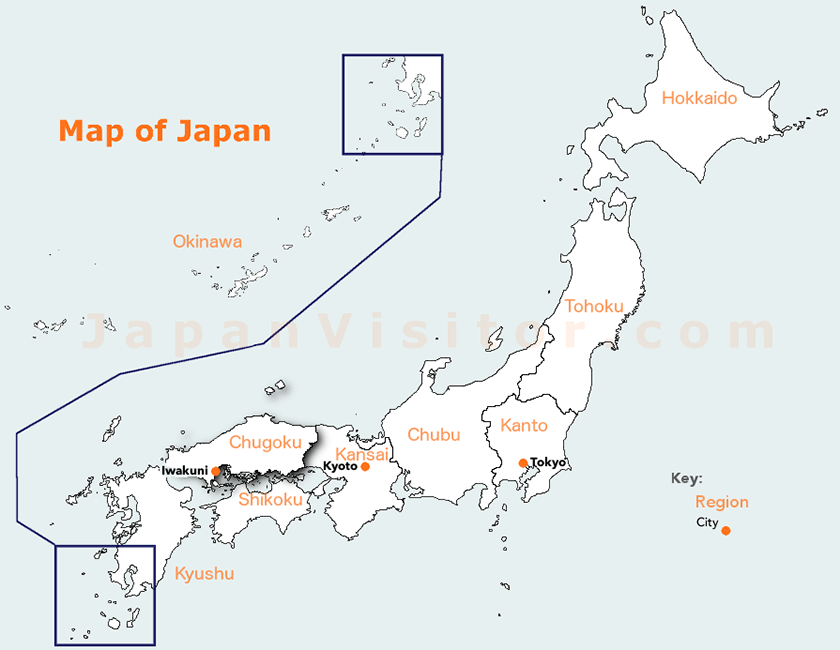 Iwakuni Map
Other Castles in Japan
Himeji Castle
Nagoya Castle
Osaka Castle
Kumamoto Castle
Japan Articles by Jennifer May
Having Surgery in Japan
Underwear Theft
Tanabata Star Festival in Shimizu
Kamikochi Hiking Guide
Oze Marsh
Anjin Festival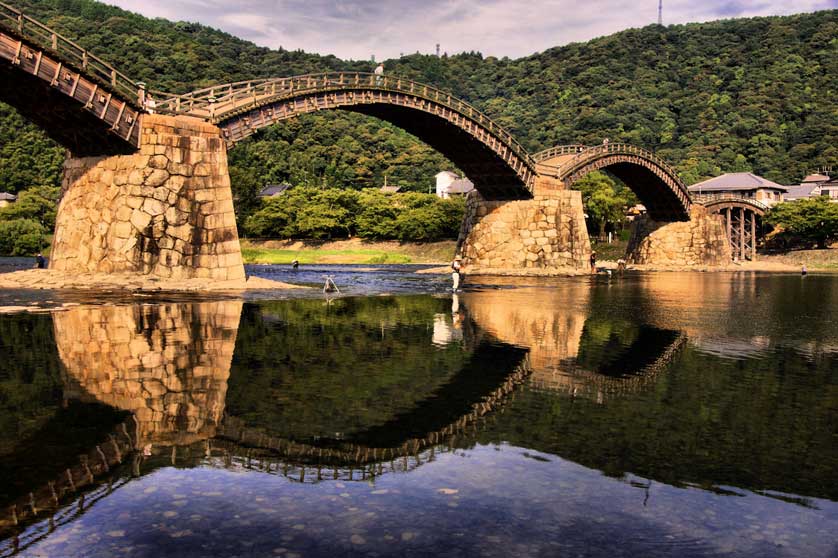 Kintai Bridge, Iwakuni, Yamaguchi Prefecture
Iwakuni & Iwakuni Castle Travel Guide. Read a guide to Iwakuni in Yamaguchi famous for its castle and Kintai Bridge. Find Iwakuni hotels and travel details.
All the themes of the city