Nosaka Pottery
Nosaka Pottery, Hagi 萩焼
Mark Brazil
In far western Honshu, in Yamaguchi Prefecture, on the San-in coast, a former castle town called Hagi is of prominent significance, having contributed various statesmen and prime ministers to the nation since the Meiji Restoration of 1868.
Hagi's significance, however, goes beyond politics and today the city is a worthy destination for anyone interested in traditional domestic architecture, temple architecture, and pottery.
Much of the history of this region is dominated by references to the Mori clan, the daimyo (feudal lords) who ruled Hagi, in an area then known as Choshu, throughout the Edo Period (1603-1868).
Their remains were interred at two temples, Tokoji and Daishoin in Hagi. Scores of traditional stone lanterns donated in their memory by faithful retainers are lined in impressive ranks in the forests behind the traditional wooden temple buildings, alongside trails and flights of stairs, making both temples unusually attractive.
The shapes and patterns formed by the lanterns make for excellent photographic challenges. In the surviving 'samurai quarter' of the town the Kikuya Residence, a merchant's home dating back to the 17th century, presents pleasing architectural details, contains many interesting historical artefacts, and has a delightful garden.
Yet for many, it will be for Hagi-yaki that the city is considered most famous. Yaki, or firing, is best understood as 'ware', hence Hagi-yaki, means Hagi ware, something for which the area has had a tradition since at least the early 1600's.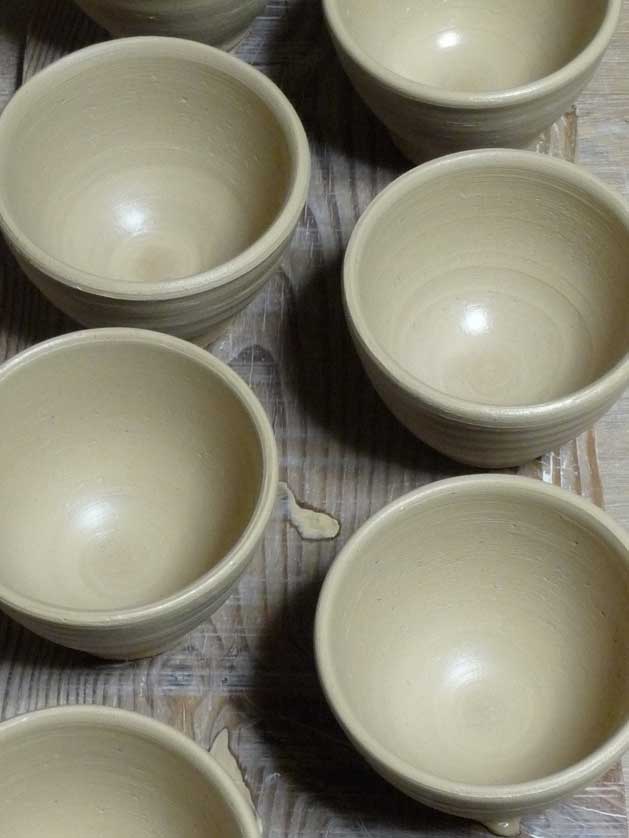 Hagi ware, Yamaguchi Prefecture
Hagi Yaki
Pottery is one of the ancient arts of Japan, and thankfully families still continue the traditions, with the Nosaka family of Hagi renowned amongst them.
Hagi-yaki itself was designated as a traditional industrial art object by the government in January 2002, and on 26 March 2002, the head of the Nosaka family, gracious Nosaka Kouki (born 1947) was elevated to the rank of 'prefectural intangible cultural asset' (Yamaguchi-ken Shitei Mukei-Bunkazai Hojisha), one step below being a national treasure.
His son, Nosaka Kazusa (born 1966), long-trained in the same art and business is himself an accomplished Hagi-yaki producer, but when asked how their work differs, he said wryly: 'it differs in the number of zeros at the end of the price'.
Hagi-yaki is recognised by its simplicity of form and its translucent white glaze, often over a body colour of pinkish-orange.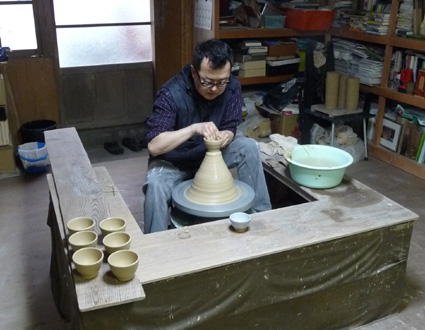 Nosaka Kazusa at work turning pots in his family pottery, in Hagi, Yamaguchi Prefecture.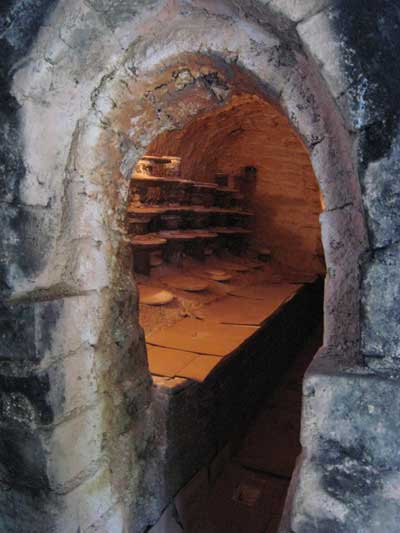 (Left) The entrance to the kiln, showing where pots are stacked for firing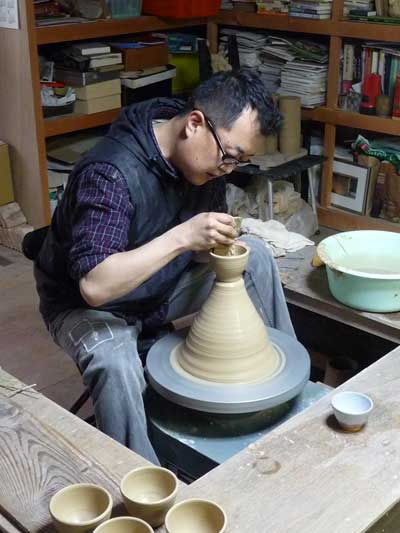 (Right) Nosaka Kazusa at work turning pots in his family pottery, in Hagi.
History of Pottery in Japan
Simple pottery in Japan dates back more than 3,000 years, into the Neolithic period, which interestingly predates the origins of the country, that is if you believe in the mythology!
By 2,600 or so years ago Jomon ware, moulded from rolled ropes of clay appeared, which transitioned two or three hundred years later into Yayoi style earthenware, after that pottery in the islands seems to have stagnated somewhat for several centuries.
Later technological leaps, such as roofed tunnel kilns and potter's wheels seem to have been introduced to Japan from the Korean Peninsula by immigrant artisans.
Stoneware (unglazed) remained the clay-made vessels of choice for daily use right through until the 17th century, although green lead glaze had already been introduced from China by the 8th century.
Improvements in techniques and kilns continued, and among the early sites of old kilns is Bizen, famous to this day on the pottery circuit of Japan. Bizen-yaki is a reddish-brown pottery with its origins at sometime in the 6th century.
A bowl has taken shape under the master's hands and is ready to but cut from its base; Nosaka Pottery, Hagi.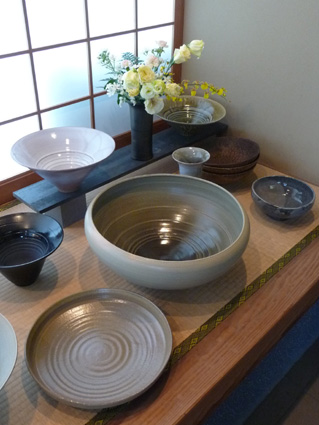 The delicate colours of Hagi-yaki, Nosaka Kiln, Hagi.
The Tea Ceremony & Pottery
Ideas and techniques were cross-fertilized as potters, their wares, and their techniques were imported from Thailand, Vietnam, China and Korea, sometimes commercially, sometimes as the spoils of wars.
The rise to prominence of the way of tea in Japan in the 16th century, also drove a demand for very particular, simple-style tea bowls.
The artisan Chojiro, moulded tea bowls for the tea master Sen Rikyu and these were so renowned that Toyotomi Hideyoshi presented the Chojiro family with a seal engraved with the character raku, and so the tradition of Raku was borne that has already been carried down 15 generations, contributing to the development of pottery in Japan and overseas ever since.
In terms of bowls for the tea ceremony, it is widely believed that Raku-yaki is number one, with Hagi-yaki number two, and Karatsu-yaki number three.
Japanese Pottery Overseas
Further Korean potters established kilns in western Japan, including at Hagi, and though many went on to produce porcelains, others retained more traditional techniques.
Japanese pottery rose to great prominence in Europe (where it was widely copied) in the middle of the 17th century when the Dutch East India Company (VOC), from its trading base on the tiny island of Dejima (in Nagasaki, Kyushu), dealt in enormous quantities of porcelain made primarily by the Arita kilns in Saga Prefecture.
Although the Japanese pottery industry had moved into large-scale production for domestic and international markets, there was something of a revival of the older traditional methods of glazing, and early in the 20th century the names of Shoji Hamada and Kawai Kajiro began to rise to prominence as they promoted the unassuming artistic techniques of the individual village potter.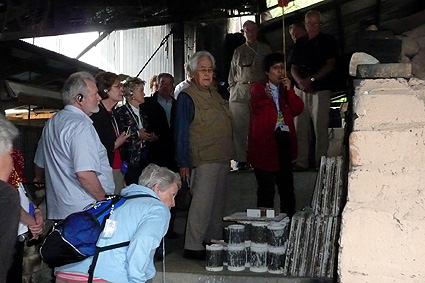 Nosaka Kouki, Yamaguchi Prefectural Intangible Cultural Asset (centre) shows guests around his family's pottery.
With greater respect being given once more to the older techniques of Japanese pottery they were encouraged to survive, and the government's recognition of certain living potters as having intangible cultural value has allowed them to continue ancient methods, refined with modern needs in mind.
Their numbers are few indeed; hence the honor is great. In Kyoto, the Raku tradition is continued by the descendants of that line, while in Bizen, Yamamoto Masao was honoured as a living cultural treasure. In Kyushu, both Imari and Kakiemon porcelain producers have been honoured.
In Hagi, Miwa Kyusetsu was likewise honoured nationally, and now Nosaka Kouki has been acknowledged at the prefectural level at least.
A visit to the Nosaka Pottery, in Hagi, with its step kiln and little shop, is a rare treat if you are interested in traditional wares from Japan.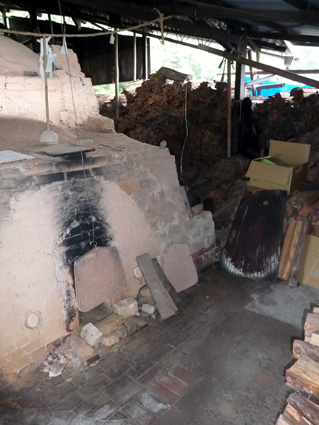 The Nosaka family kiln at Hagi.
Access - Getting To Hagi
Shin-Yamaguchi Station is on the main shinkansen line to Fukuoka, Osaka and Tokyo. The nearest airports are Yamaguchi Ube Airport and Iwami Airport near Masuda in Shimane Prefecture. A bus takes 70 minutes to and from Iwami Airport. There are also buses to Akiyoshi-dai (55 minutes), Hagi (70 minutes) and Tsuwano from JR Yamaguchi Station.
The JR San-in Line runs along the Japan Sea coast through Matsue, Izumo, Masuda and Hagi. There are trains from Shimonoseki to Higashi-Hagi Station (3 hours).
Hagi is connected by highway bus to both Osaka and Tokyo.
Hagi's two tourist information centers are at Hagi Station and Higashi-Hagi Station.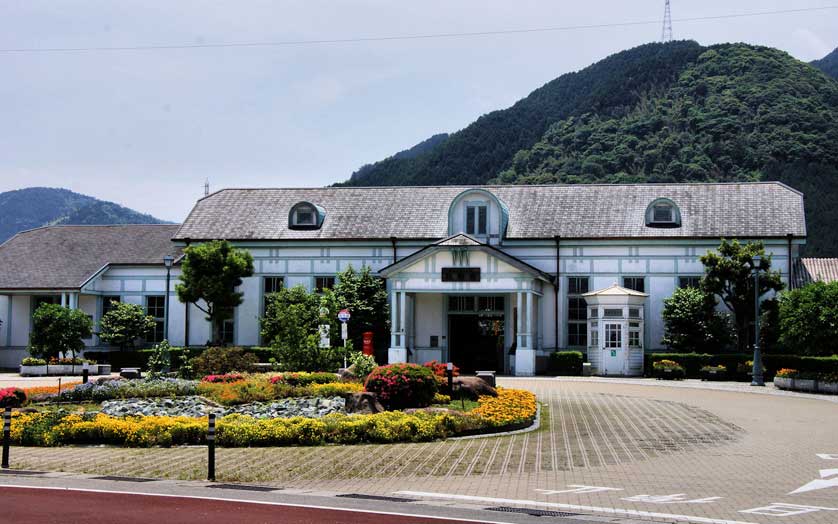 Hagi Station © Jake Davies
Hagi Video
Nosaka Pottery: read a guide to the fine pottery produced at the Nosaka kiln in hagi, Yamaguchi Prefecture.
All the themes of the city