Okunoshima
Okunoshima: read a guide to Okunoshima Island in Hiroshima famous for its rabbits, hot springs and a World War II-era Poison Gas Museum.
Okunoshima, Hiroshima Prefecture 大久野島, 広島
Okunoshima is a tiny island with a circumference of a mere 4.3 kilometers located just offshore from Tadanoumi on the coast of Hiroshima Prefecture.
Okunoshima is included in the Seto Inland Sea National Park and the island has been designated as a kyukamura, a village of rest and recreation. More than 100,000 visitors flock here in the summer to enjoy its beaches and to play tennis at the resort and soak in the onsen on the island.
Okunoshima Rabbits
Many visitors now come here though because of its nickname, usagishima which means Rabbit Island as the island is home to more than 300 wild rabbits descended from a small group of domesticated rabbits left here about 40 years ago. There is no difficulty finding the bunnies, from the moment you step off the ferry they come bounding up to visitors hoping to get fed.
Rabbit food is available from the visitor center, but many people bring their own. Fluffy little bunnies are certainly cute and as cute continues to be a major component of contemporary Japanese culture the island is seeing an increase of visitors who come solely for the rabbits. In order to keep the population from declining all other kinds of pets, like dogs or cats, are banned from the island.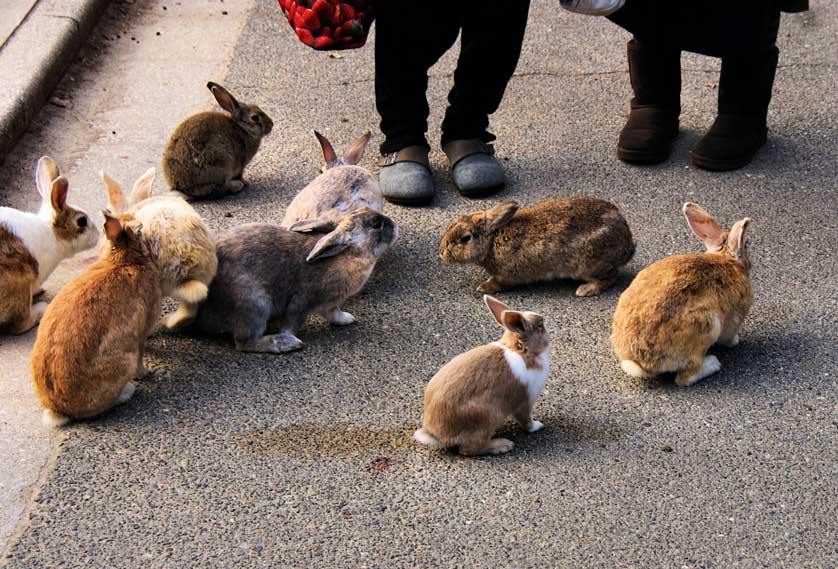 Okunoshima in Hiroshima Prefecture is increasingly known for its "cute" rabbits and has earned the nickname of "usagishima" or Rabbit Island.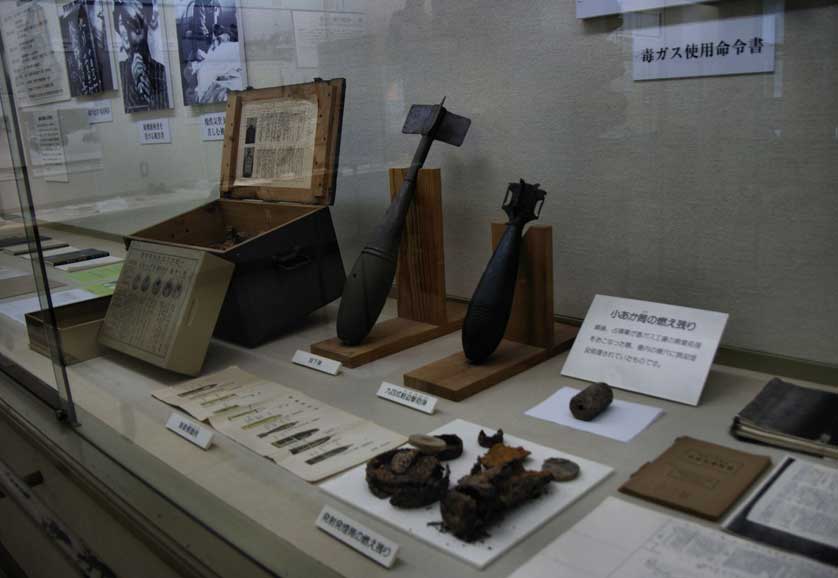 Okunoshima Poison Gas Museum is a little known reminder of Japan's World War II past.
Okunoshima Poison Gas Museum
However, the island is also home to another attraction that is about as far from cute as it is possible to get, the Okunoshima Poison Gas Museum opened in 1988 and is a good example of one of the many smaller "peace" museums scattered across Japan (such as the Ritsumeikan Peace Museum in Kyoto) that seek to display and preserve the memory of the less than savory aspects of Japan's wartime history.
The Poison Gas Museum, like these other museums, was created by local citizens and local government and go against the national government that would rather deny, hide, or ignore that part of Japanese history.
In 1929, the government constructed a major poison gas production facility on the island. Japan had signed the Geneva Protocol banning the use of poison and chemical weapons just a few years before, but even though making and storing such weapons was allowed, the Okunoshima facility was shrouded in secrecy.
The island was chosen as its geography was such as to allow the factories to be hidden from view of the mainland, but also because it was far from Tokyo, in the case of an accident. A wide variety of materials were produced at the facility, but the major product was Mustard Gas.
More than 6,000 tons were produced before the factory was closed at the end of the war. No weapons were actually produced on Okunoshima, rather the gases and chemicals were shipped to Kitakyushu where they were then weaponized.
Emperor Hirohito himself ordered the Chemical Weapons Division to China and it is estimated that between 1937 and 1945 the chemical weapons were used on over 2,000 occasions resulting in more than 80,000 casualties and more than 6,000 deaths among Chinese soldiers and civilians.
Following Japan's defeat the factories on Okunoshima were destroyed. No-one was ever prosecuted for the use of poison gas. The Tokyo Tribunal had little concern for crimes against Asians, and in fact the U.S. actually had contingency plans to use poison gas in its invasion of Japan. Unlike Germany, Japan has never prosecuted any of its citizens for war crimes.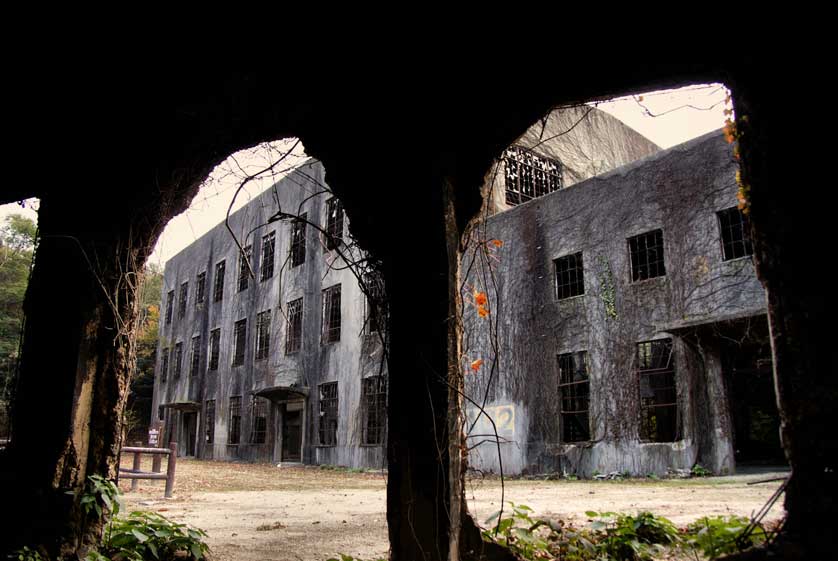 Ruins of Okunoshima poison gas production facility.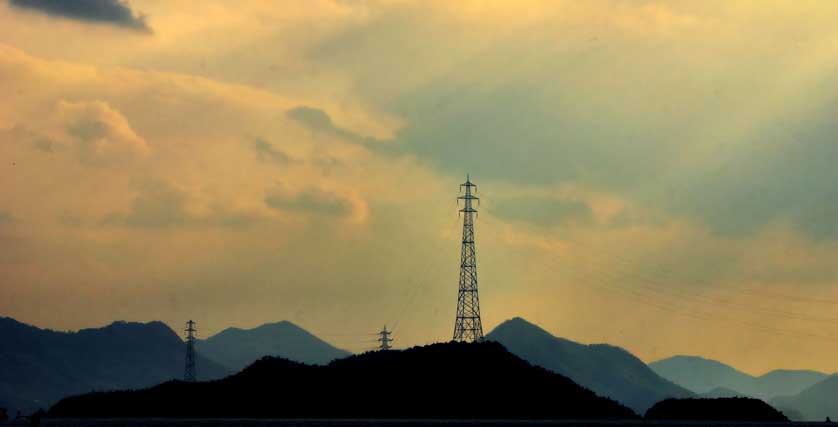 The tallest electricity pylon in Japan at a height of 226 meters is in Okunoshima in Hiroshima Prefecture.
The Okunoshima Poison Gas Museum itself is quite small, only two rooms, but the displays do have some English explanations. On display are some examples of the weapons themselves, equipment used by the factory, workers' diaries, and historical photos. There are also some gruesome photos of more recent victims of poison gas.
Okunoshima Poison Gas Museum
Closed Tuesdays. Open 9am-5pm; Entry 100 yen
Though most of the factory was destroyed, a few ruins exist. Close to the new resort hotel, the old laboratory buildings are now used as storerooms, and bizarrely were used as accommodation when the island first opened to tourists. Not far away is the shell of what used to be the power plant for the installation, and further north on the island are old storage structures and an army barracks and the remains of gun emplacements. Signs warn against entering these ruins but seem to be routinely ignored.
There is also a visitor center (free admission) that for such a small island is quite large and well stocked with information about the islands fauna and flora.
Okunoshima has one final claim to fame, it is home to the tallest electricity pylon in Japan with a height of 226 meters.
The island can easily be explored in a short day on foot, taking even less time using a rental bike from the hotel, but for those wanting to stay, accommodation at the hotel starts at 8,000 yen and there is also a small campsite near the visitor center.
Okunoshima Access
Access to Okunoshima is by ferry from either Tadanoumi on the mainland (JR Kure Line) or from Omishima. For anyone cycling the Shimanami Kaido it is a small diversion on Omishima to the ferry for Okunoshima.
Text + images by Jake Davies
Book Hotel Accommodation in Hiroshima
All the themes of the city