Onomichi Guide
Onomichi Guide 尾道
Important port on the Inland Sea since medieval times
Setting for many movies and novels
Endpoint/ start point for Shimanami Kaido Bike path
Home to an unusually large number of temples
Onomichi is a small town in Hiroshima prefecture. Onomichi clings to steep hillsides on the Inland Sea coast and has many areas that have been spared development and that still recall an earlier time. Onomichi is an easy day trip from both Hiroshima and Okayama, but also has enough to offer for an overnight stay.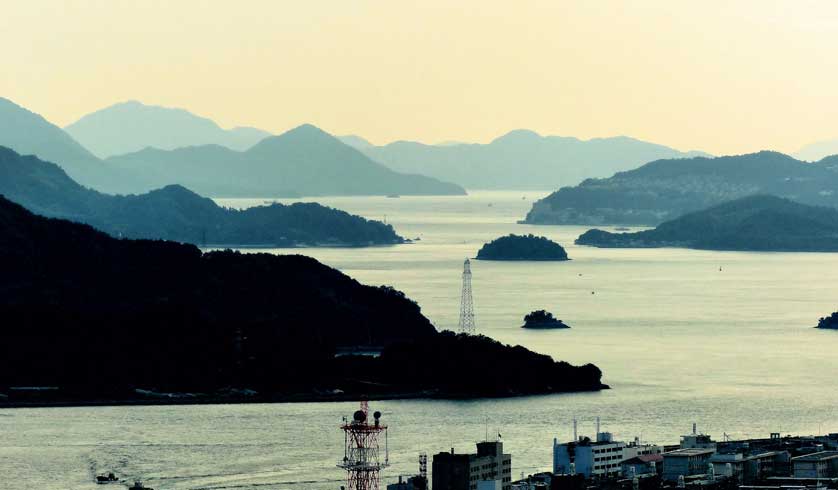 Onomichi & the view of the Inland Sea
Onomichi is well known for its Temple Walk that connects 25 of the historic temples around the town, an unusually high number for a place of its size.
The Temple Walk wanders along narrow lanes and alleys and involves a fair bit of climbing steps up and down the hillside, and almost all of the town's other attractions can be found either on or just off the walk. If you don't want to do much walking and are not that enamored with temples - and quite frankly a few of them are not that special - then Senko-ji and Jodo-ji would be two to choose. Jodo-ji is a short taxi or bus ride ride from the station and boasts a fine pagoda as well as some nice artwork and a garden, and Senko-ji, the most popular site in Onomichi and according to the legend, founded by Kobo Daishi in 806, can be reached by ropeway.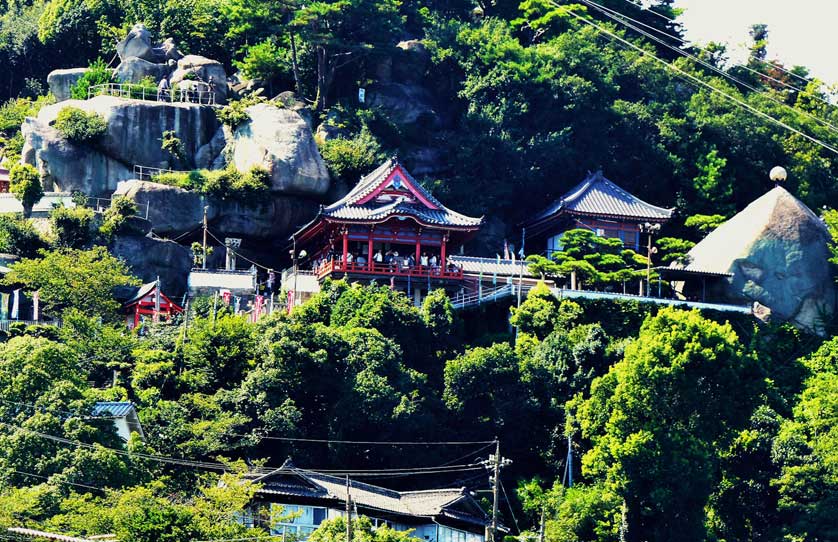 Senkoji Temple, Onomichi
Senkoji Ropeway and Park
Senkoji Temple is located near the top of the small mountain that overlooks Onomichi. The ropeway passes right next to the temple and offers unique aerial views of it and the rooftops of the town. The ropeway cars travel just over 300 meters and climb to a height of 115 meters in just a couple of minutes.
The ropeway runs every 15 minutes between 9 am and 5.15 pm, but has extended hours during cherry blossom season and at other times. One way for adults is 320 yen, 500 yen return. Tel: 0848 22 4900.
The main attraction at the top of the mountain is the view from the observatory over the town and across the islands of the Inland Sea. On exceptionally clear days Shikoku can be seen. The park is the main cherry blossom viewing spot in the town. There is also a children's playground.
Just below the top and a five minute walk away is the Onomichi City Museum of Art. Designed by the renowned architect Tadao Ando, the museum has exhibitions of both Japanese and international artists. The museum's cafe has fantastic views. The entry cost depends upon whatever is currently on show. Open from 9 am to 5 pm. The Onomichi City Museum of Art is closed on Mondays unless Monday is a national holiday. (17-19 Nishi tsuchi-do, Onomichi, Hiroshima 722 0032. Tel: 0848 23 2281)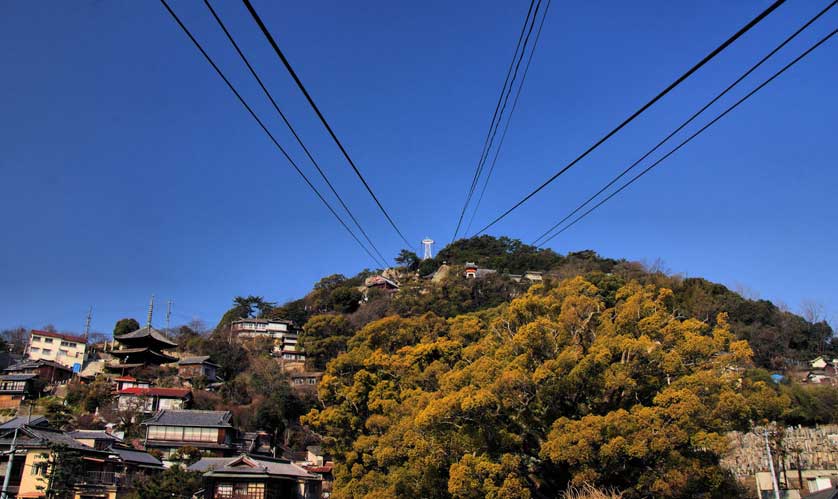 Senkoji Ropeway, Onomichi, Hiroshima Prefecture
Path of Literature
Onomichi has been home to quite a few famous writers and authors, the most famous being Shiga Naoya, Takahashi Genichiro, and Hayashi Fumiko. From Senkoji Park on the mountaintop down to the town, passing by Senko-ji Temple, is the Path of Literature commemorating these and other writers from Onomichi.
Twenty four boulders have been carved with quotes from the authors' work. Obviously it is all in Japanese, but it is still a pleasant walk and the best way to reach the temple. For those with a particular interest in Japanese literature there are several other sites that may be of interest, though again English information is non-existent or minimal.
There is the Former Home of Hayashi Fumiko (1-11-2 Tsuchido, Onomichi 722-0035. Tel: 0848 22 4102), The Commemorative Library (13-28 Higashitsuchodocho, Onomichi 722 0033. Tel: 0848 22 4102 and the Former Home of Shiga Naoya ( 8-28 Higashi Tsuchidocho, Onomichi 722 0033. Tel: 0848 23 6243.)
While wandering around the seeming maze of narrow alleys that criss-cross the hillside you may come across Cat Alley, or Neko no Hosomichi. In all probability you will see some of the many cats in the area who are pretty well looked after by the locals, but there are also several tiny cafes in the area as well as the Manekineko Museum which as well as selling many kinds of the "welcoming cat" has a collection of over 1,500 examples of this popular folk symbol. (19-36 Higashitsuchido-cho, Onomichi 722-0003. Tel: 0848 25 2201. Open 11 am-5 pm weekdays, 10 am-5 pm weekends and holidays. Entrance 200 yen)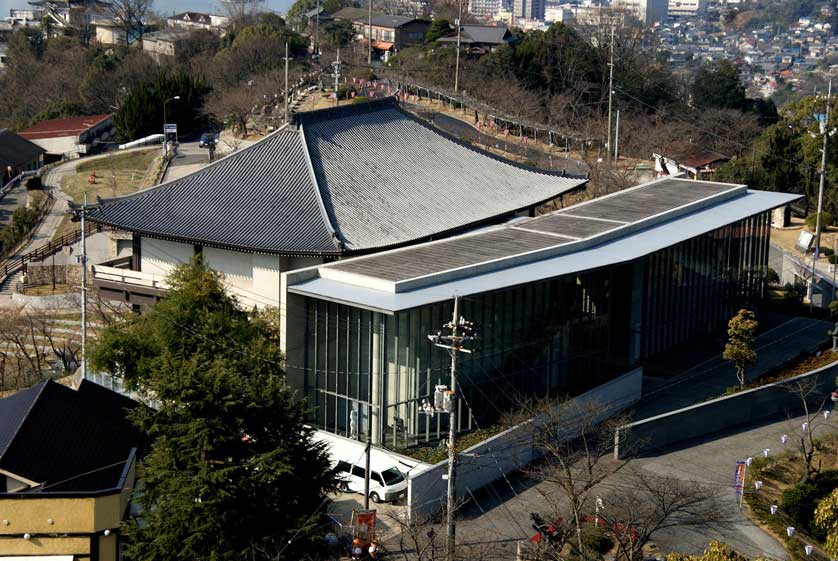 Onomichi City Museum of Art, Onomichi, Hiroshima Prefecture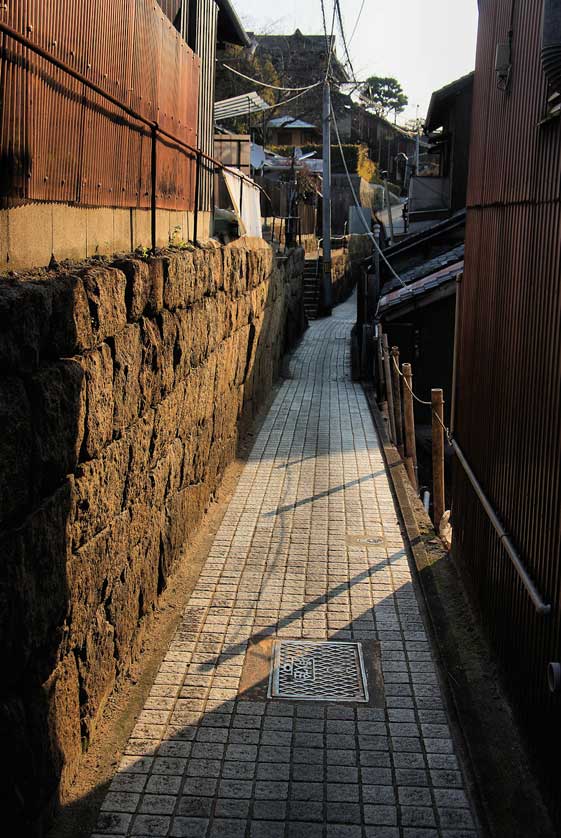 Atmospheric narrow lanes, Onomichi, Hiroshima Prefecture
Onomichi and the Movies
As well as literature, over the years Onomichi has been the site of many movies and animations. The most famous movie filmed here is undoubtedly the 1953 Tokyo Story by Ozu Yasujiro, considered by many to be one of the greatest Japanese movies ever.
Among the many other movies filmed here are a couple of films by Kaneto Shindo including Naked Island in 1960,  Boy by Nagisa Oshima in 1969, and nine movies by Nobuhiko Obayashi in the 1980's. More recently the popular animation series Kamichu used several sites in Onomichi for inspiration.
The Onomichi Motion Picture Museum has props and materials from these and other movies on display as well as a small screening room showing Onomichi-based movies. ( 14-10 Kubo 1-chome, Onomichi 722 0045. Tel: 0848 37 8141. open 10 am to 6 pm. Closed Tuesdays. Entrance 500 yen)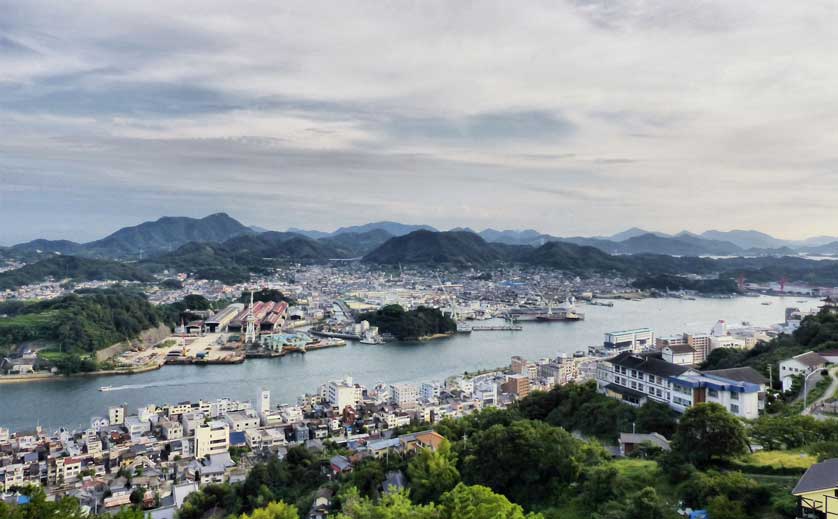 Views over Onomichi and its port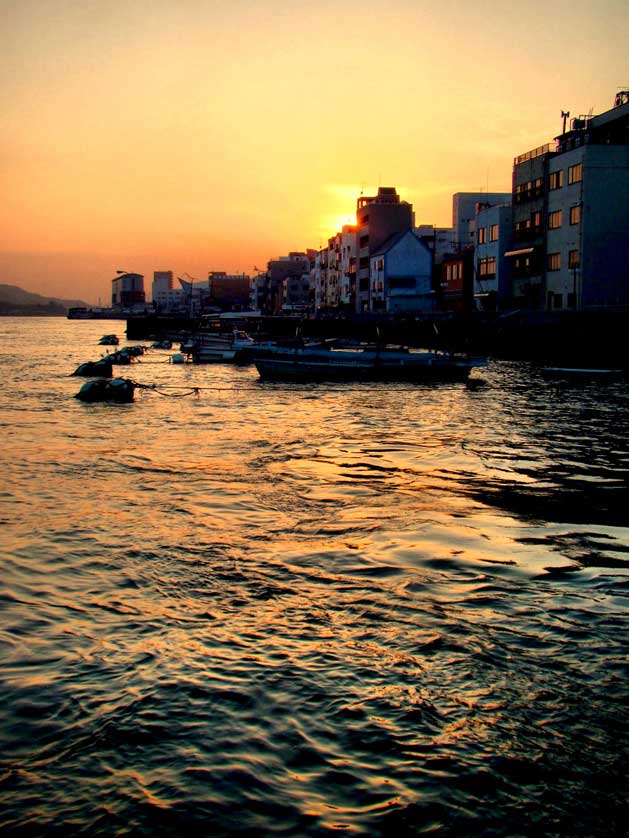 Sunset on the water, Onomichi, Hiroshima
Shimanami Kaido
An increasing number of tourists, both Japanese and international, are coming to Onomichi to cycle the Shimanami Kaido, an 80km bicycle route that crosses over to the island of Shikoku over seven bridges connecting six islands.
The first three islands, Mukaijima, Innoshima and Ikuchijima are officially part of Onomichi City. If you bring your own bike on the train there is a covered area next to the station for reassembling it. There are many places along the route to rent bikes or drop off bikes rented at other spots along the route.
The Onomichi rental office is near the station. (Higashi Gosho-cho, Tel: 0848 44 0112. Open from 7 am to 6 pm). Rates are just 500 yen per day plus a deposit. The Tourist Information Office at the station can offer help in English with renting bicycles, booking accommodation along the route etc. Tel: 0848 20 0005. The Tourist Office also has maps in English for the town and its sights. There is also a small tourist information booth at the Ropeway Station.
Accommodation in Onomichi
Onomichi has a range of hotels and ryokans for those wanting an overnight stay, but Mukaishima (Mukaijima), the small island just two minutes away by ferry also has accommodation options. Some recommended places to stay include Hotel Cycle, the Onomichi Kokusai Hotel near the station, the Onomichi Royal Hotel and the Senkoji Sanso, a traditional Japanese inn or ryokan just 300 meters from Senkoji. See here for a full listing of hotels and guesthouses in Onomichi.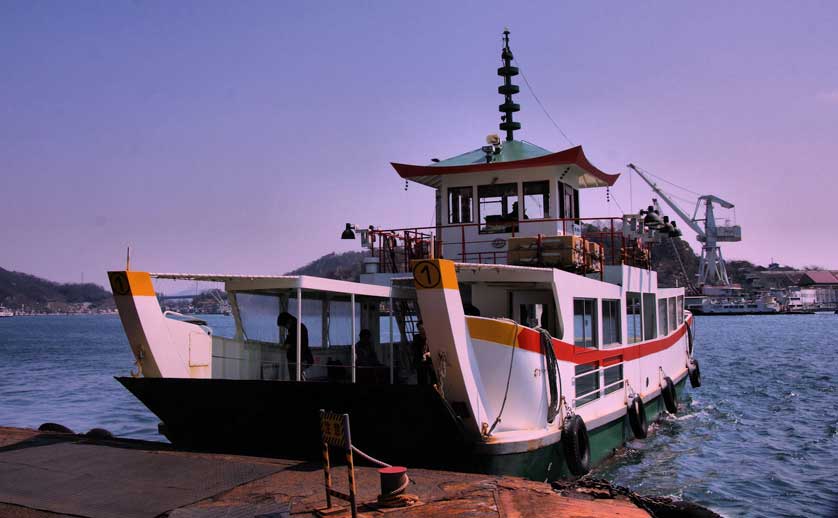 Ferry to Mukaijima, Onomichi, Hiroshima
Access - Getting to Onomichi
Onomichi is on the JR Sanyo Line, 20 minutes from Fukuyama, 90 minutes from Hiroshima, or 70 minutes from Okayama. Shinonomichi is a shinkansen station on the Sanyo Shinkansen connecting Shin-Osaka and Hakata Station in Fukuoka but only the slow Kodama trains stop there. There are buses from Shinonomichi into the town but it is easy to get off the shinkansen in Fukuyama and take a local train from there.
Ferries from Onomichi go to many of the islands in the Inland Sea as well as to Imabari in Shikoku and Tomonoura near Fukuyama. One of the most popular ferries is to Setoda on Ikuchijima. Several ferries frequently cross the narrow waterway to Mukaijima.
Onomichi is 1 hour & 40 minutes from Osaka by shinkansen.
Visitors to Onomichi should also visit Onomichi Castle, a replica castle erected in 1964.
Onomichi Related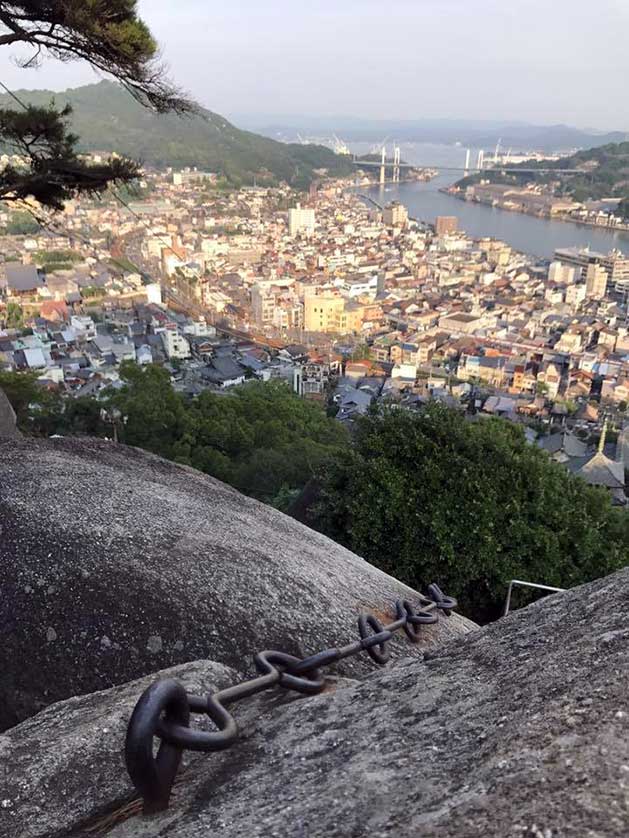 Alternative path to peak above Onomichi
Onomichi in Hiroshima is a small town clinging to steep hillsides on the Inland Sea coast with many movie and literature connections that recall an earlier time in Japan.
All the themes of the city