Oyamazumi Shrine
Oyamazumi Shrine on Omishima island is a must-see for visitors interested in historic samurai arms and armor.
Oyamazumi Shrine 大山祇神社
Jake Davies
May, 2016
Located on the island of Omishima in the middle of the Seto Inland Sea between Honshu and Shikoku, Oyamazumi Shrine was once one of the most important shrines for samurai and today is a mecca for people interested in samurai weaponry and martial arts.
It is not so much the shrine itself that is of interest, rather the shrine's collection of armor and weaponry, as a full 80% of such that are registered as National Treasures are located here.
Omishima is located on what was in pre-modern Japan a major transportation route, the sea route between the capital in Kyoto and Kyushu and western Japan and mainland Asia.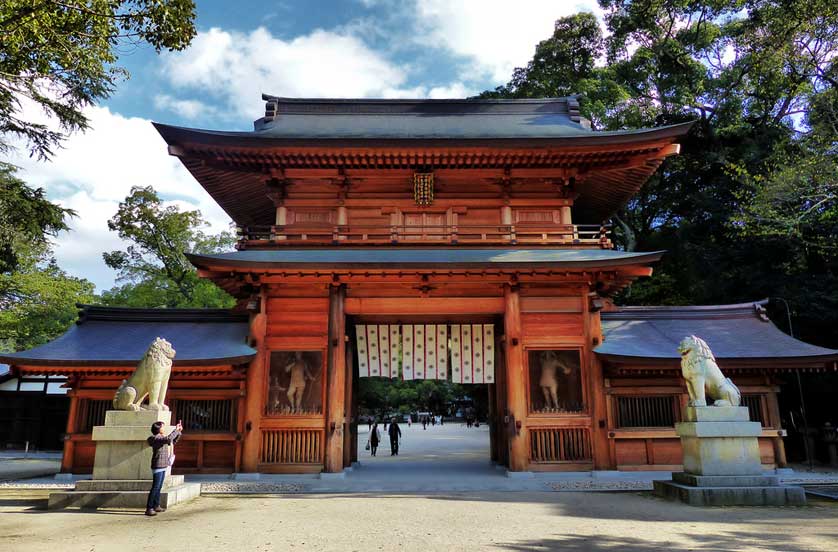 Main gate to Oyamazumi Shrine, Omishima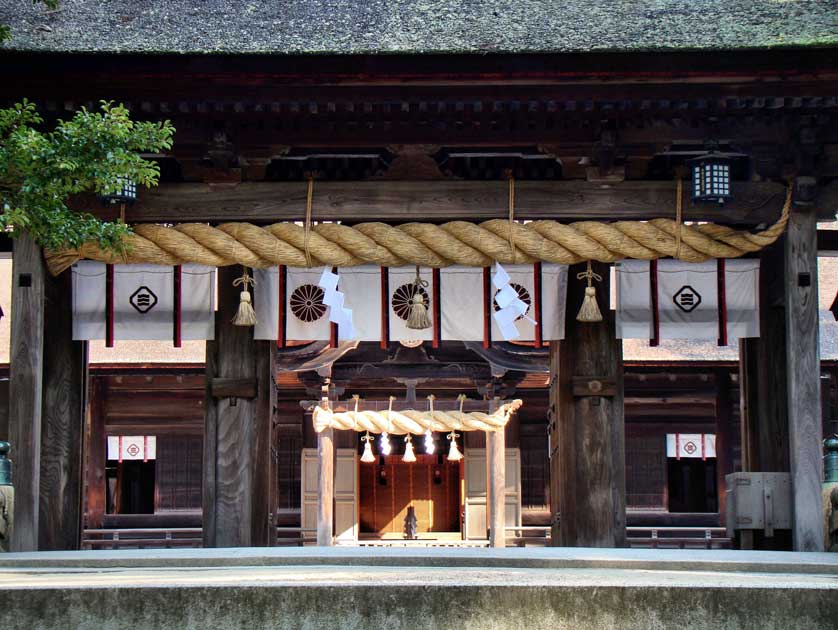 Oyamazumi Shrine Main Hall

History of Oyamazumi Shrine
It is not known exactly when, but samurai used to stop here and pray for success in battle, and if successful would return and make offerings of their weapons and armour to the shrine, and these offerings are what now constitute the shrine's historic collection.
Oyamazumi Shrine itself is set in a grove of about 200 massive, towering Camphor trees, with the two specimens within the shrine compound itself estimated to be 3,000 and 2,600 years old.
Wrapped with shimenawa, sacred ropes, these venerable trees are worshiped as is evident by the many coins left around their bases. Approaching the recently rebuilt main gate, you will notice the guardian statues either side are unusual. Temples will usually have Nio, those fierce giants with threatening visages, but shrines, if they have guardians in their gates, will have a pair of figures called Zuijin, dressed in Heian Period costume and seated. Here at Oyamazumi Shrine the martial aspect is highlighted by the guardians being standing figures dressed in armour.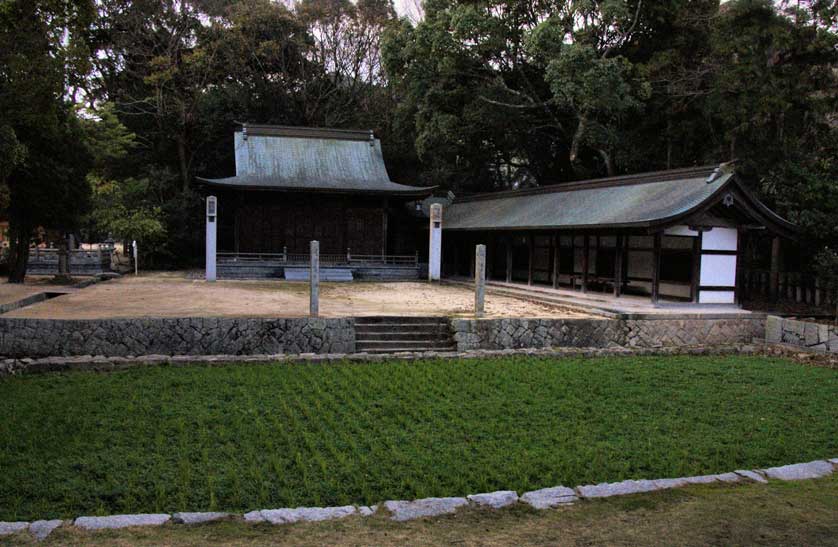 Sacred rice paddy at Oyamazumi shrine, Japan
Otaue Matsuri
Just inside the main compound on the right is a small rice paddy, this is where sacred rice is grown for use in rituals. The Otaue Matsuri, Rice Planting Festival, takes place in early June, and following a set of ceremonies a group of maidens then proceed to plant the sacred rice seedlings.
Rice Planting festivals occur all over Japan, but the one here is unusual in that the planting is followed by a unique type of sumo wrestling called Hitori Zumo.
A local man takes on the spirit of the rice in three bouts, and the outcome determines the success of this year's harvest. The rice spirit is of course invisible, so what is seen appears to be a man wrestling himself. Nowadays it is done for comic effect, but in earlier times the ritual was probably performed more seriously. Nowadays, at least, the rice spirit wins.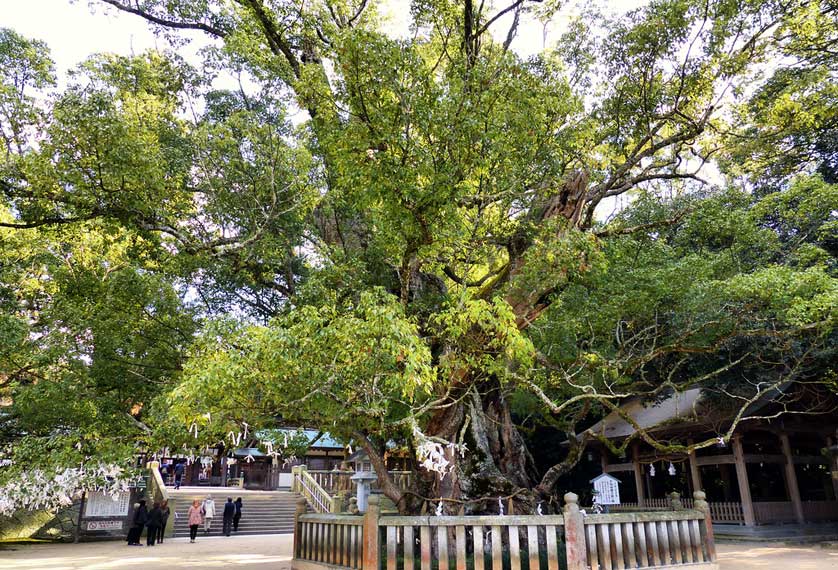 3,000 year old Camphor tree at Oyamazumi Shrine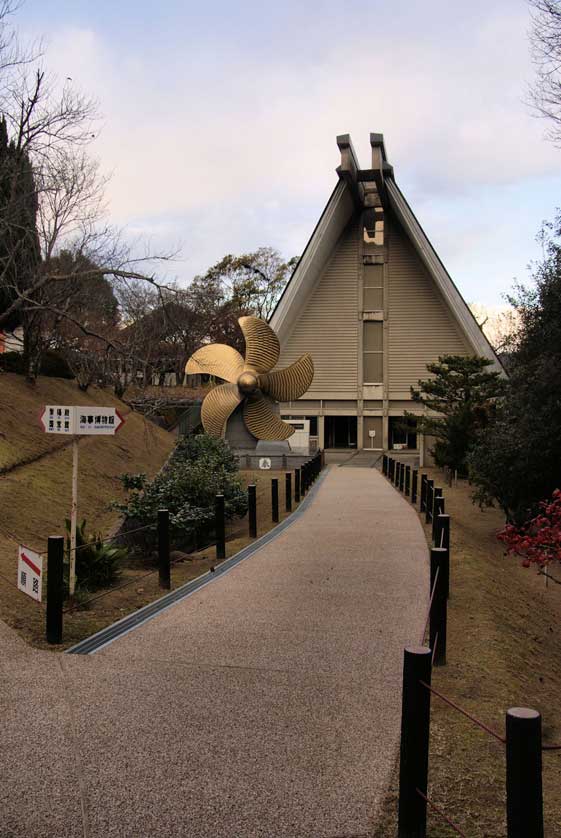 Omishima Marine Museum at Oyamazumi Shrine
Shrine Buildings
Oyamazumi Shrine itself is fairly typical for a shrine this size: lines of sake casks, numerous paper and stone lanterns, bark roofs on the main buildings, and many smaller, secondary shrines scattered around, but the whole shrine is overshadowed by the huge trees surrounding it.
To the right a path leads up to the entrance to the shrine's museum, the Homotsukan, where the shrine's treasures are on display. After paying at the gate, the first thing you see is a huge ship's propeller in front of a tall concrete A-frame structure.
This is the Omishima Marine Museum, and the entry fee includes entry to it as well. The main display is a boat that was the personal vessel of Emperor Hirohito who, following Japan's defeat in World War II reinvented himself as a marine biologist.
There are lots of exhibits of dead marine creatures in glass cases, but very few people visit. The Homutskan is to the left and is two connected buildings. It's an old-fashioned kind of museum, kind of musty, with all the displays in glass cases. All the shrines's treasures are here and that includes some bronze mirrors, and statuary, including a magnificent pair of Nio guardians, but the bulk of the items on display, and the main reason people visit, are the samurai weaponry.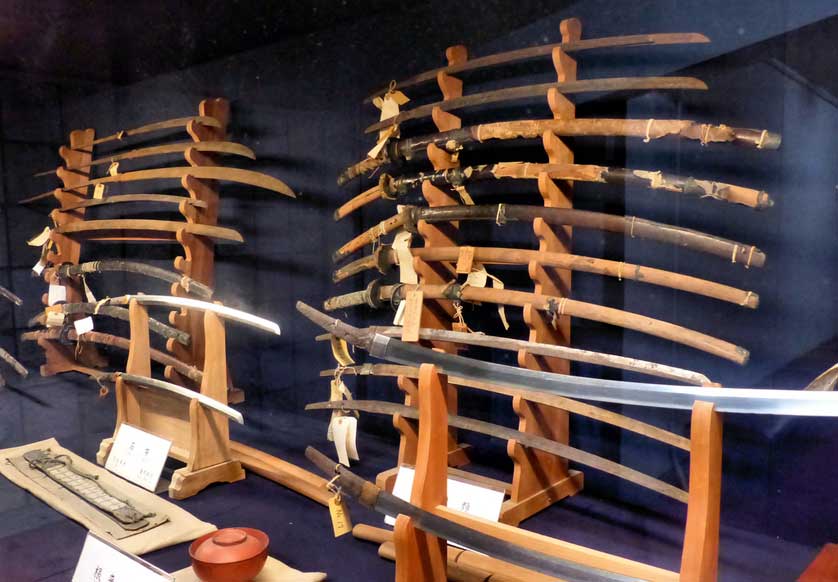 Samurai swords left as offerings at the shrine and on display in the museum
Samurai Weapons
There are of course lots of swords, including some weighing 5 kilos and almost 6 feet long, and the oldest in the collection dates back to 950, but whereas many swords on display in Japan will be all gleaming and perfect, many of these are chipped and nicked.
They have been used, and the damage to them was caused by other swords, armour, and quite probably bone. Though swords are the weapon most associated with the samurai, historically they were the weapon of last resort.
Most samurai were killed by arrows, and later guns, many more by spears and halberds. Swords were used when there was no other choice, in hand to hand fighting.
Many of the other types of samurai weapons are also on display, including spears, halberds and arrows. There are also many suits of Japanese armor and helmets, some dating back 800 years.
Famous samurai whose weapons and paraphernalia are on display here include the famous Minamoto brothers, Yoritomo and Yoshitsune, as well as articles belonging to Kono Michinobu from 1190 and Kono Michinari from 1281.
The displays have English labels detailing the type of weapon, and dates and owners, where known, but little else. You may notice one particular suit of armour that is rather small with a very narrow waist.
This belonged to Tsuruhime, a 16-year-old girl from Omishima who is famed as a "samurai princess". You don't hear a lot about women samurai, though there were a few.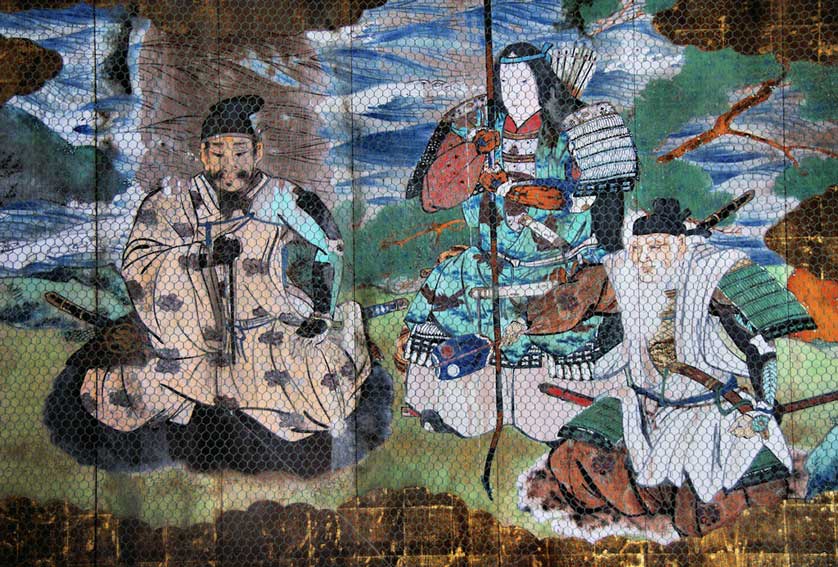 Painting of Tsuruhime in armour
Samurai women were trained to use weapons, as they would be called upon as a last resort to defend a castle being overrun by the enemy before committing suicide. Tsuruhime, born in 1526, was the daughter of the chief priest of the shrine. This was the time known as Warring States, as rival warlords fought to enlarge their territories, and Omishima had been attacked by the Ouchi Clan.
Tsuruhime's two brothers had both been killed in one of the battles, and in 1541 her father died of illness. She took charge and claimed to be not only the head of the shrine, but an avatar of the shrines kami, and successfully led an attack against the invading Ouchi.
Of course such a story has been much embellished over the years, and one version has her climbing on board the attacking general's boat and single-handedly killing him. According to the legend, the following year her fiance was killed in another battle and she was so heartbroken she killed herself.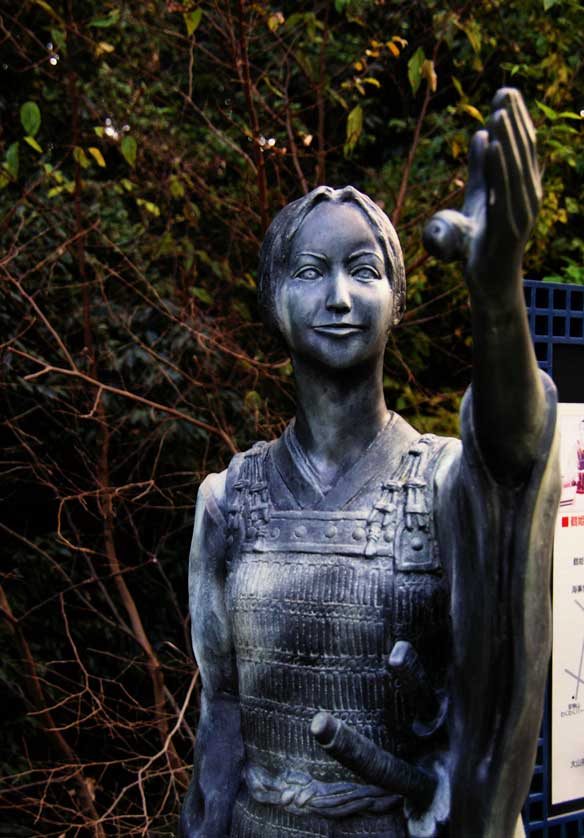 Tsuruhime, known as a samurai Joan of Arc
Access
Oyamazumi Shrine3327 Miyaura, Omishima-cho, Imabari, Ehime 794-1393
Tel: 0897 82 0032
Entry to the shrine is free. 1,000 yen for the museums. The Omishima Art Museum is located across the road from the entrance to the shrine.
By hire car Oyamazumi Shrine on Omishima Island (大三島) is on the Shimanami Kaido south from the town of Onomichi, which is located west of Okayama and Kurashiki.
The Shimanami Kaido highway runs through the islands of Mukojima, Innoshima, and Ikuchi to reach Omishima via a series of bridges. Exit at the Omishima I.C. and double back to reach Highway 51 and then Highway 21 to the shrine.
Trains from Okayama Station to Fukuyama Station on the JR Sanyo Line take 51 minutes. From Fukuyama take a Shimanami Liner bus and then change to the bus coming from Imabari (see below). Fukuyama Station is 19 minutes east from Onomichi. See the Chugoku Bus website (in Japanese) for details.
There are buses to Omishima Island from JR Matsuyama Station in Matsuyama in Shikoku.
The journey will involve changes at Imabari bus station and Hakata Island bus station and takes one hour to Imabari and a further hour from there to the shrine.
The bus leaves from bus stop number 5 of Matsuyama Station with departures at 7 am, 9 am, 10 am, 11.30 am, 12.30 pm, 1.30 pm, 2.30 pm, 3.30 pm, 5.15 pm, 6 pm and 7.30 pm. The Matsuyama - Imabari bus does not connect directly with the Imabari - Hakata - Omishima bus and involves a wait of around 30-40 minutes.See the Setouchi Bus website (in Japanese) for further details.
Accommodation on Omishima
All the themes of the city