Culinary specialties of Mie prefecture
三重県の食べ物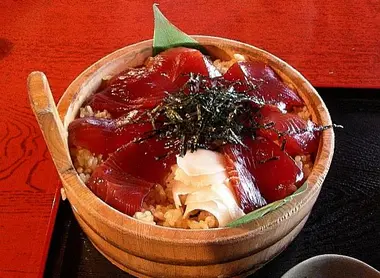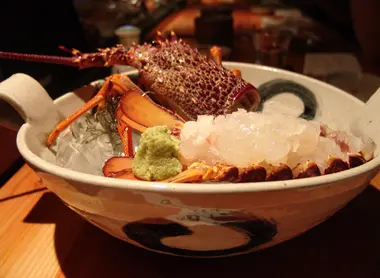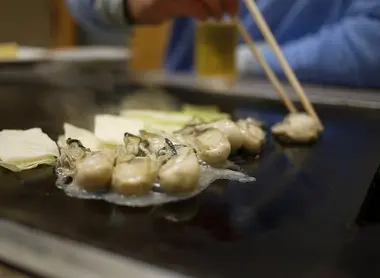 Japanese Cuisine: delicacies from the sea and the land
Mie Prefecture, located east of the Kii Peninsula, is part of the Kansai region. Surrounded by mountains and bordered by the sea, it is full of magnificent sites and culinary specialties not to be missed!
For the Japanese, Mie Prefecture is the cradle of the Shinto religion. It is home to the most sacred shrine in Japan: Ise-Jingu, place of divination of the great sun goddess, Amaterasu. But for foodies, Mie also conjures up many culinary delights, including seafood and the famous Matsusaka beef.
Bordered by the Pacific, the prefecture offers treasures from the sea:
Ise-Ebi, The Lobster Of Ise
Along with Matsusaka beef, it is the star of the prefecture. About 20 to 30cm long, it is fished in Ise Bay and is prepared in various ways: raw, grilled over charcoal (Sumibi-Yaki), boiled, or in soup. miso. The best season to try this dish is between April and October. In Ise City, Ebimaru Restaurant is famous for its seafood and its copious miso soup with Ise lobster.
Address: Ujinakanokiricho Ise Mie
Phone: 0596-23-8805
The region, especially the cities of Toba and Shima, is also famous for its abalones (awabi), very popular with the Japanese. They are all the more appreciated because they are caught by the famous ama quien divers who offer, along with other shellfish and fish, in their huts on the beach. A unique culinary experience not to be missed!
Oyster (kaki) lovers will rejoice to know that there is an "oyster route" in the city of Toba, in the district of Uramura, along Onoura Bay. Many restaurants offer buffets offering unlimited oyster dishes (boiled, grilled over charcoal, raw, or even in fritters), with the bonus of splendid views of the sea! Uramura oysters have a less pronounced taste than other oysters. The best season is from November to March.
The Maruzensuisan restaurant rests on a boat and offers fresh grilled oysters!
Address: 1229-67 Uramuraーcho, TobaーCity, Mie-ken
Phone: 0599-32-5808
Webpage: http://kaijyouyakigaki.com/english/
The city of Kuwana is known for its big and tasty clams. They are eaten grilled, fried, or served in shabu-shabu (a kind of fondue usually with beef).
Tekone sushi is a specialty of the region consisting of raw tuna marinated in soy sauce, with finely chopped shiso leaves and ginger. It is served in a large wooden container filled with sushi rice and is shared among the guests. In restaurants, it is also served in individual bowls.
Our recommendation: the Sushikyu restaurant, in the city of Ise. For its Tekone sushi, of course, but also for its views of the Isuzu River and its building built with wooden slats dating from 1869. In addition, it is located in the shopping street.
Address: 20 Ujinakanokiricho, Ise-shi, Mie-ke
Phone: 0596-27-0229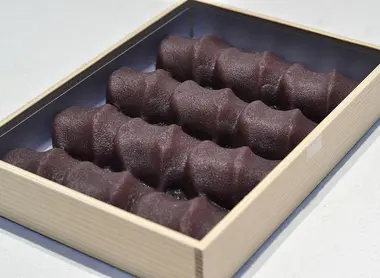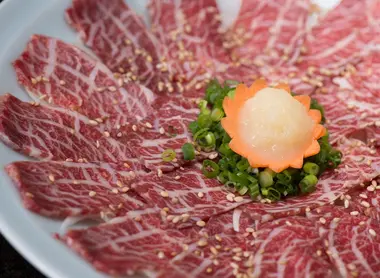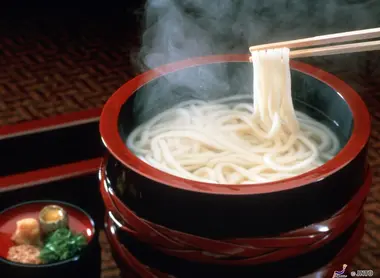 Earth foods
Udon is thick noodles made with soft wheat flour. Ise udon, simply called Ise udon, is famous for its soft, chewy texture and thickness (they are 3 to 5 times thicker than regular udon ). They are served in a broth made from soy sauce, bonito flakes, and raw egg, all topped with green onions.
Our recommendation: the Mameya restaurant, more than a century old.
Address: Miyajiri 2-19-11, Ise-shi, Mie-ken
Phone: 0596-23-2425
If Kobe beef has achieved worldwide fame, that of the city of Matsusaka is less known abroad but just as appreciated as that of Kobe by the Japanese. This breed of cattle is indeed highly prized for its high fat-to-meat ratio, giving the meat a marbled appearance and a texture that melts in the mouth, so typical of wagyu, Japanese beef. Cattle breeding follows extremely strict rules. If you are a beef lover, don't hesitate!
Our recommendation: the "Wadakin" restaurant, has been renowned for 130 years for its Matsusaka beef, its "sukiyaki" in particular. He has his breeding. It is better to book well in advance.
Address: 1878 Nakamachi, Matsusaka-shi, Mie-ken
Website: http://e-wadakin.co.jp/en/access.html
We will end this list with a sweet note: akafuku mochi. They are glutinous rice cakes filled with red bean paste. Their shape symbolizes the Isuzu River, which flows through Ise-jingu Shrine. It is a delicacy appreciated by pilgrims on their way to this shrine. You will find it in many stalls but the Akafuku shop, located in the Okage Yokochô district, has been making it since 1707!
Address: 26 Ujinakanokiricho, Ise, Mie-ken
Website: https://www.akafuku.co.jp/en/
All the themes of the city