Mochi, the traditional Japanese dessert par excellence
餅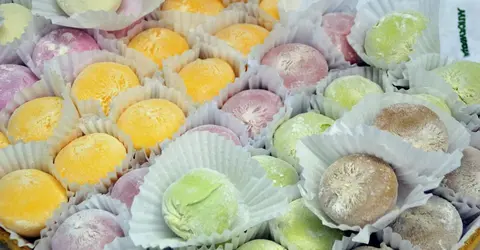 A pastry made from sticky rice
Very popular in Asia, mochi is a traditional pastry made from sticky rice.  It is also paired or filled with anko (red bean paste) and other ingredients. Originally from China, this dessert is now a must in Japan! And especially on New Year's Day, synonymous with the event!
A dessert savored all over Japan
Introduced to Japan at the end of the Jômon period (300 BC), mochi is a thousand-year-old dessert that holds a special place in the hearts of the Japanese.
Used as an offering during religious ceremonies under Heian (794-1185), it very quickly arrived on the tables of the nobility during the Muromachi period (1336-1573) when it became an indispensable part of the tea ceremony. Due to its very sweet taste, it complements the bitterness of green tea wonderfully! Mochi is still used in the art of Sado.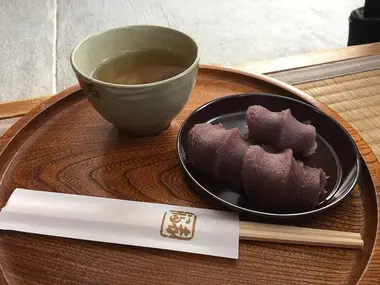 As a traditional dessert, mochi is consumed widely on every occasion. And whether it's around a masturi stand, a traditional Japanese festival, or at the end of the year celebrations, this little rice cake is a staple of the Japanese diet.
The base for kagamimochi, the cakes used at the Shinto shrine during New Years ceremonies, mochi must be prepared several weeks in advance to allow the dough to rest. Its production attracts crowds, and many people flock to the streets every year to witness the kneading of mochi (called mochitsuki ) which often takes place in public at the end of December.
It must be said that the mochitsuki is a show in itself!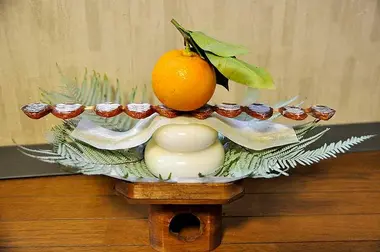 Usually, it takes two or three men: the first two beat the mochi with pestles, and the third set the pace by shouting "ichi, ni, san…" ("one, two, three. .. ") to prevent hammers from banging together and crushing one or two hands when turning the hot dough.
Mochi is then consumed in large quantities during festivals, which, unfortunately, sometimes gives rise to choking accidents. The dough is very sticky and many people, especially seniors, fall victim to choking on mochi so take our advice and chew it well and swallow slowly, with caution! 
How is mochi made?
To make mochi, you have to prepare sticky rice. But, not just any: mochigome, that is to say, mochi rice!
It is then rinsed and beaten while hot until a sticky paste is obtained, and the rice is pounded to become a white sticky paste.
Traditionally, the dough has been stuffed with anko, but now there are many ways to enjoy mochi!
The different types of mochi
Although there are some recipes for savory mochi dishes, it is mainly in baking that it is found. On a skewer or sprinkled with soy, the rice ball comes in an infinite variety of ways!
Abekawa mochi (or kinako mochi ): the ball of mochi is sprinkled with grilled soybeans.

Daifuku mochi: is a ball of mochi with a core made of azuki (red bean paste). It is an extremely popular dessert and with variations of preparations practiced in both Buddhism and Shinto.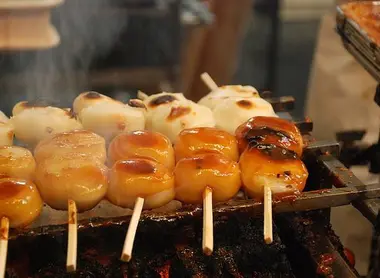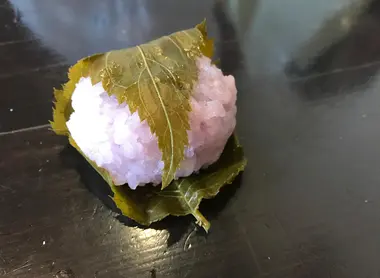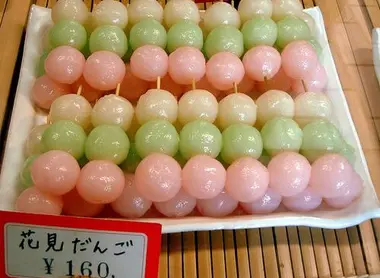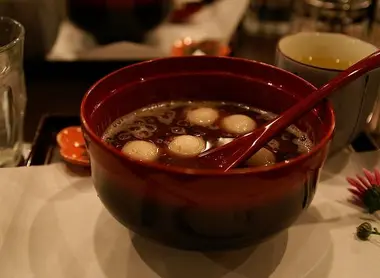 The dango mochi: is a kind of skewer on which are strung three small balls of mochi (sometimes of different colors). There is also a plain version, grilled or not, and covered with a kind of caramel made from soy sauce.

The sakura mochi : is the mochi for the hanami . Its dough is pink and sweet, filled with azuki, and wrapped in a cherry leaf.

Zenzai: is a sweet red bean soup served cold or hot, bathed in melted mochi. It is a homemade dessert, consumed frequently in Japanese households.
Where to buy mochi in Japan?
While it's easy to find mochi at matsuri stands, you don't have to wait all year for the opportunity to taste it!
Indeed, today we find more and more mochi in konbini, but also in traditional gardens which offer small tea ceremonies such as the Rikugi-en garden or the Korakuen garden for example. You can also buy it in depachika, shopping malls at stations, in the traditional pastry department.
The best places to eat mochi in Tokyo
If you don't necessarily want to bring mochi home, know that there are also many traditional pastries where you can enjoy it on the spot. Especially in the capital, where sweets are sometimes accompanied by a good steaming cup of tea.
Seigetsudo Honten (Ginza)
Since 1907, Seigetsudo Honten has offered many varieties of mochi in its shop located in the famed Ginza district. Their specialty, gomamochi (mochi with sesame and red bean paste) has been their best seller since the 1910s!
Address: 7-16-15Ginza Chuo Tokyo
Hours: 9:30 am to 7 pm Monday to Friday, and until 6 am on Saturday (closed Sunday).
Itinerary: a stone's throw from Higashi-Ginza station (Asakusa, Hibiya lines)
Located in the very popular Harajuku district, Mizuho is probably one of the most famous traditional pastry shops in the area. Its daifuku are sold-out from the start of the afternoon, and its generous portions make it one of the best value for the money!
Address: 6-8-7Jingumae Shibuya Tokyo
Hours: 8:30 am until out of stock from Monday to Saturday (closed on Sunday)
Directions: a two-minute walk from Meiji-jingu (Harajuku) mae station (Chiyoda, Fukutoshin lines)
OiwakeDango Honpo (Shinjuku)
As its name suggests, Oiwake Dango Honpo revisits the dango recipe. Whether they are strawberry, matcha, or sesame, they are the object of a real cult in the small pastry shop which also sells other wagashi! Dango, like other pastries, can then be eaten in or taken out, with or without tea.
Address: 3-1-22 Shinjuku Shinjuku, Tokyo
Hours: every day from 10 am to 8:30 pm
Directions: a few min walk from Shinjuku-sanchome station (Marunouchi line)
Specializing in both mochi and tea, Gekkou is an address to remember for anyone wishing to learn about Japanese pastry. The owners make their mochi themselves, and several homemade recipes can be discovered in this small café in Ueno which also serves traditional ice cream during summer.
Address: 3Chome-7-18 Negishi, Taito-ku, Tokyo
Hours: from noon to 7:30 pm on weekdays, and from noon to 7 pm.on weekends
Itinerary: a stone's throw from Uguisudani station (Keihin-Tohoku, Yamanote lines)
Best places for mochi in Kyoto
Traditional city par excellence, the historic capital is full of small tea rooms where mochi and matcha flow freely!
Yuri Salon De Thé (KyotoCity Hall)
A stone's throw from Kyoto City Hall, Yuri Salon De Thé is known for its exceptional mochi. Very popular with Kyoto residents and celebrities alike, the tea room has hosted the Japanese Prime Ministers and even the late Steve Jobs! Her traditional pastries are all homemade and usually come with a cup of matcha.
Address: 288-14 Nakahakusancho, Nakagyo-ku, Kyoto City, Kyoto Prefecture
Hours: every day from 11 am to 6 pm (closed Tuesday)
Directions: in front of Kyoto Shiyakusho-mae station (Tozai line)
Located north of Kyoto, Saryo Hosen is a traditional restaurant popular for its pastry. The restaurant serves a variety of wagashi, including warabi-mochi ( mochi made from fern starch) and plum mochi, which are among the house specialties.
Address: 25 Shimogamo Nishitakagicho, Sakyo-ku, Kyoto City, Kyoto Prefecture
Hours: 10 am to 5 pm (closed Wednesday and Thursday)
Directions: 20 min on foot from Kita-Oji station (Karasuma line)
All the themes of the city