Kumano Hayatama Taisha Shrine
熊野速玉大社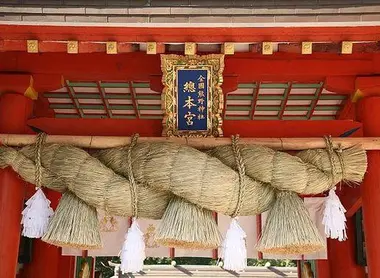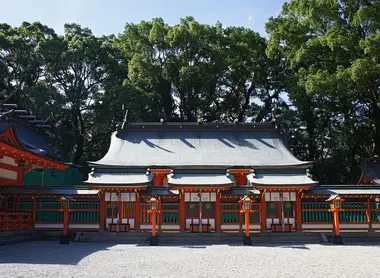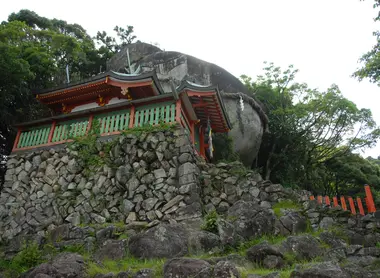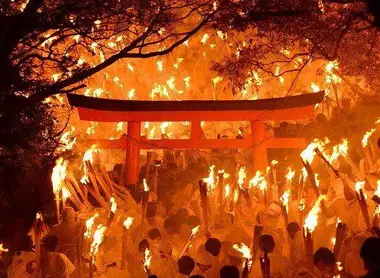 The temple of life
Kumano Hayatama Taisha Shrine, known as "The Place of Resurrection", is an unmissable stop on the pilgrimage route of the Kumano Kodo.
The Shingu shrine on the Kii Peninsula is one of the three essential stages of the Kumano Kodo. It is one of the three sacred sites of the Kumano Sanzan, classified as a UNESCO World Heritage Site under "Sacred Sites and Pilgrimage Routes of the Kii Mountains".
Cult of Nature
This shrine with bright red pavilions was erected in 1951. It is dedicated to Kumano Hatayama o kami , the divinity of moving water and by extension of life itself. The cult of nature, inherited from Shinto, is particularly palpable in the three Kumano Sanzan shrines.
Read: Visiting Kumano and the Kii Peninsula
Once past the gate of the sacred precinct, you will discover one of the main elements of the site: the Nagi no ki, a 800-year-old conifer, recognized as an important natural monument of Japan. Its symmetrical leaves are supposed to symbolize the harmony in the couple.
The stone of the Gods
After a stroll of tranquility and mysticism, it's time to reach Kamikura Jinja, located on Mount Gongen. After climbing the 538 irregular stone steps leading to this primitive shrine, you'll discover an imposing rock. This stone, called gotobiki iwa, would be the first place trampled by the gods of the region. The shrine now serves as a setting for the Oto festival, which takes place every year on 6 February.
Fire dragon
This feast of fire brings together nearly 2,000 men, the noboriko. All dressed in white, they begin the day with a purifying ritual by immersing themselves in the ocean below. After a lunch consisting solely of white food, they climb the steps leading to the shrine with a torch.
Read also: Visit Mount Koya
When night falls the torches are ignited, and then comes the moment when the men rush  to descend this steep and narrow slope... The sinuous and flamboyant curves evoke the image of a dragon traveling the side of the mountain. The smoke from the torches is supposed to contain the vows and hopes of men, directly transmitted to the deities.
One of the peculiarities of the shrine is its collection of a dozen national treasures, grouped together in a hall serving as a museum. The treasures gathered over the years bring together objects left by pilgrims since the Muromachi period (1336-1573). To undertake the pilgrimage as a whole, you have to combine this visit with those of the other two shrines making up the Kumano Sanzan: the Kumano Hongu Taisha and the Kumano Nachi Taisha.
---
Address, timetable & access
All the themes of the city