Kumano Sanzan
熊野三山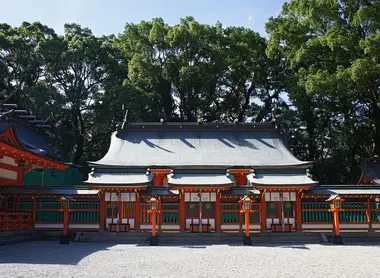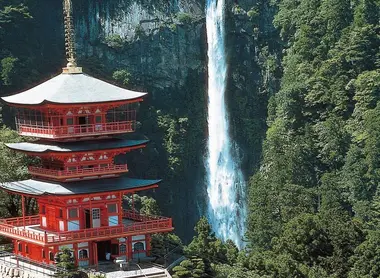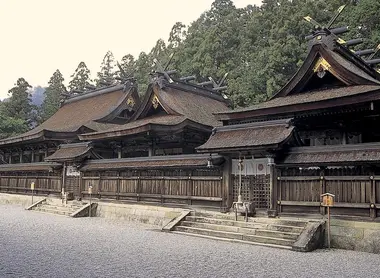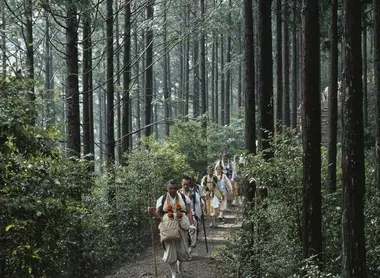 Trio of shrines
Kumano Sanzan is the collective name of the three shrines of the Kii Peninsula, one of the most sacred places in Japan and an unmissable place of pilgrimage.
The Japanese have a very special relationship with nature which combines beauty and mystery. This atmosphere is perceptible around the Kumano Sanzan shrines which are located at the extreme south of the Kii Peninsula. The three Kumano Sanzan shrines are Kumano Hongu Taisha located in the city of Tanabe, Kumano Hayatama Taisha, and Kumano Nachi Taisha which are located in the city of Nachisan. The latter are about 30km apart and are completed by two Buddhist temples: the Seiganto-ji and the Fudarakusan-ji.
Temples and legends
The three shrines are part of UNESCO's "Sacred Sites and Pilgrimage Routes of the Kii Mountains" World Heritage Sites.
However, travelers or pilgrims come mainly to walk the paths of the region, full of spirituality and lined with mossy statues: the hiking trail Kumano sankeimichi allows pilgrims to go from one to the other.
In the 10th century, each of the shrines was devoted to a different cult of nature. From the 11th century, they gradually become Buddhist. Syncretism is therefore very important in the region, since it links the former animist beliefs that became national religion (Shintoism) and the Buddhism that later reached Japan.
Since then, the shrines have been visited by all social classes, aristocrats first and then the common people. This practice is called "processions of the ants" because of the very large number of pilgrims who converge every day towards the Kumano Sanzan.
Known as "pure land", the Kumano region, is a high place of Buddhism, the peculiarity of its shrines is that they are mainly dedicated to healing.
Three singular shrines
This is an attractive red shinto shrine with with Mount Gongen as a backdrop. In general, it's the first shrine to be visited by pilgrims. The surrounding vegetation is luxuriant. Two festivals are organized in the shrines. Mifune Matsuri, a festival dating back to the 3rd century, is a boat race that takes place on the third Sunday of May on the Kumano River. The Matsuri is an organized fire festival on 6 February.
The shrine is dedicated to the Shinto deity Ketsumiko. Visitors enter the site through the largest existing torii gate, 33 meters high! This shrine of the Kumano faith shines out of the "aura of ancient times". It's the greatest and most venerated, because it is said that the gods live there. Its emblem is the three-legged raven that symbolizes the sky, the earth and the human race. The path that connects Tanabe and Kumano Hongu Taisha is referred to as Nakahechi, a very nice hike to do.
Located halfway up Mount Nachi, this Buddhist temple is known for the 133 meter Nachi waterfall, the second highest waterfall in Japan. Seiganto-ji pagoda, just in front of the waterfall creates an incredible panorama.
All the themes of the city