Izumo Taisha Grand Shrine
Izumo Taisha: read a guide to Izumo Taisha or Izumo Oyashiro, the second most important Shinto Shrine in Japan, located in Shimane Prefecture.
Izumo Taisha 出雲大社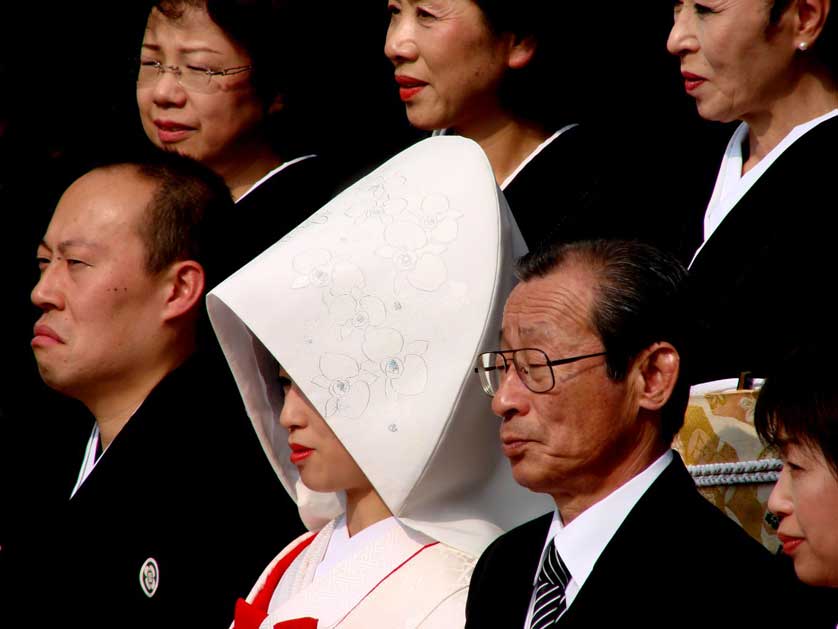 Izumo Taisha is a popular place for traditional Japanese weddings
Located in Izumo in Shimane Prefecture
Japan's second most important shrine after Ise
According to the legend, built by the goddess Amaterasu
Set in wooded grounds
Dedicated to Okuninushi
Was once 48m tall and the highest wooden structure in Japan
Izumo Taisha History
Izumo Taisha, also known as Izumo Oyashiro, is said to be the oldest shrine in Japan having existed on its present site for 1500 years.
The current buildings date mostly from 1874 though the main building (honden) is older having been constructed in 1744. Izumo Taisha is the largest shrine structure in the country and registered as a National Treasure.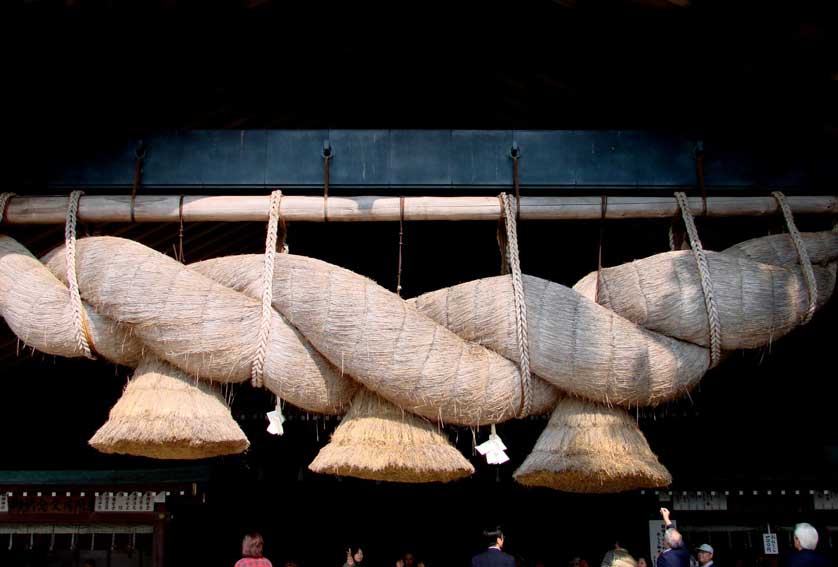 Shimenawa, Izumo Taisha Grand Shrine, Shimane Prefecture
Covering an area of over 16 hectares, Izumo Taisha is approached through an avenue of ancient pine trees - matsu no sando - and surrounded by a double fence. The design of the main hall is based on the earliest style of architecture known in Japan and is in the form of an ancient dwelling.
One of Izumo Grand Shrine's presiding kami (gods) is Okuninushi-no-Mikoto, the Shinto deity of marriage and visitors here often come to pray for luck in finding a partner or to celebrate their marriage. In Japanese mythology Okuninushi is accredited with introducing agriculture, medicine and sericulture into Japan.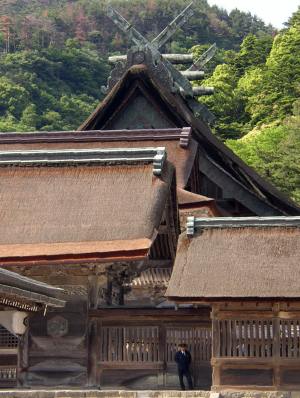 Izumo Taisha Grand Shrine, Shimane Prefecture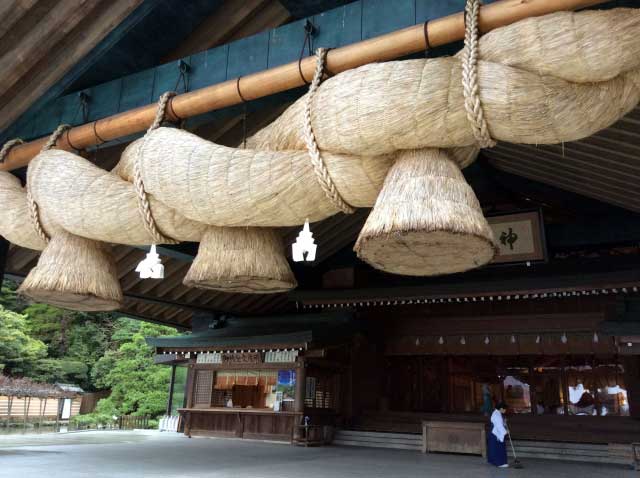 Huge shimenawa - sacred rope - at Izumo Taisha
Many temples and shrines in Japan become associated with particular benefits and beliefs, Tenmangu shrines for success with exams, shrines and temples for blessings for cars, Izumo Taisha is associated with finding marriage partners.
Visitors to the shrine are said to clap four times when praying at the shrine, twice for themselves and twice for a prospective partner.
Outside the main hall of worship, the Oracle Hall, are massive straw ropes - shimenawa - good fortune falls on those who can toss a coin that lodges in the cut ends of the ropes.
Also on the grounds of Izumo Taisha is a Treasure Hall - a small museum of historical artifacts including a silk map and an illustration of the shrine in its heyday, when Izumo Taisha was the tallest building in Japan at 48m, taller than Todaiji Temple in Nara.
Izumo Taisha Festivals
On the east and west sides of the shrine precincts are two, long, wooden buildings, called Jukusha, believed to house the Shinto pantheon of around 8 million kami. These deities are thought to return to the shrine in October, which is called kannazuki (month without gods) in the rest of Japan and kamiarizuki (month with gods) in Shimane.
Izumo Taisha's main festival is thus from the 11-17th day of the 10th lunar month, the Kamiari Festival, when the gods return. This usually falls in November. Other important festivals are the Imperial Festival on May 14, followed by the Grand Festival on May 14 and 15.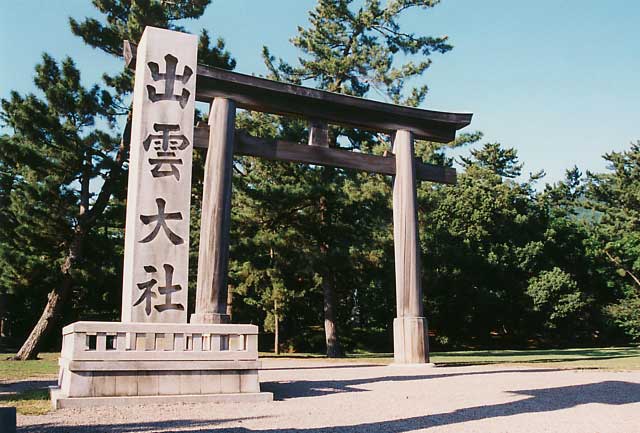 The torii gate at the entrance to Izumo Taisha Grand Shrine

Izumo Taisha Grand Shrine, Shimane Prefecture
Izumo Taisha Access
Izumo Taisha is 8 km outside Izumo city in Shimane Prefecture and can be reached by train to Izumo Taishamae on the Ichibata Line from the terminals in Izumo city, or Matsue. The tourist office (Tel: 0853 2100) is just outside the main torii gate to the shrine on your left.
From Izumo-shi Station walk a few meters to the adjacent Dentetsu Izumo-shi Station and take a train on the Ichibata Electric Railway to Kawato Station and change for Izumotaisha-mae. However, it is quicker to take an Ichibata bus (25 minutes) from Izumo JR Station directly to Izumo Taisha.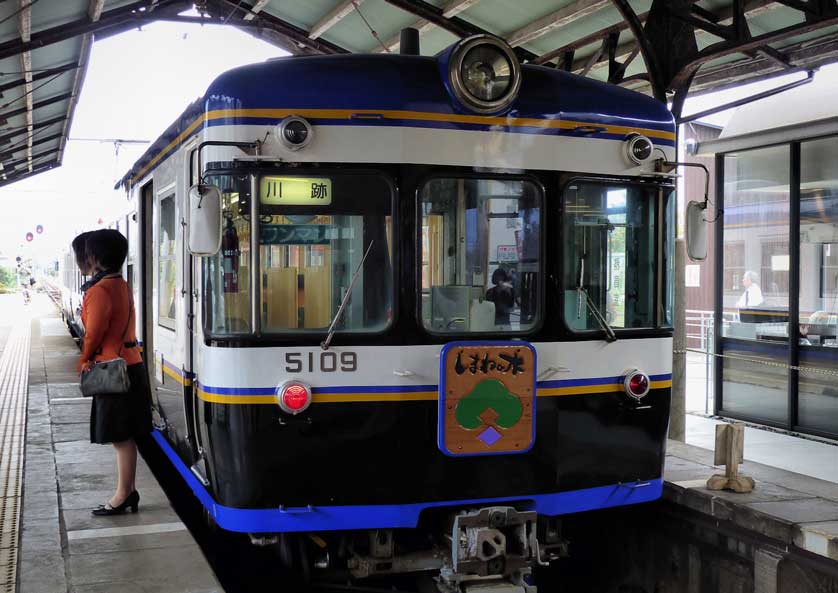 An Ichibata Electric Railway train at Izumotaishamae Station
Free Admission
Izumo Taisha (in Japanese)
Tel: 0853 53 3100
Izumo-shiShimane699-0701
Izumo Map
Book Hotel Accommodation in Japan
All the themes of the city