Tsukuba
つくば市


Local Time 03:05
Symbol : cloudy_rainy

Temp : 6.8°C

Date : Today

Symbol : sunny_cloudy

Temp : 9.4°C

Date : Tomorrow

Symbol : sunny

Temp : 10.1°C

Date : Thursday

Symbol : sunny

Temp : 8.2°C

Date : Friday
Known as Japan's 'Science City' Tsukuba, due to Japan's Space Agency being based here. The city is relaxed, a planned city of parks and open spaces and only 45 minutes north of Tokyo.
Nearest Airport

Ibaraki International Airport (IBR) - 1 hour by bus

Narita Airport (NRT) - 1 hour 40 mins by highway bus

Haneda Airport (HND) - 1 hour 40 mins by highway bus

Train Station

Tsukuba Station - Tsukuba Express Line

Districts

Amakubo - National Science Museum Tsukuba 

2 Chome - JAXA Tsukuba Space Center

Mount Tsukuba - Tsukubasan Shrine
Tsukuba Travel Guide
Tsukuba in Ibaraki Prefecture has enough to keep you occupied for a short visit from Tokyo and Tsukuba has become a new home for many people moving out of the metropolis.
Planned in the 1960's as an overspill town for Tokyo, Tsukuba attracted a number of research institutes and universities, including Tsukuba University, Tsukuba Gakuin University and Tsukuba International University. International Schools for the children of the many foreign researchers in Tsukuba include Tsukuba International School and Liberty International School.
The 1985 Expo confirmed Tsukuba's status as Japan's leading hi-tech research and development center. Now Tsukuba is a planned, modern environment just 40 km north from Tokyo.
Now around 19,000 researchers (40% of Japan's total) live in the city. The numerous public and private research institutes located in Tsukuba include the National Institute of Advanced Industrial Science and Technology (AIST), the Japan Aerospace Exploration Agency (JAXA), the Geospatial Information Authority of Japan (GSI), formerly the Geographical Survey Institute, which standardizes maps for the whole country, the National Research Institute for Earth Science and Disaster Prevention (NIED) and the Meteorological Research Institute.
Many of these research institutes have attached public museums which can be visited on a bus or bicycle tour of the town.
Things to see and do in Tsukuba
The Tsukuba Science Tour enables visitors to get on and off the shuttle buses which circle the main sites about every hour. The tours cost 500 yen for adults and 250 yen for pre-junior high school children.
Most visitors tend to take in the robots at Science Square Tsukuba, the rockets and satellites at the JAXA Tsukuba Space Center (TKSC), Tsukuba Expo Center in Chuo Koen (Central Park) with its planetarium, Time Capsule and H-II rocket and the impressive glass-houses at Tsukuba Botanical Garden, which contains both tropical and desert environments. The 24 meter-tall Tropical Rain Forest House at Tsukuba Botanical Gardens is a good place to warm up on a cold day and contains both lowland and mountain tropical plants. The Savanna House has plants from the Americas, Africa and Australia.
Chuo Koen (Central Park) contains the excellent Tsukuba Museum of Art (Ibaraki-ken Tsukuba Bijitsukan) within the Tsukuba Cultural Center ARS, which also holds the city library building.
The National Institute of Advanced Industrial Science and Technology (AIST) site contains both a Geological Museum and the interesting Science Square Tsukuba with displays of the latest Japanese robots including the therapeutic seal robot, Paro, the Choromet mini-humanoid robots and a number of full-size humanoid robots in the HRP series.
The Science Museum of Map and Survey is part of the Geospatial Information Authority of Japan (GSI), formerly the Geographical Survey Institute, which standardizes maps for the whole country. The museum explains the history and work of GSI. On display are antique and modern maps, surveying instruments and a survey plane in the grounds of the museum.
Doho Park and Matsumi Park are also worth a visit and both have excellent sports facilities. Doho Park is laid out around a large lake with a soccer ground, baseball field, tennis courts and a swimming pool as well as a cafeteria within the park. On the north side of the park is the delicious German-style Morgen bakery and next door the Sieger cake and dessert specialists. Sieger also has a konditorei or cafe on its premises.
Matsumi Park has a lovely Japanese strolling garden with carp-filled lake and a 45 meter-tall viewing tower.
Kenkyugakuen Eki-mae Koen just south of Kenkyugakuen Station is a lovely space ideal for family picnics. There is a wetland area with tall reeds and wooden zig-zag bridges, lawns, a Tsukuba-style farm house and a variety of plants and trees.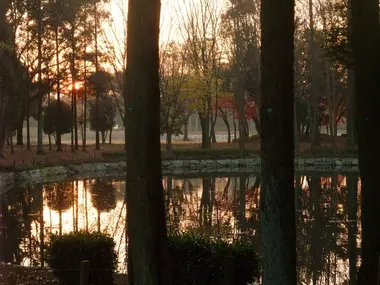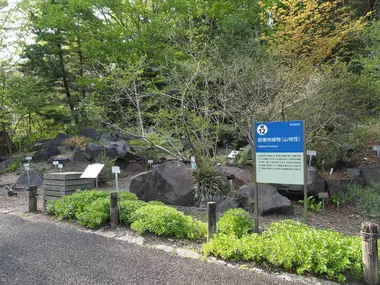 Further south still and reachable by shuttle bus from Kenkyugakuen Station or a 260 meter walk from Banpaku Kinen Koen Station is the Kagaku Banpaku Kinen Koen (Expo '85 Memorial Park) which was laid out for the 1985 Science Expo. There is a lake, spacious lawns, tennis courts and the 10 meter-tall Kagaku-no-mon (Science Gate). Adjacent to the Iias Tsukuba shopping mall is the new, English-style Gakuen no mori Park with lawns and large deciduous trees.
Tsukuba Wellness Park is a health and leisure center with swimming pool, onsen, soccer fields and a running/jogging track powered by the adjacent incinerator north of the center.
Mount Tsukuba
Tsukuba's other main attraction are the twin peaks of Mount Tsukuba which are about 870 m in height and offer fantastic views of the Kanto Plain below, as well as an escape from the summer heat.
There are buses from Tsukuba station to the Tsukubasan Shrine at the foot of the mountain and then a cable car (570 yen; 1020 yen return; 8 minutes one-way) to the summit of Nantai (Male mountain) or a ropeway (600 yen; 1070 yen return; 6 minutes one-way) to the top of Nyotai (Female mountain). There are small shrines on the summits of both Mt. Nantai-san and Mt. Nyotai-san.
Tsukubasan Shrine holds festivals on the first day of April and November when mikoshi (portable shrines) are carried up the mountain.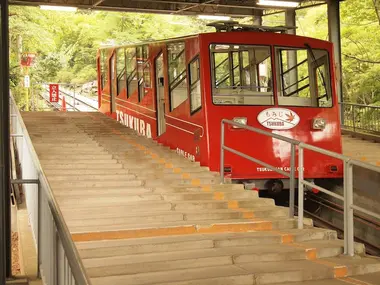 The mountain offers onsen, restaurants, hiking trails and an observatory. If you are driving from the center of town follow national highway 42. To ascend either of the twin peaks from the ropeway or cable car stations allow about 1 hour to 90 minutes or less at a leisurely pace. 
The Miyukigahara course goes from Tsukubasan Shrine up to Nantai following the Swiss-built cable car
The Otatsuishi course leads from the Tsutsujigaoka ropeway station to Nyotai
The Shirokumobashi course goes up the mountain between the two routes and links both peaks after joining the Otatsuishi path
The mountain is known for its autumn leaves as well as plum blossoms in early spring close to the small Omido Temple before Tsukubasan Jinja.
Attractions around Tsukuba
Ushiku Daibutsu, the world's largest Buddhist statue at 120m tall is only 30 minutes from Tsukuba and well worth a visit, not only for the impressive bronze statue but also the beautiful flower gardens.
The Yokaren Peace Memorial Museum close to nearby Tsuchiura stands on the shores of Lake Kasumigaura is a modern museum dedicated to the teenage boys in the Showa Period who volunteered for the Yokaren flight training school to serve as pilots or ground crew.
Hitachi Fudoki no Oka about a 40 minute drive from Tsukuba in Ishioka city is an open-air museum exhibiting historical dwellings from the Jomon to Edo periods of Japanese history set in a popular park which draws crowds in the cherry blossom season.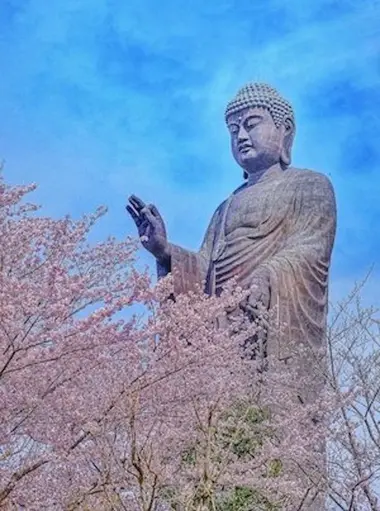 ---
Access - Getting to Tsukuba
The Tsukuba Express runs between Tokyo's electronics mecca of Akihabara and Tsukuba (Science City) in Ibaraki Prefecture.
The 58 km route passes through Saitama and Chiba Prefectures and takes 45 minutes compared to 85 minutes previously on the JR Joban Line or the 65 minutes by bus. Many people now commute to work in offices in Tokyo from Tsukuba.
The new line has 20 stations equipped with automated gates with stops in downtown Tokyo at Shin-Okachimachi, Asakusa, Minami-Senju and Kita-Senju. Fares are presently 1,150 yen for the whole journey or 1,100 yen to Kenkyugakuen Station.
Tsukuba's main bus station for buses to Mt. Tsukuba is next to the railway station.
Local buses are run by Kanto Tetsudo. Tsuku Bus is a network of six shuttle buses running from the Tsukuba Center and Kenkyugakuen Station to Tsukuba Sanguchi, Tsukuba Madoguchi Center, Teragu, Yoshinuma, Kukizaki Madoguchi Center and Fujimidai.
Getting Around Tsukuba
Bicycles can be rented from the Tourist Information Office (inside the Bus Ticket Office at Tsukuba Station) for 500 yen a day and are an excellent way to explore the town, which has a network of cycle paths. Tsukuba is spread out, however, and if you are planning to stay longer a rental car might be the best option to get around.
Bus tours are also booked from the Tourist Information Office, which is in the Bus Ticket Office adjacent to Tsukuba Railway Station.
---
Stay connected during your trip
All the themes of the city
Interested by Tsukuba
Discover other cities to explore