Suwa Taisha Shrine
Suwa Grand Shrine, Nagano 諏訪大社, 長野
Suwa Taisha (Suwa Grand Shrine), located in Nagano Prefecture, south east of Matsumoto, in the center of the country, is one of Japan's oldest and most important shrines. Suwa Taisha is mentioned in the Kojiki, an 8th-century chronicle and is believed to have been founded over 1200 years ago.
Suwa Taisha is the head shrine of around 10,000 Suwa sub-shrines located throughout Japan including a famous Suwa Shrine in Nagasaki, home to the Kunchi Festival.
Suwa Shrine is on the historic, Edo Period Nakasendo Highway and is close by car to Narai, Kiso-Fukushima in the Kiso Valley, Kofu and Kamikochi.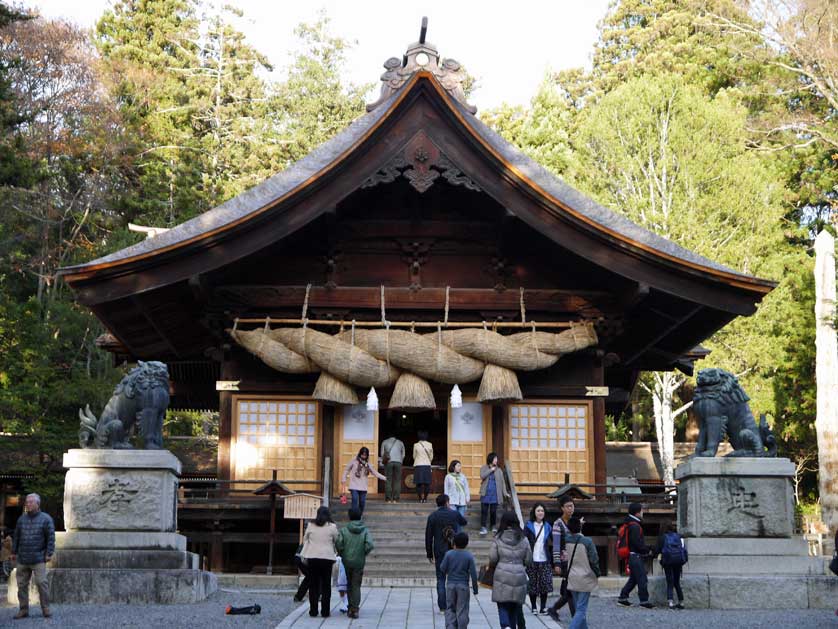 Akimiya, Suwa Taisha Shrine, Nagano Prefecture.
Layout of Suwa Taisha
Suwa Taisha consists of four shrine complexes: two of them, the Maemiya (前宮) and the Honmiya (本宮) make up the Kamo (upper shrines) and are located south east of Lake Suwa; the Harumiya (春宮) and the Akimiya (秋宮) make up the Shimo (lower shrines) and are located north east of Lake Suwa. Haru translates as "spring" and Aki as "autumn."
The main focus of worship at Suwa Taisha's upper shrines is a holy mountain (shintaizan) - Mt. Moriya. The two lower shrines have a sacred tree (shinboku) as their spiritual focus.
The main kami at Suwa Taisha is Tateminakata-no-Mikoto, who was the god of hunting and agriculture and became known as a protector of Japan's national security.
Tateminakata-no-Mikoto is the son of Okuninushi, who is associated with Izumo and Izumo Taisha in present-day Shimane Prefecture. Thus there are some similarities between Izumo Taisha and Suwa Taisha, in particular the huge Izumo-style shimenawa - sacred ropes - seen at the shrines.
Though now a somewhat rare occurrence, if Lake Suwa freezes over and large cracks and fissures form in the ice in a process known as Omi-watari, then Tateminakata-no-Mikoto is said to cross the lake from the Upper Shrines to visit his spouse in the Lower Shrines.
When the god Tateminakata-no-Mikoto walks across the frozen lake to visit the goddess Yasakatome-no-kami of the Lower Shrine in winter, he leaves behind a trail of his passing - the Omi-watari. The presence of Omi-watari was considered a sign by local people, indicating that if it was safe for a god to cross, then it was safe for them too and they went out on to the ice for ice fishing.
Suwa Taisha's connections with Tateminakata-no-Mikoto and hunting also meant that up until Meiji times 72 deer heads were offered to the kami at Maemiya Shrine each year.
Suwa Taisha was considered the most important shrine in the Shinano area and as such was much patronized by samurai and their leaders including local warlord Takeda Shingen and Tokugawa Ieyasu - the founder of the Tokugawa shogunate.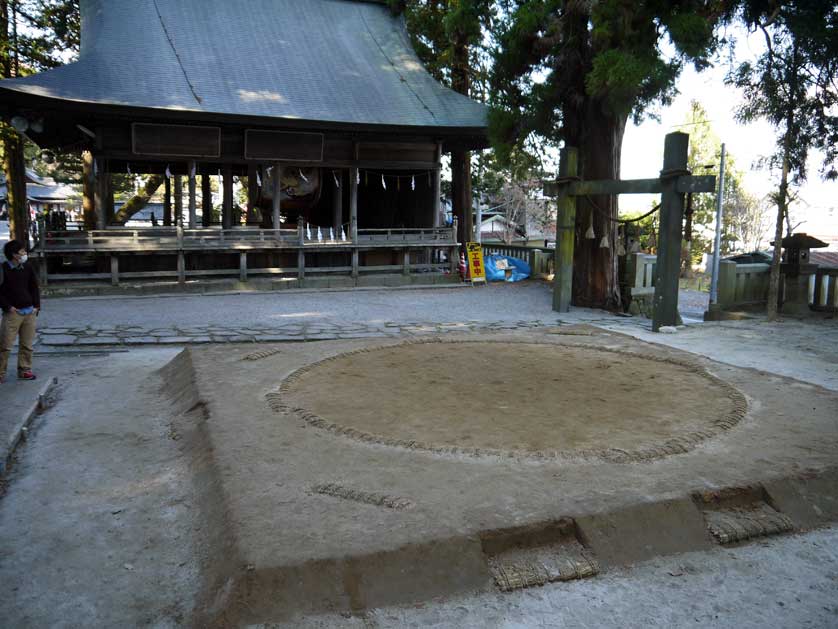 Sumo ring, Suwa Taisha Shrine, Nagano Prefecture.
Onbashira Festival
Each of the four shrines of Suwa Taisha has four huge fir tree trunks acting as shrine markings. These 16 tree trunks are associated with the Onbashira Festival held once every six years when these huge trees are felled and the logs transported to the shrine buildings.
The 10-ton trunks are ridden down a hillside by the happi-clad participants in a ceremony which often has fatal consequences for the men involved, who can be crushed by the sliding logs. The next Onbashira Festival is due to take place in 2016.
Other festivals associated with Suwa Taisha are Ofune Matsuri, or boat festival, held on August 1 on Lake Suwa, and the Senza Matsuri on February 1 to ritually transfer the spirits between the Harumiya and Akimiya shrines.
More recent festivals are the spectacular fireworks displays held on the banks of Lake Suwa in summer as part of the Summer Night Festival. Lake Suwa is Nagano's largest lake and is 759m above sea level.
Suwa Taisha is a popular shrine for the Shichi-go-san Festival when children aged 7, 5 and 3 are brought to shrines across the country.
Huge fir tree trunk, Suwa Taisha Shrine, Nagano Prefecture.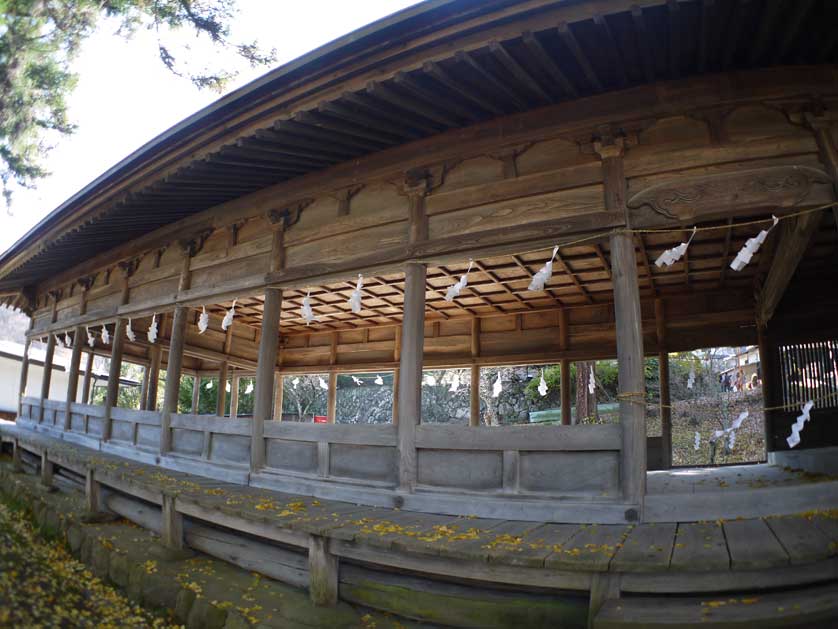 Suwa Taisha Shrine, Nagano Prefecture.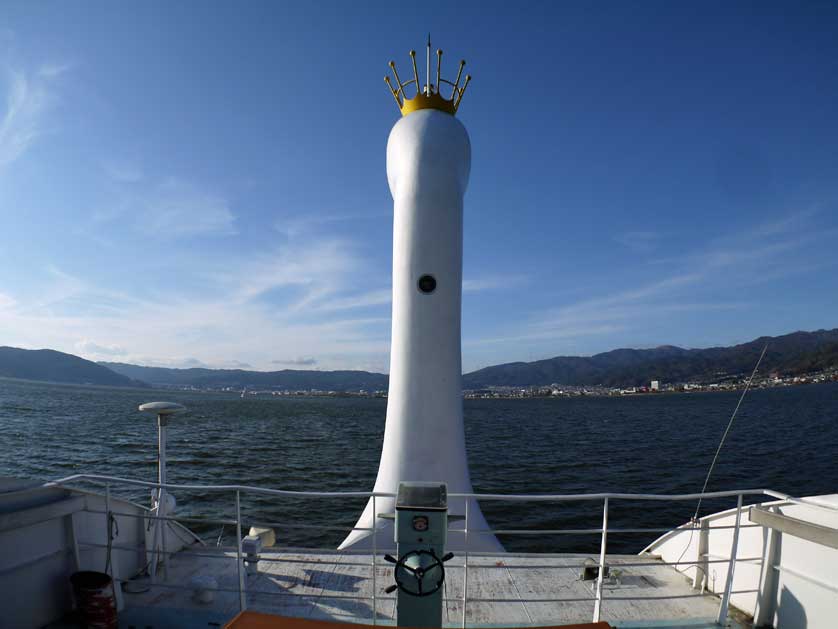 Boat crossing, Lake Suwa, Nagano Prefecture.
Accommodation Near Suwa Taisha & Lake Suwa
There are a number of ryokan, Japanese-style inns around Lake Suwa, which are convenient for visiting Suwa Taisha and the surrounding area. Recommended places to stay on the shores of Lake Suwa close to Kamisuwa Station on the JR Chuo Main Line include Kamisuwa Onsen Shinyu, Kamisuya Aburaya, Hotel Beniya, Hotel Saginoyu, KKR Suwakoso, Rako Hananoi Hotel and the Suwa Lakeside Hotel.
Hotels and ryokan closer to Maemiya and Honmiya, south east of Lake Suwa near JR Chino Station include the Candeo Hotels Chino, just off the Chuo Expressway, the Chisun Inn Suwa IC, the Hotel Route Inn Suwa Inter and the Hotel Route Inn Suwa Inter 2.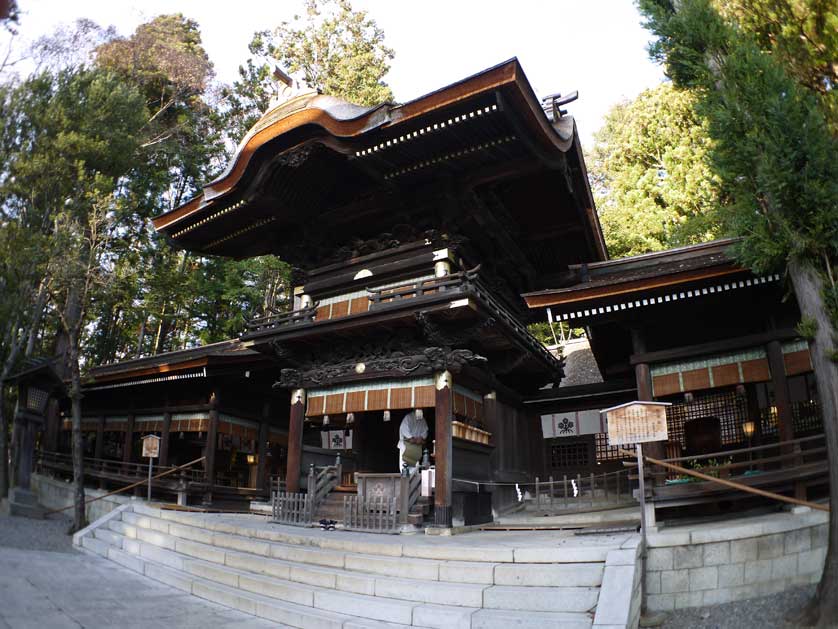 Suwa Taisha Shrine, Nagano Prefecture.
Suwa Taisha Access - Getting to Suwa Taisha
Air
Shinshu Matsumoto Airport (Tel: 0263 57 8818) is the nearest airport to Lake Suwa (Suwa-ko) and Suwa Taisha. There are flights to Osaka (55 mins), Fukuoka (1 hour, 40 mins) and Sapporo (1 hour, 30 mins).
Train
There are JR express Shinano trains from Nagoya (2 hours) and Nagano (50 mins) to Matsumoto. From Nagoya change at Shiojiri (1 hour, 52 minutes) and take a local train to Kami-Suwa (21 minutes) or Chino (28 minutes).
The Super Asuza Express from Shinjuku Station in Tokyo takes 2 hours 13 minutes to Kami-Suwa Station, 2 hours 20 minutes to Chino and 2 hours and 30 minutes to Matsumoto. From Matsumoto Station to Kami-Suwa Station is 37 minutes by local train and 43 minutes to Chino.
There are local trains on the JR Oito Line to Hakuba (55 mins) and Hotaka (30 mins) from Matsumoto Station.
There are highway bus services from Matsumoto to Shinjuku, Tokyo (3 hours, 15 mins), and from both Chino and Kami-Suwa to Shinjuku. There are buses from Matsumoto to Nagoya (3 hours, 10 mins), and Osaka (5 hours, 30 mins). Matsumoto Bus Terminal is just outside the railway station.
If driving by hire car take the Chuo Expressway to Suwa I.C.
Suwa Taisha is close to the mountain ski resorts of Nagano Prefecture such as Hakuba and hot springs (onsen) of Lake Suwa.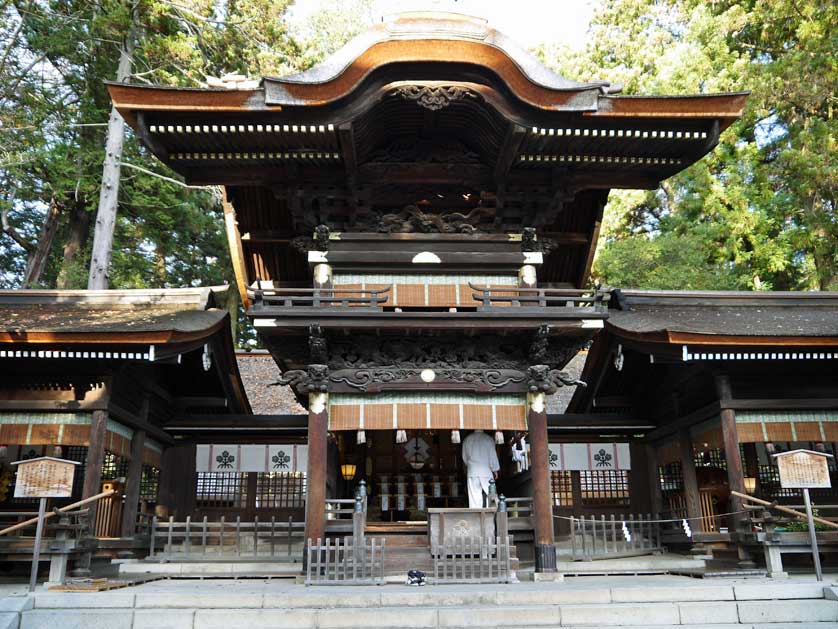 Suwa Taisha Shrine, Nagano Prefecture.
Book Hotel Accommodation in Nagano Japan
Suwa Taisha Shrine in Nagano Prefecture near Lake Suwa is one of the oldest and most important Shinto shrines in Japan dating back over 1200 years.
All the themes of the city