Hakuba Guide
Hakuba 白馬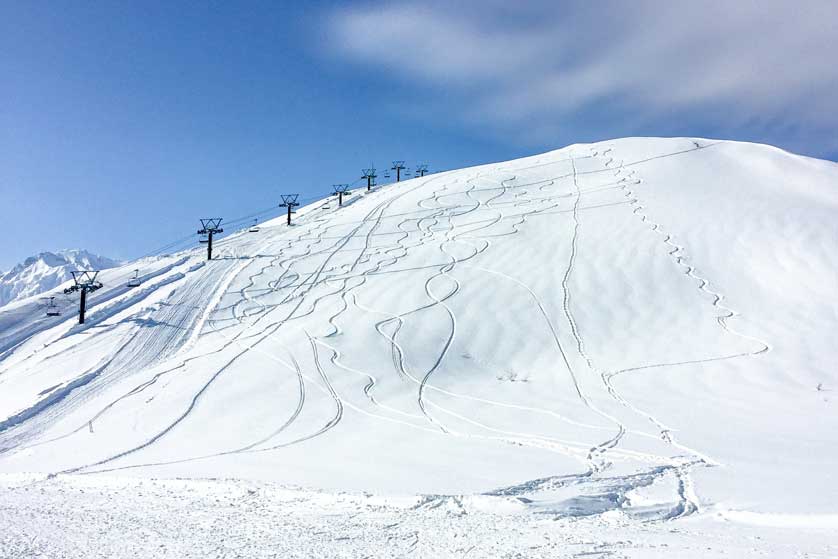 Hakuba is famous for its powder snow
The Hakuba Valley in the Japan Alps of Nagano Prefecture, 60 km northwest of Nagano City, offers some of the very best skiing and snowboarding in Japan, along with Niseko in Hokkaido. The area has about 9,000 permanent residents, but the transient population can be just as big, as the town draws skiiers internationally with its world-class ski slopes, from as far afield as Australia, China, Hong Kong and Europe.
Hakuba's reputation for skiing was greatly bolstered by the town's hosting the 1998 Winter Olympics. Hakuba enjoys a steady stream of visitors in summer, too, for its hiking, cycling and canoeing.
The snowfall in the area is heavy and the quality of the powder snow arguably some of the best on Japan's main island of Honshu. Hakuba's slopes offer good skiing for all levels of ability and every visitor to the area will share the spectacular backdrop of the 3,000m peaks of the Japan Alps.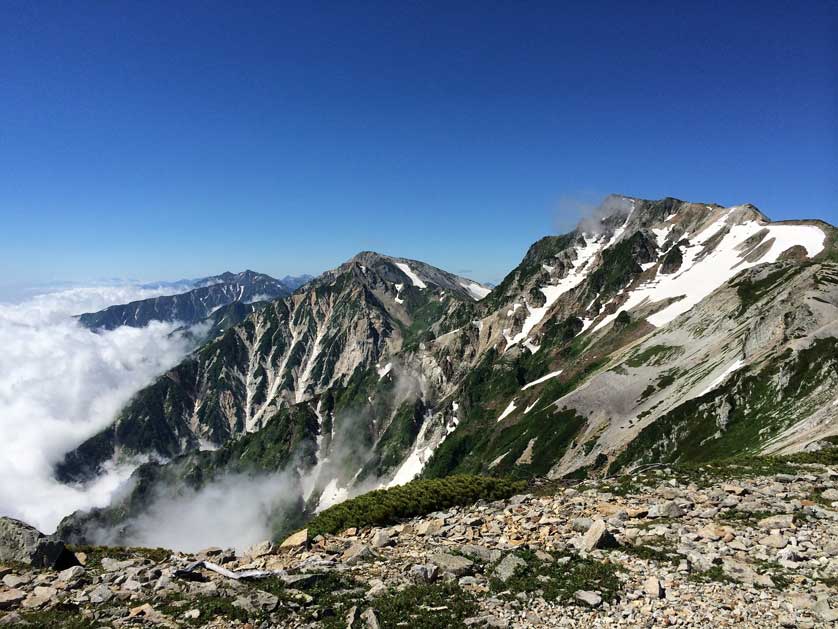 The natural beauty of the mountains in Hakuba
Happo'one was the site of the 1998 Nagano Olympics downhill skiing course and is the largest of Hakuba's ski resorts. One or two-day ski-passes are available here and at the other main resorts in the valley. Gondolas run up to the start of the ski runs and there are chair lifts to the tops of the mountains for fantastic views of the snow-covered peaks.
The linked ski resorts of Hakuba 47 and Hakuba Goryu are the next largest after Happoone and offer up to 5km downhill slopes from the top of the piste. Ski passes are valid for both resorts. Hakuba 47 is a popular spot for snow boarders. Hakuba 47 has 8 pistes, 6 ski lifts and 800m of vertical descent.
Other resorts in the Hakuba Valley are Iwatake, Cortina, Norikura, Sun Alpina, Yanaba and Tsugaike Kogen.
A number of foreign-operated and Japanese tour companies in Hakuba offer back country skiing and snow shoe tours as well as skiing and snowboard lessons for all levels of ability.
Hakuba Onsen
In addition to the skiing, there is also good hiking in the nearby hills and mountains in summer and some fantastic onsen (hot spring baths) in Hakuba.
Onsen in the Hakuba area include the Tokyu Onsen at the Tokyu Hotel, Echoland no Yu, Daiichi Sato no Yu, Daini Sato no Yu, Shobei no Yu at the Mominoki Hotel, Kurashita no Yu, Iwatake no Yu, Mimizuku no Yu, Hakuba-shio no Michi Onsen at the Sports Hotel Terry, and Tenjin no Yu inside the Hakuba Highland Hotel.
Juro no Yu Onsen is close to Chokokuji Temple near Iimori Station.
Eating Out in Hakuba
Hakuba is something of a gourmet town for apres ski wining and dining. There are both Japanese and foreign-owned eateries in town. If you are staying in a traditional ryokan Japanese inn, meals - breakfast and dinner - are usually included in the price of your accommodation.
Options for eating out in Hakuba include British- and American-style pubs, Italian, French, Thai, Tex-Mex, Korean and Indian restaurants in addition to more local soba noodles, wagyu (Japanese beef), teppanyaki and izakaya (Japanese-style "pubs").
A number of hotels in Hakuba are known for their food including the Ridge Resort, the Sports Hotel Terry (see above for its Hakuba-shio no Michi Onsen hot spa), the Luna Hotel and the Hakuba Springs Hotel.
Hakuba also has numerous bars and clubs if you wish to drink or dance the long winter nights away.
Hakuba Museums
Besides skiing, Hakuba has some interesting museums see. The start towers of the Hakuba Ski Jump Stadium can be visited, to get a feel for the gut-churning act of ski jumping. The towers also contain memorabilia from the 1998 Nagano Winter Olympics for which they were built. There is a chair lift to the towers: 8:30 am - 4:30 pm, April-November; 9 am - 3:30 pm, December-March - but out of operation in early April and early December and when events are happening; 460 yen for adults. An elevator then takes you up the towers. Tel: 0261 72 7611.
The Hakuba Saegusa Art Gallery displays paintings of Hakuba by Japanese artists, some very distinguished; 9 am - 5:30 pm, closed December to March, 700 yen for adults, tel: 0261 72 4685.
The Hakuba Museum of Art is dedicated to the words of Marc Chagall (1887-1985); 9:30 am - 5:30 pm (last entry 4:30 pm), closed Wednesday, but open if Wednesday is a public holiday, in which case closed the next day; closed from late November to late April and for indefinite periods, so please phone ahead, 700 yen for adults, tel: 0261 72 6084.
The Hakuba Miyajima Art Craft Spot occupies a quaintly constructed 2-story building and exhibits, and offers for sale, a range of beautifully crafted wooden goods. 10 am - 7 pm, open daily, 300 yen for adults, tel: 0261 72 2738.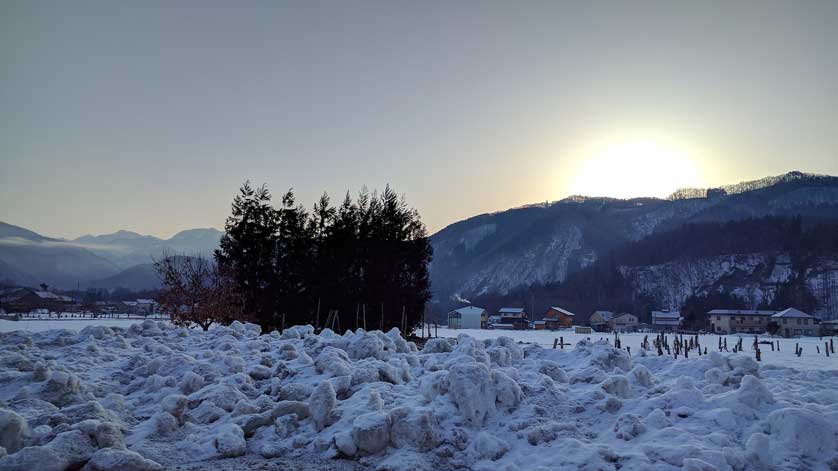 Sunrise in Hakuba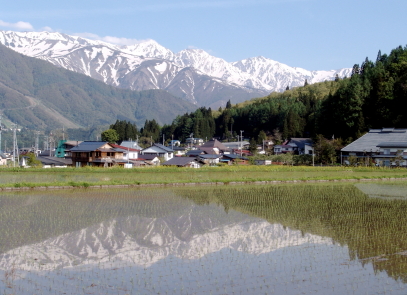 Hakuba and the Japanese Alps, Nagano
Hakuba Access - how to get to Hakuba
Hakuba is about one hour by bus from Nagano city. By train, the JR Oito Line connects Hakuba to Matsumoto (1 hour 45 min). Using the Oito Line, it is easy to combine a visit to Hakuba with a trip to Zenkoji Temple in Nagano, then the amazing Matsumoto Castle in Matsumoto, followed by Hakuba.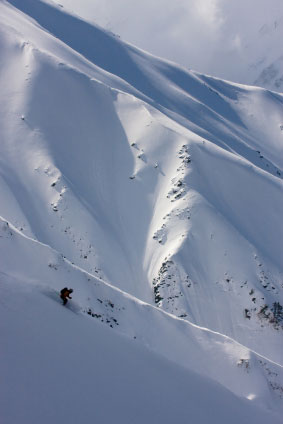 Skiing in Hakuba, the Japanese Alps, Nagano Prefecture
Air
Shinshu Matsumoto Airport (Tel: 0263 57 8818) is the nearest airport to Nagano. There are flights to Osaka (55 mins), Fukuoka (1 hour, 40 mins) and Sapporo (1 hour, 30 mins).
Train
There are JR express Shinano trains from Nagoya (2 hours, 45 minutes) and Osaka (5 hours). Nagano shinkansen trains run twice hourly from Tokyo Station (1 hour, 20 mins).
Road/Bus
There are highway bus services to Shinjuku, Tokyo, Nagoya (3 hours, 10 mins), and Osaka to Nagano as well as direct buses to Hakuba from Shinjuku (about 4 and a half hours), Tokyo, Matsumoto and from Nagoya Station. From Nagano city take National Highway 406 west if you are driving.
Taxi
There are sight-seeing taxis outside JR Hakuba Station (Tel: 0261 72 2144).
Hakuba Map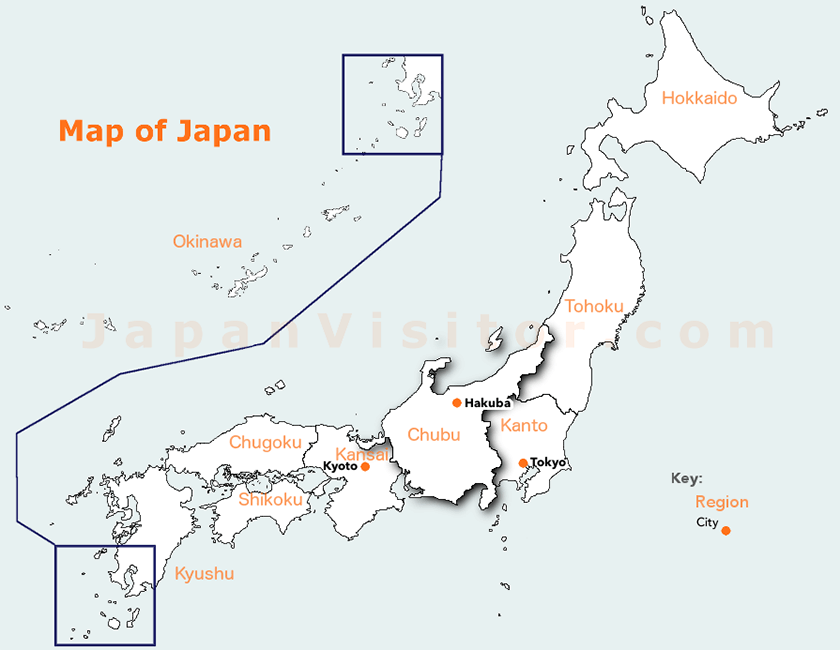 Hakuba Map
View Hakuba Map in a larger map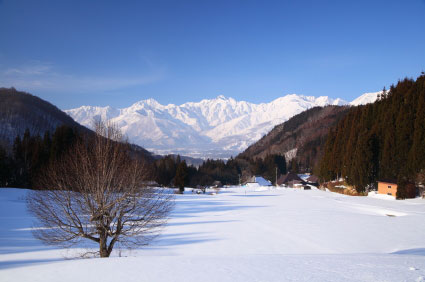 Hakuba, the Japanese Alps, Nagano Prefecture
Hakuba Tourist Information Center
Hakuba Tourist Office
JR Hakuba Station
0261 72 2279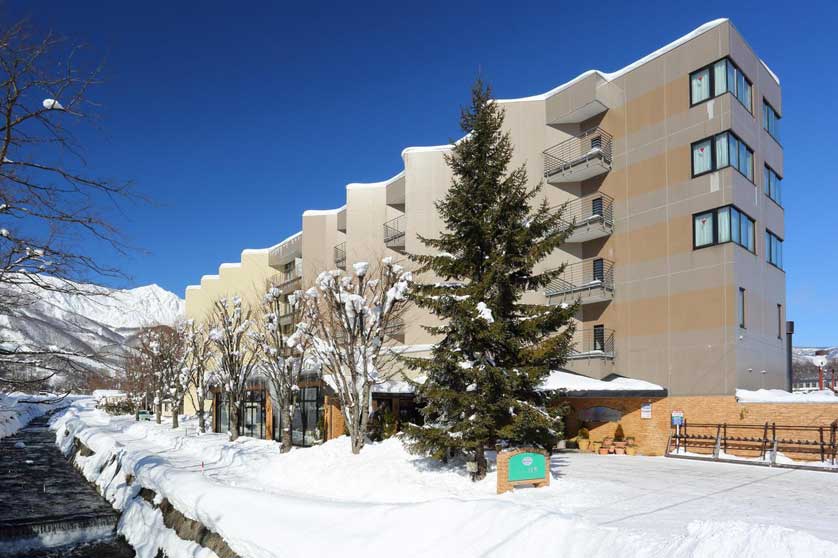 Hotel Hakuba Nagano
Hotel Accommodation in Hakuba
Hotels & Ryokan
New places to stay in Hakuba are appearing every year and many of them are foreigner-friendly. Accommodation options in Hakuba include hotels, guest houses and ryokan (Japanese inns).
The 5-star Hakuba Tokyu Hotel is 5 minutes from JR Hakuba Station. Also near Hakuba Station is Hotel Hakuba Nagano.
Hotels and ski lodges are also clustered around Iimori and Kamishiro Stations to the south.
Another luxury option in Hakuba is the award-winning Shirouma-so Ryokan which has 20 delightfully-created rooms in a mix of traditional and modern styles. Each Japanese style tatami room is individually designed with fantastic views of the mountains.
The Yamano Hotel Hakuba is convenient for the slopes of Happoone. Other recommended ryokan close to the Happoone slopes in Hakuba include Hosonokan, Charme Inaba, Hotel Weisser Hof Happei, Hotel Glorious and Atarashiya Ryokan.
If you are looking for a camp site in Hakuba try Hakuba 47 Mountain Sports Park Auto Camping Ground (Hakuba47 マウンテンスポーツパーク オートキャンプ場)
24196-47 Kamishiro, Hakuba, Kitaazumi District, Nagano Prefecture 399-9211
Tel: 0261 75 3533 / kingpapaya.michikusa.jp
Guesthouses & Backpacker Dorms
Cheaper guest houses with dorms include the Anise Garden, K's House Hakuba Alps, Snowbeds B & B (1 star), Lodge Tabi-tabi (1 star), Hakuba Gondola Hotel (3 stars), Hakuba Sports Hotel Terry and Wind Jacket Lodge.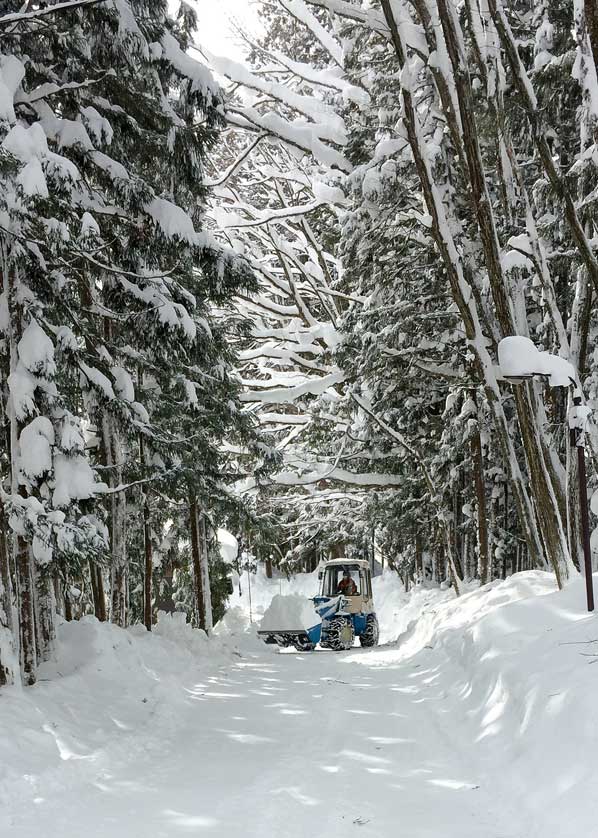 Powder snow in a Hakuba forest
Hakuba guide: read a guide to the ski resorts of the Hakuba Valley in Nagano including Hakuba 47, Happoone and Yanaba.
All the themes of the city