Karuizawa Taliesin
Read about the restful Karuizawa Taliesin complex in Japan's highland resort of Karuizawa.
Karuizawa Taliesin
Karuizawa Taliesin 軽井沢タリアセン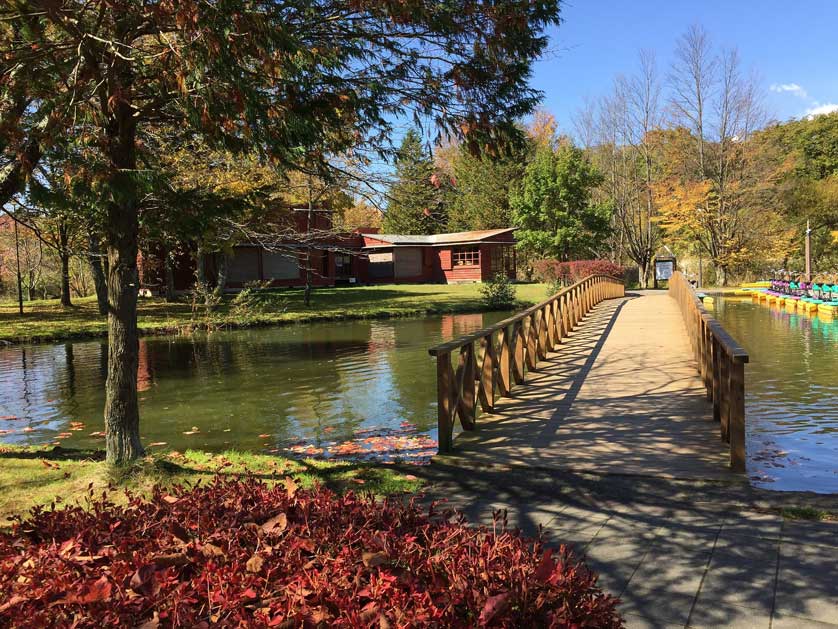 Lake Shiozawa, Karuizawa Taliesin
Karuizawa Taliesin (tah-lee-ah-sen) is a restfully laid out recreational facility in the beautiful highland resort town of Karuizawa, about one hour from Tokyo by Nagano shinkansen, and about 4km south-west of Karuizawa Station.
Karuizawa Taliesin is about 4 hectares (9 acres) landscaped around the placid Lake Shiozawa, and offers a huge range of things to see and do for those of all ages and tastes, whether artistic, culinary, sporting, literary, or leisure-related.
Karuizawa is particularly notable for reflecting the artistic and literary atmosphere and history of Karuizawa, which has attracted numerous famous artists and writers as a place to work and seek inspiration over the past century.
Karuizawa Taliesin Museums and Architecture
Museums
Karuizawa Taliesin has three museums:
-Literary Museum of Karuizawa, with regular exhibitions relating to art and literature
-Musee Peynet, an art gallery housed in the architecturally notable Summer House designed by Antonin Raymond and dedicated to the works of the whimsical French artist, Raymond Peynet (1908-1999)
-Kouko Fukazawa Nonohana (Wildflower) Art Gallery, an art gallery dedicated to the works of the painter of flora, Kouko Fukazawa (1903-1993). Housed in a stately old wooden - and now nationally protected - building that began life in 1911 as the Karuizawa Post Office.
Historical Architecture
Karuizawa Taliesin has a collection of historical buildings of architectural significance throughout its grounds, from the traditional to the modern.
An especially notable example is the Summer House, built 1933, designed by the Czech-born US architect, Antonin Raymond (1888-1976), and which now houses the Musee Peynet. Also, Raymond's St. Paul's Catholic Church (1935) is in nearby Kyu-Karuizawa.
Other buildings of historical significance are those once used or owned by famous Japanese authors like Tatsuo Hori (1905-1953), Takeo Arishima (1878-1923), Yaeko Nogami (1885-1985), and Tomiko Asabuki (1917-2005).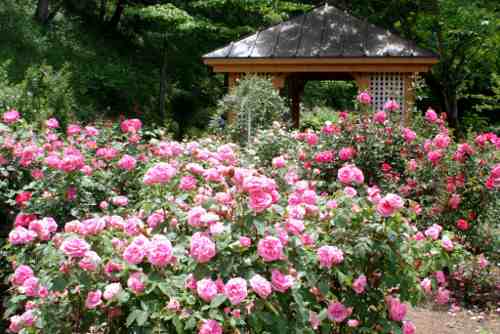 English Rose Garden, Karuizawa Taliesin
Karuizawa Taliesin English Rose Garden
The English Rose Garden is a rose garden in Karuizawa Taliesin that features over 180 different varieties of English Rose, English Rose being a creation of the internationally acclaimed rose expert, David Austin.
Karuizawa Taliesin Sports and Recreation
Karuizawa Taliesin has extensive sporting and recreational facilities, including archery, tennis, boating (unique in Karuizawa), go-carts and karts, a cycle monorail, mini golf, and children's playground.
Karuizawa Taliesin Restaurants
Karuizawa Taliesin offers wide range of culinary choices, from an Italian restaurant to a barbecue restaurant to cafes, for everything from formal dining to snacks and fast food.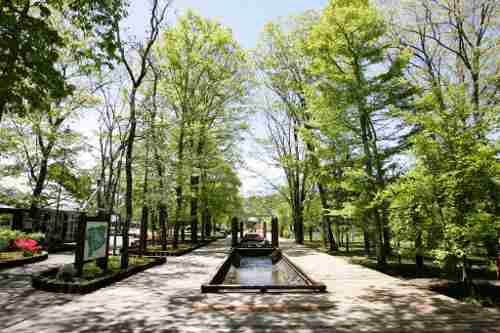 Karuizawa Taliesin
Karuizawa Taliesin Hours and Admission
Karuizawa Taliesin is open 9 am-5 pm, except in December and January: 10 am-4 pm (and closed on Tuesdays, Wednesdays and Thursdays).Closed December 26 - January 1, and all of February.
Admission to Karuizawa Taliesin is 800 yen for adults, or 900 yen including access to the Peynet Museum. Other attractions within Karuizawa Taliesin (Karuizawa Taliesin museums and Karuizawa Taliesin sports and recreation) are charged for separately.A combination ticket for entry to Karuizawa Taliesin and the three museums is 1,500 yen for adults.
Entry to Karuizawa Taliesin is free during December and January, and gallery admission charges are reduced during these months.
Karuizawa Taliesin Access
Bus: Take the free Chonai Junkan (choh-nye-joon-kahn) Bus (Town Loop Bus) that leaves from Karuizawa Station and get off at the Shiozawako bus stop.Taxi: Karuizawa Taliesin is about 15 minutes from Karuizawa Station by taxi.
Karuizawa Taliesin
217 Shiozawako, Karuizawa-machi, Kitasaku-gun, Nagano-ken 389-0111
Karuizawa Taliesin foreign language pamphlets (PDF)
Tel. 0267 46 6161Google Map of Karuizawa Taliesin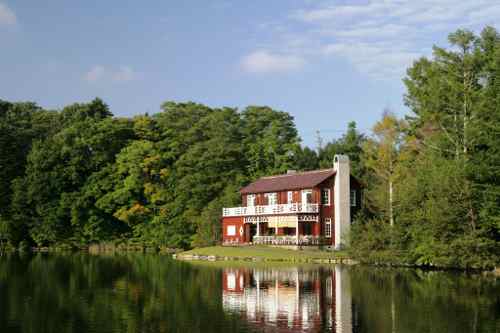 Lake Shiozawa, Karuizawa Taliesin

Book Budget Hotel Accommodation in Karuizawa Japan
All the themes of the city