Fukue Island Goto City
Japan City Guides: Fukue Island, Goto City 福江島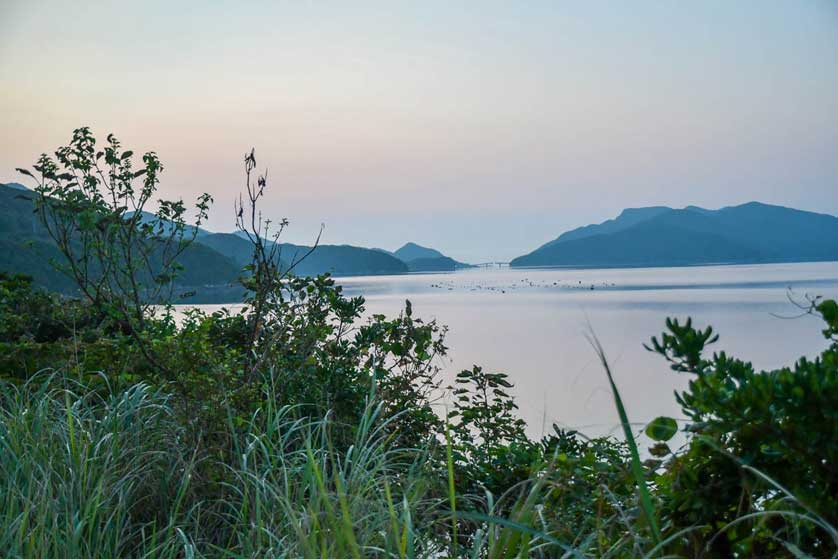 The Fukue Island coast at dusk
Fukue is the largest island of the Goto Archipelago. It forms part of Goto City, in Nagasaki Prefecture, a city that encompasses the southern half of the archipelago. Yet, in spite of being the largest, Fukue Island is still fairly small, about 25 km both north-to-south and east-to-west, but mostly wild and hilly. Its often imposing terrain, beautiful beaches, genial, welcoming locals and unique history featuring what were once hidden Christian communities make Fukue a great place to spend a few days - preferably with a rental car.
Fukue History
Fukue Island is remarkable in Japan for its large number of churches: over 20 of them. This reflects the island's Christian heritage, which survives to this day with roughly a fifth of the population still professing Christianity.
After very successful proselyzation from the mid-16th century by Jesuit missionaries, Christianity was banned in Edo era Japan in 1614, because the authorities saw it as a threat. The persecution intensified as a result of the Shimabara Rebellion in what is now Nagasaki Prefecture. In 1637-8, peasants, who happened to be mainly Christian, protested against drastically raised taxes and were ruthlessly put down. Christians who went underground in the aftermath were called "Hidden Christians" or Kakure Kirishitan, and were only revealed as such in the 1860s, a few years before religious freedom was granted in 1873.
Kakure Kirishitan on the Goto Islands, of which Fukue is the largest, formed a special branch of Kakure Kirishitan known as Hanare Kirishitan ("Separated Christians"). They were characterized by a "corrupted" form of Christianity heavily influenced by pre-Christian nativist concepts and practices.
Fukue Port
Fukue's main settlement is on the eastern coast of the island, around Fukue Port. This is where the ferry from the mainland arrives and departs, and is a 10-15 minute drive from Fukue Airport. The Goto City Hall is located here. Goto City includes the whole of Fukue Island and nine other islands. Most accommodation on Fukue is to be found here.
Fukue Map
Fukue See & Do
Life in Fukue is centered around its castle.
Fukue Castle, AKA Ishida Castle, is only five minutes walk from the Ferry Terminal. Very well preserved, imposing stone walls rise up from a moat in a park-like setting. However, the stone arch bridge, through the traditional wooden gateway leads not to castle but the local high school, with its standard ferro-concrete school buildings! To get a feel for what used to be inside, go to the museum on the corner of the castle nearest the harbor. This is the last castle in Japan to have been built, with the feudal era ending shortly after its completion.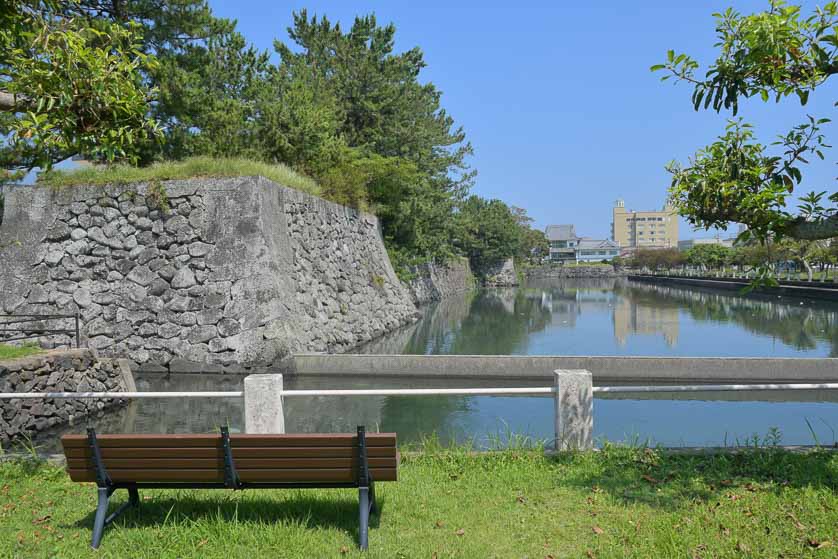 Fukue Castle
Lord of Goto's Mansion
The former feudal lord of Goto had a mansion on the castle grounds that has been restored, along with its beautiful gardens. The gardens are the work of a monk brought all the way from Kyoto to design it, and feature numerous tropical plants and sophisticated landscaping techniques. The focus, besides the house, is the pond, shaped like the kanji for "heart." The massive camphor tree on the grounds is over 800 years old.
Hours: 9am-5pm, except December, February and March when it closes at 4:30pm. Closed Tuesday and Wednesday, on August 9, and the New Year holidays.
800 yen for adults, 400 yen for children, free up to age 10.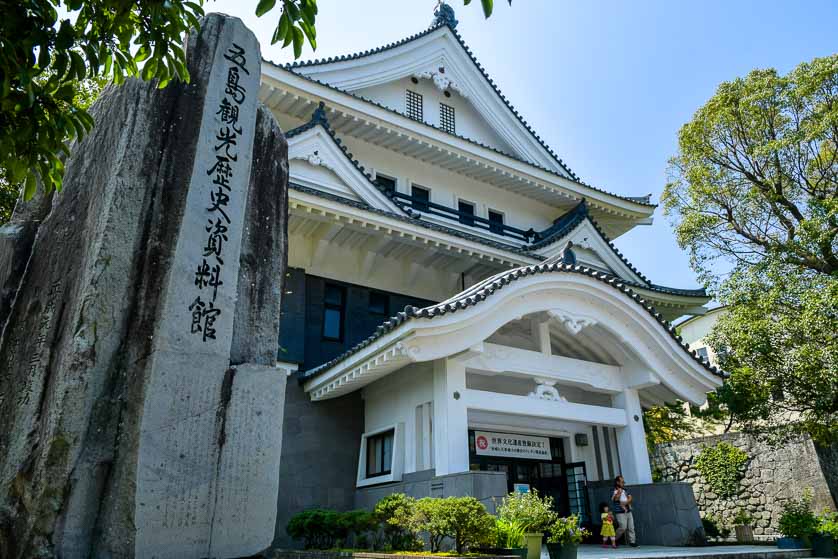 Goto Tourism and Historical Materials Museum
Goto Tourism and Historical Materials Museum
The Goto Tourism and Historical Materials Museum is on the north-eastern corner of Fukue Castle. Built in 1987, this three-story museum resembles the castle that once stood where Goto High School now is. The first floor is dedicated to the handicrafts, products and sights of the island, the second floor to its history, culture and religion, and the third floor to the "hidden Christians" that color the island's history, as well as to the island's annual celebrations and rituals, and agricultural and fishing implements.
Hours: 9am-5pm (last entry 4:30pm), except June-September when it closes at 6pm (last entry 5:30).
100 yen for up to high school age, 300 yen for adults. Allows admission, also, to the Nizou Yamamoto Museum.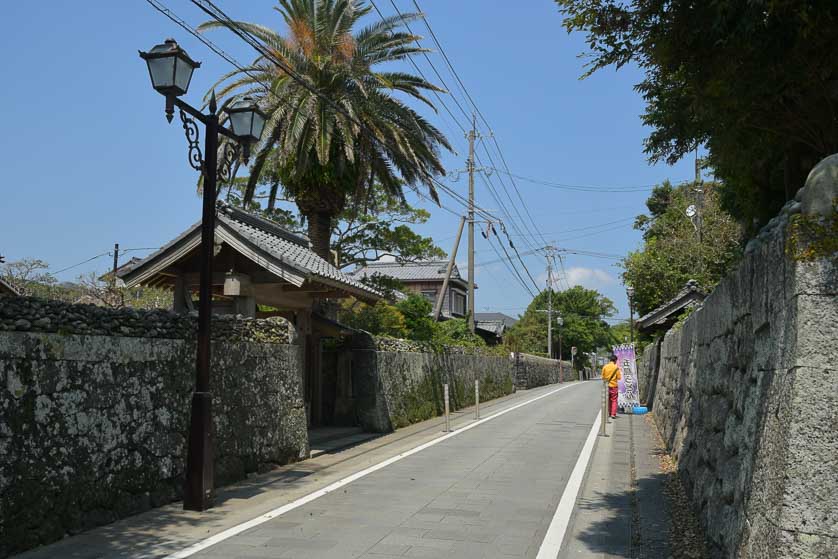 Samurai House Street (Bukeyashiki-dori), Fukue Island, Goto City
Samurai House Street (Bukeyashiki-dori)
Bukeyashi-dori, or Samurai House Street, is just five minutes' walk south of Ishida Castle. This picturesque street, lined with shoulder-high stone walls, preserves something of the area's neighboorhood from over a century ago when it was inhabited by members of the local warrior clan, the samurai. Several samurai houses, in close to their original state, can be visited for a small fee.
Among them is the Nizou Yamamoto Museum. Nizou Yamamoto (b.1953) is the art director for many Studio Ghibli films. He is a son of Fukue, having been born in Nonokirecho, just south of Fukue Airport. The museum features a series of many dozens of byobu panels, painted by Yamamoto, depicting Fukue's scenery.
9am-6pm. Closed Monday, except in July and August when open every day. 400 yen for adults, 200 yen for children. Free with a ticket to the Goto Tourism and Historical Materials Museum.
1-4 Ikedacho, Goto-shi, Nagasaki-ken 853-0018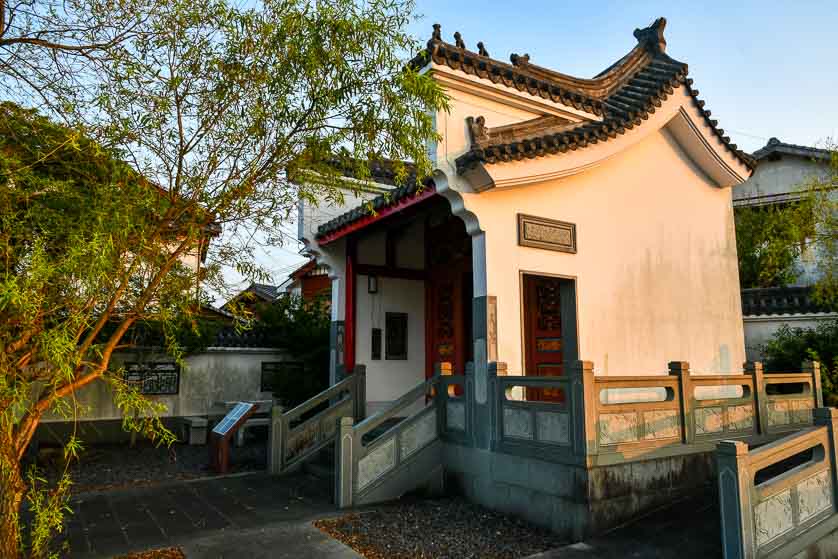 Minjindo Chinese Shrine, Fukue Island, Goto City
Minjindo Chinese Shrine
Minjindo Chinese Shrine is a small shrine that stands most probably where the island's 16th century Chinatown was. Traders from Ming China were welcomed here in the 1540s by the feudal lord of Fukue. They built a shrine which is believed to be where the present shrine stands. This new Minjindo, built in 1999, is the work of Chinese craftspersons.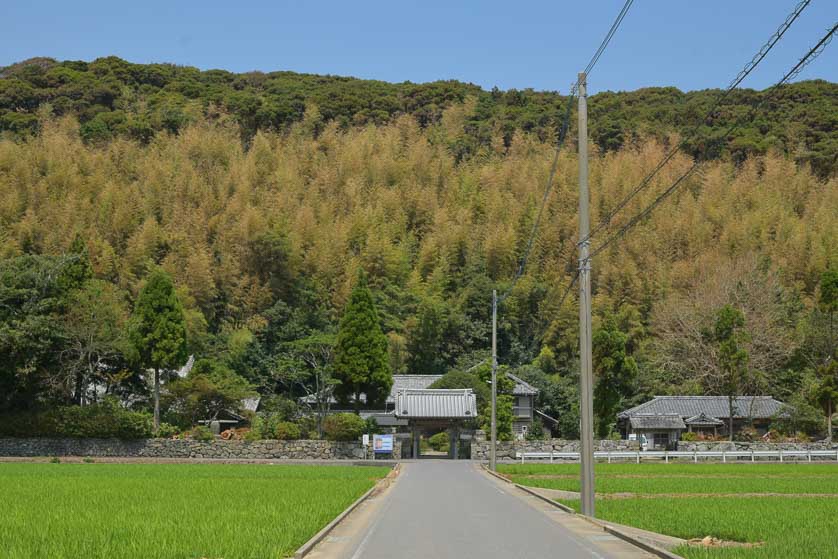 Myojoin Temple, Fukue Island, Goto City
Myojoin Temple
Myojoin Temple is the oldest wooden building on the island, having last been rebuilt in 1778. According to temple lore, this temple was visited by the great priest, Kukai, upon his return from study in China in the 9th century A.D. He prayed there that what he had learned there would benefit Japan, and the next morning a bright star (i.e., myojo) shone in the east as a sign his prayer had been heard. Myojoin's ceiling is decorated with 121 calligraphic paintings. Perhaps Myojoin's most picturesque feature is its setting, at the end of a long road amid a broad plain of rice paddies.
Incidentally, Kukai is celebrated on the deserted, very north-western, tip of Fukue Island, with a statue and monument bearing the words "Jihongai" (meaning "Departing the farthest end of Japan"), referencing the great priest's role as envoy to Tang dynasty China. Fukue was the last port of call before the crossing to China.
Tomie Jinya Stone Warehouse Ruin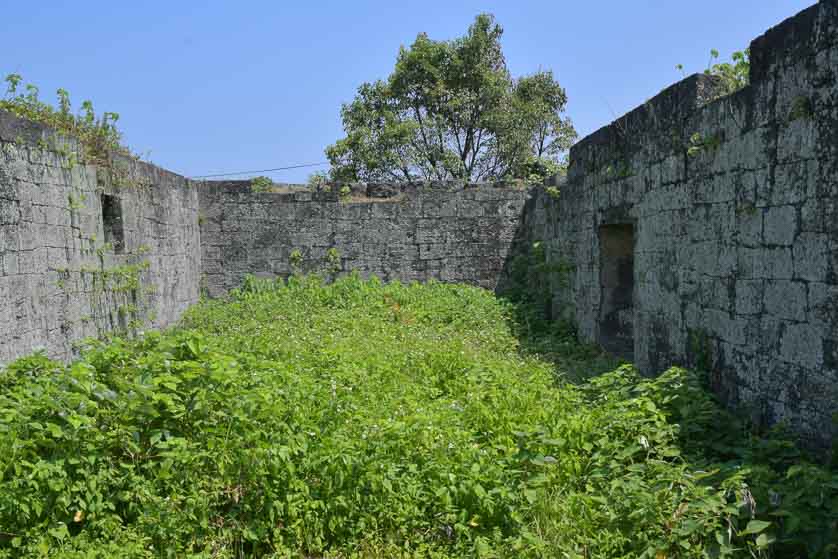 Tomie Jinya Stone Warehouse Ruin, Fukue Island, Goto City
The tiny port town of Tomie at the very south of Fukue Island has an interesting archeological site: the well-preserved ruins of a stone warehouse. This thick-walled, but now roofless, building was used by the local feudal lord to store tax rice. It is overgrown and atmospheric, and is right in the middle of the town, therefore easily accessible. Nevertheless, it is not that easy to locate, being down a small alley behind a row of houses, and it is not even all that well known to many locals, so you may have to ask for directions.
Onidake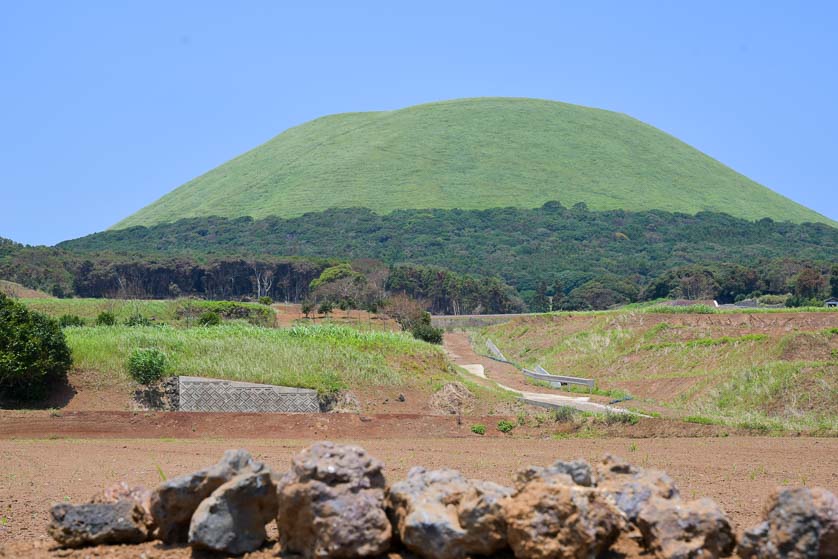 Onidake, Goto City
Onidake is an inactive volcano on Fukue - one of the many that created the island. This bald, 315-meter peak is a popular hiking spot and offers panoramic views of the island and the surrounding ocean from the top. Even from a distance, Onidake makes a good photo with its bold, bare contour. The peak is home to the Onidake Astronomical Observatory, which is open from 6pm to 10pm every evening, except over New Year, but which requires making a prior appointment by 5pm. (Tel. 0959 74 5469)
Abunze Visitors Center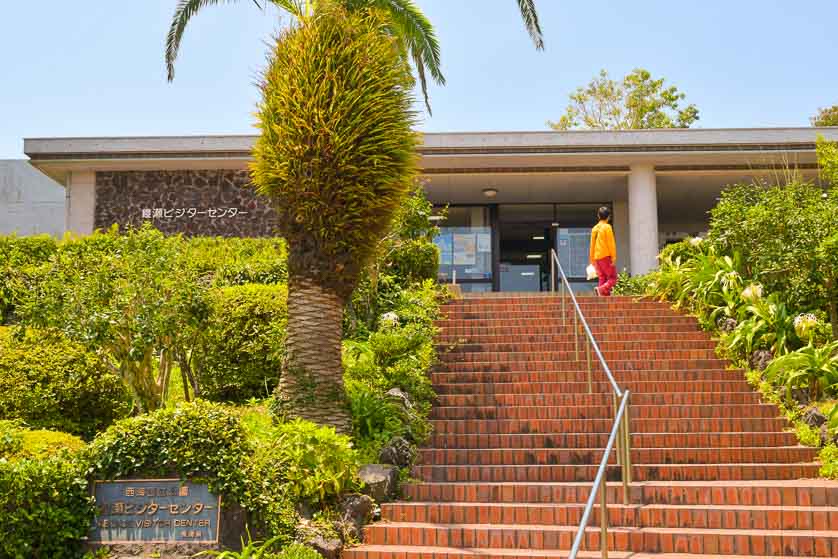 Abunze Visitors Center
Saikai National Park is located in the north-western part of Kyushu, and comprises over 400 islands of various sizes, including the Goto Archipelago. The Abunze Visitors Center is a Saikai National Park facility introducing the features of the Goto Islands by way of panel displays, videos and dioramas. It is located on the coast of Fukue, immediately south of Mt. Onidake.
Otosezaki Lighthouse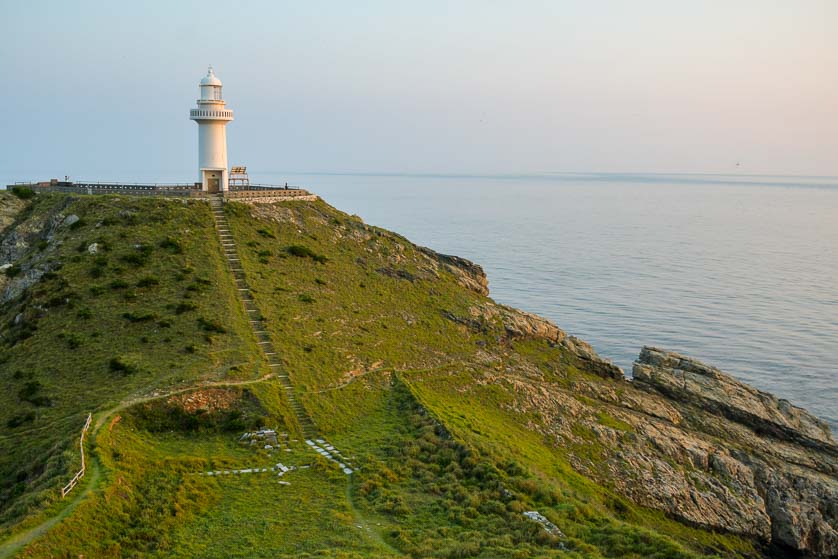 Otosezaki Lighthouse, Goto City
Otosezaki is a small pensinsula on the south-western corner of Fukue Island has had a lighthouse at its tip since 1879. The current lighthouse dates from 1971. The approach by road ends some way before the lighthouse, which requires a half-hour walk over a hill to reach. The view is memorable, and the white lighthouse on the bare rocky cape makes for a great photo. And for an even more impressive experience, time your visit for sunrise or sunset.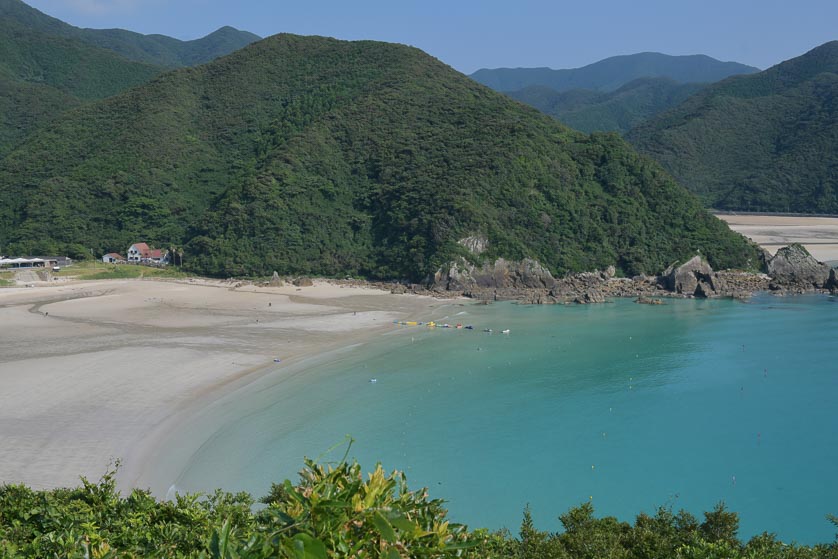 Takahama Beach, Fukue Island
Takahama Beach
Takahama Beach, on the west coast of Fukue, is one of the island's prime beauty spots, and indeed, one of Japan's finest white-sand beaches. Sagano Island can be seen in the distance over the clear blue ocean. Up behind the beach is a statue of the Gyoran Kannon, i.e., the Buddha of Fisherman, even holding a fish in its hand.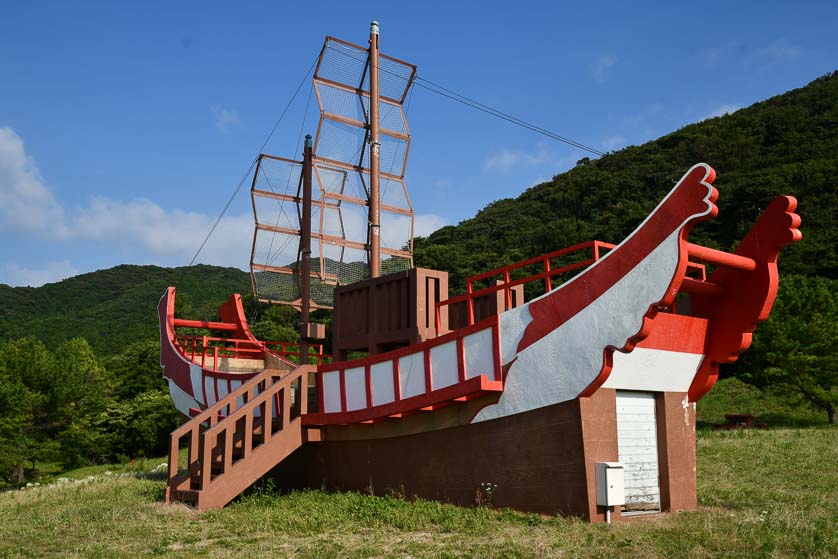 Shiraragahama Manyo Park, Fukue Island
Shiraragahama Manyo Park
Shiraragahama Manyo Park is one of the attractions in the small port settlement of Shiraragahama on Fukue Island's north-western coast. This small park is full of small hills and valleys, making it seem much bigger than it is. Enjoy half an hour wandering, checking out the striking lifesized crimson Japanese-style pirate ship and the adjacent roller slider for kids to play on. There is also a look-out for great views of the surrounds, including the ocean. On the other side of the harbor from the park is the she small, very unassuming Uchiori Catholic Church.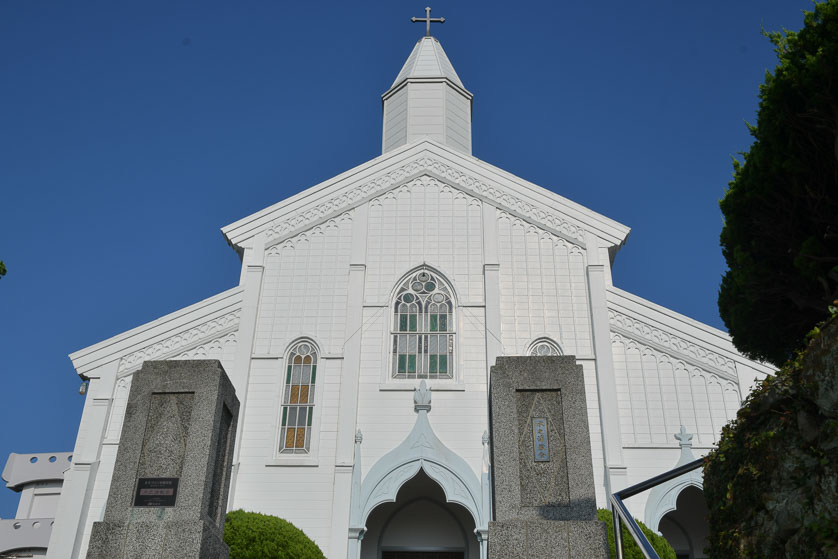 Mizunoura Catholic Church, Fukue Island
Mizunoura Catholic Church
Mizunoura Catholic Church is a short drive further east from Shiraragahama. This picturesque white church was originally built in 1880, but was rebuilt in 1938.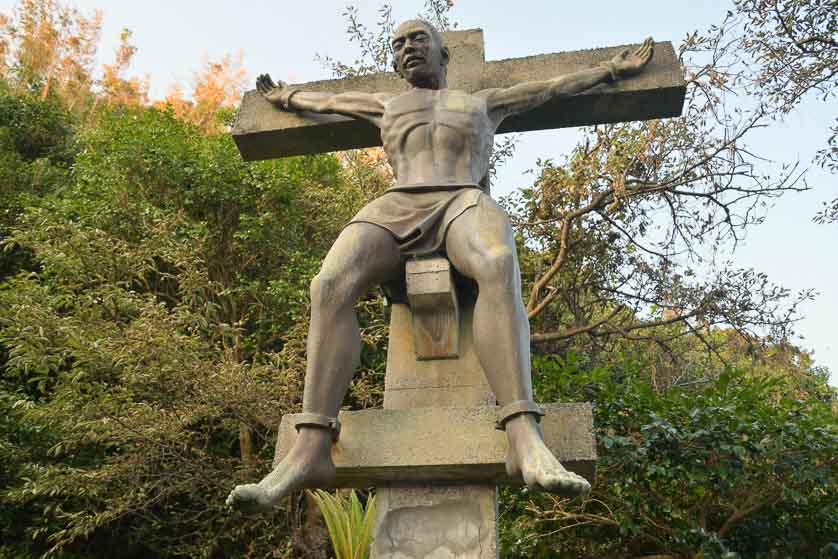 Statue of martyred Saint Johane, Dozaki Catholic Church Museum, Fukue Island
Dozaki Catholic Church Museum
Dozaki Catholic Church is a handsome red brick church by the sea in the north-east corner of the island. It is actually now a museum rather than a church, displaying paraphernalia from the pre-modern era of Japanese history when Christianity was banned. The current building dates from 1907, replacing the previous church there, built in 1873 by French missionaries.
Dozaki Catholic Church is attractive in both its architecture and setting. There is a garden with a memorable statue of the crucified St. Yohane Goto, one of Japan's 26 Martyrs. He is the island's native Christian saint, bearing the archipelago's name. His ashes are interred inside the building, having been repatriated from Macao.
Hours: 9am-5pm (until 4pm November to March) daily. Closed Dec 31 & Jan 1. 350 yen for adults.
Dozaki Catholic Church is about 10km from Fukue Port on Route 162. Or, take a Goto Bus bound for Togi, get off at Chutado (Chutamichi?) bus stop, and its a 15 minute walk from there. Accessing this sight from along the top of the island is not recommended, as the road is very narrow and treacherous.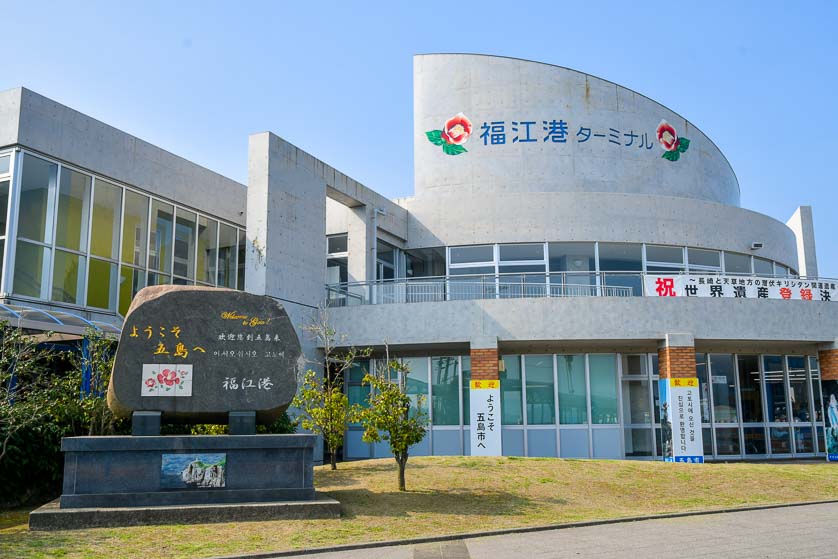 Fukue Ferry Terminal, Fukue Island
Access
Fukue can be accessed by ferry and airplane from Fukuoka or Nagasaki. By ferry, it is quicker (3 hours) and cheaper (c.2,000 yen) from Nagasaki than from Fukuoka (8 hours, c.5,000 yen). There is also a jetfoil from Nagasaki that takes about 90 minutes and costs about 5,000 yen.
There are three or four airplane flights a day: from Nagasaki, about 30 minutes and 12,000 yen; and from Fukuoka, about 40 minutes and 15,000 yen.
Getting Around
There are buses on Fukue Island, but to get the most out of your stay here, a rental car is recommended. Numerous rental car agencies operate at Goto Fukue Airport and the ferry terminal. Book well ahead.
Fukue Accommodation
The Katarankana Backpackers is one of Fukue's cheapest accommodation options and is located conveniently beside the airport. Both super-budget bunks in a dormitory as well as reasonably priced private rooms are available. Shared kitchen, TV lounge and bathroom. Free parking and Wi-Fi, and a legendarily friendly couple running the place. For singles or companions rather than families.
Other accommodation options include the three star Conne Hotel, the Serendip Hotel Goto and the Goto Conkana Kingdom. 
Fukue Island is the biggest island in the archipelago that is Goto City off the coast of Nagasaki Prefecture.
All the themes of the city