Heiwa Koen Peace Park Nagoya
Heiwa Koen: read a guide to Heiwa Koen (Peace Park) a large cemetery and expanse of green space in western Nagoya.
Heiwa Koen (Peace Park) 平和公園
Heiwa Koen located in the west of Nagoya to the north of Nagoya Zoo and Botanical Gardens is a large green space comprising a massive cemetery, woodland trails and ponds.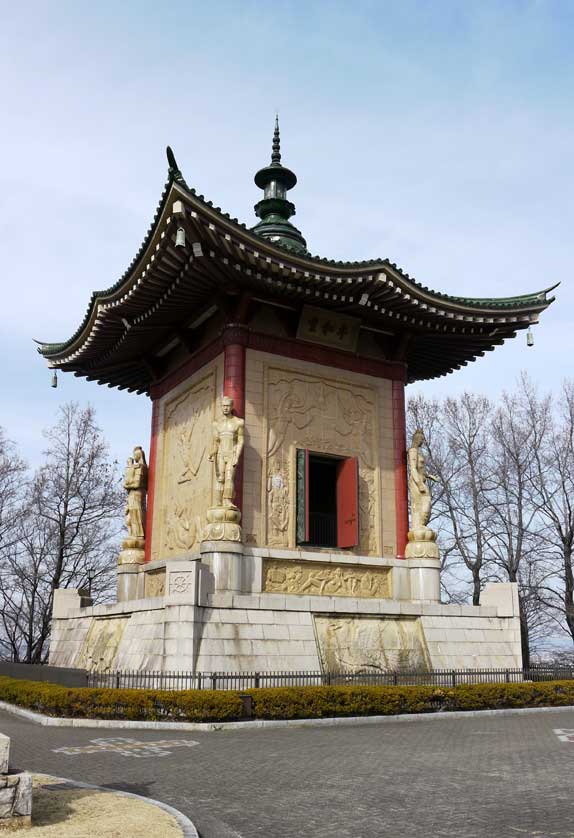 Heiwa-do, Heiwa Koen, Nagoya

Heiwa Koen Cemetery
When Nagoya was being rebuilt and redeveloped after World War II, around 190,000 graves from various temples in Nagoya were relocated to this area. The graves are arranged and marked as per the temples where they originally lay.
The tombs of Tokugawa Muneharu (1696-1764) and Chen Yuan Yun are also in the cemetery part of Heiwa Koen. Tokugawa Muneharu fell out of favor with the ruling Tokugawa shogun and was forced to step down as the feudal lord of Owari (present-day Nagoya). Chen Yuan Yun (1587-1671) was a Chinese writer, martial artist and scholar who spent his later life in Japan.
A number of memorials are also included in Heiwa Koen including the Kentai no to - for people who left their bodies for medical research, the Muen-zuka, a mound of graves for people who died without relatives to pay for and tend a grave, and a memorial to the over 5,000 victims of the 1959 Ise Bay Typhoon.
The cemetery also includes the graves of Russian (and Polish) POW's captured during the Russo-Japanese War of 1904–1905 as well as the grave markers of German soldiers taken prisoner during World War I.
Other momuments within Heiwa Koen are the Chinese-style Heiwa-do (Peace Temple) - a present from Nagoya's sister city of Nanjing in China and the Niji-no-to, a concrete tower that produces a rainbow effect on the day of the spring and autumn equinoxes.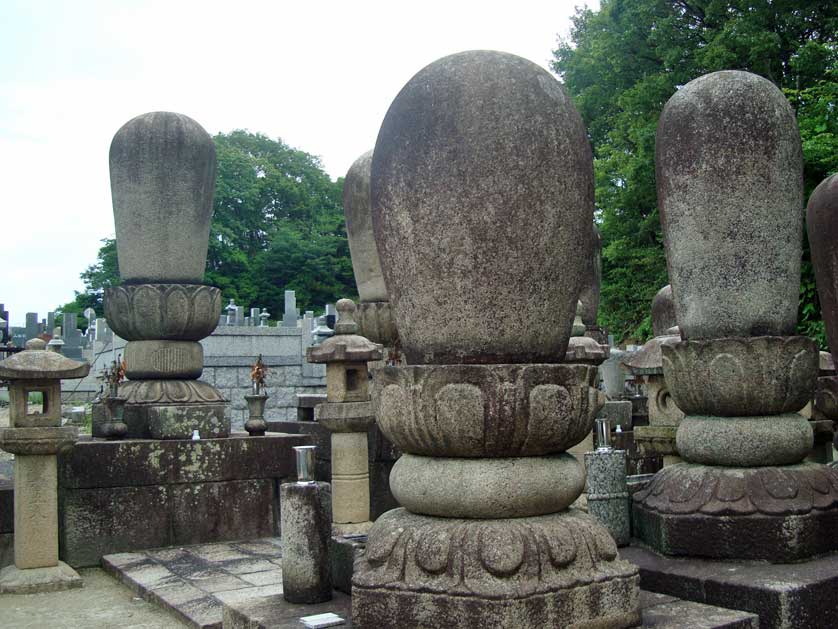 Heiwa Koen Cemetery, Nagoya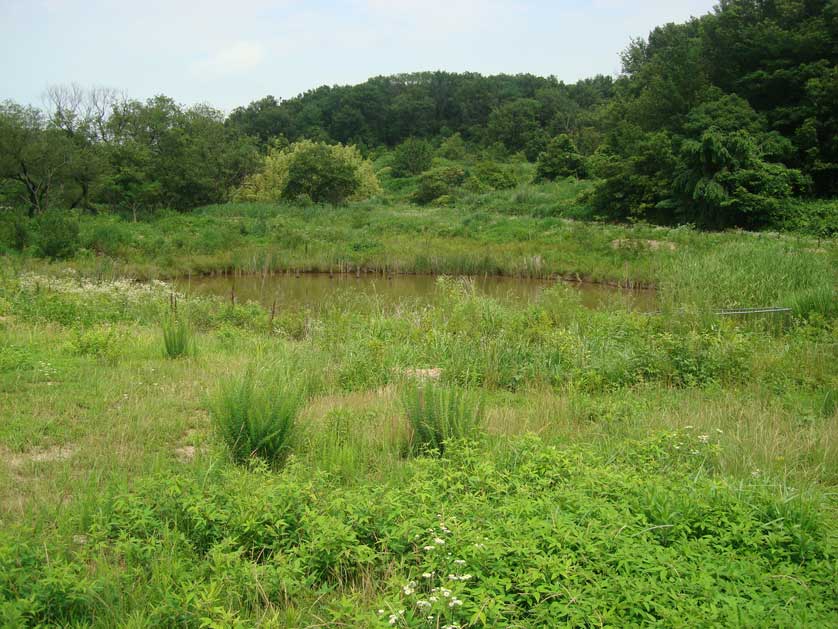 Heiwa Koen green spaces

Heiwa Koen Green Space
Situated mainly south and west of the cemetery are large areas of open green space containing marked woodland trails, the Nekogahora Lake (a large resevoir built in 1664 by Tokugawa Mitsutomo - the second lord of the Owari domain), now a popular fishing spot and Metasequoia Hiroba - an area containing Metasequoia trees (dawn redwood), known as a particularly ancient species.
This part of Heiwa Koen is home to pine, birch, oak and beech trees making it a haven for many species of birds.
Heiwa Koen also has over 2,500 cherry trees making it a popular place to visit in the hanami season in early spring.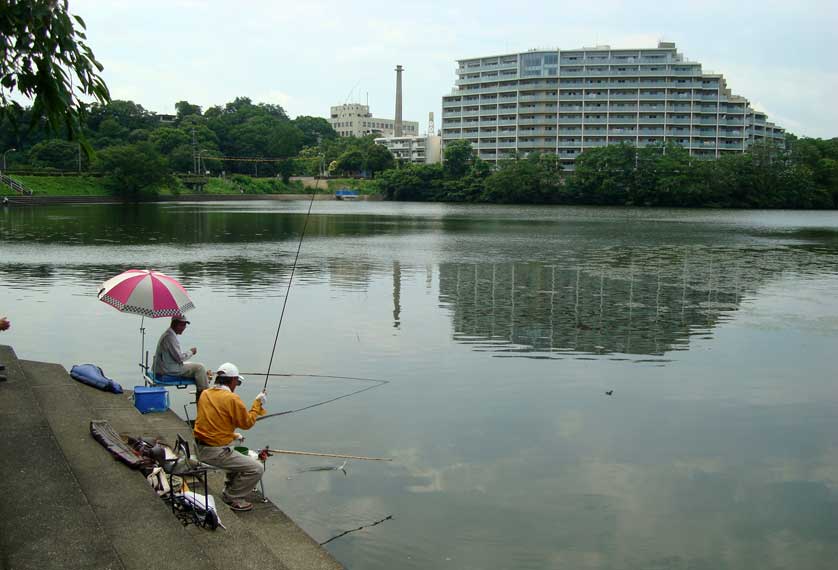 Nekogahora-ike, Nekogahora Lake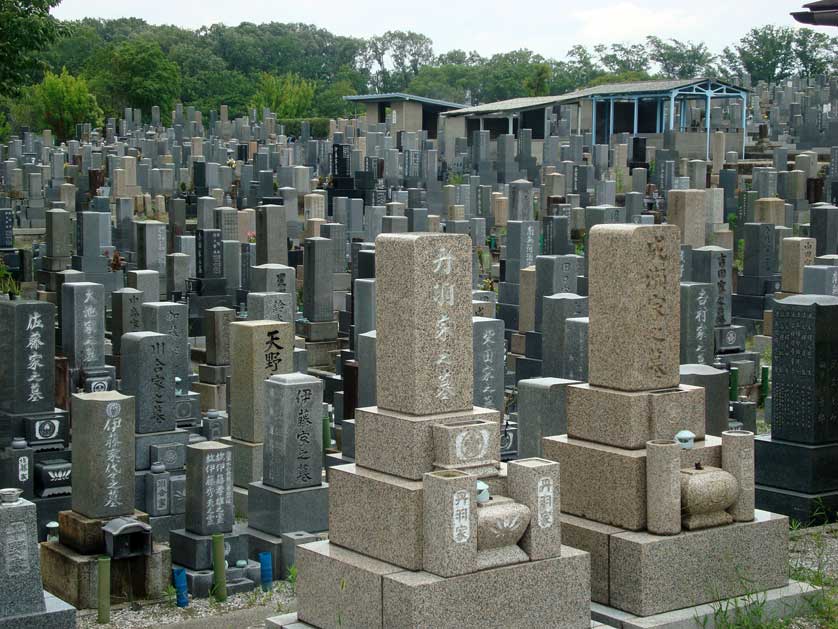 Heiwa Koen, Nagoya

Access - how to get to Heiwa Koen
From Jiyugaoka Station on the Meijo Line of the Nagoya subway (one stop north of Motoyama) take a local bus to Heiwa Koen.
Alternatively walk north from Higashiyama Koen or take a local bus from Hoshigaoka Station - both on the Higashiyama Line direct from Nagoya Station.
Book Hotel Accommodation in Nagoya Japan Near Heiwa Park
All the themes of the city