Takigi Noh
薪能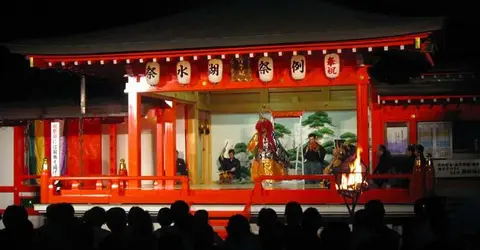 Scenes torchlight
One night of May in Nara. The breath of flutes and the dull pulse of drums set the tempo. The torches bathe the actors in a golden glow. Takigi Noh exalts the sublime art of Noh theater.
The performance begins at nightfall and continues with only the torches as lighting. Born in 869 in at Kofukuji Temple where it has been held every year since, the festival celebrates the arrival of the "Takigi" sacred fuel wood. Plays are presented for two consecutive nights in a supernatural atmosphere.
It is important to arrive before dusk to be seated close enough to the stage. Prefer the Friday night performance to that of Saturday for the larger number of places available.
All the themes of the city