Takayama Matsuri
高山祭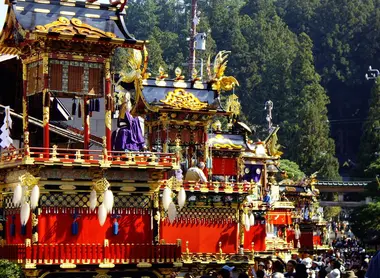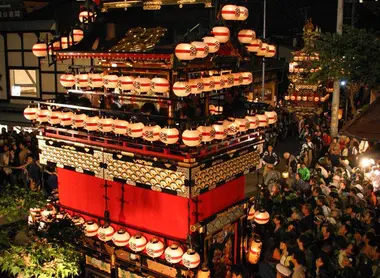 One of the top festivals in Japan
Renowned as one of the three most beautiful festivals in Japan along with the Gion Matsuri in Kyoto and the Chichibu Matsuri in Saitama Prefecture, Takayama Matsuri is held twice a year.
The streets fill up with noise, cries, crowds and celebrations. The shops make huge sales and compete with crowded restaurants,  sales assistants at stands are overwhelmed with customers and the yatai stalls - several-storied floats - are visited by a few lucky or curious visitors who stumble across them. 
Two festivals are held in spring and autumn in the eastern part of the city. On April 14th and 15th, processions go through the southeastern area around Hie-jinja Shrine, while on October 9th and 10th it is the turn of Sakurayama Hachiman-gu, a Shrine northeast of Takayama to watch over the Festival.
The parades of floats fill the city for the two days, unless the weather is not permitting, then the yatai are displayed in galleries and covered areas. At varying times and places, special parades celebrate the other stars of Takayama Matsuri, the karakuri ningyo, intricately crafted puppets, some of which are operated by more than eight technicians, with eight strings each!
Another important procession is the Mikoshi Parade, where alone and majestic, a small gold-colored portable shrine transports a kami (Shinto deity) who leaves his sacred precinct only in the spring and autumn.
The highlight of the show, the yomatsuri, is held on April 14th and October 9th, from 6pm to 9pm, floats parade in the night, the climax of the festival, a magic moment for the tens of thousands of visitors who have come, often especially, to the old, but festive Takayama.
All the themes of the city