Kasuga Taisha
春日大社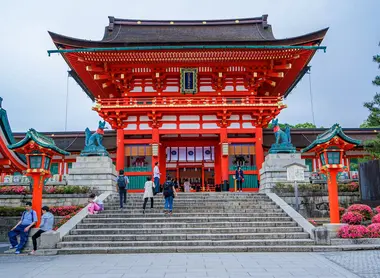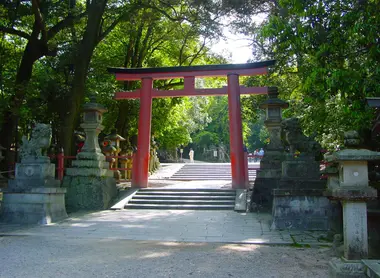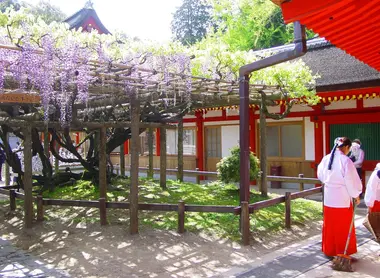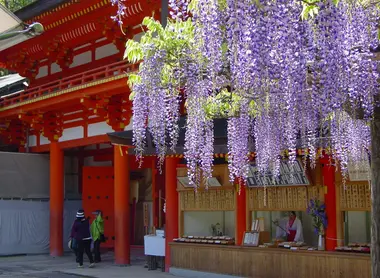 Do not take the deer for lanterns!
West of Nara Park and Kofukuji and close to Todaiji Temple and Wakakusayama, Kasuga Taisha and the nearby Kasugayama Primeval Forest are designated as a joint UNESCO World Heritage Site.
Kasuga Taisha Shrine, Nara
History of Kasuga Taisha
Founded in 768, Kasuga Taisha served as the tutelary shrine of the powerful Fujiwara family, who were Japan's most powerful clan during the Nara and Heian periods, providing many regents to young emperors and marrying their daughters in to the imperial line.
As with the Ise Grand Shrine in Mie, Kasuga Shrine was rebuilt every 20 years, though this practice was finally discontinued at the end of the Edo Period.
The four shrine buildings of the inner sanctum of Kasuga Taisha enshrine the kami Futsunushi-no-mikoto and Takemikazuchi-no-mikoto as well as Amenokoyane-no-mikoto, a mythical ancestor of the Fujiwara and his consort Hime-Okama.
Kasuga Taisha Buildings
Kasuga Taisha includes the four shrines of the main inner sanctum, which has an admission charge to enter, and a number of sub-shrines scattered through the surrounding woodlands, which are free to enter.
The inner shrine of Kasuga Taisha consists of four separate shrines, surrounded by a gallery, dedicated to the kami listed above and are painted in bright vermilion. The eaves of the buildings are decorated with as many as a thousand bronze hanging lanterns. The sloping roofs are made from cypress bark and overhang the structures in an eponymous style of architecture known as kasuga-zukuri.
Kasuga Taisha is known for its stone lanterns and there are believed to be over 3,000 of them in the shrine precincts, many of them evocatively covered in moss. They are lit twice a year during the nights of the Mandoro festivals in February and August.
The Heiden (Offering Hall) and Naoraiden (Entertainment Hall) just outside the inner sanctum date from 1650.
The sub-shrines of Kasuga Taisha include Akachichi Shirochichi Shrine, a shrine for prayers for curing women's diseases and Wakamiya Shrine known for its dance festival, the On-Matsuri, held over 4 days in December around 15th-18th with performances of kagura enacted by shrine maidens or miko and a procession in historical costumes. Meoto Daikokusha, enshrines married deities and is popular with couples hoping for a happy marriage.
Kasuga Taisha's Homotsuden Treasure House near the main complex displays the historical relics of the shrine including two large, decorated drums, mirrors, swords, and bows and arrows displayed during the Kasuga Matsuri.
Kasuga Matsuri aka Monkey Festival held on March 13 is the main festival of the shrine and features a colorful parade and bugaku and gagaku dance performances.
The Kasuga Taisha Shinen Manyo Botanical Garden grows around 250 plants and flowers mentioned in the Manyoshu, Japan's oldest collection of poetry. The garden is particularly known for its wisteria in season.
---
Address, timetable & access
Address

Phone

+81 (0)74 227 2114.

Timetable

Kasuga Taisha is east of Kofukuji and the Nara National Museum in Nara Park and a short walk south east from the Nigatsudo and Sangatsudo halls of Todaiji.Kasuga Taisha is a 30 minute walk from Kintetsu Nara Station and around a 45 minute walk from JR Nara Station.

Price

500 yen for the main shrine. Entrance fee to the botanical garden: 500 yen for adults and 250 yen for children.

Access

April - September 6 am-6 pm; October - March: 6.30 am-5 pm; Main Sanctuary 8 am-4 pm; Homotsuden Treasure House & Shinen Manyo Botanical Garden 9 am-5 pm
All the themes of the city