The Nara Top Ten
奈良のトップ10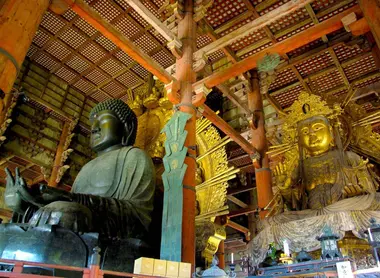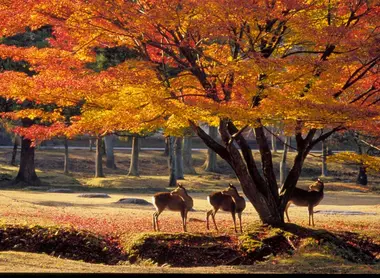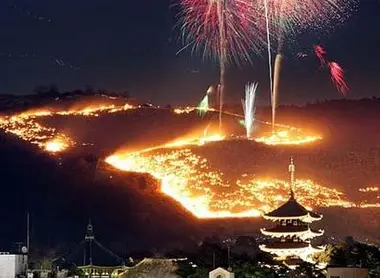 Tips from Sayoko, our local Travel Angel
Unmissable places, temples, gardens and museums: Sayoko our Travel Angel in Nara, shares her top ten things to see and do.
The first permanent capital of Japan, from 710 to 794, and the seat of Buddhism, Nara is the soul of Japan. Here's a selection of some of the best things to see:
Todai-ji Temple, the landmark of the city, with its majestic Buddha statue, more than fifteen meters high.
On the way to the Todai-ji, take the opportunity to make a detour to Isui-en garden, a quiet green oasis where water is in the spotlight.
Nara Park and its famous freely-roaming deer, who have become symbols of the city!
Kofuku-ji, a monastery of the Fujiwara family and also a museum of Japanese sacred sculpture.
The old commercial quarter of Naramachi and traditional machiya houses, for a walk in the Japan of yesteryear.
Kasuga Taisha shrine, known for its 3,000 lanterns, and where deer are considered the messengers of the kami (Shinto gods).
Nara is a festive city, so don't miss the many festivals throughout the year, including Setsubun Mantoro, the Lantern Festival, held each February 3 at Kasuga Taisha shrine.
Nara National Museum: a thousand years of history is brought together here, including the largest collection of Buddhist statues in Japan, and an extensive library.
The panoramic view from Mount Wakakusa. If you're in Nara at the end of January, don't miss the impressive Yamayaki festival, the "burning mountain" festival!
Discover our Nara exploration day tour with our local Travel Angel.
All the themes of the city