Okayama Castle
岡山城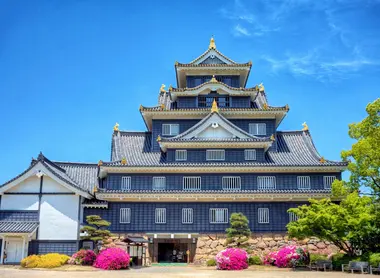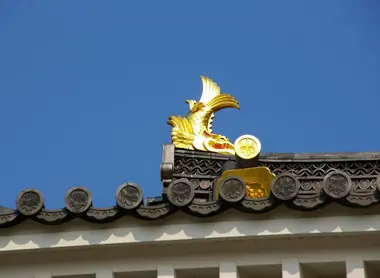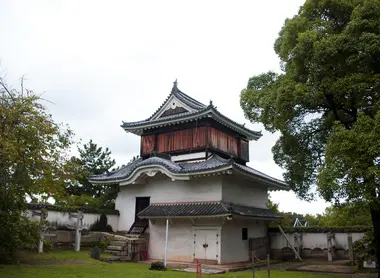 The Golden Crow
On the heights of Okayama stands a large castle with a tumultuous history, the "crow castle" Okayama-jo.
The proud Okayama Castle is nicknamed "the crow" by the Japanese because of its black painted exterior. Ukita Naoie, the daimyo who commissioned it, would have chosen this color in particular to thumb his nose at Himeji Castle and its immaculate white. Note that "Crow Castle" is also the nickname of Matsumoto Castle.
The construction of this castle was very laborious, starting in 1573, it was only completed by the son of his sponsor, Hideie, in 1597, almost twenty-four years after it was commissioned.
The latter made the fatal mistake to join the Toyotomi clan in the battle of Sekigawara. Captured, he was exiled and his castle offered to Kobayakawa Hideaki, who himself died two years later. The castle finally came into the hands of the Ikeda clan.
Destruction, reconstruction
After being abandoned by the government which had acquired it in the late nineteenth century, it was bombed and completely destroyed during the war, but completely rebuilt in 1966. To celebrate the four hundredth anniversary of its construction in 1996, golden Shachihoko, gargoyles in the shape of fish that adorn the roofs of Japanese castles, were added to the building. Their color was not chosen at random because it is supposed to recall the golden tiles that adorned the roof of the tower at the time of Hideie. These golden tiles also earned the Okayama Castle the nickname of "golden crow".
The six-storey building offers samurai armor exhibitions  and items from different eras. The interior is quite modern (there is an elevator) and concreted, but not disappointing as the view over the city and the Korakuen garden on the top floor is worth a visit.
Moon Tower 
The walk in the castle park is very nice. You can see the tsukimi yagura, literally "tower where one can see the moon." Built in 1620, it is the only original part left intact after the war. The Asahi River, which serves as a moat to the castle is a beautiful walk during the hanami season thanks to the numerous cherry and plum trees planted along its banks. There are also other refurbished buildings and stone foundations which give a good overview of the area.
---
Address, timetable & access
All the themes of the city