Gay Osaka
Osaka gay and lesbian centers, bars and clubs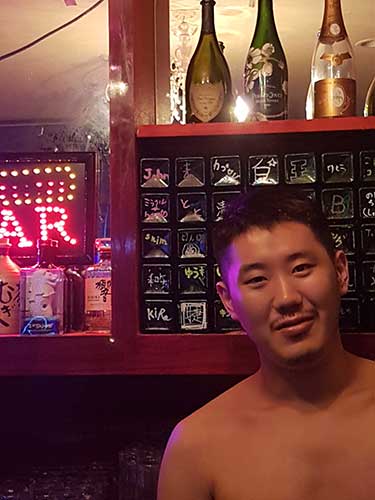 Gay Osaka
Osaka is a city renowned for being friendly and saying what it thinks. The Osaka gay and lesbian scene is imbued with the same spirit, and, depending on the time and place and person, you can really kick your heels up in Osaka and have a ball. The Osaka gay scene has everything from the quieter bars for the older set (and the noisier ones!) to full-on clubbing for those who can still handle a 7am bedtime.
Osaka Gay Lesbian Help and Community
Osaka does not have a dedicated gay, lesbian, bisexual, transgender community center, but any living-related inquiries that concern your sexuality can be addressed to the Asia-Pacific Human Rights Information Center (Hurights Osaka)
3F piaNPO 2-8-24 Chikko, Minato-ku, Osaka 552-0021 Japan Tel. 06 6577 3578, Fax 06 6577 3583
Hurights Osaka website.
Google Map to Asia-Pacific Human Rights Information Center
Osaka gay bars
For most people, especially (but not exclusively) if they are under 40, gay means "Doyama" in Osaka. This is the biggest and most concentrated collection of all things gay in Osaka and the region at large, and it is conveniently located in a part of the Umeda/Osaka Station area. Primarily geared to the older set, there are gay bars sprinkling the landscapes of Namba/Shinsaibashi, with an even older crowd in the Shin-sekai area.
There are a lot of gay bars in different parts of Osaka. The biggest and most visible concentration of gay and lesbian bars and clubs is in the Doyama area. There is also a sizable gay bar area in Shinsekai, near Tennoji, in the south of Osaka.
Doyamacho Gay Bars and Clubs
Doyama has something for everyone, be it a cozy bar, bustling club or drag show. This entertainment district is not completely gay: Straight bars peacefully co-exist alongside the rainbow flag bedecked in these parts. Busiest on weekends, Doyama's still worth visiting on weekdays. We've got a few suggestions for you to start with, spotlighting places where foreigners are welcome and at least a bit of English is spoken.
Bar Bacchus
Bar Bacchus may not be what it once was in terms of foreigner hangouts, but it's still got an outgoing bartender with fluent English who's out to make you feel right at home, and will give you advice of things to see and do in Doyama and beyond as well. Mixed age crowd, but "crowd" is a relative term, since only about ten people can comfortably enjoy themselves here. Hours: 8.00pm-2am, open until later on Saturdays and days before public holidays. Closed Sunday.
Address: 3F, Daini-shouei Kaikan, 6-14 Doyama-cho, Kita-ku, Osaka 530-0027. Tel. 06 6361 2366.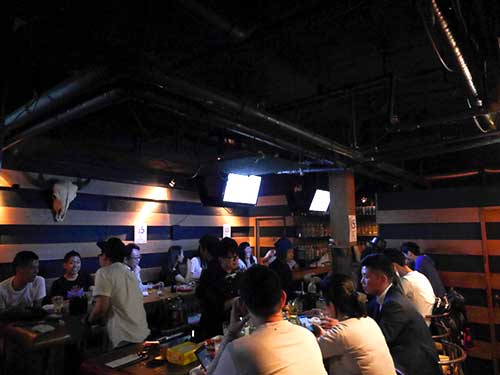 J's Osaka
J's Osaka
J's Osaka is a horseshoe shaped bar for optimal socialization, J's (formerly Cafe de Jumpin' Jumpin') has been making gay men happy for over fifteen years. Women and non-gay customers also welcome, but the core clientele are in their 20s and 30s and are more into the pretty boy than sporty or bear type scene. Drinks start at 800 yen, and there is no cover charge.
Hours: 7pm till late, every day.
Address: B1F, Pearl Leisure Building, 16-4 Doyama-cho, Kita-ku,Osaka. Tel. 06 6363 3367.
Explosion
Explosion is big and fun, and has an eclectic crowd you can mingle with on or off the dance floor. Saturday is always event night, so expect a theme and a cover, but most other nights Explosion is just a shot bar. Friday nights now offer a 3,000 yen all-you-can-drink option from club open to close! If you are looking for a big, mainstream gay club with music to dance to, this is the place!
Hours: 8pm-4am Sun-Fri, 9pm-5am Sat.
B1, 8-23 Sanyo Kaikan Bldg., Doyamacho, Kita-ku, Osaka, Tel. 06 6312 5003.
FrenZ-FrenZY
FrenZ-FrenZY is owned by non-Japanese, which helps make it a very foreigner-friendly gay bar. It's also the most foreigner-packed bar in Doyama, with well over half the customers often being non-Japanese. Expect groovy lighting, strong drinks at reasonable prices, and, on weekends, crowds so thick you can barely move. Free karaoke, internet and wifi. DJs some Saturdays, but kicking music regardless!
Hours: Opens 8pm to 1am Sun/Mon, 2am Tue/Wed/Thu, 3am Fri, 5am Sat.
Address: 1F, Nippo Higashi Hankyu Leisure Building, 8-14 Kamiyama-Cho, Kita-ku, Osaka. Tel. 06 6311 1386.
Google Map to FrenZ-FrenZY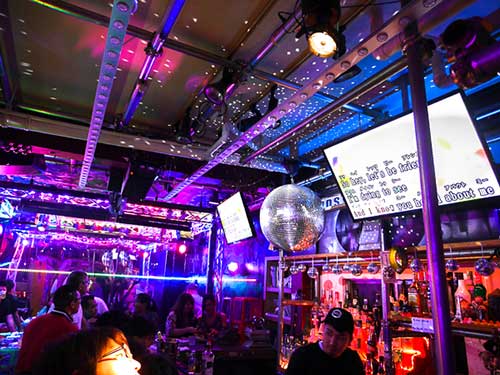 Grandslam
Grandslam
Grandslam features a somewhat airy space that is complimented by an elaborate karaoke setup complete with light show and fog maker. The staff are super welcoming and all-around friendly, and the prices are reasonable, if not rock-bottom: 1000 yen for the first drink "set" (includes some snacks), with successive drinks priced at starting from 700 yen. Mixed crowd, with everything from their 20s to 60s. With seven years under their belt, Grandslam has a following, and for good reason.
Hours: 9pm-5am, closed Mondays.
Address: 1F, Dai-Ni Shoei Kaikan, 6-14 Doyama-cho, Kita-ku,Osaka. Tel. 06-6362-8077.
Jack in the Box
Jack in the Box is a Western-style gay bar/club atmosphere, functioning purely as an event space, and only Fridays through Sundays. Check them out online or just walk by and see the posters to learn what's going on that night.
Hours: 9pm-5am, closed Monday through Thursday
Address: B1F, Daikichi Building, 12-12, Doyama-cho, Kita-ku, Osaka 530-0027. Tel. 06 6361 3271.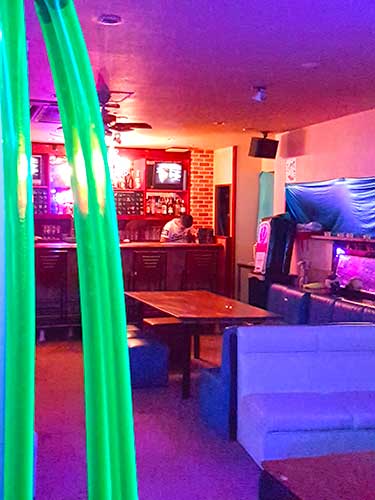 King
King
King has plenty of space to comfortably mingle, which is not often the case at gay bars in Japan. Seating too: at the bar, in loungy enclaves, and in settings even better suited for a grand mingle, allows you to kick back and enjoy things exactly as you like. King keeps their drinks menu simple and affordable, which naturally keeps the royal subjects pleased. There is no cover charge, and drinks are 500 yen each. Be it a mixed drink, a beer, or something a little more Japanese, King helps you get your gay on for only 500 yen a pop.
Hours:
Address: 2F, 10-11 H&I Bldg, Doyamacho, Kita-ku, Osaka 530-0027
Hours: weekdays 8pm - 5am (closed Monday) / weekends 5pm-5am
K's Hills
K's Hills is a classic, smallish gay bar where the staff is attentive, the drinks well made, and the vibe fun but refined. Seventy percent of the customers are regulars, but that shouldn't stop you from enjoying a drink with people who are not simply out to hook up. Unless that is what you were looking for, in which case it should stop you! Your first drink "set" (snack included) will run you 1,600 yen, with additional drinks in the 700 yen and up range. Various types of guys come, though most are in their 20s to 30s. Women are only allowed on weekdays, and even then only when they are accompanied by a man. Karaoke available.
Hours: 8pm-4am Mon-Fri, later on Sat and days before public holidays. Open 7 days a week.
Address: 5F, Nakadori Building, 16-12 Doyama-cho, Kita-ku, Osaka 530-0027. Tel. 06 6362 6615.
Physique Pride Osaka
Physique Pride Osaka is great for a quick drink since there is no cover charge and drinks start at 700 yen. If the vibe (mostly gay men in their 20s to 40s) strikes a chord with you, you may want to stay for more! The bartender speaks English well, which isn't surprising considering that only about 1/3 of the customers are Japanese, with another 1/3 being other Asians, and the other 1/3 Caucasian.
Hours: 8pm to midnight of weeknights, later on weekends. Closed Tuesdays.
Address: 1F, 8-23 Sanyo Kaikan, Osaka, Japan 530-0027. Tel. 06 6361 2430.
Google Map to Physique Pride Osaka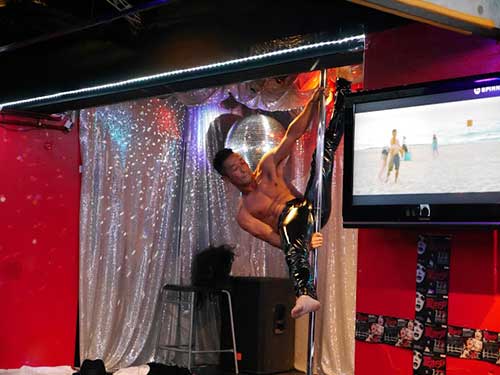 Village
Village
Village is run by the godfather of gay in Osaka, and this expansive club has not just history, but energy as well. Mixed ages, sexes, and orientations, it's a place for just about everyone! Saturday nights feature a popular drag show at 11 or so, with another one at around 2am. 1,000 yen for your first drink, and then 700 after that.
Hours: 8pm-5am daily.
Address: 2F, 10-3 Doyama-cho, Kita-ku, Osaka 530-0027. Tel. 06-6364-7123.
Gay Bars South of Doyama
While Umeda's Doyama area is where gay most brightly shines, there is indeed life beyond. Best if you speak a bit of Japanese when you venture into these places, but hey, a smile and some simple English will also work just fine. All the places listed here are welcoming of foreigners regardless of English ability.
The following is a few bars to start your exploration with. Once you get friendly with the patrons or bartenders at one of these places, you are bound to be told of other options in the area. Namba is about 10 minutes south of Umeda (where Doyama is) by subway, and then Shin-sekai, distinguished by the landmark Tsutenkaku Tower, is another 5 minutes south of that.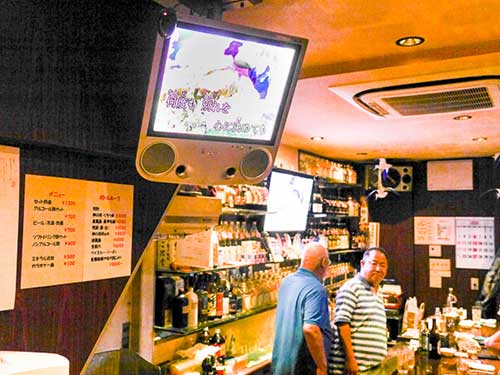 Hotei
Namba/Shinsaibashi
Namba (think "food") and Shinsaibashi (think "fashion") are adjacent areas toward the south of Osaka that are every bit as bustling as the main Umeda district that is home to Doyama-cho with the main concentration of LGBTQ bars, and therefore has its own gay/lesbian bar scene, albeit a little smaller in scale. Typical of anywhere outside Doyama-cho, customers tend to be on the mature side.
Ken's Club
Ken's Club is for if you like your drinks with home-style food, aquariums, and karaoke. Ken's Club is a little slice of hospitality heaven. The premises are small, holding only around 7 people, but it's going to be a great time with your newly made friends that will probably be in their upper 30s to upper 50s. 11 years running, so they must be doing something right.
Hours: 7pm-1am, closed Sundays and Mondays.
Address: GT Building 2F, 4-3-16 Namba, Chuo-ku, Osaka. Tel: 06 4396 1125.
Garcon Cercle
The name Garcon Cercle, suggestive as it may sound, refers to the close-knit atmosphere of this bar that, with a capacity of just seven people, means there's nowhere to hide. This is a good thing, because there's plenty of good conversation to be had. The vibe is relaxed, welcoming, but still very polite. Hospitality like this doesn't come cheap: Your first drink "set" will run 1,800 yen, with follow-up drinks starting at 800 yen.
Hours: 8pm to 5am daily.
Address: GT Building 3F, 4-3-16 Namba, Chuo-ku, Osaka
Tel: 06 6643 0541.
Shin-Sekai
Shin-sekai in the south of Osaka is the area surrounding that classic old landmark of Osaka, Tsutenkaku Tower. Shin-Sekai's reputation is for unrefined realness, which is what you'll also find in the gay bars here. Don't, however, expect that youthful a scene!
Hotei is a comfortable karaoke bar strictly for the older set, i.e. over 40s, especially short-haired, stocky, "sporty" types. Japanese language ability preferred, but not required. Expect the place to be full by 7pm, because the older set is the earlier set.
Hours: 5pm-midnight. Closed Wednesday.
Address: 3-1-6 Ebisu-higashi, Naniwa-ku, Osaka 556-0002. Tel. 06 6647 5306.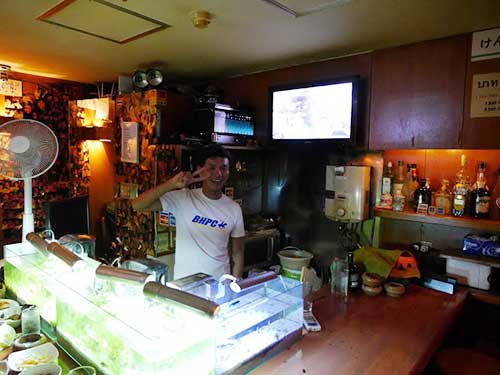 Ken's Club
Related Articles
Check out coverage here of Tokyo Lesbian and Gay Parades
Read more about gay Japan here
Map of Osaka's Doyama-cho
Read a Gay Guide to Gay and Lesbian Community Centers, Bars, Clubs, Stores, Cinemas in Osaka by Japan Visitor.
All the themes of the city