Yosakoi Soran Matsuri Festival
よさこいソーラン祭り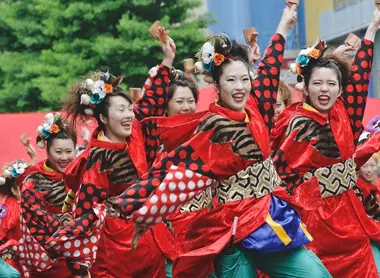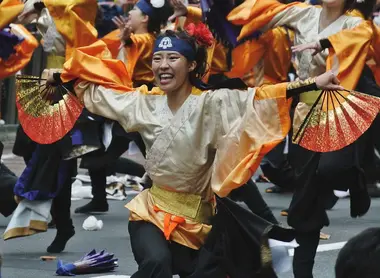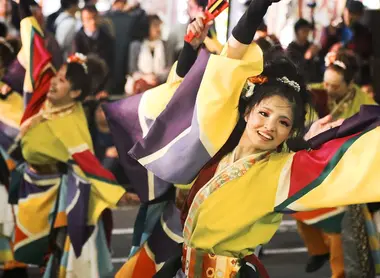 Traditional dance in Sapporo
The Yosakoi festival takes place every year, in June, in the city of Sapporo on the island of Hokkaido. Combining dance and traditional music, it brings together roughly 30,000 dancers dressed in traditional costumes with faces painted in multicolored makeup.
Festivals are an important part of Japanese life, punctuating their daily life throughout the year, because in Japan, festivals, or matsuri , do not take place only in summer.
The Yosakoi Soran Festival takes place every year in the beginning of June (the last day of the festival always being the second Sunday of the month), in Sapporo, the main city of the island of Hokkaido, the northernmost of the four main islands of the archipelago.
A Festival That Makes The City Center Vibrate
If Sapporo is adorned with a beautiful layer of white snow during the winter months, it is in the middle of a green nature that the Yosakoi Soran festival takes place. And more particularly around two main points: Menuki Street , one of the main streets of the city, and Odori Park , place where the snow festival takes place every winter.
See also: Sapporo Snow Festival
The festival started in the city of Sapporo in 1992 , but its roots are much older, as the festival has existed in Kochi (Shikoku) prefecture for much longer.
A Mix Of Percussions And Folkloric Songs
Its specificity? Combining music , through the use of a Yosakoi percussion instrument called a naruko , and a Hokkaido folk song , referred to as Soran bushi . Soran bushi is an ancient type of song said to have been invented by northern fishermen. Very often, the dance steps associated with the Soran bushi mimic fishermen pulling nets!
As for the Yosakoi, it is a modern interpretation of the Awa Odori dance. The dancers punctuate their steps with naruko , small wooden clappers that the Japanese initially use to keep birds away from the vegetable garden or rice fields.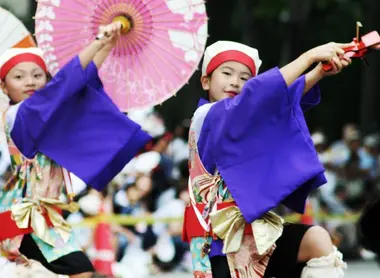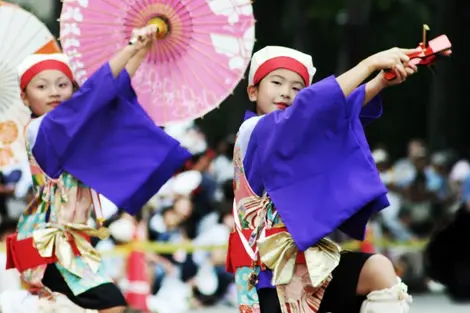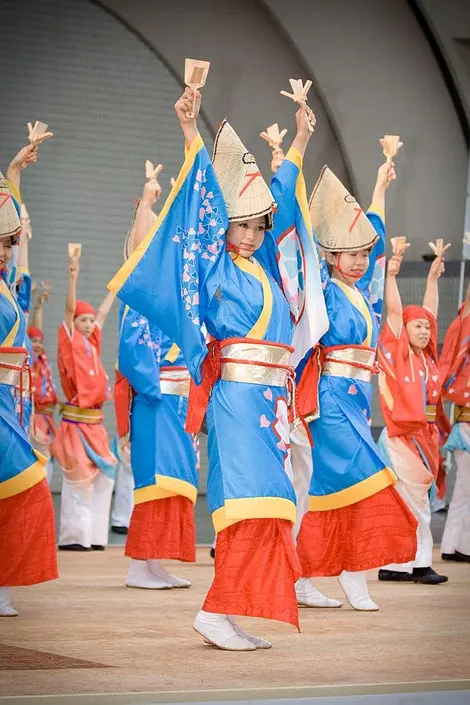 A Thousand Colours Dancers
Dancers dressed in bright costumes move in procession through the streets of the city to the rhythm of Soran Bushi and the sound of their naruko. More than 270 teams take part in this festival, giving it a remarkable scale making music and joyful shouts resonate in Sapporo for several days. And there are all kinds, some are even exclusively made up of children and adolescents .
Another aspect, just as important as the costumes: the make-up. Each team dresses its members with bright and multicolored make-up.
This festival brings together all generations and allows the inhabitants of Sapporo and the surrounding towns to share a real moment of conviviality and sharing , while discovering the work carried out, for a year, by the different teams that parade during these 5 days .
To go further: The Ainu of Japan
---
Address, timetable & access
Address

Timetable

Odori Station (Namboku, Toho, Tozai Line)

Access

Second weekend of June
All the themes of the city
Comments
So cool Thank you for sharing such a beautiful event !