Odori Park
大通公園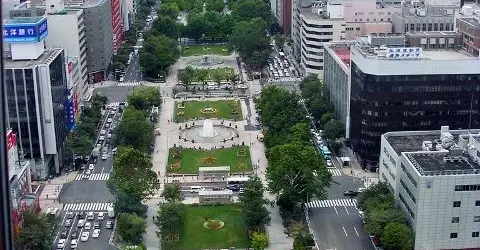 The green line
 In Sapporo , a huge plant border runs between the buildings and separates the city into two...
Over more than one and a half kilometers, the "park-boulevard" Odori, divided into thirteen gardens of equal size, marks the border between the north and south of Sapporo.
Originally, the construction of this wide boulevard (1871) was intended to prevent the spread of the all-too-frequent fires and to separate the residential part of the city from the government district.
During World War II, the park turned into a vegetable garden, allowing to compensate the lack of food. It was not until 1950 that Odori boulevard found its green color again.
Today many statues, monuments and museums line the paths of the park. Installed in the first garden, Sapporo TV Tower, offers a nice view over Odori from its observation deck.
Every year in February, the park looks like an art gallery! It hosts the famous Sapporo Snow Festival and its remarkable ice statues.
All the themes of the city