suwa taisha
諏訪大社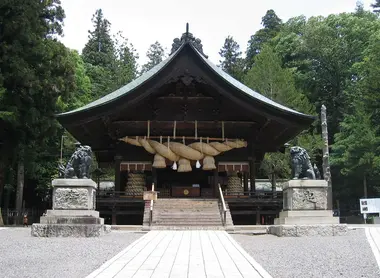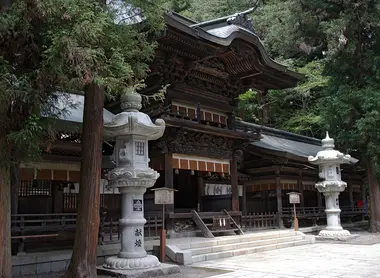 Ancestral shrine
Over 1,200 years old, the Suwa-taisha is one of the oldest shrines in Japan. It consists of four building complexes, all located around Lake Suwa in Nagano Prefecture.
Take a history lesson and a nature bath . This is how the visit to the great Suwa sanctuary could be summed up in a few words. Built over 1,200 years ago in Nagano Prefecture, it is made up of four distinct building complexes: Maemiya "Old Shrine", Harumiya "Spring Shrine", Honmiya "Main Shrine" and Akimiya "Autumn Shrine ".
The four sanctuaries that compose it are built in different places: Chino, Shimo Suwa or Suwa, separated from each other by several kilometers but all located around Lake Suwa.
Read: Lake Suwa
THE FATHER OF SUWA SHRINES
Another specificity, it is the main shrine of the network of Suwa shrines, which consists of more than 10,000 shrines , spread over the entire Japanese territory, but of which only 2,500 are known.
But, beyond the age of the buildings and their beauty, the green setting surrounding the sanctuaries plunges visitors into a feeling of tranquility , as if far from the noise of the city, even though it is only a few meters. Inside the enclosures of the sanctuaries, small paths meander, which can lead you to small streams whose lapping accompanies the sound of birds and, once summer comes, cicadas .
For lovers of detail, be sure to take a look at the statues, and in particular the one that borders the chôzuya of the Akimiya sanctuary! Or the Buddha statue called "the Manji stone Buddha" with a very original shape.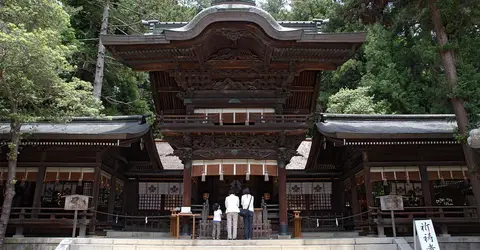 THE MAJESTY OF THE AUTUMN SANCTUARY
If you were to visit only one, it is the autumn shrine, Akimiya, which should be your preference. Because it is here that you can admire the four largest sacred trunks , brought during the famous Onbashira festival , which takes place every six years.
During this festival which takes place in two parts, the inhabitants first cut large trunks in the surrounding forest, which are hung on each other. Then, they drag the trunks to the Suwa-taisha, very often at the risk of their lives. Four trunks are then erected around the sanctuary as if to symbolize support for the founding pillars of the building . It is also said that an old tree, located within the enclosure of the sanctuary, would snore at nightfall, when its branches lower.
Every year, the Ofune matsuri or boat festival also takes place there, on August 1 and February 1 the Senza festival, which aims to move the spirits between the spring and autumn sanctuaries .
---
Address, timetable & access
All the themes of the city