Unagi, the Japanese eel
うなぎ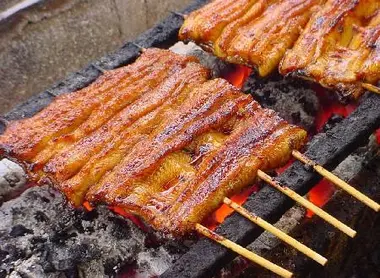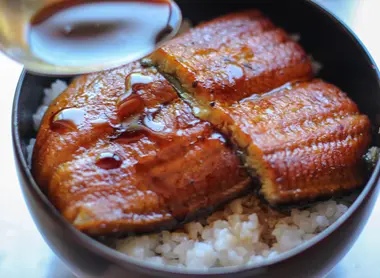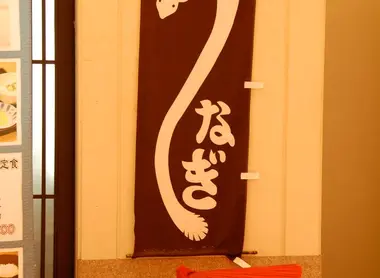 Unagi, the Japanese specialty that will make you love eel
Eel is not consumed much out of Asia, being a rather fatty fish. However, the Japanese make it a finger-licking good: unagi is often eaten grilled and brushed with a delicious sauce. Ready to try?
How to prepare unagi?
The Japanese eel (unagi) is a freshwater fish and grows up to a meter long for females. The Japanese consume up to 56,000 tons per year. The best quality Japanese eel is found in Lake Hamana in Shizuoka Prefecture. Unagi is particularly rich in protein, vitamin A and calcium. Unagi should not be confused with its cousin, anago, which is a sea eel. Anago is best eaten in sushi, as well as in tempura.
Around the 18th century, the Japanese got into the habit of eating eel. This fish has an uninviting taste and appearance, they adopted the habit of brushing the fillets in a sauce (kabayaki no tare ) made from soy, mirin, sake, and sugar, a precious mixture/recipe that chefs personalize and calls his own... The sauce, tare, is the deciding factor. It is even said that during the earthquake of 1923 some unagi chefs preferred to save their jars of sauce before anything else...
Unagi should only be eaten cooked, as it can be poisonous raw.
The different dishes with unagi
The classic dish of Japanese cuisine using this sauce is called kabayaki (蒲 焼). After basting, the unagi fillets are placed on skewers and are then fire-grilled in their skin. They are traditionally turned sixteen times for perfect cooking until caramelization.
In Kanto, we prefer to boil them slightly before, to reduce the fat. Eel, unagi in Japanese, can be eaten simply in this form or placed on a bed of rice (preferred method of consumption), which then becomes unadon , a simple dish comparable to tonkatsu .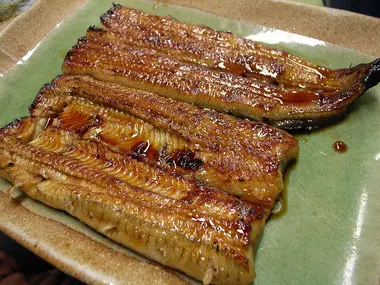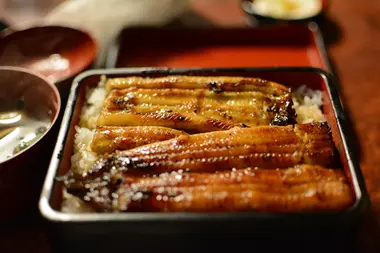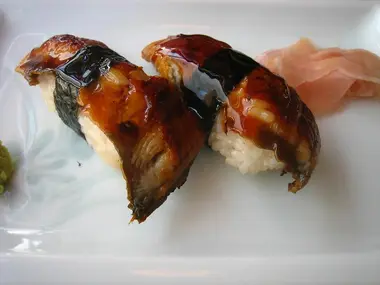 The unagi should be tested without fail during a stay in Japan. Its taste is sweet and greedy, with a touch of smoke and a very appreciable soft texture.
The eel is one of the symbolic dishes of Japan. Everyone eats it on August 15, considered the hottest day of the year, because the unagi would restore strength to withstand the heat to come. It is in the province of Shizuoka, and in particular, in Hamamatsu, that one will find the greatest number of small restaurants specializing in eel.
Another very easy way to taste unagi is to try the excellent unagi sushi (unagi-nigiri), where a grilled piece of eel is layered on the shari (rice). It is very popular with those who dislike raw fish.
Where to eat unagi in Tokyo and Osaka?
Unagi is found on all tables across the country. The fast-food chains like Yoshinoyaou and Sukiya offer them in their menus. There are nstitutions as Maekawa in Asakusa, which have existed for 200 years.
Here are some good places to eat unagi in the Japanese capital:
The inexpensive option: "Unatoto" in Ueno
A small restaurant under the rails of the Yamanote, at affordable prices: you will find eel skewers for 500 yen ($5/4€), and can also taste the famous unadon for 1000 yen ($10/8€).
Address: 6 Chome-11-15 Ueno, Taito City, 110-0005 Tokyo
Open every day from 11 am to 10:30 pm
The ancestral establishment: "Nodaiwa" at the Tokyo Tower
Nodaiwa is a real institution that has existed since the Edo period, almost 200 years. The eel is prepared fresh before consumption. Don't miss the shirayaki, their signature dish. Nodaiwa now has several restaurants, including one in Paris, not far from the Japan Experience Paris office!
Address: 1 Chome-5-4 Higashiazabu, Minato, 106-0044 Tokyo
Open Monday to Saturday from 11 am to 1:30 pm and from 5 pm to 8 pm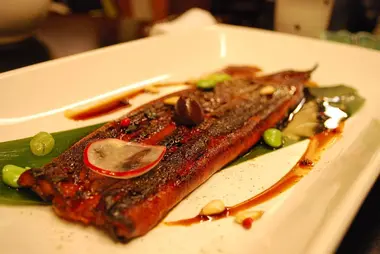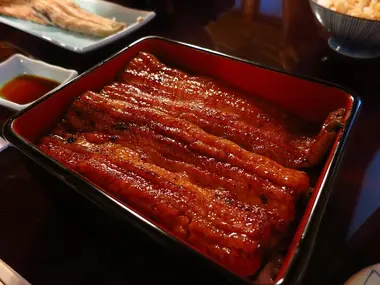 "Obama", quality at all costs
Without a doubt one of the most famous restaurants in the capital serving unagi. Located right next to Minami Senju Station, it offers lunch in a more traditional setting. It is the perfect place to taste a high-quality unadon, served in its beautiful lacquer box.
Address: 5 Chome-33-1 Minamisenju, Arakawa City, 116-0003 Tokyo
Open Tuesday to Sunday, 11:30 am to 1:30 pm and 4 pm to 7:39 pm
In Osaka: "Honke Shibato"
Another restaurant with 300 years of history: here, eel is once again the specialty and is mastered at your fingertips. A family business from generation to generation, their specialty is "Osaka Mamushi", the eel being grilled without first being steamed, which gives a more crispy result. Cost is between 3,000 and 6,000 yen ($26 to $52/ 23€ to 46€) depending on the dish, for an exceptional meal.
Address: 2 Chome-5-2 Koraibashi, Chuo Ward, 541-0043 Osaka
Open Tuesday to Saturday, 11 a.m. to 2:30 pm and 5 p.m. to 9 pm
All the themes of the city