Kakiya
牡蠣屋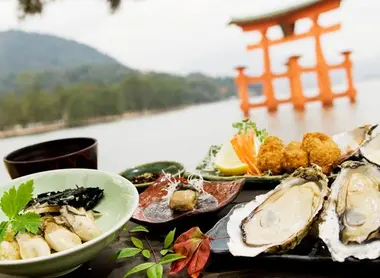 Oysters: raw or cooked?
Let the smell of firewood and herbs guide your way. Oyster connoisseurs on the island of Miyajima should not miss this place under any circumstances.
Marinated, fried in batter, gratineed or grilled, the oyster is eaten in all its forms at Kakiya. You can't miss the restaurant: the large grill outside and tantalizing scents attract locals and tourists alike. All of the oysters are local, and Kakiya's reputation is second to none. Fresh and tasty, the famous bivalves are eaten in a spacious room with elegant décor.
Something to note, the staff speak English and the menus are also written in English. It offers a nice selection of beer and sake, as well as decent wine by the glass. Let the hungry rest assured, ample portions are accompanied by large bowls of rice and miso soup. As for those allergic to seafood, don't panic. They offers excellent onigiri (rice balls wrapped in a sheet of seaweed and stuffed with grilled fish or salted plum) and bento (box lunch consisting of rice and assorted vegetables, fish or meat).
Connoisseurs prefer to visit the place in winter, the best season for oysters. However, the tables are full all year round and avid eaters can always find happiness.
---
Address, timetable & access
All the themes of the city