Narita Arrivals & Departures
Narita Airport: find information on flight arrivals and departures at Narita International Airport, Tokyo, Japan.
Narita International Airport Arrival & Departure Information 成田空港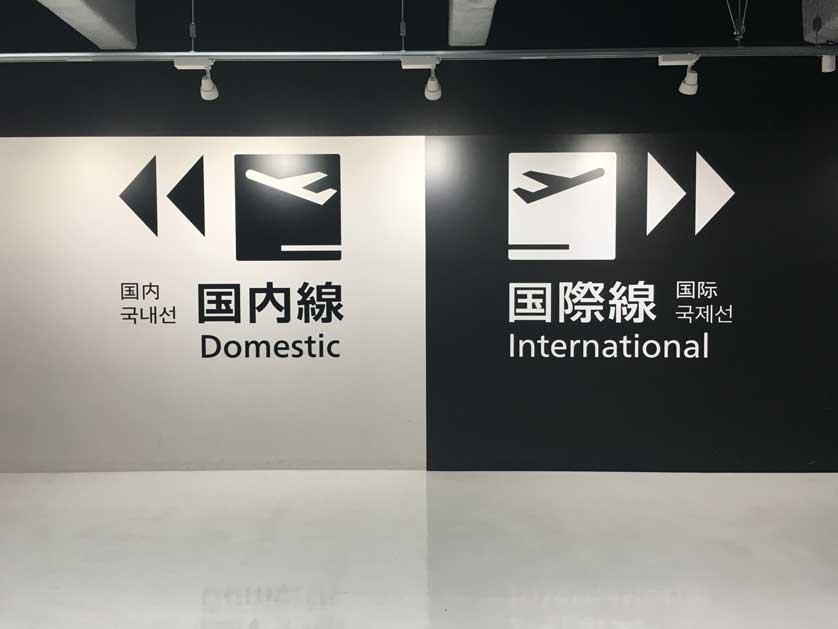 Narita International Airport (NRT) along with Tokyo International Airport (HND) (or "Haneda Aiport") is a major international gateway to Tokyo and Japan.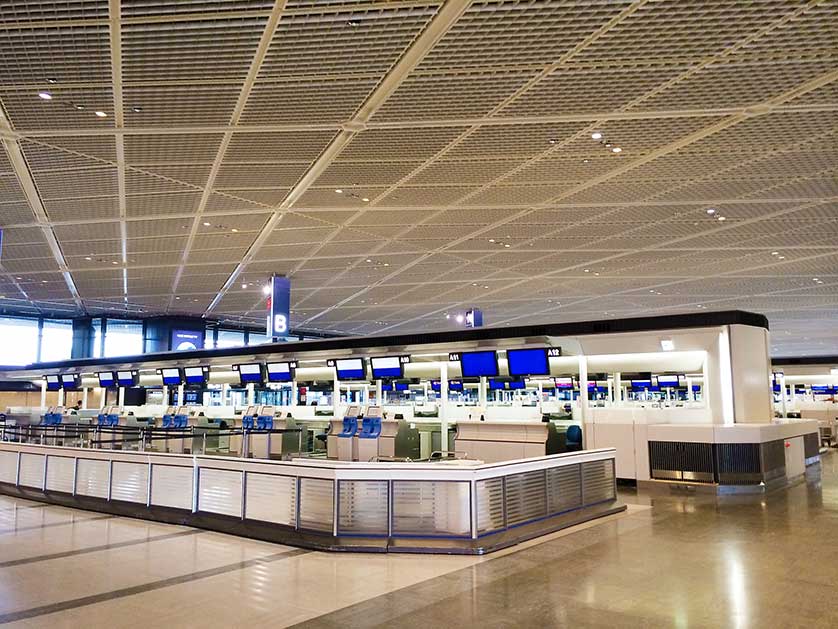 Inside Narita Airport Terminal Building, Tokyo, Japan.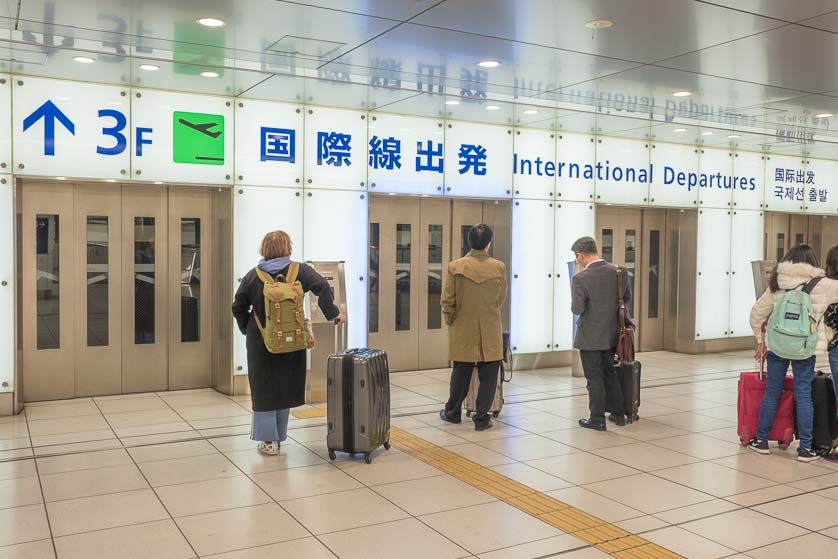 Elevators from railway station floor to departure floor of Narita Airport
Narita Arrivals & Departures
Flight information is provided by FlightStats, and is subject to the FlightStats Terms of Use.
View Square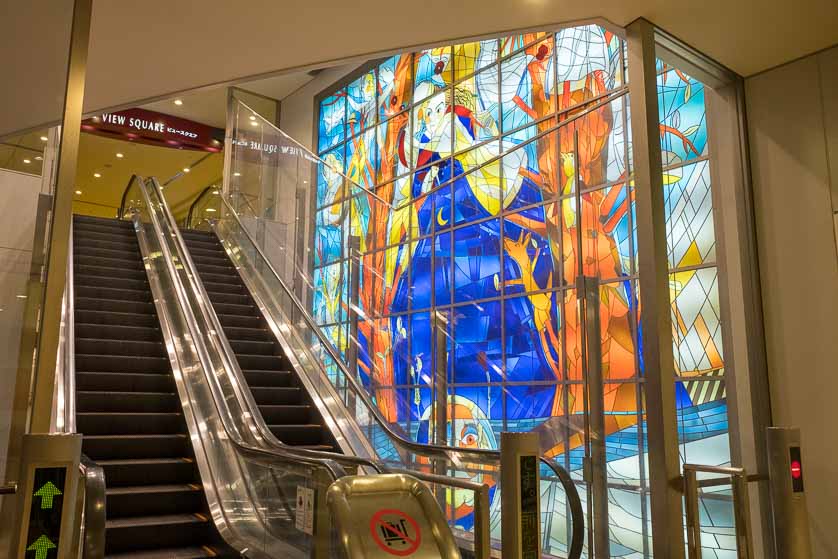 Escalators with stained glass, to View Square, Narita Airport
View Square is one of several facilities at Narita Airport offering waiting passengers some rest and recreation. View Square, on the fifth floor of Terminal 2 has seating from which to view the runway of the airport, and also has a selection of restaurants.
Getting To and From Narita Airport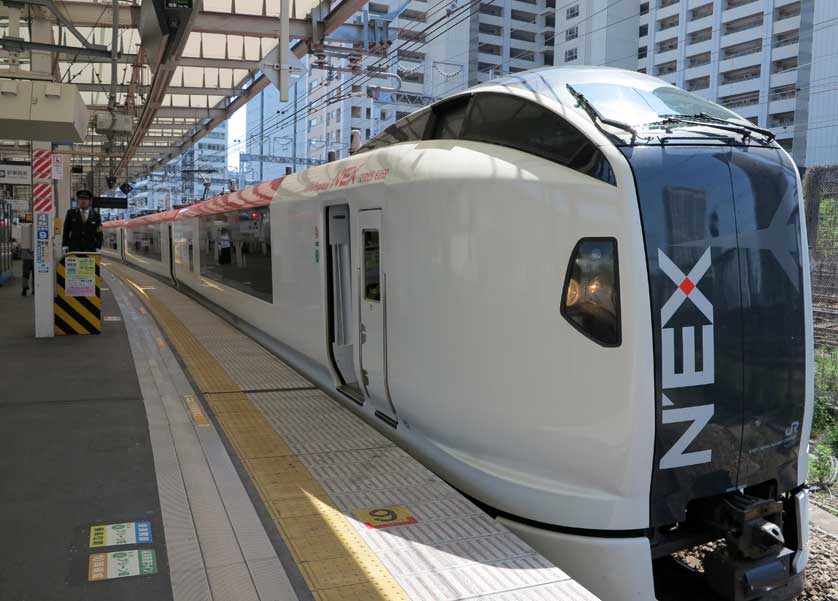 Narita Express train
For Japan Rail Pass holders
If you have already purchased a Japan Rail Pass in your home country, exchange it for a rail pass at the JR View Plaza Travel Service Center, or the normal JR ticket counter if View Plaza is closed. The Narita Express is free with a Japan Rail pass. Also, you can make any ongoing JR reservations right here.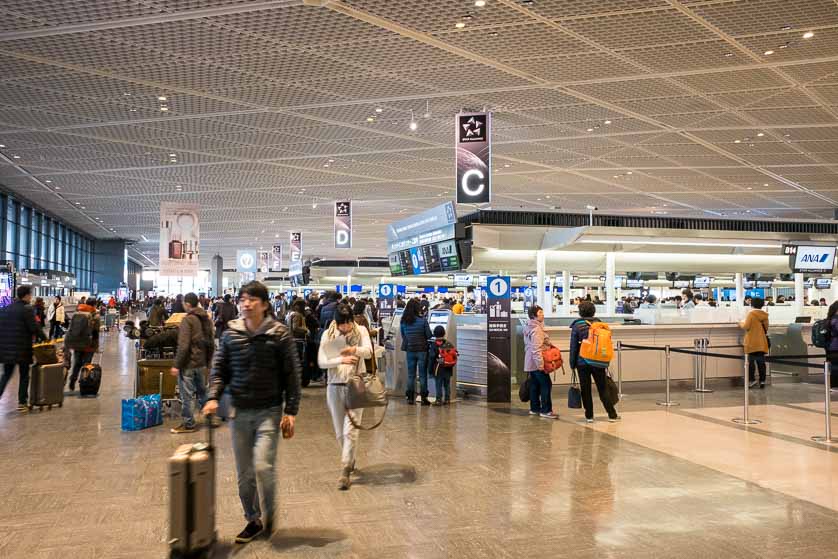 Airline check-in counter hall, Narita Airport, Terminal 2
Narita Express (NE'X)
Japan Rail runs the Narita Express (N'EX) train service between Narita Airport and Tokyo.
JR Narita Express (NEX) goes to
The Narita Express is covered by the Japan Rail Pass and JR East Pass; however, because all seats are reserved, holders of these passes must first make a seat reservation before boarding the Narita Express. Ordinary JR Rapid trains go into Tokyo on the same Sobu/Narita line (80 min, 1,323 yen) which is also covered by the Japan Rail Pass and JR East Pass.
For those without a Japan Rail Pass, the N'EX Tokyo Round Trip Ticket (for non-Japanese passport holders) enables a round trip from Narita Airport to Tokyo Station for 4,000 yen for travel in an ordinary car of the Narita Express train reserved seat (not Green Car), making for a considerable saving. The N'EX Tokyo Round Trip Ticket is valid for 14 days.
N'EX Tokyo Round Trip Ticket can be purchased from the JR East Travel Service Centers and from JR Ticket Offices (Midori-no-madoguchi) at Narita Airport Terminals 1 and 2·3.
The normal fare from Narita Airport to Tokyo Station is 3,020 yen.
The "NEX Tokyo Direct Ticket" was discontinued in March 2015.
Ordinary fares to Tokyo are 3,020 yen, Shinagawa, Shibuya, Shinjuku, Ikebukuro 3,190 yen, Omiya 3,840 yen, Yokohama 4,290 yen and Ofuna 4,620 yen.
This one-day ticket is available only to non-Japanese and only at Narita Airport. You must show your passport to qualify.
Keisei Electric Railway from Narita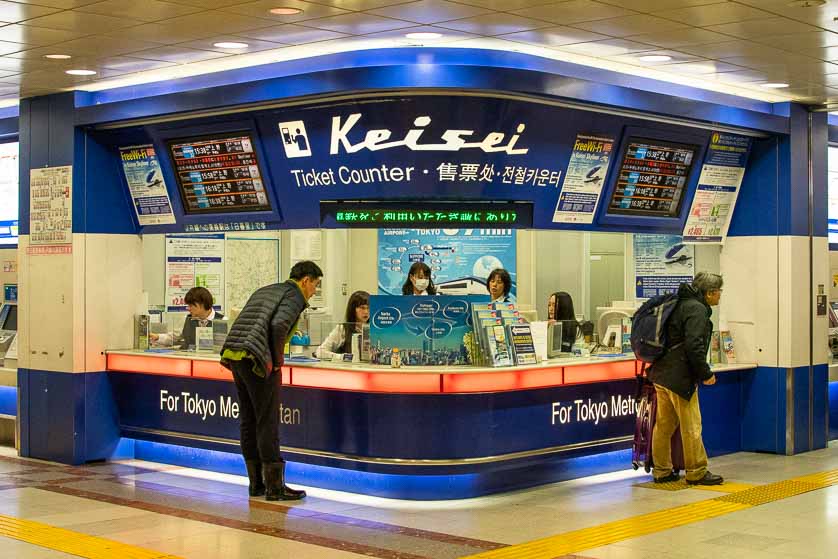 Keisei Railway Ticket and Information Counter, Narita Airport
The Keisei Railway runs two kinds of train into Tokyo from Narita Airport: the Skyliner and the Access Express.
Skyliner
The Keisei Skyliner Airport Express runs between Narita Airport and Ueno Station, on the Narita Sky Access Line, and takes about 45 minutes (2,470 yen). Unlike JR trains, smoking is allowed at the front and back cars (1 and 8).
Keisei's ordinary limited express will get you there in 75-80 minutes (1,030 yen). No smoking. You can use a pre-paid Suica card on this train.
The Keisei line connects with the JR line at Nippori and Ueno stations. The changeover to the JR Yamanote line is easier at Nippori as you do not have to leave the station. Changing over at Ueno means exiting the station and crossing the road. However, if you are taking a shinkansen (bullet train), change at Ueno.
Access Express
The Keisei Access Express runs between Narita Airport and "officially" Higashi-Ginza, but staying on the train will take you all the way to Haneda Airport running on the Toei Asakusa subway line. Take the Access Express, if you want to go directly to Asakusa (75 min, 1,290 yen) or Ginza (Higashi Ginza station, 90 min, 1,160 yen) or Haneda (100 min, 3,800 yen).
Keisei Skyliner & Tokyo Subway Ticket
The Keisei Skyliner & Tokyo Subway Ticket is a package sold by Keisei offering a discounted combination of a one-way or return Keisei ticket between Narita and Nippori plus a 1-, 2- or 3-day Tokyo subway pass. Prices range between 2,800 yen (saving 670 yen) and 5,400 yen (saving 2,540 yen).
Keisei Train Timetable and other boarding information
Terminal 2, Narita Airport
Bus from Narita
There are many bus routes into Tokyo. Fares begin at 1,000 yen. Except at rush hour, the journey to most points in Tokyo should take about 90 minutes. If you are booked into a fairly major hotel, this can be the most convenient and hassle-free door-to-door option. Also, bus is the easiest way to transfer to Haneda Airport in Tokyo Bay.
Narita Airport Tourist Information Counter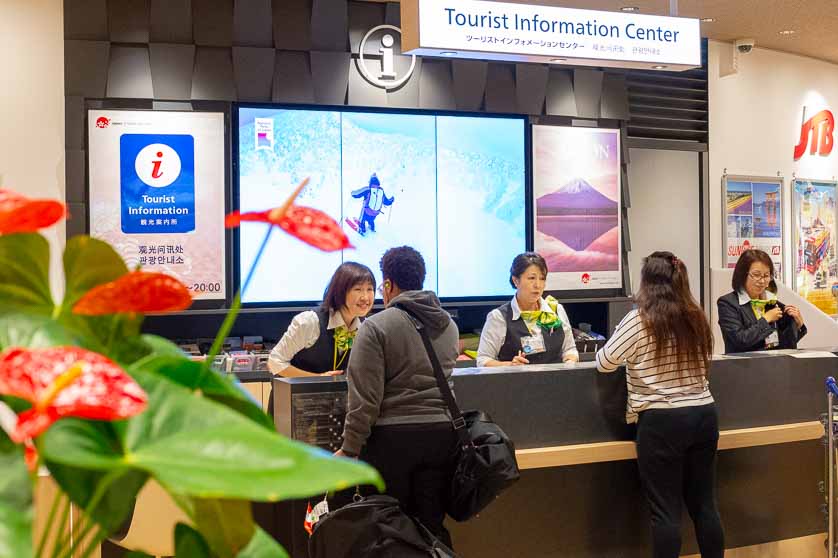 Narita Airport Tourist Information Counter, Terminal 1, Central Building
Terminal 1 Visitor Service Center
There is a large tourist information center on the First Floor of the arrivals area in the Terminal 1 Central Building. (The Central Building is where the North and the South wing converge.) There are three counters next to each other:- Tourist Information Counter, hours: 8am-8pm daily- Travel and Ticket Sales Counter for reservations for traditional inns (ryokan, in Japanese) and hotels throughout Japan, as well as tickets for theme parks and transport services including JR trains, planes and buses; hours: 8am-8pm daily- Transit & Stay Program Reception Counter, for transit passengers or those staying at hotels near Narita airport, providing free local sightseeing bus tours in English around the Narita area only, such as to the famous nearby Naritasan Shinshoji Temple; counter hours 9am-5pm daily.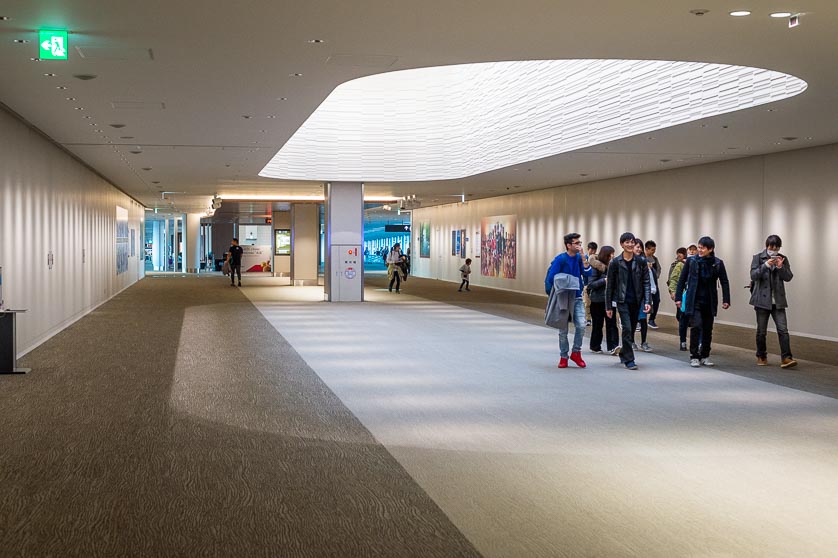 Walkway to departure gates, Narita Airport
Terminal 2
Terminal 2 of Narita Airport has a much smaller Tourist Information Counter on the terminal's First Floor, next to South Exit 1.
Narita Airport Video
Book Hotels in Japan
All the themes of the city