Shimane Prefecture
Shimane Prefecture: read a guide to Shimane Prefecture in the Chugoku region of south west Japan including the cities of Matsue, Izumo, Hamada and Masuda.
Japan's Regions: Shimane Prefecture 島根県
Shimane Prefecture is located on the Sea of Japan coast in the Chugoku (south west) region of Japan. Shimane Prefecture borders Tottori Prefecture, Yamaguchi Prefecture and Hiroshima Prefecture. Shimane is the second least populous prefecture in Japan after its neighbor Tottori.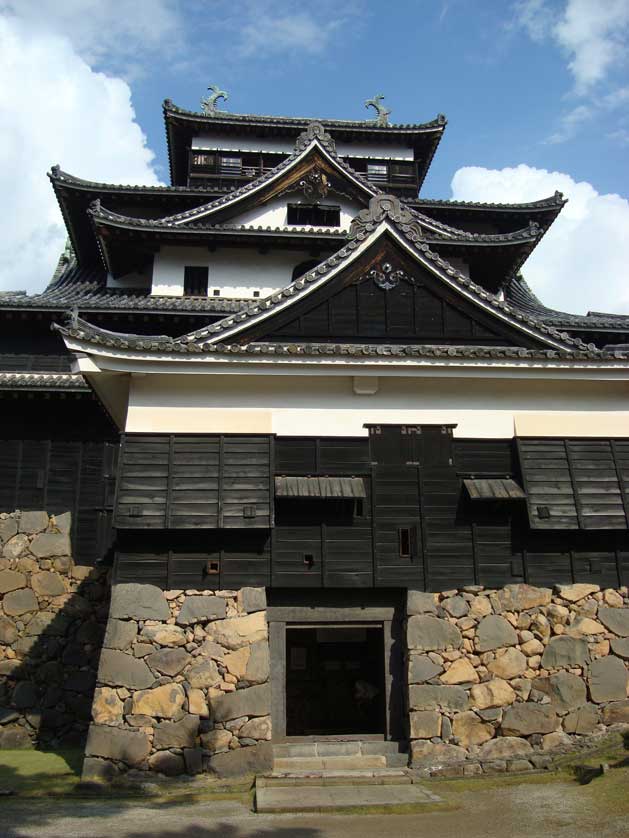 Matsue Castle with its two shachi guardians clearly visible on the castle roof
Shimane is a mainly rural prefecture divided into the Izumo Region in the east of the prefecture, the Iwami Region in the west and the off-shore Oki Islands.
Around 6% of the total area of Shimane Prefecture is protected land including Daisen-Oki National Park, Hiba-Dogo-Taishaku and Nishi-Chugoku Sanchi Quasi-National Parks plus 11 Prefectural Natural Parks.
Shimane Prefecture's main cities and towns include the capital Matsue, with a population of around 207,800 inhabitants, Gotsu, Hamada, Izumo, Masuda, Oda, Unnan and Yasugi.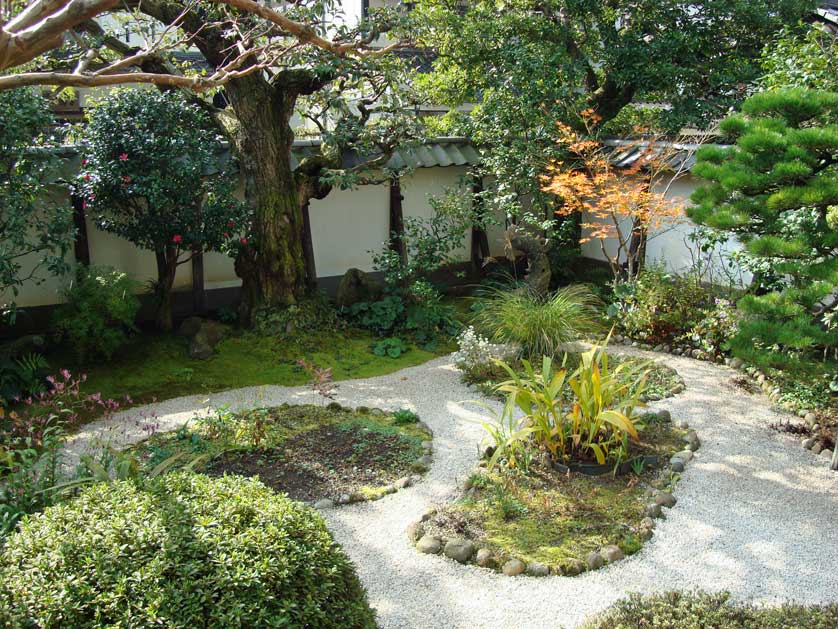 Garden of Lafcadio Hearn Old Residence, Matsue, Shimane Prefecture.
Shimane has slightly cooler weather in the summers than areas further to the south in Honshu and those towns and cities on the Pacific Coast, though temperatures usually top 30 degrees Centigrade or more in July and August. The coastline of Shimane Prefecture traditionally receives snowfall in winter.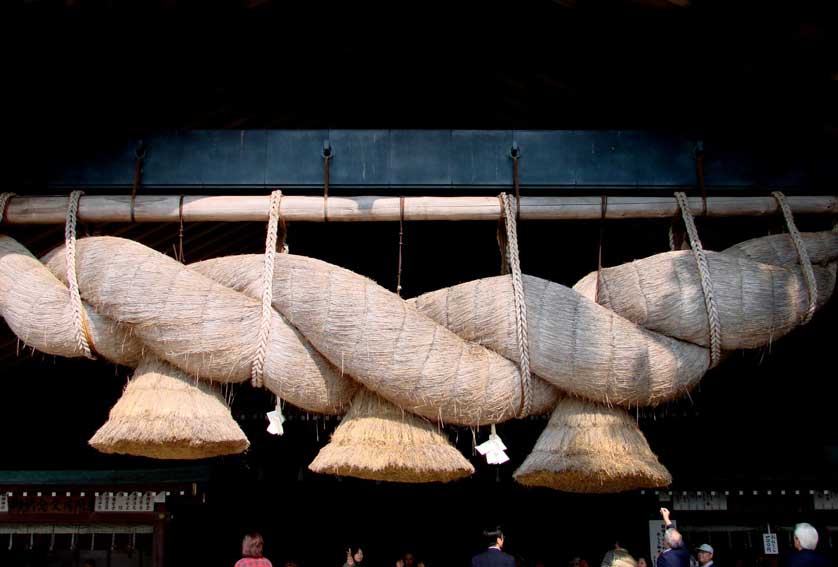 Shimenawa, Izumo Taisha Grand Shrine, Shimane Prefecture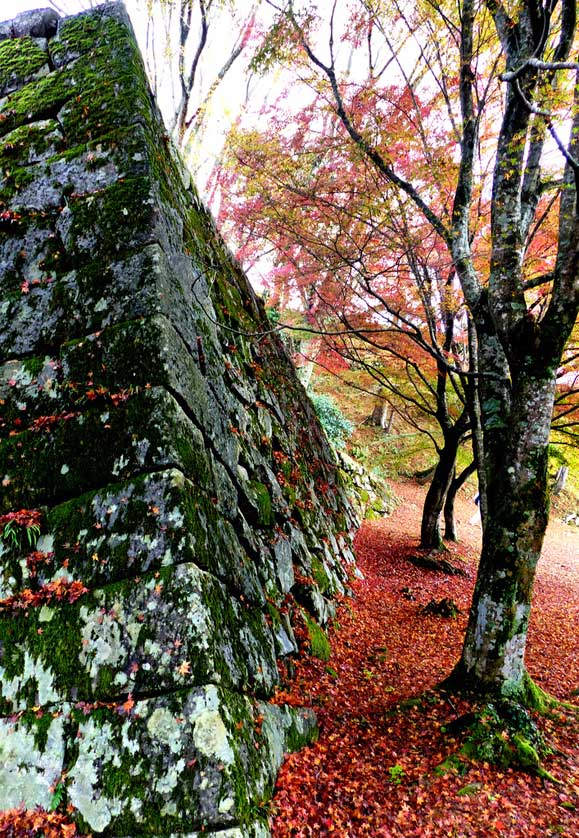 Tsuwano Castle in Shimane Prefecture.
Shimane Attractions
Shimane Prefecture has a number of attractions well worth the journey from the major Japanese cities on the Pacific Coast.
Matsue, on the shores of Lake Shinji, has an original castle, Matsue Castle, and a number of sights related to the writer Lafcadio Hearn, who lived in the city briefly during the Meiji Period.
Izumo, is home of Izumo Taisha Shrine, one of the most important and historic Shinto shrines in Japan and the excellent Shimane Museum of Ancient Izumo, located close by.
Iwami Ginzan is a UNESCO World Heritage Site and was an important silver mining area during the Edo Period of Japanese history. The beautifully-restored Kumagai Residence is the former home of a very powerful and wealthy merchant family in the area.
Hamada is the third largest city in Shimane Prefecture behind Matsue and Izumo, with a population of 62,000, including the nearby towns of Asahi, Kanagi, and Misumi.
Masuda is a pleasant town on the Shimane coast and Iko-ji Temple includes a garden by the Zen Buddhist artist Sesshu, who was the head priest here in the 15th century.
Mihonoseki is a historic fishing port with hot springs close to Sakaiminato.
The Oki Islands are a group of unspoiled islands located about an hour of the coast by high speed ferry from Matsue or Sakaiminato in neighboring Tottori.
Tsuwano, is a delightful little "town" located near the border with Yamaguchi and boasts the ruined but picturesque Tsuwano Castle and the beautiful Hori Gardens (Hori Teian).
There are a number of "character trains" running through Shimane Prefecture including the Iwami Characters Train, featuring 16 mascots and photos of towns in the Iwami region, the Iwami Kagura Line displaying scenes from Kagura dances popular in the area and the Ichibata Electric Railway.
There are several hot springs (onsen) in Shimane Prefecture including Yoshidaya Onsen and several hot spas in the small port village of Yunotsu.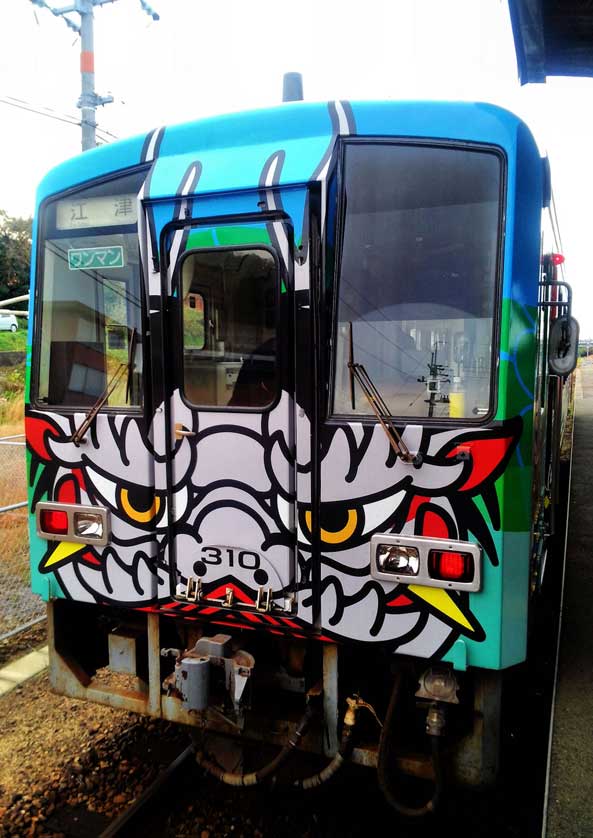 One end of the train features the Yamata no Orochi, a mythical serpent from Japan's ancient text, the Kojiki. It is probably the most popular dance in the repertoire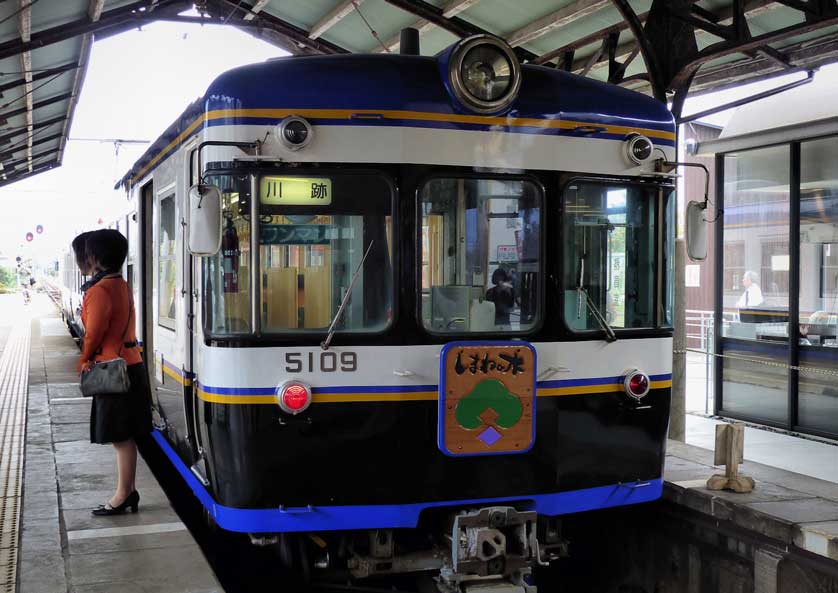 An Ichibata Electric Railway train at Izumotaishamae Station
Shimane History
Shimane has a long history with a number of distinctive and unusual square-shaped kofun (burial mounds) dating from the Yayoi Period. The Izumo Yayoi-no-mori Museum has a number of artifacts that had been unearthed from the ancient burial mounds.
What is now Shimane Prefecture may well also have remained outside of the influence of the Yamato dynasty in Nara and it is known to have strong connections with both ancient Korea and China.
During the Edo Period, Shimane was ruled first by the Horio clan who deposed the Mori clan after the decisive Battle of Sekigahara in 1600, and later by the strong Tokugawa allies, the Matsudaira clan. The Iwami Ginzan mines and Yunotsu port were under the direct control of the Tokugawa regime.
Shimane Prefecture was established during the Meiji Period in 1871 with its present borders fixed in 1881.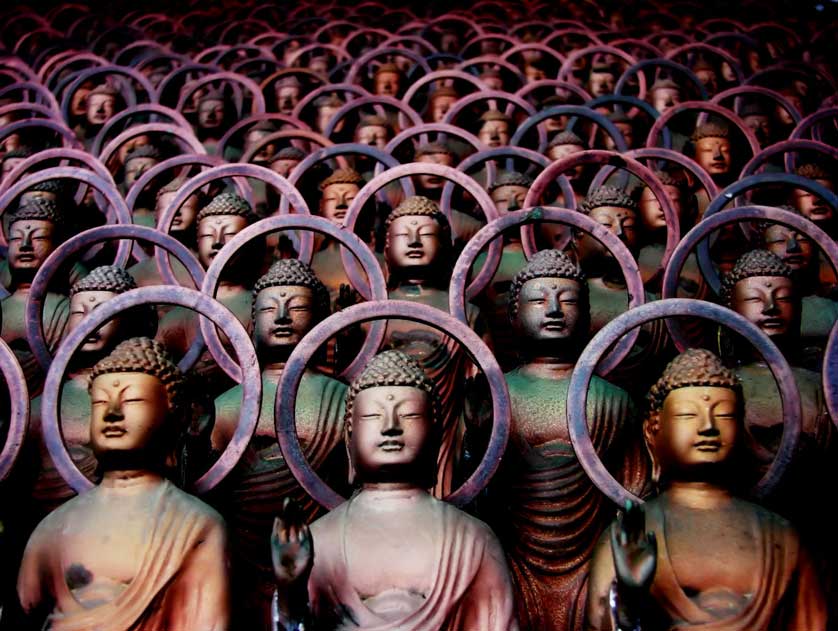 84,000 Buddhas, Ichibata Yakushi Temple, Izumo, Shimane, Japan
Access
Air
Shimane has three airports at Izumo, Iwami and Oki Airport on Dogo Island in the Okis. There are flights from Izumo Airport to Haneda Airport (1 hour, 20 minutes) in Tokyo, Osaka Itami (50 minutes), Fukuoka Airport (1 hour, 15 minutes), Komaki Airport in Nagoya (1 hour), Chitose Airport in Sapporo (2 hours) and Oki Airport 930 minutes).
Iwami Airport has domestic flights to both Haneda (1 hour, 30 minutes) and Osaka Itami (1 hour).
Train
By train from Tokyo Station, Kyoto Station and JR Nagoya Station in Nagoya, the quickest route by rail to Matsue is first shinkansen bullet train to Okayama Station then Yakumo Express to Matsue Station.
Alternatively the much slower route involving multiple changes from Kyoto Station is the San-in Line via Sonobe, Fukuchiyama, Tottori and Yonago to Matsue and Izumo.
Bus
There are daily express highway buses from Matsue Station and Izumo Station to major cities in Japan including Fukuoka (9 hours), Kobe (5 hours, 20 minutes), Okayama (4 hours), Osaka (5 hours, 30 minutes) and Kyoto (6 hours).
There are also highway buses from Hamada to Hiroshima (3 hours).
There is an overnight bus from Izumo and Matsue in Shimane to Nagoya that also stops at Yonago in Tottori Prefecture. Overnight buses from Izumo and Matsue also go to Shinjuku Bus Station in Tokyo (11 hours, 15 minutes).
Car
The main highways running through Shimae are the Chugoku Expressway, Sanin Expressway, Matsue Expressway and Hamada Expressway.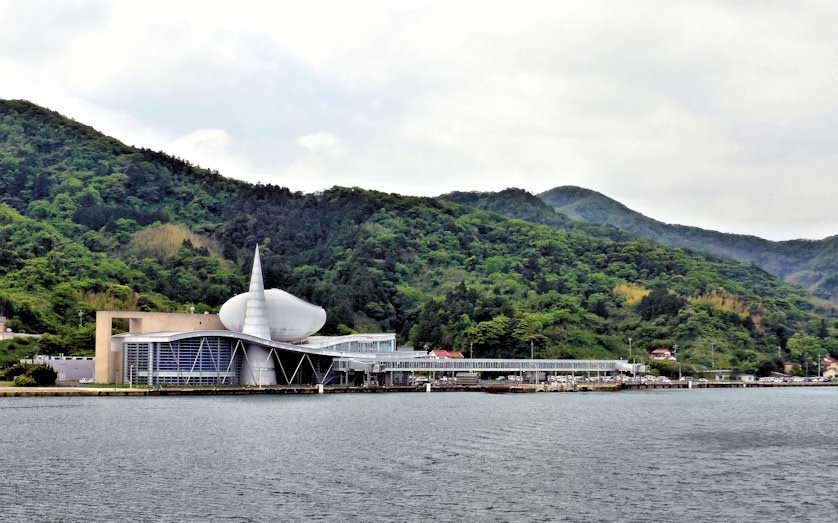 Shichirui Port, Shimane Prefecture
Book Hotel Accommodation in Shimane Prefecture
All the themes of the city